A customized print-friendly version of this recipe is available by clicking the "Print Recipe" button on this page.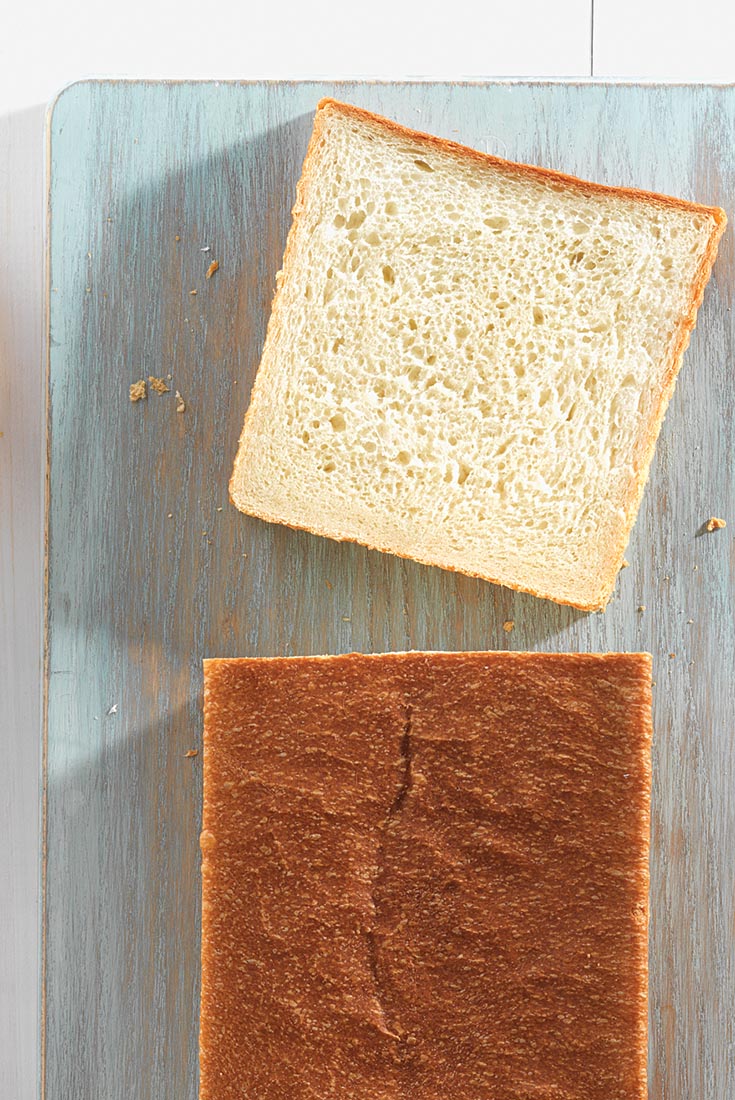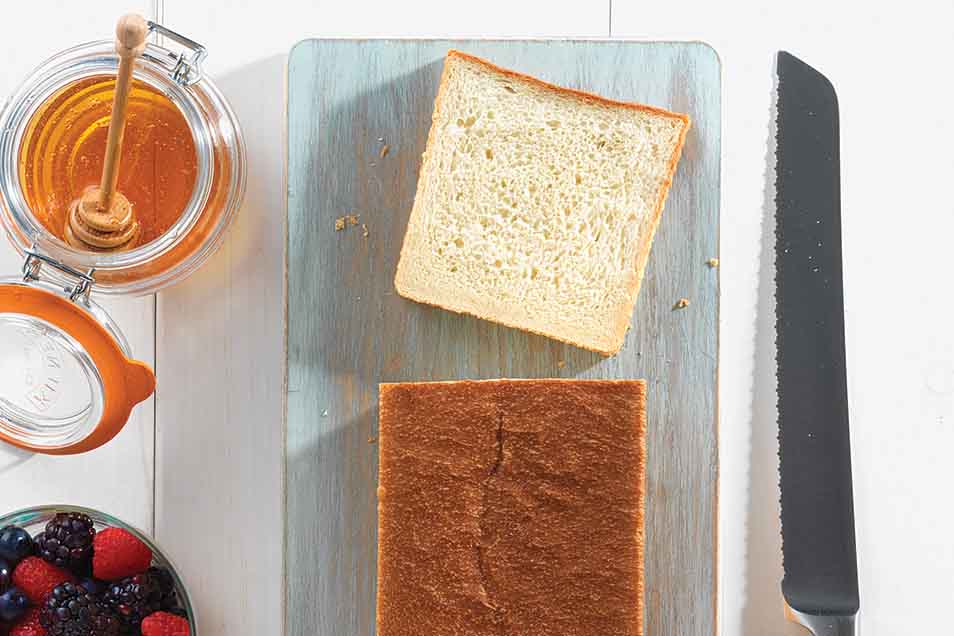 This loaf is inspired by a recipe that King Arthur Flour head baker Martin Philip created for his bid for the 2016 Coupe du Monde de la Boulangerie. Its mild, sweet honey flavor and soft and tender crumb yield slices that are ideally suited for grilled cheese — or any other sandwich, for that matter. With this easy-to-follow recipe, you'll understand why this bread has quickly become a new favorite in our Norwich, Vermont bakery and café.
Instructions
Combine the flour, salt, and yeast in a large mixing bowl. Add the remaining ingredients and mix and knead — by hand or stand mixer fitted with a dough hook — until a smooth, supple dough forms.

Form the dough into a ball, place it in a lightly greased bowl, cover, and allow it to rise for 90 minutes.

Halfway through the rise time fold the dough onto itself four times to gently deflate it and add strength.

Lightly grease the base and lid of a 13" pain de mie pan (Pullman loaf pan).

Transfer the dough to a lightly floured work surface. Gently deflate it and pat it into an 11" x 8" rectangle.

With the long side facing you, fold the bottom third of the dough up to the center and the top third over (like a business letter). Fold the dough in half lengthwise, and seal the edges with the heel of your hand.

At this point the shaped dough should be 13" in length to fit the pan.

Place the dough seam-down into the pan, and press it evenly into the corners. Put the lid on the pan and close all but an inch or so in order to monitor the loaf as it rises.

Allow the dough to rise until it's just below the lip of the pan, 60 to 90 minutes.

Towards the end of the rising time, preheat the oven to 425°F.

Close the lid of the pan completely, and put the pan in the oven.

Bake the bread for 25 to 30 minutes, then remove the lid and bake for an additional 5 minutes. The loaf should be a deep golden brown on all sides.

Remove the loaf from the oven and, after 5 minutes, turn it out onto a rack to cool completely.
Tips from our bakers
Our bakery loaf is infused with lavender and chamomile. For subtle notes of these flavors, heat the honey and milk to a simmer and pour over 1 tablespoon each dried lavender and chamomile leaves. Allow to steep overnight in the refrigerator, then strain and proceed with the directions as written. Alternatively, brew 1 cup of chamomile tea, allow to cool to lukewarm, and use in place of the water in the recipe, along with 1/8 to 1/4 teaspoon lavender oil, if desired.
To mix and knead the dough using a bread machine, put all the ingredients in the bucket of your Zojirushi, adding the liquid ingredients first, the dry ingredients second, and the yeast last. Program the machine for basic dough, and press the Start/Reset button. When the cycle is complete, transfer the dough to a lightly floured work surface and proceed with the recipe as written.
Reviews
Such a delicious loaf of bread! I'm making a second loaf right now. I do wonder, though, since I have both a 13 inch Pain de Mie pan and a smaller pan how I would best go about increasing the recipe so I could bake a large loaf and a small loaf.
This is a terrific recipe. I managed to make it in an evening from about 6pm with the help of my proofer (and staying up a bit late). I switched the proportion of milk to water because I like a slightly richer bread. I kneaded in a mixer until it passed the windowpane test. My kids loved it and one demanded that I make it nightly.
Would cutting the recipe in half work for the smaller 9 x 4 x 4 pan? I have seen where your bakers have recommended doing 1 1/2 times the smaller recipes for the larger pan. It would be very helpful if KA could provide both pan sizes for Pullman pan recipes. Thank you!

Thanks for your suggestion! We'd recommend doing a 3/4 batch to fill the smaller Pain de Mie pan. Happy baking! Annabelle@KAF
A brilliant recipe. After baking this recipe a number of times I find it's fool proof and a Huge hit in my home. Bravo to King Arthur for such amazing recipes. Keep them coming.
This is my favourite pain de mie recipe that I've made since I got my pan last month. I think it's perfect. I did steep some camomile and lavender in the milk overnight--added a subtle but noticeable layer of flavour. The fold halfway through the first rise and the bolder baking temp makes for a better structured loaf with a beautiful texture and colour, in my opinion. I will likely be cranking the oven a little higher for all of my enriched loaves from now on! Thank you to the KAF baker's hotline for instructing me that all I had to do to adapt this for the smaller PDM pan was reduce the recipe by about a third (or multiply the weights by 0.66). You guys are the best :-)
With some customizing on my part, this is a good, basic recipe, which seems to adapt well to changes. Because my husband needs to be on a lower protein diet, I replaced the dairy with vegan butter and almond milk, and increased the honey to 4 tablespoons because I like my bread a touch sweeter (I, personally, do not think it makes the bread overly sweet.) I also used the amount of 1 whole packet of yeast (2-1/4 tsps), it just didn't make sense to use less yeast for a larger loaf as the smaller pain de mie recipes call for this amount. Since I bake bread almost weekly, I knew this would have no ill effect on the recipe. As in every baking recipe, it is important to measure your flour carefully. Others complained about the dough being dry. I found the amount of flour perfect, but don't just dunk your measuring cup into the flour -- it makes for a dry mixture and a dense loaf. Instead, as is usually recommended, fluff your flour first with a spoon or fork, then sprinkle it into your cup before leveling off. Also, let your stand mixer do the work. I added 5 cups of the flour into the mixer, and added the last of the 3/4 cup as needed. The entire amount was perfect for me, but don't add it all at once, since factors like humidity may affect if you need all the flour. Mine made a smooth, sticky dough. I don't bother to knead by hand, I just prefer to transfer this sticky dough to rise in a greased bowl. Extra flour used in kneading by hand just makes for a loaf that is dense and dry. Once risen, I collapse the dough by pulling it all around the edges until I get a rough loaf shape, slightly deflating it as I go, then roll it into my 13" pain de mie pan. I pat the dough down evenly before letting it rise for about an hour (I am fortunate to have a "proofing" mode on my oven so rising is fairly quick). Since I bake bread so much, I don't have to time to knead and fuss shaping the dough, I just have to get it into my oven quickly and get on with my day. However, despite my many modifications, this loaf turned out perfectly! A word about the temperature, I thought 425 was too hot, so I just baked it, per my other bread recipes, at 350 for about 35-40 minutes or so with the lid on until I got an internal temperature of 190. Easy, fuss-free recipe... will use again with my tweaks as my "go to" for my weekly loaf.
Let your stand mixer do the work for this one. I had issues with this dough coming together into one cohesive mass -- it liked to shape itself into several smaller balls, instead of one large one. One my third try, I added the wet ingredients into the dry and put in a cup of KAF whole wheat flour. (I did not end up needing all 5 3/4 cups of flour.) Beautiful dough. Delicious bread. Worth all the attempts. I am sending the recipe off to my mother so she can try it too.
I have been really struggling to make a decent pain de mie. I have tried several other recipes, and just have not been able to get a good rise to fill the pan. I tried KA's Dainty Tea Sandwich bread just yesterday - it seemed to take forever to rise and never did fill the pan. The dough before rising filled less than a third of the pan, so it had a long way to go to fill it. It rose so long it developed that boozy over risen smell and texture. I noticed this recipe actually uses more flour and makes more dough, so I decided to try it. Success! It still rises quite slowly due to a relatively small amount of yeast, but it did rise beautifully. The crumb is beautiful and even and the texture is perfect. The bread has a lovely hint of honey flavor. I noticed the same thing as another commenter - the dough seems quite dry when it is first kneaded, and I had to knead it a good 10 minutes in my stand mixer before the dough came together and formed a good structure. The shaping instructions also helped a lot - in previous attempts my dough tended to rise a lot more in the middle, making it hard to get the pan evenly filled.
I was worried at first because it seemed like such a low hydration dough, and I had some issues with the dough being a little on the dry side (I should have skipped the light dusting of flour during the shaping because even the little bit I used made it so it wouldn't seal against itself) but it turned out beautifully soft and fluffy! The flavor was wonderful and I ate at least 2 slices without even realizing. So rich and buttery, almost brioche-like! I did have one small problem after removing the lid, I set my timer for 5 minutes and after a few I noticed a slight burning smell and sure enough I rushed in to see the top of my loaf had actually started to burn a little in the short time. I guess it's the high temp this bakes at, but I caught it before it got too bad, and actually it added a nice "toasted" flavor so I'm not complaining! I'll definitely be making this again! (Although I'll leave the lid on a little longer next time)
I've been wanting to make this bread for quite a while. Finally did today. The recipe was straightforward. However, I did need the 90 minute rise on both rises. I guess my yeast is getting old. It's out of the oven now and resting. Can't wait to try a slice or two!