A customized print-friendly version of this recipe is available by clicking the "Print Recipe" button on this page.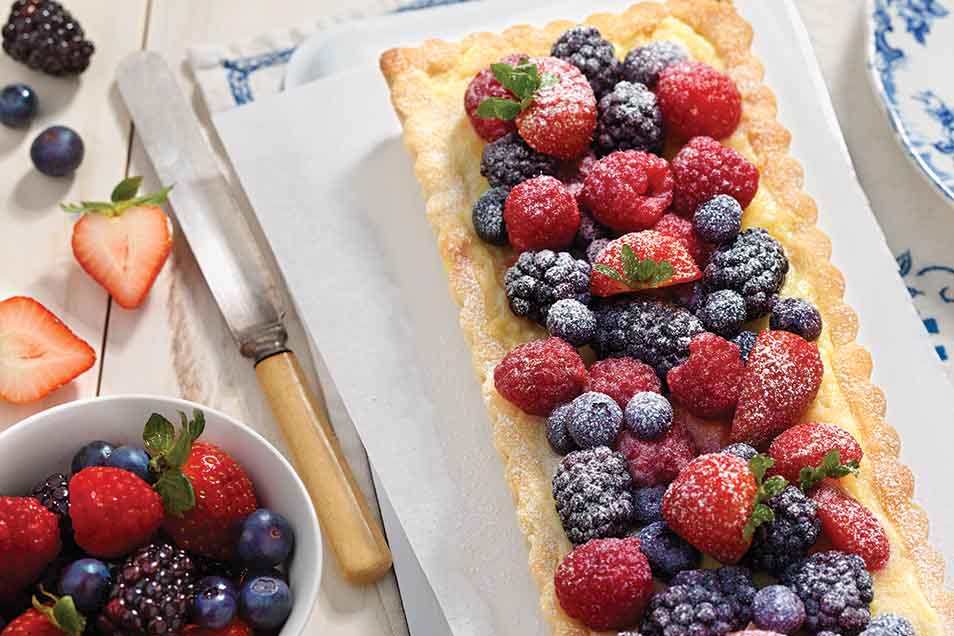 Red, white, and blueberries! This festive tart is a colorful (and tasty) addition to any summer gathering.
Ingredients
Filling
1 cup pastry cream mix prepared according to package instructions. Or, make rich pudding filling by preparing one 3.4-ounce box of instant vanilla pudding with heavy cream, instead of milk, and adding 1 teaspoon vanilla extract.
Topping
1 pint fresh raspberries
1 pint fresh blueberries
Glaze
1/4 cup brown sugar, firmly packed
3/4 cup clear juice: apple, cranberry, cranberry variation...
1 teaspoon unflavored gelatin
Instructions
To make the crust: Beat together the butter, sugar, flavorings, and salt.

Whisk together the flour and almond flour (if you're using it), and mix into the butter. The mixture will be crumbly.

Press the crust into the bottom and up sides of a 9" to 10" round tart pan. Use a fork to prick the dough all over. Freeze for 30 minutes (or longer), covered. Just before baking, preheat the oven to 375°F.

Bake the crust for 20 to 22 minutes, until golden brown. Set aside to cool.

Prepare the filling, and spread it into the cooled crust.

Top with raspberries and blueberries, and serve immediately.

If you're not going to serve the tart immediately, add a glaze to keep the fruit fresh. Use a tart glaze spray, or the following.

To make the glaze: Mix the brown sugar into the juice. Soften the gelatin in the juice for 5 minutes or so, then heat in the microwave or over low heat until the gelatin dissolves. Let cool to lukewarm.

Brush some of the glaze over the fruit.

Yield: 9" tart, 8 to 10 servings.
Tips from our bakers
Extra glaze may be kept refrigerated and covered for a week or two; reheat before using.