A customized print-friendly version of this recipe is available by clicking the "Print Recipe" button on this page.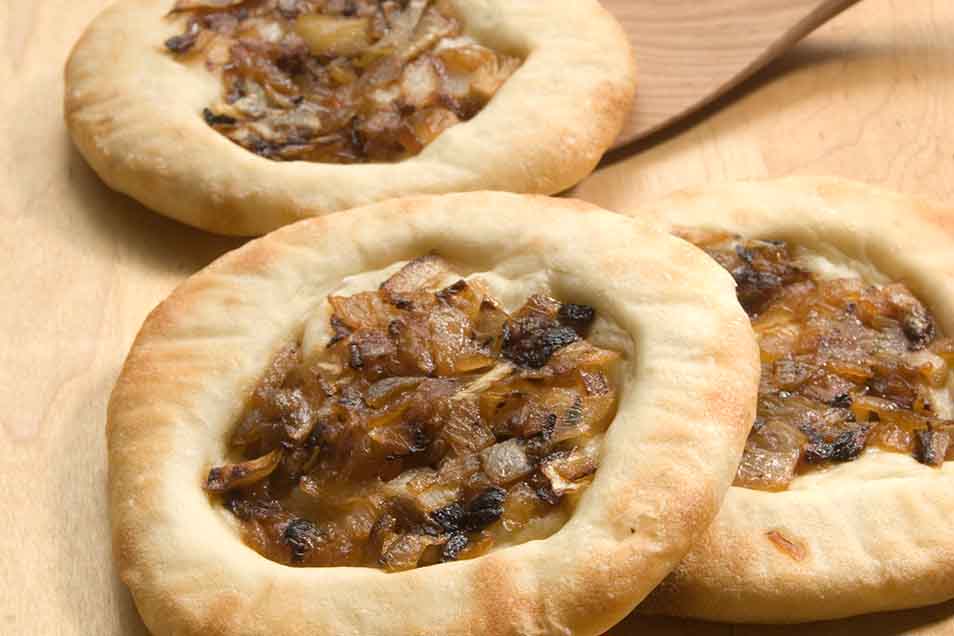 If you're from New York City, you're no doubt shaking your head and muttering to yourself, "THOSE aren't bialys!" Indeed, they're not; while classic NYC bialys have a mere trace of chopped onion and poppy seed at their centers, these are much more generously endowed — with onion alone, no poppy seed.

Heresy? Perhaps. But we think their classic flat shape and chewy texture help make up for the overabundance of fried onions — if such a thing is even possible!

Read our blog about these bialys, with additional photos, at Flourish.
Ingredients
Dough
3 cups Sir Lancelot High-Gluten Flour*
1 teaspoon instant yeast
1 1/2 teaspoons salt
1 cup plus 2 tablespoons lukewarm water
*This is a great place to use your high-gluten flour; it'll yield beautifully chewy bialys. Substitute unbleached bread or all-purpose flour if you like; cut the water back by about 2 tablespoons if you use bread flour, 3 tablespoons for all-purpose.
Filling
2 medium-large onions, peeled and finely diced
2 tablespoons vegetable oil or olive oil
heaping 1/8 teaspoon salt
Instructions
Place the dough ingredients in a bowl, and mix and knead — by hand, mixer, or bread machine — for about 7 minutes, till you've made a smooth, fairly stiff dough.

Place the dough in a lightly greased bowl or other rising container, cover it, and allow it to rise for about 90 minutes, till it's just about doubled in bulk.

While the dough is rising, make the filling. Fry the diced onion in the oil over high heat; it'll brown very quickly, so stir often. Fry till it's a dark golden brown, with even darker charred bits. Sprinkle with the salt, stir to combine, and remove from the heat. Transfer to a small bowl to cool.

Preheat the oven to 450°F.

Gently deflate the dough, and divide it into 8 pieces. Shape four of the pieces into 4" to 5" circles, each with a small rim. (Keep the remaining pieces of dough covered.)

Place the shaped circles on a parchment-lined or lightly greased baking sheet.

Use a sharp knife or pair of scissors to snip a 1" hole in the bottom of each bialy.

Evenly spread the filling into the center of each bialy, the part defined by the rimmed edge.

Top the bialys with a sheet of parchment or aluminum foil; then with another baking sheet. You want to weigh them down.

Bake the bialys for 4 minutes. Remove them from the oven, and remove the baking sheet and parchment or foil.

Return the bialys to the oven, and bake for an additional 7 minutes, till they're a dappled golden brown.

Remove from the oven, and cool on a rack. Repeat with the remaining dough.

Yield: 8 large bialys.
Reviews
Keep the remaining pieces of dough covered . . . never says what to do with them afterward

Bill, in step 12 you'll see it says to "repeat with the remaining dough." We found it easier to split up the baking process into four bialys at a time so they would all fit on a baking sheet. If your oven can handle all eight at once, you're welcome to complete them all at once. Happy baking! Kye@KAF
I made Bialys before and always fought against them ending up like little baseballs...just as shown in the pictures. I plan to make this week and will advise how they turn out. This deserves 5 stars just for tip on ending up with flatter bialys. I have bought both mail order and in local S&Shop...but nothing beats creating this very simple delicacy right at home.
Great bialys recipe, adding the extra tray on top very good idea. Kept them from rising too high.
Beautiful, delicious, and chewy. I used Bread Flour plus 2 1/2 Tbs vital wheat gluten as I have no High-Gluten Flour. I also refrigerated the dough overnight after the first rise so I could make the Bialys fresh for breakfast.
This was the first time ever that I used Sir Lancelot flour and SAF Instant Yeast and they came out great! These make a great meal with a big bowl of chicken soup. Can't stop eating them...
Wow! These were great! The combination of hot bread, sweet onions, and silky butter was incredibly comforting on a chilly day. A sprinkle of kosher salt made it even better. I used bread flour and they were just chewy enough for my family. I plan to add a little whole wheat flour next time, and a teaspoon of poppy seeds to the filling. This bread will definitely be added to my bread repertoire.
I used bread flour and added 2.5 tb of vital wheat gluten. Did the onions the way Kossar's does them on my second batch and preferred that way. (Chopped and baked on a tray with some oil.) Did not cut a slice in the middle, just spread the dough thin. Only problem was that my tray to top them maybe was too heavy and they were too flat. Used a lighter tray. Anyway, loved them!! Cannot tell them apart from Kossar's.
I made these with all-purpose flour and added wheat gluten and I forgot about using a second baking pan on top, so I just baked the bialys for 15 minutes or so. They still turned out delicious! The sweetness of the onions and the saltiness of the dough were amazing. YUM!
They turned out crunchy and really tasty, I just wish they rose a little more and got little fluffier. Question: Shouldn't there be about 20 min. rising time after forming flat circles and before baking it?
These usually are not fluffy but let them rise longer if you want them to be fluffer. Joan@bakershotline
Mine turned out tough. help!
Lucy, Bialys are definately "chewy". Please call our bakers on the HotLine for assistance: 809-827-6836. Frank @ KAF.