A customized print-friendly version of this recipe is available by clicking the "Print Recipe" button on this page.
Big Batch Quick Dinner Rolls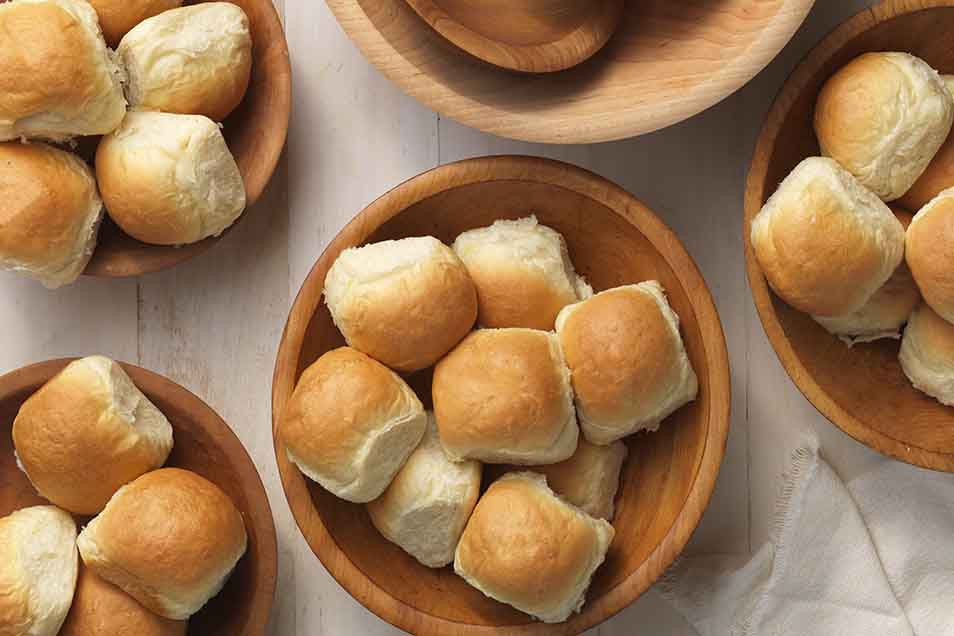 Soft, tender and warm dinner rolls are perennial favorites at the holiday table, or in our house, year round. We make this big batch of rolls for cookouts, bake sales, community dinners and Sunday dinners (with plenty of leftovers for the week).
The recipe will yield 4 pans of 6 rolls each, so you can bake what you need and freeze the rest if desired.
Instructions
Combine the water, milk, butter, sugar, salt and yeast in a large bowl, or the bowl of your stand mixer. Stir well and let sit for 6 to 8 minutes, or until you see the yeast begin to foam.

Add 5 cups of flour and mix by hand or with the paddle attachment until the dough forms a rough, shaggy mass. The dough will not form a ball at this point, but will be just shy of coming together.

Add flour, 1/2 cup at a time and blend with the dough hook until a smooth ball begins to form. Knead by hand for about 10 minutes, or by machine for 4 to 5 minutes until a soft, smooth ball of dough is formed. The dough should feel elastic and slightly tacky to the touch.

Lightly spray your work bowl with cooking spray and place the dough in the bowl. Spritz the top of the dough with spray as well and cover lightly with plastic wrap or a shower cap. Let rise for 20 minutes at room temperature or until the dough is full and puffy.

Gently deflate the dough and pat out to a rough rectangle about 8 inches by 12 inches. Cut the dough into 4 long strips, then cut each strip into 6 portions for a total of 24 dough balls. Shape into round balls as you would shape meatballs, using your cupped hands to roll the dough. Spritz your hands with cooking spray to prevent sticking.

You can place the rolls into any of the following pans, well greased or lined with parchment paper: One half-sheet baking pan or 2 quarter-sheet pans. Two 13" x 9" x 2" pans. Four 8" or 9" round baking pans OR a combination of any of these pans.

After the rolls are in the pans, cover again with your plastic wrap and let rise at room temperature for another 20 to 25 minutes, or until well rounded and full looking. If you are baking now, preheat the oven to 350°F.

Bake the rolls for 20 to 25 minutes or until golden brown and an internal thermometer reads 190°F. You can brush the baked rolls with melted butter if desired. Serve warm, store leftovers in a plastic bag for up to 3 days.

If you want to freeze the unbaked buns, place in the pans as described in step 6 and allow to rise for 10 minutes. Wrap airtight and freeze for up to 4 weeks. To bake, thaw overnight in the fridge, then unwrap and bake as directed.
Nutrition Information
Serving Size

1 roll (60g)

Servings Per Batch

24
Amount Per Serving:
Calories

140

Calories from Fat

20

Total Fat

2g

Saturated Fat

1g

Trans Fat

0g

Cholesterol

5mg
Sodium

300mg

Total Carbohydrate

25g

Dietary Fiber

1g

Sugars

2g

Protein

5g
* The nutrition information provided for this recipe is determined by the ESHA Genesis R&D software program. Substituting any ingredients may change the posted nutrition information.
Tips from our bakers
Yes, you read that yeast amount correctly. This is a quick rise recipe, hence the higher amount of yeast.
Reviews
Made these yesterday - excellent for what they are! I prefer potato rolls, but these are still super yummy!
Very good rolls. One question. The recipe calls for 2 cups of milk or 454 grams. The weight of 2 cups of whole milk is 480 grams. The weight of 2 cups of water is 473 grams for reference. Either 2 cups is wrong or 454 grams is wrong. What is the correct amount?

Hi there, fellow baker! Based on our Ingredient Weight Chart and our findings in our test kitchen, one cup of milk weighs 227 grams which would make two cups of milk 454 grams. If you'd like to chat further about this recipe or about weighing ingredients, please feel free to reach out to our Baker's Hotline at 855-371-BAKE (2253). Happy baking! Morgan@KAF
I baked these for Thanksgiving. They were tender and flavorful, but they never browned. I added the additional sugar called for, but I didn't see any improvement. I am very pleased with their texture, however. I have a tendency to wind up with crunchy-topped rolls, but these maintained their softness. If you add more sugar to your dough, you might have better luck. When they were done baking for me, though, they looked like those half-baked jobs you get at the grocery and finish in your own oven.

Hi there! We're glad to hear that you enjoyed the texture of these rolls, but are sorry to hear that they didn't brown much. Most often when a bread doesn't brown as much as expected, it is because the dough has been slightly over-proofed — the yeast cells eat up all the sugars and then there isn't much left to caramelize during the bake. We'd suggest shortening up your second rise time by about 10 minutes (especially if your kitchen is warm) on your next baking adventure. We hope this helps and happy baking! Morgan@KAF
Quick and easy. I had no issues with these and they were delicious. I did freeze half of the dough so hopefully they turn out when I bake them. I would bake these again.
They're passable but to be honest, if I'm taking the time to make dinner rolls, then I'd like them to exceed the bakery section in the grocery store. My teenage son kept asking what was wrong with them, and then he blurted out that they taste yeasty. I weighed my ingredients and added additional sugar, as others suggested. In future I'll use a different recipe from King Arthur Flour. We love the potato rolls from here.
Very Simple recipe, and they turn out beautifully and quickly!
This recipe is really great! I halved the recipe and baked them in a single 9x13x2 pan. They turned out really well! Although the first time I made them they were a bit salty and the crust didn't brown very much. When I made them a second time, I followed some suggestions given in the comments. I reduced the salt (for a half batch) to 1 and 1/3 teaspoons (rather than 1.5 tsp), increased the sugar from 11g to 17g, and allowed them to rise for 35 minutes instead of 20-25 minutes in the pan before baking. I was also very careful to make sure that the milk, butter, and water mixture was between 100 and 110 degrees in the beginning, rather than just the milk. I think the first time I made them the wet ingredients were slightly cold which reduced the yeast's activity. I brushed the tops of the buns with butter before baking and then baked them for 20 minutes and they were perfect! They are very nice served warm with a soup or stew. The leftovers make great breakfast sandwiches! I toast them in a pan and put bacon, egg, and cheese inside.
Too much salt.

Hi Patricia! We're sorry to hear that the flavor of these rolls didn't do the trick for you. If you'd like, feel free to reduce the amount of salt to better fit your tastes. Happy baking! Morgan@KAF
I like the quickness of this recipe and I was wondering if I can use the Tangzhong method; and, if so, what adjustments in hydration are necessary?

Ron, that's a great question, and we'll do one better than telling you how to convert this recipe to tangzhong. If you search our site for "How to convert a bread recipe to tangzhong," it will take you to a guide for adapting any recipe to tangzhong for a beautifully soft interior. Happy baking! Kat@KAF
I have made this recipe at least 3 times for this holiday season. Yeast rolls are always requested of me and I like to try different recipes. This recipe is the best I've tried and I dont have to figure out how to double or triple the recipe because it's already a large batch. Everyone and I mean EVERY PERSON that had one moaned with a foodgasm! Even my picky kids love these. It's a great recipe and I think I'll stick to this one. I do add more sugar than is called for but I like a slightly sweeter roll.