A customized print-friendly version of this recipe is available by clicking the "Print Recipe" button on this page.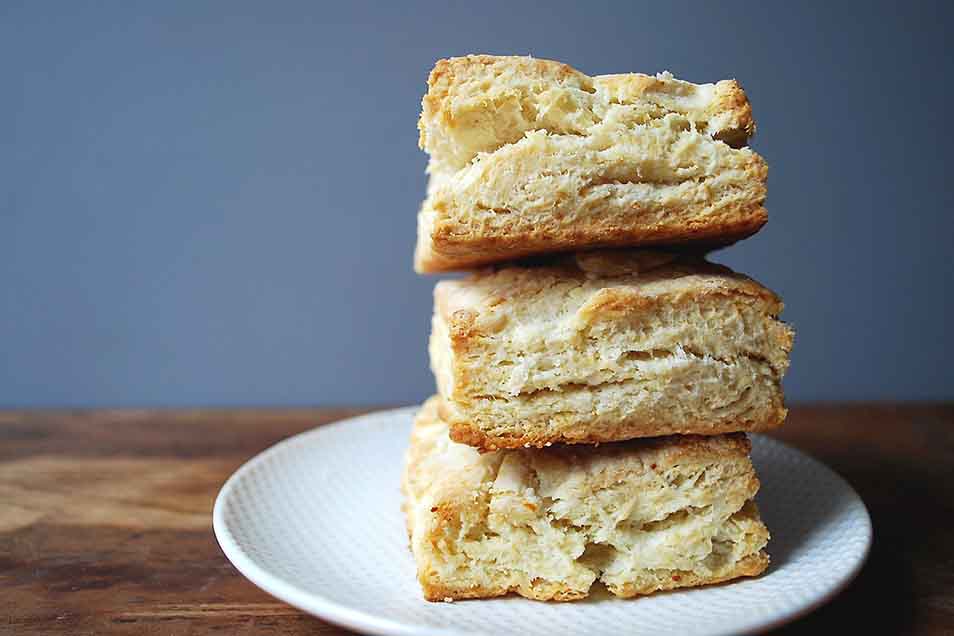 One of our favorite diner breakfasts has always been sausage gravy and biscuits. Sausage gravy is breakfast sausage, cooked and crumbled, then stirred into a white sauce made of flour, sausage grease and milk.

This recipe makes a biscuit that's rich and tender, yet strong enough to stand up to gravy without turning to mush. If you don't want to use them as a base for sauce, they're also strong-yet-tender enough to be smeared with softened butter and spread with jam. And, come summer, they're just right for strawberry shortcake.
Ingredients
3/4 teaspoon salt*
1 tablespoon sugar
2 1/2 teaspoons baking powder
1/4 cup (4 tablespoons) cold butter, unsalted
1/4 cup (4 tablespoons) cold shortening
1 large egg
1/2 cup milk, cream, or half & half (See "tips", below)
*See "tips," below.
Instructions
Mix together the dry ingredients. With two knives, a pastry blender, your fingertips, or a stand mixer, cut or rub the butter and shortening in until the mixture looks like breadcrumbs.

Whisk the egg and milk together. Add them to the dry ingredients all at once, mixing quickly and gently for about 20 seconds until you have a soft dough.

Dump the dough onto a lightly floured work surface. Knead it a couple of times to bring it together. With the help of a dough scraper, shape the dough into a 6" x 6" square, about 3/4" thick. Run a rolling pin over the top once to even it out. Wrap it in plastic wrap, and place it in the freezer for 1 hour.

Preheat the oven to 400°F.

Remove the dough from the freezer, unwrap it, and set it on a work surface. It'll be very stiff, but still soft enough to cut with a sharp knife, sharpened dough scraper or rolling cutter (pizza cutter). Cut the dough into nine 2" squares, and place the squares on a lightly greased or parchment-lined baking sheet.

Bake the biscuits for 16 minutes, or until they're a light, golden brown. Remove them from the oven, and serve hot, warm or at room temperature.

Store, well-wrapped, on the counter for 3 days. Freeze for up to 3 months.
Tips from our bakers
The original version of this recipe called for 1 teaspoon salt. We lowered that to 3/4 teaspoon as a result of feedback from some readers; but if you tend to like things on the salty side, go ahead and use 1 teaspoon.
You can use any kind of milk, from skim right up through whipping cream. The richer the milk, the richer and more tender your biscuit will be.
The point is to work the cold fat into the dry ingredients fairly evenly, but so that it still retains its integrity; you don't want the fat to become one with the flour. The uneven, tender texture of biscuits comes from pockets of cold fat in the dough, which in the baking process don't melt until after the dough is set, leaving butter-catching fissures in the baked biscuit.
Make sure to cut out the biscuits with something sharp; if you use a dull knife, you'll compress the biscuits' edges, and they won't rise as high.