A customized print-friendly version of this recipe is available by clicking the "Print Recipe" button on this page.
Black and White Pound Cake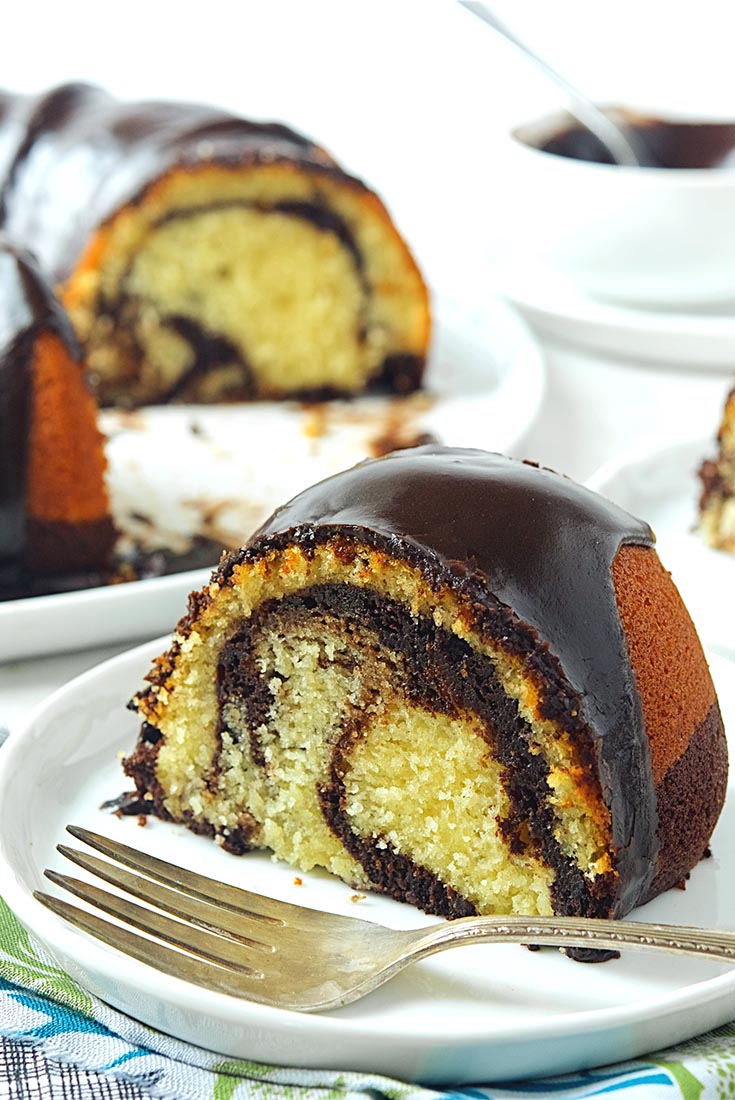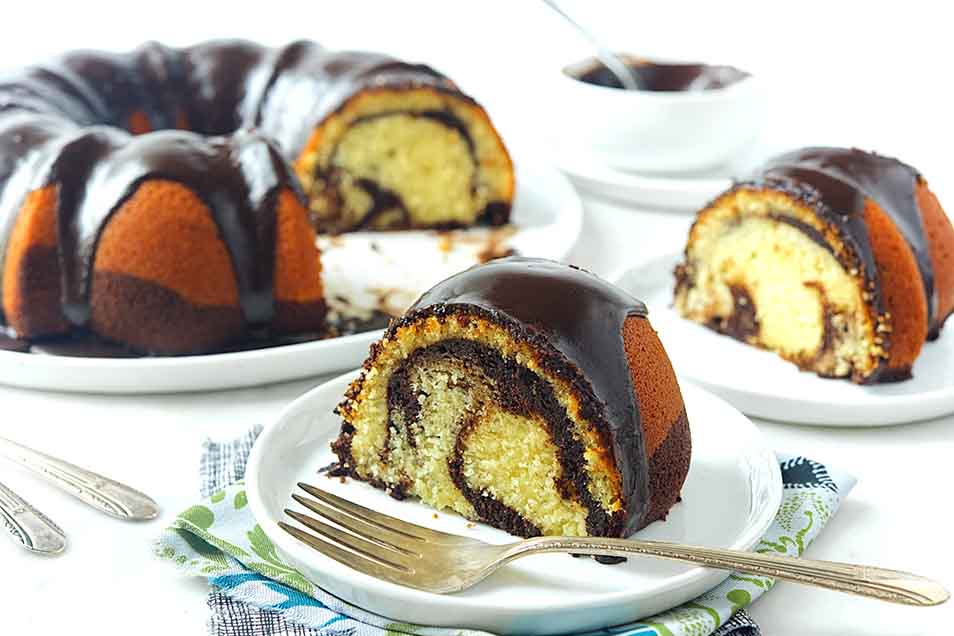 This classic marbled pound cake satisfies chocolate and vanilla lovers alike.
Ingredients
Chocolate batter
1/4 teaspoon espresso powder, optional; for enhanced chocolate flavor
1/4 cup Dutch-process cocoa or natural cocoa
1/4 cup water
1/2 teaspoon baking powder
1 cup vanilla batter, from above
Icing (optional)
1 cup confectioners' sugar
1/4 cup Dutch-process cocoa or natural cocoa
1 tablespoon soft butter
3 tablespoons water
Instructions
Preheat the oven to 350°F. Lightly grease a 10-cup or 12-cup Bundt pan.

To make the vanilla batter: Blend together the sugar, flour, salt and baking powder until combined.

Add the butter, beating slowly with an electric mixer until the mixture is evenly sandy textured.

Beat in the eggs one at a time, mixing until each egg is fully blended into the batter before adding the next. Scrape the bowl as necessary.

Slowly add the buttermilk on low speed, then mix on medium speed until the batter is fully combined. It may appear slightly curdled; that's OK. Sir in the vanilla at the end.

To make the chocolate batter: Mix the cocoa, espresso powder, baking powder, and water together until combined. Stir this cocoa paste into 1 cup of the vanilla batter.

Pour half the vanilla batter into the prepared pan, and dollop with half the chocolate batter. Repeat, pouring the remaining vanilla batter into the pan, and dolloping with the remaining chocolate batter.

Swirl the two batters together using a thin spatula or butter knife.

Bake the cake for 40 to 45 minutes, or until a cake tester inserted into the center comes out clean, or perhaps with a few moist crumbs.

Remove the cake from the oven, and cool it for 10 minutes in the pan before turning it out onto a rack.

To make the icing: Mix the confectioners' sugar, cocoa, butter, and water to make a spreadable icing. Spread the icing on top of the slightly warm cake; it will slowly drip down the sides.

Serve immediately, or within a day or so. Store the cake at room temperature; underneath a cake cover is ideal, but you can also tent it lightly with plastic wrap. Freeze for longer storage.
Reviews
I just bought a new bundt pan and had to try it out. I picked this recipe because of the reviews and simplicity. It turned out beautiful and tasted great. I put a chocolate ganache on it instead of the frosting as listed in the recipe. The cake was moist, flavorful and delicious. It is not a very sweet cake which my family enjoyed. Will definitely make again.
This cake was delicious - not very sweet which we loved. Very moist and the icing is a must. How would I adapt this to a regular 2 layer cake? I'm thinking if I use the recipe as is, it would be too flat

Hi Celeste, we wouldn't recommend making any changes to the batter; even if the layers are slightly flat that will make them perfect for stacking. You can bake the batter in three 8" round pans or two 9" round pans. Bake at 350°F, and check early and often, starting around 25 minutes. A toothpick inserted into the center should come out clean and the top should spring back when pressed. Happy baking! Kye@KAF
What a fantastic pound cake! I used dutch process cocoa and extra rich natural vanilla and it was very flavorful. I could only find low fat buttermilk and I was worried about how it would affect the flavor, but it was still delicious. My cake came out more blended though and I didn't get the marble effect. Do you have a video on how to achieve the marbling?

Hi Jenny, while we don't have a video about how to marble a cake, it sounds like you're almost to where you want to be to achieve a that perfect look. After you dollop the chocolate batter and top with vanilla, the mixing that's required is quite minimal. Using a chop stick to make a few quick swirls in the batter will suffice. The cake turns out more impressive looking if that batters remain distinct, and the process of dolloping the chocolate batter between the layers of vanilla naturally creates a marbled look. We hope that helps! Kye@KAF
Made this recipe today for Memorial Day and just had a piece for dessert. I was awesome. The icing was a little bitter but it paired well with the cake. My two friends who were here had a piece each and not a crumb was left!!
That cake itself was light and moist, not at all like a pound cake; and the marble look was great. The flavor was obsolete. If it weren't for the chocolate icing, it would have no flavor at all. I followed this recipe very meticulously. Sorry, but I won't be making it again.

Amy, it sounds like the chocolate icing was a saving grace here. We're glad you liked that element of the recipe, and we'd love to share some tips about how to bring the rest of the cake up to that same delicious level. It's important to use a high-quality (real) vanilla extract in the vanilla batter, as it's what imparts the rich, robust flavor. Similarly, we encourage you to use both the espresso powder and full-fat cocoa powder to ensure to best chocolate flavor in the chocolate batter if you're not already doing so. We hope these tips help achieve the best flavor in this stunning cake, or we hope you find a recipe that pleases your taste buds. Kye@KAF
Really good and moist cake. We had it with berries instead of the topping.The chocolate side came out a bit bitter ( I used the coffee powder).
To die for. Really, really delicious cake. I did not make the topping, I just brushed with simple syrup. My kids and husband all agree we should eat this again. Thanks!
I made this today with Measure 4 Measure flour. Oh my goodness! It is so moist and delicious! A very soft crumb my guests loved it. Thank you so very much KAF for M4M flour and your wonderful recipes. I am a novice baker but you are making me a star.
My daughter baked this cake, came out excellent. It is very easy to put together and baked very well. Not too sweet, just as we wanted it. This is my first choice for marble cake.
My family agrees this is the best cake I've ever made! Not too sweet, moist, all-around delicious. We didn't even frost ours.