A customized print-friendly version of this recipe is available by clicking the "Print Recipe" button on this page.
Black and White Pound Cake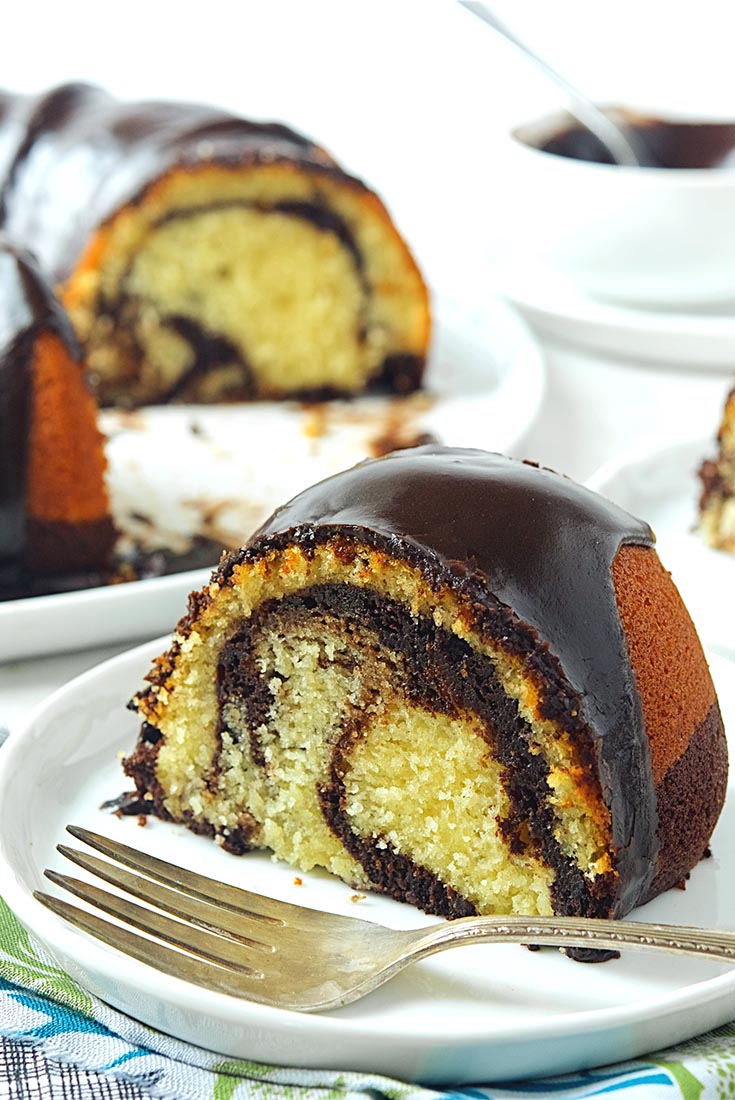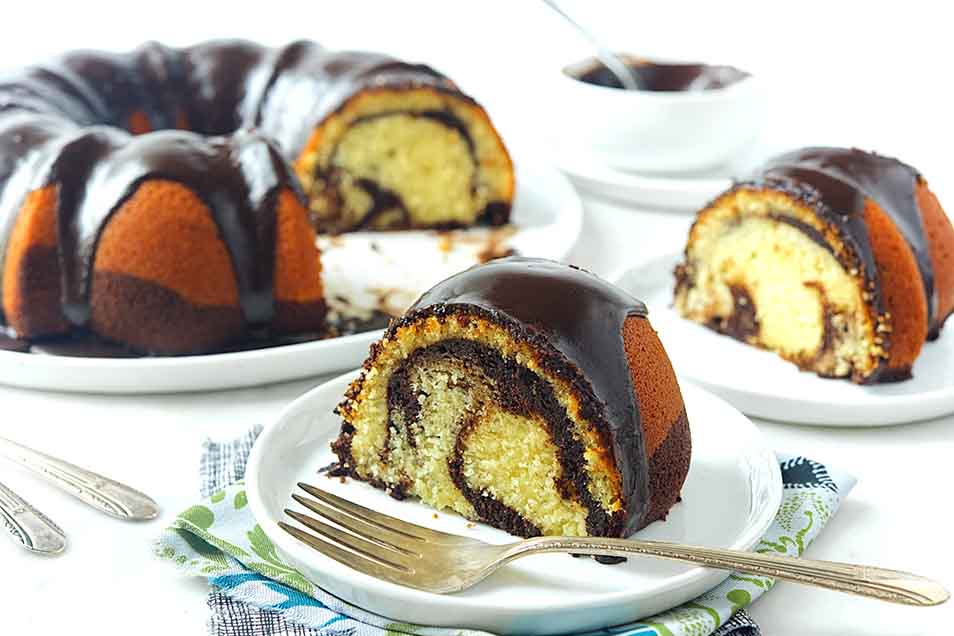 This classic marbled pound cake satisfies chocolate and vanilla lovers alike.
Ingredients
Chocolate batter
1/4 teaspoon espresso powder, optional; for enhanced chocolate flavor
1/4 cup Dutch-process cocoa, natural cocoa, or Triple Cocoa Blend
2 tablespoons water
1/2 teaspoon baking powder
1 cup vanilla batter, from above
Icing (optional)
1 cup confectioners' sugar
1/4 cup Dutch-process cocoa or natural cocoa
1 tablespoon soft butter
3 tablespoons water
Instructions
Preheat the oven to 350°F. Lightly grease a 10-cup Bundt pan.

To make the vanilla batter: Blend together the sugar, flour, salt and baking powder until combined.

Add the butter, beating slowly with an electric mixer until the mixture is evenly sandy textured.

Beat in the eggs one at a time, mixing until each egg is fully blended into the batter before adding the next. Scrape the bowl as necessary.

Slowly add the buttermilk on low speed, then mix on medium speed until the batter is fully combined. It may appear slightly curdled; that's OK. Sir in the vanilla at the end.

To make the chocolate batter: Mix the cocoa, espresso powder, baking powder, and water together until combined. Stir this cocoa paste into 1 cup of the vanilla batter.

Pour half the vanilla batter into the prepared pan, and dollop with half the chocolate batter. Repeat, pouring the remaining vanilla batter into the pan, and dolloping with the remaining chocolate batter.

Swirl the two batters together using a thin spatula or butter knife.

Bake the cake for 40 to 45 minutes, or until a cake tester inserted into the center comes out clean, or perhaps with a few moist crumbs.

Remove the cake from the oven, and cool it for 10 minutes in the pan before turning it out onto a rack.

To make the icing: Mix the confectioners' sugar, cocoa, butter, and water to make a spreadable icing. Spread the icing on top of the slightly warm cake; it will slowly drip down the sides.

Serve immediately, or within a day or so. Store the cake at room temperature; underneath a cake cover is ideal, but you can also tent it lightly with plastic wrap. Freeze for longer storage.
Reviews
The texture of this cake is exactly what a pound cake should be-dense, moist and tender. This is the only pound cake recipe I've tried where the cake didn't have a rubbery or dry texture. A definite keeper!
I am also an experienced baker and eater! I halved the recipe and put it in a small size bundt pan. I believe the baking time was about 25-30 mins and it turned out perfect and moist. It was not an overly sweet cake and that was appreciated as well. There was so little leftover that I cannot tell you how it stores overnight!
I'm an experienced baker and I had the same problem as some of the other bakers - the cake tested done, after giving it an extra five minutes in the oven, but it started to shrink once it was out of the oven, even before I had a chance to take it out of the pan. Once out of the pan, it shrunk even further. The first time I made this cake, I used two loaf pans. They did shrink a little bit, but not to the extent it did when I made it next in a Party Bundt pan. I thought it might be that pan, so I tried it yesterday in a standard Bundt pan with the same result. The flavor was nice, but it was dense and gummy. That's why I came to read other reviews to see if I could figure out what I did wrong. After seeing what others have experienced, I don't think it's me. Next time, I'll try the online version, which apparently has been improved from the catalog recipe, and will re-review.
Helllo KAF I made the recipe yesterday and it was delicious. I melted the butter , I didn't find any specification about that. Just to verify with you about it. Thanking you in advance. Best regards
I had so much fun making this cake. It was a completely last minute affair. Had to be at a party at six and began baking at four! The cake looked like a real pro baked it. I had to act fast to have some because guests were devouring it ! The recipe is a bit involved, but I just jumped in and was so pleased by the result. It was moist, had just the right amount of sweetness, and the icing was the EASIEST thing to make. Espresso powder really amps up chocolate, wow! Thanks for a lovely recipe.
What a great recipe! I don't know why so many people had a problem with it. I really liked the method of mixing the butter with the dry ingredients, first, as it really stream- lined the mixing process by eliminating the need to alternate adding the flour and liquid. It is really important to have all the ingredients at room temp., so maybe that was where a lot of people went wrong. I also weigh my ingredients, instead of measuring in cups, so I am certain I haven't added too much flour. The only problem I had was that I found the cocoa mixture rather dry, so I just added a bit more water to loosen it up, and make it easier to incorporate with the vanilla batter. I baked the cake in 2 square pans, instead of a bundt pan. The only hitch was that I forgot to adjust the baking time down because I wasn't using a bundt pan! Thankfully, I peeked in to see how things were progressing, and saw that the layers were browning, so I pulled them out to check for doneness. I think they would have been a bit more moist with 5 min. less time in the oven (the cake had pulled away from the sides of the pans), but everyone at the party said it was delicious. This pound cake was also sturdy enough to make into a castle, for the princess themed birthday party of a friend's daughter. I usually cut the sugar by at least 1/4 when I bake cakes, but the comments indicated that it wasn't a really sweet cake, so didn't make any adjustments. I was pleased that finished cake wasn't overly sweet, so I'll definitely be making it, again.
I followed the reciepe step by step, it baked with a nice bundt cake height, then fell as it cooled. I used a therma-pen to check temperature and traditional touch method to check doneness. The cake was cooked thru-no gummy spots but I found it odd that it shrunk. The chocolate swirl inside had a more brownie-cake texture and was a bit strong in flavor- maybe it was the type of chocolate I used (Guittard Brand). My icing didn't come out as smooth and pretty as the photo so I reverted to one of my pint chocolate icing recipes. The cake presented well on the table, only crumbs remained. I may try to make this one again just to see if I get a different outcome. It could've just been a bad baking morning.
well, its not a bad cake, is just simple. it wasnt a big deal.

We're sorry to hear this recipe didn't leave you feeling delighted, Odile. If you'd like us to help point you in the direction of another recipe that may be more to your liking, please don't hesitate to give our friendly Baker's Hotline a call: 855-371-BAKE(2253). We hope you find a cake recipe that amazes your taste buds. Kye@KAF
Why aren't the paper catalog and the on-line recipe the same? The amounts in the recipe differ. So, which one do we follow/use? Thank you.

Hi Virginia. We'd recommend following the online version of the recipe as that is the most recently updated. Happy baking! Annabelle@KAF
I too had a similar result as Vivian Li of WA and Amy from MA. Followed the recipe exactly, had to bake 10 minutes longer and removed from the oven as no crumb was left on my cake tester. Upon cooling the cake collapsed and was gummy/underbaked inside.

We're sorry to hear about the frustrating experience you had with baking this cake, Barbara, and thank you for reaching out to us. Our test kitchen bakers have been tinkering with this recipe and made some changes to remove that gummy texture some customers were finding. We've lowered the amounts of buttermilk and water and increased the baking time. Using these tips (which are now incorporated into the recipe itself) we found that the texture was much improved. There were no gummy traces to be seen. Should the Black & White Pound Cake mood hit you in the future, we hope you'll give this recipe another go. We think that your cake fix will be thoroughly satisfied! Annabelle@KAF