A customized print-friendly version of this recipe is available by clicking the "Print Recipe" button on this page.
Black and White Pound Cake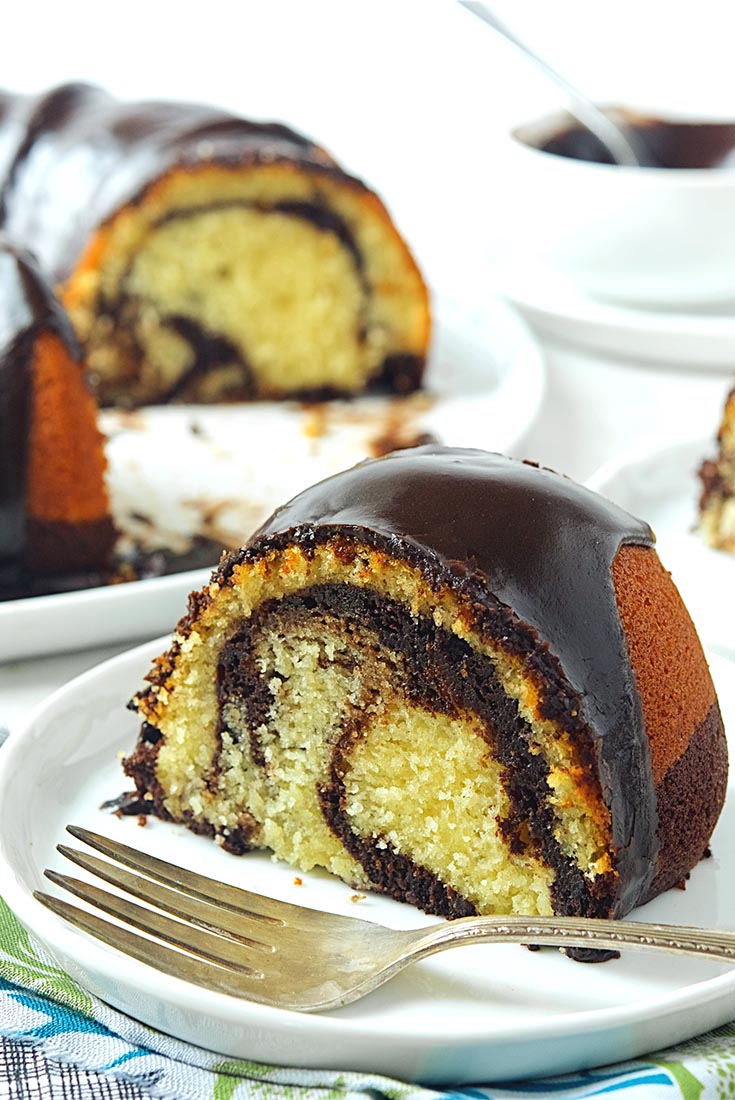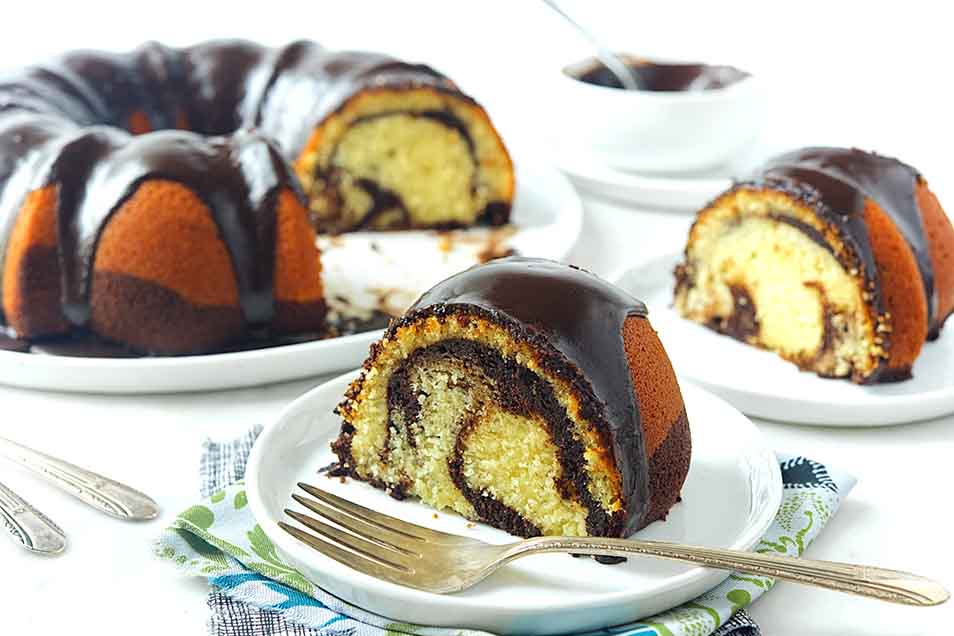 This classic marbled pound cake satisfies chocolate and vanilla lovers alike.
Ingredients
Chocolate batter
1/4 teaspoon espresso powder, optional; for enhanced chocolate flavor
1/4 cup Dutch-process cocoa, natural cocoa, or Triple Cocoa Blend
2 tablespoons water
1/2 teaspoon baking powder
1 cup vanilla batter, from above
Icing (optional)
1 cup confectioners' sugar
1/4 cup Dutch-process cocoa or natural cocoa
1 tablespoon soft butter
3 tablespoons water
Instructions
Preheat the oven to 350°F. Lightly grease a 10-cup Bundt pan.

To make the vanilla batter: Blend together the sugar, flour, salt and baking powder until combined.

Add the butter, beating slowly with an electric mixer until the mixture is evenly sandy textured.

Beat in the eggs one at a time, mixing until each egg is fully blended into the batter before adding the next. Scrape the bowl as necessary.

Slowly add the buttermilk on low speed, then mix on medium speed until the batter is fully combined. It may appear slightly curdled; that's OK. Sir in the vanilla at the end.

To make the chocolate batter: Mix the cocoa, espresso powder, baking powder, and water together until combined. Stir this cocoa paste into 1 cup of the vanilla batter.

Pour half the vanilla batter into the prepared pan, and dollop with half the chocolate batter. Repeat, pouring the remaining vanilla batter into the pan, and dolloping with the remaining chocolate batter.

Swirl the two batters together using a thin spatula or butter knife.

Bake the cake for 40 to 45 minutes, or until a cake tester inserted into the center comes out clean, or perhaps with a few moist crumbs.

Remove the cake from the oven, and cool it for 10 minutes in the pan before turning it out onto a rack.

To make the icing: Mix the confectioners' sugar, cocoa, butter, and water to make a spreadable icing. Spread the icing on top of the slightly warm cake; it will slowly drip down the sides.

Serve immediately, or within a day or so. Store the cake at room temperature; underneath a cake cover is ideal, but you can also tent it lightly with plastic wrap. Freeze for longer storage.
Reviews
The chocolate portion of the cake & icing were delicious, but the vanilla portion of the cake was dry. I wonder if I caused the problem by not getting it to the proper texture consistency called for in the recipe? I had never heard of basically adding adding all if the dry ingredients with the butter? Maybe I didn't mix it long enough?

We're happy to add some insight, Denise. Mixing butter with dry ingredients and then adding liquid is called a high-ratio method cake, and it is a different style but creates deliciously moist cake. The next time you're making the vanilla cake batter, let the butter and dry ingredients become the consistency of corn meal. Then, whisk together your eggs and buttermilk until they're cohesive. With the mixer on low, very very slowly drizzle in your wet ingredients. It could take up to 2 minutes to drizzle it all in, but it will ensure that the batter comes together very smoothly and you should be able to get the desired texture that way. Annabelle@KAF
I made this from a recipe in your catalog, which differs slightly from the recipe on the website. Liquid measurements are not exactly the same and there is no suggestion of using a glaze. The flavor on the recipe I used was just ok, nothing special. I used excellent ingredients, including Nielsen-Massey vanilla extract. I'll try again with the website recipe.
i agree with reviewers that this is a tasty and appealing cake. am glad i didn't know about the icing, as i surely would have screwed that up. it's fine without extra tarting up.
I arrived home from vacation late last night snd could not wait to get to baking this morning. I baked this cake in my Bavaria Bundt pan and it came out beautifully. It gook a long time for the butter to bresk down into that sandy texture and I wonder if my butter should have been cold, rather than at room temp. The rest of the batter came together quite nicely and once the eggs and buttermilk were in the whole thing was velvety. One thin pointy chop stick was ideal for the swirly magic. The swirl part was a lot of fun. I am glad I stopped when I did and will probably use a little restraint on the swirl next time. I made a vanilla glaze using a recipe from America's Test Kitchen that came together in no time. The glaze ran down the runnels from the Bavaria pan and added a really wonderful look to the cake. Not to mention some added vanilla goodness. I used home made t for the cake and for the glaze. I used a baking spray to coat the pan and maybe next time I will use butter or coconut oil. The cake did get a slight tan and I think it came from using the spray. However, that did nothing to detract from the flavor or texture of the cake. It is delicious.

It sounds like you executed the recipe perfectly: the butter should be soft at room temperature. It may take 2-3 minutes for the butter to become worked into the dry ingredients. Keep mixing until a sandy texture forms. This will help produce a fine-crumbed texture in your cake. Happy baking! Kye@KAF
03/27/18 Joe Falcone, Desert Hot Springs, CA. I made this cake & it was awesome. I will make this cake often. It's the best of the best. It freezes well. Just double wrap it. Make sure you butter your bunt pan well & don't mix the white & black cake mix up too much once it's in the bunt pan. I used one chop stick & just swirled it just a little to get the marbling effect.
Made this cake without the icing and was really pleased. Got great comments from my friends and this will be a keeper. Served it with some whipped cream and chocolate sauce...think next time some caramel! Cake doesn't rise that much but is super moist and dense. For the chocolate I did 3 TBL of Dutch cocoa and 1 TBL of Black Cocoa.
I am an experienced baker and am quite disappointed with this recipe. I baked it twice and both were not good.The first time, it rose very well in the oven; and looked very good. The cake collapsed when cooling. The cake was very wet with pudding or mochi like texture. I thought that may be i had the measurements wrong. So I made it again. It was the same even after I baked it longer in the oven. I am debating to make it again without the water added to the cocoa and espresso powers. But is it frustrating to waste the materials. PS. I used all King Author ingredients. so, can't blame ingredient quality

We're sorry to hear this recipe gave you trouble, Vivian. It sounds like it needed a few more minutes in the oven to become set in the center. Were you by chance using a glass or dark colored pan? If so, it helps to lower the oven temperature by 25°F and bake for 10 additional minutes. Either way, we'd love the chance to talk through the recipe with you, so we encourage you to reach out to our friendly Baker's Hotline staff to help troubleshoot at 855-371-BAKE (2253). Kindly, Annabelle@KAF
I made this recipe exactly as written (except that I made two loaf cakes instead of one Bundt cake). I also didn't use any glaze or frosting. They were delicious, with a lovely soft texture, and everyone raved over them. Some even said they were one of the best cakes I ever made. As I read in another review, I also found that they didn't rise as much as expected and I suspect it's because I used another brand of flour. A friend of mine, whose husband bakes a lot, said KAF flour is superior to the others available in the supermarkets, so next time I make this cake, I'll be sure to buy KAF AP flour to see if it rises higher. I also might consider making more of the batter chocolate because I'm a real chocoholic. Thanks for an excellent (and easy) recipe.
Can I make it GF?? Thanks in advance

Emma, you can replace the all-purpose flour in the recipe with our Gluten-Free Measure for Measure Flour without making any other changes. Happy baking! Kye@KAF
This was legitimately the worst cake I have ever baked and I'm an experienced baker who makes a lot of Bundt cakes. It didn't rise very well and took longer to bake than expected (my oven is correctly calibrated). It ended up tough on the outside but still gummy on the inside. I had to throw it out. I usually love KA recipes but this was a total failure.

Thank you for reaching out, Amy. We're surprised to hear this recipe gave you such trouble and appreciate your feedback. Being a pound cake, this particular recipe doesn't rise very much, but our concern is the tough and gummy textures. It sounds as if there may have been a bit of extra flour which would not only inhibit rise, but would also toughen the cake, and throw off the texture significantly. We'd love the chance to talk through the recipe with you, so we encourage you to reach out to our friendly Baker's Hotline staff to help troubleshoot at 855-371-BAKE (2253). Kindly, Annabelle@KAF