A customized print-friendly version of this recipe is available by clicking the "Print Recipe" button on this page.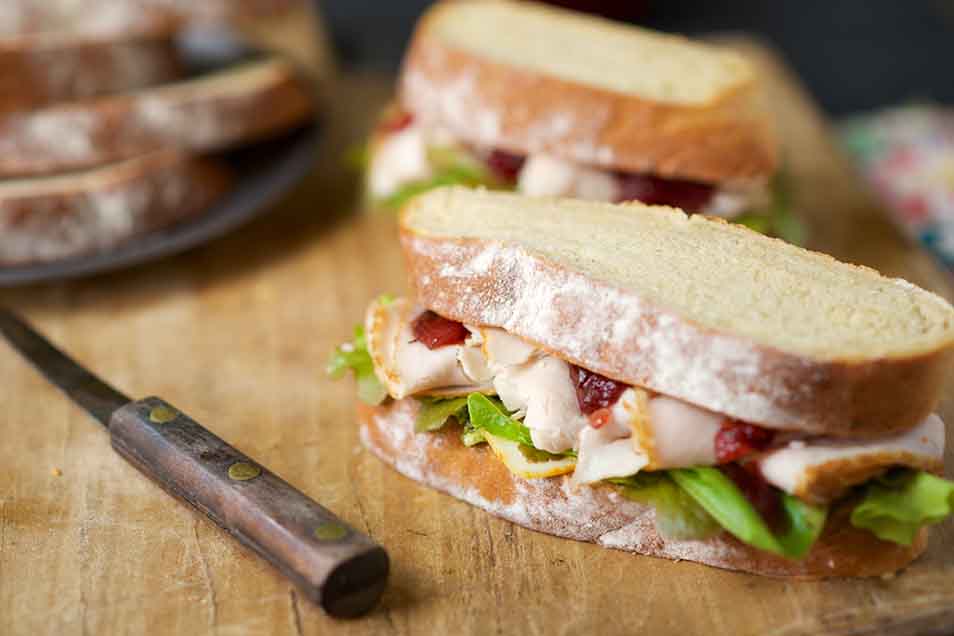 Black Friday — the day after Thanksgiving — is equal parts shopping and leftovers. Turkey sandwiches are a must; but what do you do with all those leftover bits of stuffing, mashed potatoes, squash, creamed onions... Well, kill two birds with one stone: make a delicious sandwich loaf, AND use those other leftovers from the Turkey Day meal right in the bread itself. This moist, flavorful bread slices beautifully; and when you use stuffing as one of the ingredients, its mild herb flavor is perfect for a turkey sandwich.
Instructions
Place all of the ingredients in a bowl (or the bowl of your stand mixer; or a bread machine bucket); and mix and knead to make a smooth, elastic, and somewhat sticky dough. The dough will feel tacky, but should hold its shape nicely; you should be able to handle it easily with greased hands.

Place the dough in a lightly greased bowl or 8-cup measure (for easiest tracking of the dough as it rises). Allow it to rise until it's quite puffy, 1 1/2 to 2 hours.

Gently deflate the dough. Shape it into an 11" to 12" log, and place it on a parchment-lined or lightly greased baking sheet.

Cover the loaf with lightly greased plastic wrap or a dough cover (the plastic cover of a disposable supermarket deli tray or cake platter may work well for you here), and let the loaf rise until it's noticeably puffy, 1 1/2 to 2 hours. Towards the end of the rising time, preheat the oven to 350°F.

Bake the bread for 35 to 45 minutes, until it's golden brown on top, and an instant-read thermometer inserted into the center registers at least 190°F.

Remove the bread from the oven, and place it on a rack to cool. When completely cool, wrap airtight and store at room temperature for 3 to 4 days; freeze for longer storage.
Nutrition Information
Serving Size

54g

Servings Per Batch

16
Amount Per Serving:
Calories

130

Calories from Fat

30

Total Fat

3.5g

Saturated Fat

1.5g

Trans Fat

0g

Cholesterol

5mg
Sodium

200mg

Total Carbohydrate

21g

Dietary Fiber

2g

Sugars

2g

Protein

4g
* The nutrition information provided for this recipe is determined by the ESHA Genesis R&D software program. Substituting any ingredients may change the posted nutrition information.
Tips from our bakers
Taste the bread dough once it's mixed, but before kneading; you may need to adjust the salt, depending on whether or not the add-ins you chose were salty.
We've used 1 cup each stuffing and mashed white potatoes for the loaf pictured above. Feel free to substitute your own combination of stuffing and/or mashed root vegetables or sides: turnip, sweet potatoes, applesauce, squash, parsnips...
You'll have to play the amount of flour/liquid somewhat by ear (or eye); depending on how moist your add-ins, you may need to add either additional bread flour, or additional milk or water. Your goal is a soft (but not challengingly sticky) dough.
Can you substitute unbleached all-purpose flour for the bread flour, and/or the whole wheat flour? Sure; reduce the amount of milk to 1/2 cup, adding additional milk or water if the dough seems dry and stiff. Your loaf may not rise as high.
Want to make a delicious stuffing/cranberry sandwich loaf? Instead of 2 cups add-ins of your choice, substitute 1 cup stuffing and 3/4 cup dried cranberries. Reduce the total amount of flour to 3 cups, cutting back on either the bread flour, or the white wheat (or both). Place the loaf in a 9" x 5" bread pan, let it rise, and bake in a preheated 350°F oven for 35 to 40 minutes, until an instant-read thermometer inserted into the center registers at least 190°F.
Reviews
This was great! I used half a cup of potatoes and 1 and a half cups of dressing. He bread was moist and almost light. (My dressing was dense to start with, so I was afraid I'd end up with a brick.) I have about 2 cups of dressing left, so I'll be making this again.
The first loaf was so good I had to make a second loaf the next day!
Great recipe! I realized my bread pans were at my house in Maine so I wondered if making this in a 13" pain de mai or Pullman loaf pan would work. I make these loafs on a weekly basis so why not think outside or with this pan, inside the box, it came out better than perfect. I found the second raise time was only 30 min, go figure. I was worried it would be raw inside but alas, lovely dense and luscious! Once again KAF staff have a holiday winner on their hands! Hats off to them all. Bake on, learn the recipe as written then never be afraid to experiment! Happy holidays to all!!
Wrap tightly and store 3 or 4 days? Not likely, there is none left! I made this bread as directed, adding in a scant cup of some pretty moist dressing and half a cup of massed potatoes with root vegetables. I was concerned that it wouldn't rise well because I forgot to let the potatoes and dressing come to room temperature before I mixed them in, so I set it in the oven that was cooling from baking breakfast for the first rise. It rose nicely and was easy to shape into a loaf for the second rise. I served it with leftovers at a black Friday party and it was GONE! I will be making another loaf for boxing day for Christmas leftover sammiches!
Okay, I have been trying to come up with a way to put "dressin" into a manageable hand-held sandwich bread every year for nearly a decade. I tried to make patties, and they fell apart. I tried to make extra-sturdy dressin, and not only did it suck on Thursday, it didn't help on Friday. Let's not even talk about the Black Friday Calzone gut bombs. I found this recipe, and baked it off verbatim (using 2c dressin, co taters), and it was 4-star all the way. It rose well, it baked up gorgeously, and it sliced and help up great. It's a "little" weak o handle the Black Friday Dagwoods I like to make, but an awesome, awesome bread. So, for Round two, I tweaked it. Since I like round numbers, I bulked the flour up to an even pound, the milk to an even cup, thea yeast to a heaping T (okay, 10g exactly), the butter to a half-stick, the dressin to a pound-n-a-half. I added in also an ounce of Better than Bouillon Roasted Chicken Base and a hefty T of poultry seasoning. This beat up and kneaded well, but it worried me when its rise was a lot slower. I was sure I'd killed it with too much salt, but within 2 hours, it was good n huge. I deflated it, shaped it, and baked it in a 3-qt Le Creuset oval pan that doesn't get enough action. IT WAS BEAUTIFUL. Golden brown, sliceable, and nearly reaking of the Holiday Spirit, this one's a keeper. I made sammiches with leftover turkey, cranberry spread, green beans and deviled eggs...and then had a good nap. Hope all y'all had a good time shopping without me! Next year, Slider buns!
I try to experiment with breads on this site...and this one was a winner...I put in Stuffing..and my stuffing has raisins--sausage--onions & celery. I put it all in there along with two sweet potatoes and it came out great...made Turkey Sandwiches with it..and toast in the morning. Going to make more stuffing and cook a couple more potatoes just to make more of this bread. I doubled the recipe and put the dough in a regular bread pan and had to cook it a little longer. I would reccomend to anyone making this to use the Gold Yeast. It helps it raise better.
I love the versatility of this recipe! I've made it twice now using different add-ins each time. I haven't tried it with actual stuffing yet but have used a combination of cornbread, a dinner roll and this last time, a leftover pumpkin muffin. The new sweet potato dish I made for Thanksgiving was not well received and I hate to throw anything out so I tried a cup of it in the loaf I made yesterday and it was perfect! The bread is hearty with the white whole wheat flour plus the nuts and fruit that were in my potatoes and muffin, and it's very moist. Thank you for providing a delicious way for me to use up some leftovers!
I got lucky, in that my addins (1/2 cup each of some pretty dry stuffing and some cranberry salsa, plus 1 cup mashed potatoes) seemed to balance out to just the right amount of moisture. Real easy bread with great flavor! Once lunch time rolls around, I'll be using some of this for leftover sandwiches!