A customized print-friendly version of this recipe is available by clicking the "Print Recipe" button on this page.
Blue Ribbon Caramel-Apple Pie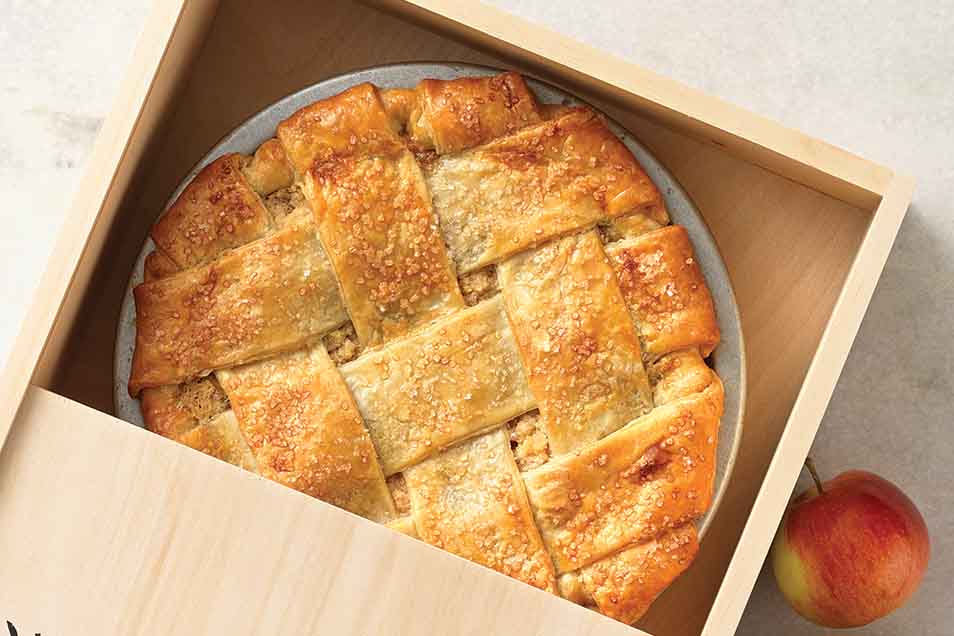 This recipe comes to us courtesy of Anita Newell of Groveton, NH. She took first place with this pie in the Lancaster, NH fair, and after tasting it in our test kitchen, we understood why. We love the pie because it combines the flaky, buttery crust of a traditional apple pie with the streusel topping of a classic apple crisp. It doesn't hurt, of course, that the pie also mimics one of our favorite fall treats: caramel apples.
Ingredients
Filling
1 cup sugar
1 teaspoon ground cinnamon
2 pounds whole apples, to yield 1 1/2 pounds peeled, cored, and sliced apples; about 6 cups
1/2 cup caramel apple dip, caramel sauce, or melted caramel, divided
2 tablespoons milk or cream
Topping
1/2 cup brown sugar
1/2 cup cold unsalted butter
Instructions
Preheat the oven to 375°F.

To make the crust: Combine the flour and salt. Work in the butter to make an unevenly crumbly mixture. Add enough of the water to bring the dough together.

Divide the dough in half, shape each half into a disk, wrap well, and refrigerate for 1 hour.

To make the filling: Combine the sugar, flour, and cinnamon. Stir in the apples.

Combine 2 tablespoons caramel with the milk or cream. Toss with the apples.

To make the streusel: Combine the flour and sugar. Work in the butter until crumbly.

To assemble the pie: Roll one piece of dough into a 12" round, and lay it into a 9" pie pan.

Spoon in the filling; sprinkle with the topping.

Roll the second piece of dough into a circle slightly larger than the top of your pie pan. Cut 3/4"-wide strips, and weave a lattice crust. Seal and crimp the edges.

Bake the pie for 45 to 55 minutes, until golden brown. Remove it from the oven, and cool it for 15 minutes.

Drizzle the pie with the remaining caramel, warming it slightly if necessary top make it "drizzlable."

Cool the pie for at least 2 hours before serving.

Yield: one 9" pie.
Tips from our bakers
There are many different thickening options available for fruit pies, from flour to cornstarch to Instant ClearJel and more. For an easy guide to thickener substitutions, see our Pie Filling Thickeners Guide.
Reviews
Made this for Christmas dinner. It was amazing! Used mostly butter, but some shortening in the crust. Used Granny Smith apples. Cooked the apples a bit first as several recommended. I also made the Mom's Caramels recipe and melted a few of those for the caramel. Used half of the struesel topping. Everyone loved it.
Baked this pie for Thanksgiving and today for Christmas. It is a great pie and the proof is in those who eat it and can't get enough! I did not precook apples as one reviewer suggested and had no issues with it being runny at all. The trick is to follow any dessert recipe to the letter, cup, teaspoon or tablespoon. Too many people want to add their own flair and in dessert baking it will not work unless you are a master baker! Baking is a science and unless you follow directions to the letter, it typically does not work. For example: this recipe calls for Granny Smith apples because they are tart and it keeps the pie from being too sweet. If you are using Honey Crisp or Fugis it will be too sweet every single time!
This is the best apple pie ever. My husband basically hates apple pie and he demolished this one for thanksgiving. Have to make it again for Christmas!! People were saying the filling is runny. I've baked a bunch of apple pies so what you need to do and what I did as well it cook the applies with the spices and sugar then add the flour. You are basically pre cooking everything making sure to get the water out!!! Then I add the caramel sauce. This pie is not overly sweet. Also if you feel like it's too much sugar just taste as you go!! I also use a mandalin to slice my apples super thin it comes out amazing this way. I LOVE THIS APPLE PIE. AND THE TOPPING IS CRUNCHY AND AMAZING. IM DROOLING NOW !!!
I have made this twice now and both times found this to be really, exceptionally delicious. Normally I'm not big on super sweet pies, but unlike other reviews we felt the sugar was just right. I will say that it came out a bit runny both times though, even with the addition of tapioca pearls the second time. But the flaky crust and the crunchy streusel and the salted caramel drizzle were all so perfect!
Best Apple Pie I've ever had. I had a feeling that I should blind bake the crust but didn't because I wanted to try it this way. Had I cooked it on a preheated pizza stone on the bottom rack it may have worked for me. Instead my bottom crust was undercooked. I left off one star for the absence of detail in the recipe on that point (I realize more seasoned pie makers likely don't require this level of detail.) Specifics of my versionI doubled the cinnamon per recommendations of other posters, used 1# each of Granny Smith and McIntosh apples, made the KAF Caramel Sauce recipe, and Cooks Illustrated Foolproof All Butter Dough for Pie Crust, and only put the streusel topping in the gaps of my lattice (not under the lattice). Would definitely recommend this recipe to others and this will become my "go to" Apple Pie recipe. Thanks KAF!
This recipe is very sweet, and in my opinion too sweet. I used several Granny Smith apples and 1 honey crisp. Next time I will use all Granny Smith. As many others have suggested, I would cut the sugar in half. Double the cinnamon or add a teaspoon of KA Apple Pie Spice to the cinnamon. I would not make this with the top crust again. It is just too much to go with the streusel-style topping. Make it more like a French apple pie. I also had to cook this significantly longer, even though I have a convection oven and usually need to cut the cooking time. I like the suggestion of others to cook the first 15 minutes at a higher temperature and then turn it back down. This pie was definitely better the second day.
Wow, this pie was a showstopper! Will definitely make again!
THE best apple pie ever! My husband absolutely LOVED it. It is very tasty and reasonably easy to make for a "from scratch" pie. The crust was delightful to work with and rolled out really nice. The lattice top dresses it up a bit and the caramel adds just that special touch to the pie.
This was my first attempt at a pie. It turned out just like the photo. It tasted phenomenal and everyone loved it. However, it was a bit runny inside. I want to make it again. Any suggestions?

Congrats on such a successful first pie, Curt! Apples can vary in how juicy they are from variety to variety and season to season, so yours may simply have needed a little extra thickener. We call for flour here, but there are a number of other options for thickening, which you can read about through the link provided in our baker's tip. One sure fire way to prevent a runny filling is to pre-cook it a bit before adding it to the pie, Simply combine the sugar, flour, cinnamon, and fruit in a saucepan. Cook the fruit on top of the stove until it's about three-quarters of the way to the consistency you like, then cool the filling to room temperature before mixing in the caramel/cream and scooping it into the crust. Cheers to an even happier next bake! Mollie@KAF
I made this yesterday. I was a bit dubious about streusel AND a top crust. As I started rather late in the day, I did not make the streusel and I used a cookie cutter to decorate the pie with apple-shaped pieces of dough. I will try it with the streusel next time. My apples had been in the frig and as my house is cold, they did not warm up after being peeled and sliced. The result was that the caramel immediately stiffened as soon as it hit the apples. I used Gravenstein which have a slight tartness and were perfect for this pie. We had some for a late dessert. This morning, I warmed a slice in the microwave then added a dollop of yogurt for the protein and the creaminess. A nice pie.