A customized print-friendly version of this recipe is available by clicking the "Print Recipe" button on this page.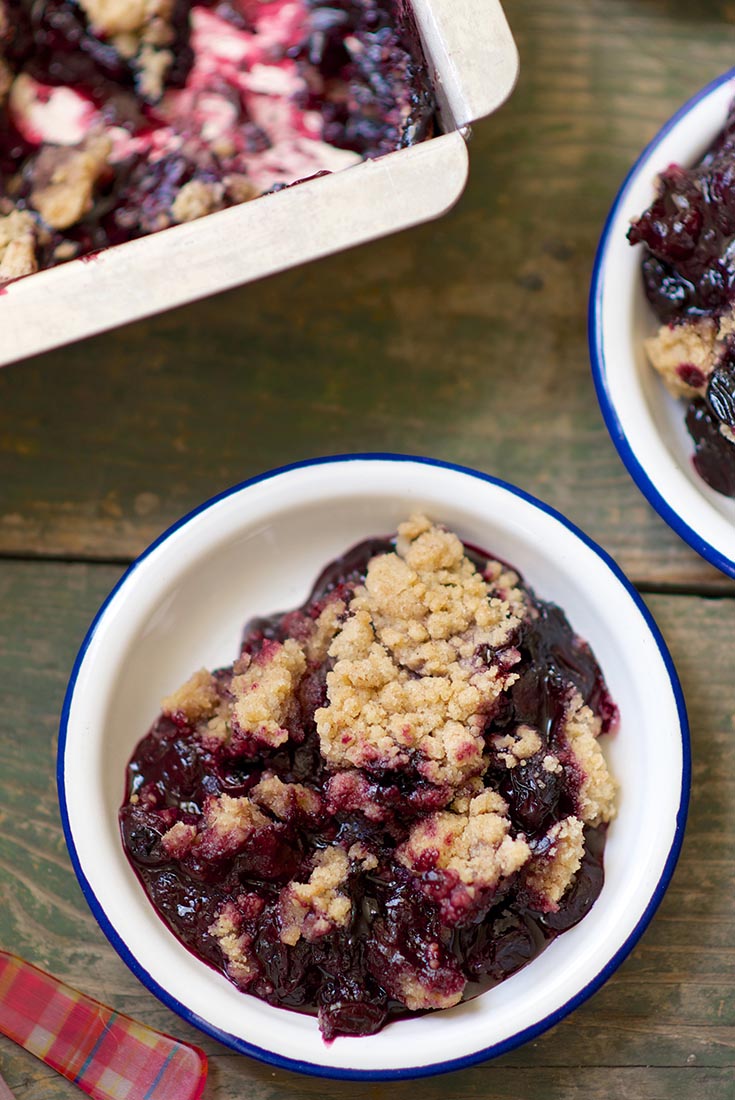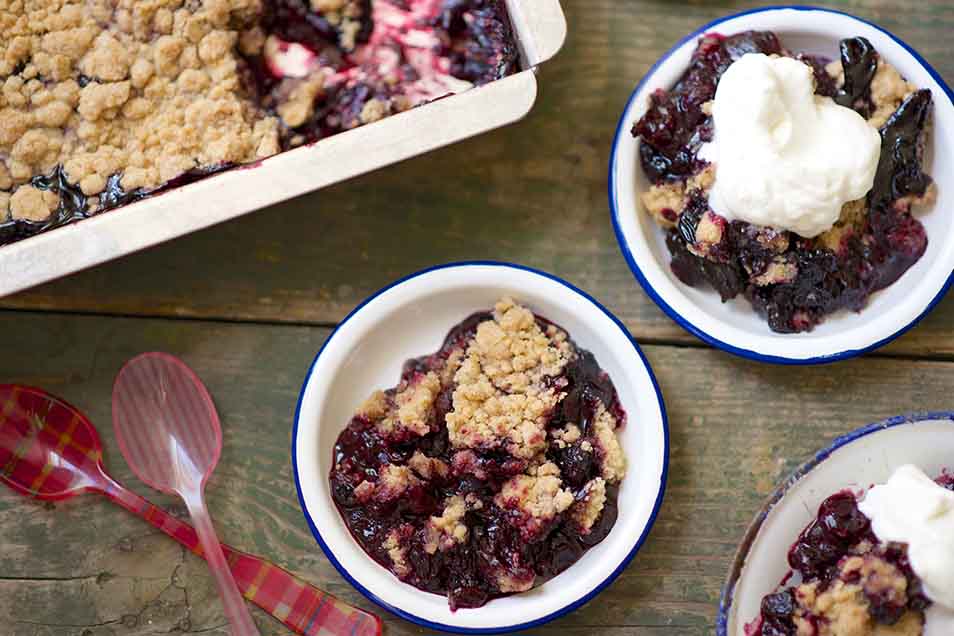 Since blueberries are in season for only a very limited time, and out-of-season fresh blueberries cost an arm and a leg, we like to make our blueberry crisp with readily available frozen berries. And besides, using fresh berries in a slow-cooking crisp, where they'll become pleasantly mushy, is like getting all slicked up to go milk the cows: it doesn't add anything to the experience, so why do it? That said, if you have bucketfuls of fresh berries, this crisp is a great place to use them up.
Ingredients
Filling
6 to 7 cups frozen blueberries
1/4 teaspoon ground cinnamon
1/4 teaspoon ground allspice
1 teaspoon vanilla extract
3/4 to 1 cup confectioners' sugar*
1/4 cup brown sugar
1/4 teaspoon salt
2 tablespoons lemon juice
3 tablespoons melted butter
1/4 cup King Arthur Unbleached All-Purpose Flour or 3 tablespoons Instant ClearJel
*Use the greater amount of sugar if your berries are very tart.
Instructions
Preheat the oven to 350°F. Lightly grease a 9" round or 8" square pan.

To prepare the blueberries: Place the berries in a microwave-safe bowl, and heat them for 4 to 5 minutes, until they're thawed and beginning to warm. Do this if you're using fresh berries, as well; it helps get their juices going.

Combine the berries with the remaining filling ingredients, and spoon the mixture into the prepared pan.

Place the pan in the oven, and bake the blueberries for 30 minutes, until they start to bubble. While they're baking, prepare the topping.

To prepare the topping: Whisk together the dry ingredients. Add the melted butter and flavors, mixing until coarse crumbs form.

Remove the berries from the oven, and spread the topping on tops. Bake for an additional 45 minutes, until the berries are bubbling and the topping is beginning to brown. Some of the topping will have been engulfed by blueberry juice, leaving your crisp with a somewhat mottled top; this is perfectly fine.

Remove the crisp from the oven, and allow it to cool completely before serving. If you serve the crisp right away, it'll be very liquid; letting it to set up allows the berries to reabsorb some of their juices.

Serve the crisp plain, or à la mode. Heat it briefly (about 30 seconds) in the microwave, if desired, to provide a nice warm bed for the ice cream!

Yield: 8 to 10 servings.
Tips from our bakers
For a higher-protein, high-fiber topping, mix 1/2 cup Grape-Nuts cereal with 1/2 cup diced walnuts and 1/3 cup brown sugar. Substitute this mixture for the flour/sugar/butter topping, sprinkling it on just a minute or so before the crisp is done baking.
Reviews
This time I made it with fresh peaches. Omitted the cinnamon & almond extract. I didn't have lemon juice so just sprinkled some European Lemon Zest on the fruit. Also forgot to put the melted butter in with the fruit...oops. I also forgot to partially bake the fruit before adding the crumb topping. It was perfect at 350 for 45 min. on convection mode. Crumb topping was perfect, too! Yummmm
Our family loves this recipe. Super simple and great flavor. We followed it to the letter and it was perfect. We have already made it twice this summer and it gets gobbled up! We will be participating in the hand pie bake along! Can't wait!
7 cups of berries in glue sauce. Sorry folks. This one needs to go back to the test kitchen. Used 1/4 cup of flour in the berry mixture and YES, I did measure properly... Perhaps baking it for an additional 45 minutes is too long after the cardboard - oops I mean crumb topping was applied. The crumb topping is boring tasting and too dry and not enough crumbs to make it exciting and delicious. Why would this recipe use confectioners sugar with the berries? Maybe the cornstarch in the sugar, combined with the flour creates this miserable congealed filling. I only used 3/4 cup of confectioners sugar. I don't use clearjel. I do not like it. This is not a good recipe. Very disappointed.

We're sorry to hear how disappointed you were by this recipe, Sandi. There are a number of different versions of crisp, and our goal with this one was to create a relatively thick filling that stands up well to cutting. To this end, we intentionally used confectioner's sugar for the added thickening power of the cornstarch, and we called for flour because it's the most commonly available thickener. For a different, slightly juicier take on crisp, check out our recipe for Summer Fruit Crisp - we think it'll be more to your liking. Mollie@KAF
So glad I found this recipe. Turned out splendid!! I did not thaw frozen berries and I prepared the filling the night before, left it the fridge overnight, and added topping right before popping the dish in the oven. I recommend decreasing the lemon juice. I added only 1 TB of lemon juice and it still had a strong lemony taste hours after baking.
Best blueberry recipe! I did not prebake the frozen blueberries and I used less powdered sugar. Otherwise I followed the recipe as written . Definitely needs to cool to set up before serving.
I had a lot of fresh blueberries left over and came across this recipe. After reading the reviews I decided to make this dish in a souffle dish so the berries wouldn't bubble over and it worked perfectly. (Deep enough even if you use 4 or 8 cups of berries!) I used fresh berries and did not microwave them before as the recipe indicates. The blueberries were very juicy after the first 30 minutes of baking. I used the 3/4 cup confectioners sugar and the sweetness was perfect! The topping browned nicely and it looks and taste amazing! Would definitely use this recipe again. I will be serving it with fresh whipping cream!
I tweaked a bit. Instead of the spices called for (I don't particularly like those with berries) I substituted 3 Tbsp. European Lemon Zest in the filling. I did put about 1/8-1/4 tsp cinnamon in the topping...but also added 2 Tbsp. of the lemon zest. I also used fresh blueberries since they're in season & I got a GREAT deal at the grocery. Oh.My.Goodness. It was WONDERFUL!!! Perfect Father's Day dessert!!
Too much lemon juice for my taste. I'd make this again, but add lemon juice in increments, to taste. It was good that the recipe allowed you to use frozen berries. If you keep some in the freezer, you can make this on short notice.
It's cool enough to taste it, and it is so delicious... I can't wait to taste it with homemade ice cream... It's worth for me 5 stars rating... really, but really good, and easy to do... what a great dessert for summertime.
I've never made a berry crisp before, but the best apple crisp I ever tasted is on KAF, so I thought I'd try this. I had a bag of frozen wild berries that was getting a little old, which yieled about 4 cups, to which I added about a pound of fresh raspberries. In all, I used about 8 cups of berries. I don't have a microwave in my kitchen, so I skipped that step but baked the berries a few minutes longer. I had a ton of juice, so I'm deeming that step unnecessary. I was out of ground allspice, having used it up in all the pumpkin recipes I've tried this autumn, so I substituted fresh ground nutmeg. It was good, but I think the allspice would be even better. I used the minimum sugar amount and it was plenty sweet for me; I like my fruit desserts to be tangy. After reading previous reviews, I wondered about pan size. I used an Emile Henry 8" ceramic baking dish, which is very deep (2.25"), and as I always do with baked items that will bubble, I put it on a baking sheet. It bubbled up to the top, but not one drop got on the baking sheet. I do think a shallower pan would have been too small. I served it with lightly sweetened vanilla whipped cream, which I much prefer to ice cream. It was lucious. The balance of fruit to crisp was just right, allowing the fruit to be the star, with the crunch of the crisp adding a wonderful texture and flavor. The raspberries pretty much disintegrated, but their color and flavor were very evident. The almond extract in the crunch is brilliant; it takes it to a new level. This is a keeper.