A customized print-friendly version of this recipe is available by clicking the "Print Recipe" button on this page.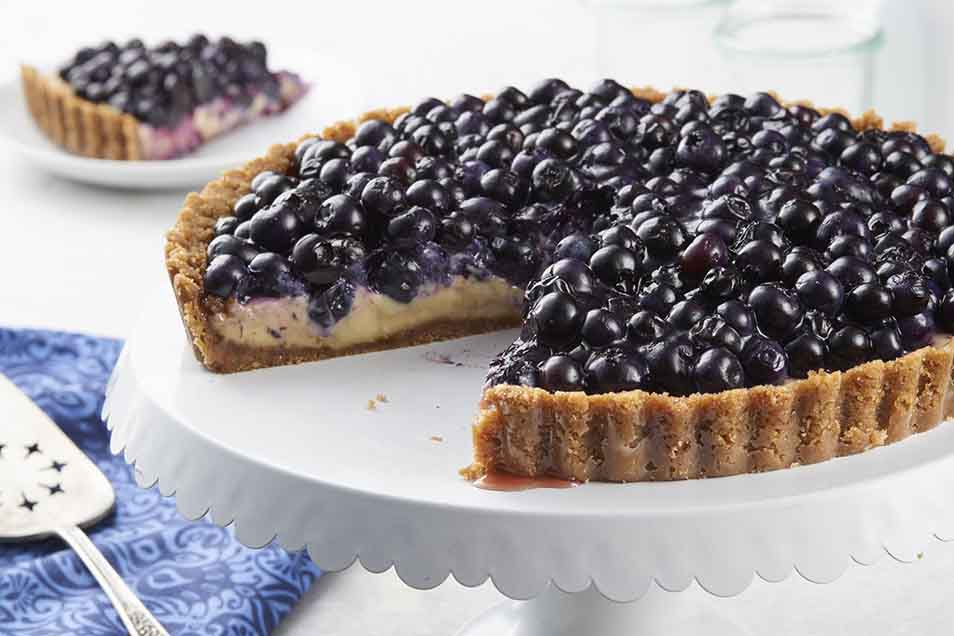 When your ordinary-but-still-delicious Key lime pie looks a little mundane at the picnic, it's time to rethink the presentation. Slipping it into a tart pan gives it a bit of elegance, while a blueberry topping adds a splash of color and the texture of fresh blueberries. The flavors are cool and soothing on a hot summer night.
Ingredients
filling
3 large egg yolks
14-ounce can sweetened condensed milk
1/3 cup Key lime juice (juice of 9 to 10 Key limes, if you can find them)
2 teaspoons finely grated lime zest
topping
2 1/2 to 3 cups fresh blueberries
1/2 cup water or fruit juice
pinch of salt
1 teaspoon Key lime juice
3 tablespoons sugar
1 tablespoon cornstarch
Instructions
Preheat the oven to 350°F.

To make the crust: Mix the ingredients and press them into a 9" removable bottom tart pan or 9" pie plate.

Bake for 10 to 12 minutes, until lightly browned. Place on a rack to cool.

Reduce the oven heat to 325°F.

To make the filling: Whisk together the egg yolks, condensed milk, and lime juice and zest until thoroughly combined.

Pour the filling into the crust and bake for 18 to 20 minutes, until just set.

Remove the tart from the oven, and place it on a rack to cool at room temperature for 1 to 2 hours before topping.

To make the topping: Rinse the berries, and set aside all but 3/4 cup to dry.

Stir together the water or fruit juice, salt, lime juice, sugar, and cornstarch in a medium-sized saucepan set over medium heat, cooking until the sugar has dissolved.

Add the 3/4 cup berries, and bring to a boil.

Remove the topping from the heat, pour it over the reserved berries, and set aside to cool for 5 minutes. Pour the topping onto the tart, letting it spread to the edges.

Chill the tart for several hours before serving. Serve with whipped cream, if desired.

Store tart, well wrapped in the fridge for several days.
Reviews
I made this tart for a New Year's Eve party, along with a flourless chocolate cake and my famous brownies which are always in demand. Everyone went absolutely nuts over it! All the chocoholics just attacked the tart. Everyone was asking if they could take some home but there was none left. Two people said it was the absolutely best dessert that they had ever tasted. It was the second time I made it ( as a Floridian I am tired of overly sweet key lime pies) so I put in two tablespoons of lime zest instead of two teaspoons and it was delightfully tart with the blueberries providing a luscious sweetness. This will be my signature dessert from now on.
One of our favorites! I made mine in a springform pan-works nicely. Definitely worth making!
Made this recipe yesterday with blueberries from my bushes. Used regular graham crackers. We all enjoyed it and I will definitely make it again!
This is a delicious gluten-free dessert to serve during the hot summer months, although the gluten-free graham cracker base is expensive to serve a crowd with Celiac. Nonetheless, the recipe and ingredients offered through King Arthur Flour are appreciated.
Very good as is. Easy and more impressive than a regular key lime tart. Might use a little more blueberries in in topping next time.
I made this yesterday, but I didn't have any key lime juice so I substituted fresh lemon juice for the key lime and I cooked a bit more of the blueberries to make a thicker topping. I also didn't have any graham crackers so I made a pretzel crust. The combination of some salt with the blueberries and lemon filling came out wonderful. Only gave it four stars as I made some changes to the recipe. Easy to make and will make again using all the ingredients specified.
Made for a birthday cookout this weekend. Only modification was I used half gluten-free graham crackers and half gluten-free ginger snaps for the crust. Everyone really loved it (even someone who said he never likes pies).
Wow. My husband said Perfect! if you make again make it exactly the same delicious
Made this for a friend's birthday. He loves both key lime and blueberries and was thrilled to have them paired in this delicious tart. The recipe works great with no alterations needed.
I made this recipe and found it easy to make and quite delicious. I do have one question concerning the topping. I followed the directions carefully and poured the mixture from the pan over the remaining blueberries. After waiting 5 minutes, I poured the blueberries oner the tart and place it in the refrigerator. When it was time to serve, the liquid from the blueberries leaked from the tart pan which came with the bundle I purchased. I would like to try it again but I don't want all that liquid. Any suggestions?

Hi Dianna, thanks for taking the time to share your baking experience with us and for giving our new bundle a try. We're surprised to hear there was quite so much extra liquid in your blueberry topping. It sounds like perhaps the mixture didn't come to a full boil, which is necessary to activate the thickening action of the cornstarch. The filling should be relatively thick with just some of the juices seeping into the filling (as shown in the photo). If your berries were frozen, there would have been some additional liquid that could have made the filling thinner than expected. If there were cracks in the crust or if the crust didn't up to the edge of the pan when it baked, it's also possible that the filling spread over the edge of the crust or into those cracks. Next time, try to make sure your crust is all the way up to the edges and crack-free to ensure the best results. We hope this helps make your next bake perfect. Kye@KAF