A customized print-friendly version of this recipe is available by clicking the "Print Recipe" button on this page.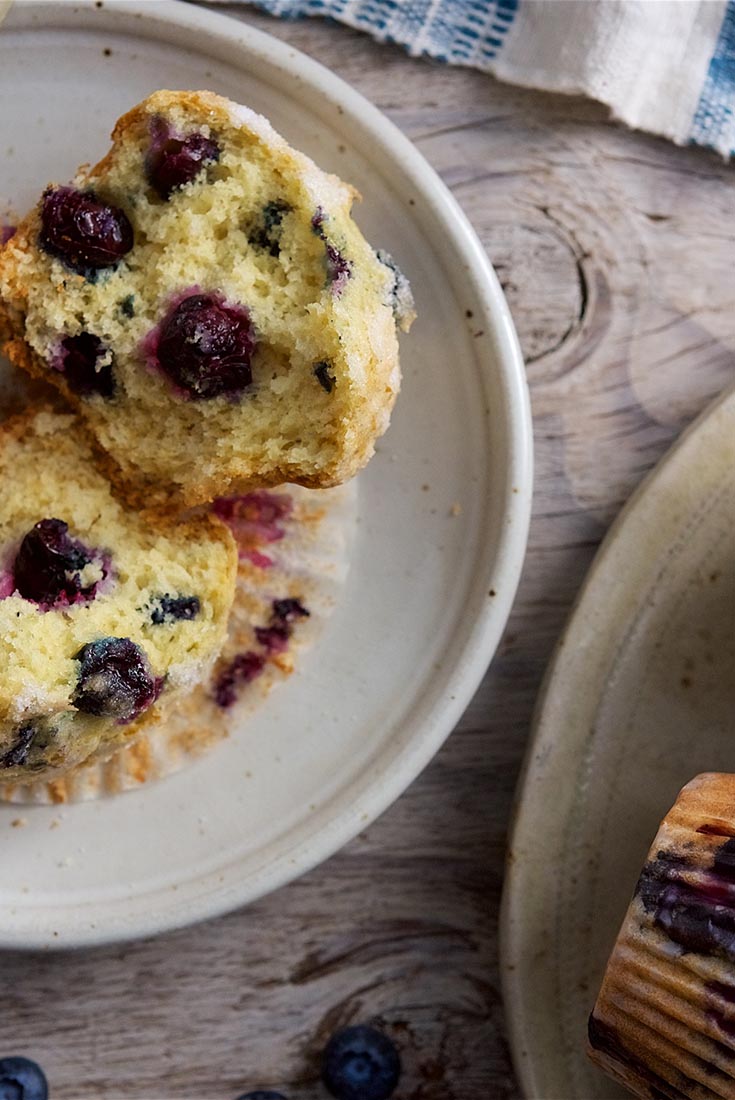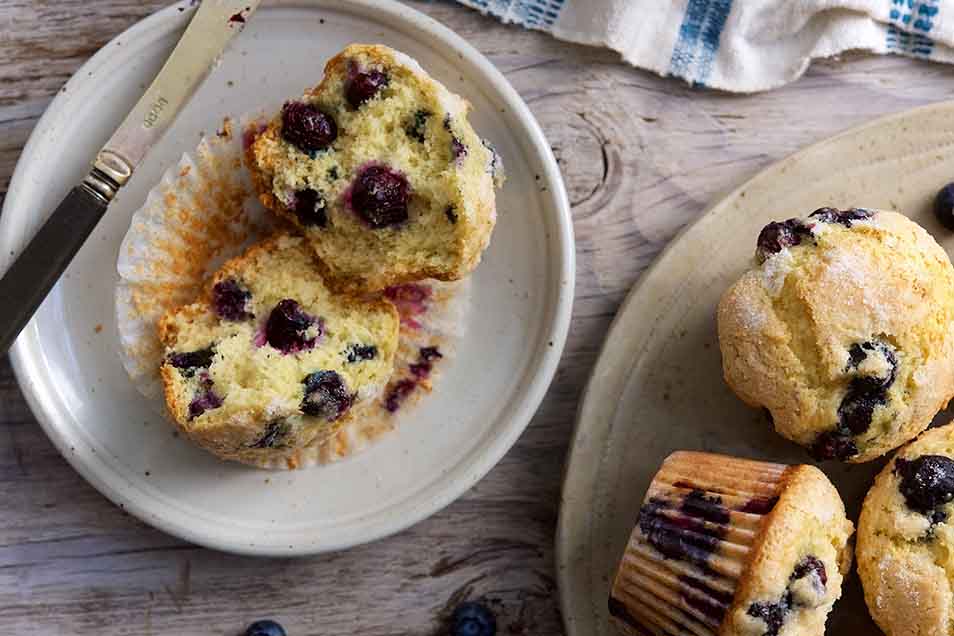 This muffin is the one to go to for a well-behaved, consistent recipe. It does very well with any kind of berry. The batter will also keep, once mixed, for up to a week in the refrigerator. It's nice to wake up, turn on the oven, make your morning coffee, scoop two muffins, pop them in to cook, and by the time you've fetched the paper and let the dog back in, you're ready to settle down for a wonderful, warm, fresh-baked treat.

Our guarantee: This recipe makes tender, sweet muffins that hold the blueberries without falling apart.
Ingredients
Ingredient Section
2 1/4 cups King Arthur Unbleached All-Purpose Flour
1 1/2 teaspoons baking powder
1/2 teaspoon baking soda
1/2 to 3/8 teaspoon salt, to taste
1/4 cup (4 tablespoons) unsalted butter, at room temperature
3/4 cup to 7/8 cup granulated sugar*
2 large eggs
2 teaspoons vanilla extract
1/2 cup sour cream or plain yogurt (full-fat will yield the most tender muffins)
1 1/2 cups blueberries, fresh or frozen
coarse white sparkling sugar for garnish (optional)
*Use the greater amount of sugar if your berries are tart.
Instructions
Preheat the oven to 375°F. Line a muffin pan with papers, and grease the papers.

Measure the flour by gently spooning it into a cup, then sweeping off any excess. In a medium-sized bowl, whisk together the flour, baking powder, baking soda, and salt, then set aside.

In a large bowl, beat the butter and sugar with a hand-held or stand mixer, until light, fluffy, and almost white in color. Start the mixer at low speed until the ingredients are incorporated, then gradually increase speed to medium-high until the desired color and texture are reached.

Scrape down the bowl to make sure all the butter is incorporated, then add the eggs one at a time, beating well after each addition.

Add the vanilla and sour cream or yogurt, and mix until incorporated.

Add the dry ingredients and mix on low speed just until the batter is smooth. It will be thick.

Fold in the berries by hand.

Scoop the batter into the prepared muffin cups, using a heaping 1/4-cup for each. Sprinkle with regular granulated or coarse white sugar, if desired.

Bake the muffins for 18 to 24 minutes, until a cake tester inserted in the center of one comes out clean. Remove them from the oven, cool in the pan for 5 minutes, then remove the muffins from the pan to finish cooling on a rack.
Nutrition Information
Serving Size

1 muffin (79g)

Servings Per Batch

12
Amount Per Serving:
Calories

190

Calories from Fat

45

Total Fat

5g

Saturated Fat

3g

Trans Fat

0g

Cholesterol

45mg
Sodium

220mg

Total Carbohydrate

33g

Dietary Fiber

1g

Sugars

15g

Protein

4g
* The nutrition information provided for this recipe is determined by the ESHA Genesis R&D software program. Substituting any ingredients may change the posted nutrition information.
Tips from our bakers
If you're using frozen berries, mix them into the batter while still frozen. They'll turn the batter a streaky blue color. They'll also increase the baking time by as much as 5 minutes.
Take the muffins out of the baking pan as soon as you can. Leaving hot muffins in the pan creates steam that will toughen the muffins as they sit.
To make handling baked muffins easier, use a potholder to tilt the hot pan at a 45° angle. The muffins will tilt enough that you can lift them out of the cups easily. Place them on a rack to finish cooling.
You can use any kind of fresh berry, dried fruit, diced peaches, bananas, or nectarines in this recipe. Canned blueberries are fine, but drain them well first and make sure you have 1 3/4 cups of berries.
Substitute a flavored yogurt, like vanilla or strawberry, in place of the sour cream
For a more tender crumb, you may substitute 1/4 cup vegetable oil for the 1/4 cup butter in the recipe.
Reviews
I rated this four stars because I think it needs some tweeking. I have been baking for fifty + years. Taught by my gramma. One of her cardinal rules is sift your flour and do not dump it in the bowl . Sprinkle it in while beating. Reading the reviews I saw that one of the problems mentioned was stiff batter and muffins more like scones. I hand beat everything as I am prone to do. I don't think you can beat the batter enough. Beat, beat, beat. I reduced the flour to 2 cups versus 21/4 called for. Also I used half and half versus the yogurt/sour cream called for. My berries were as fresh as the supermarket allows. The muffins came out slightly heavy but good. The old folks here had no problem eating them. I love KA recipes and products. Use them all the time. None better. I got 15 muffins from this. Three for me. LOl.
Just made this recipe using our homegrown blueberries. I personally liked the slightly coarser, less cake like muffin. The sugar amount is just right too as we don't like them too sweet. I cut it a very slightly. I used ghee instead of regular butter and lessened vanilla 1/2 t and added 1/2 t almond extract with. I would make these again. I used 1.5 %fat yogurt as that's what I had and may use full 4% next time. Ty
Didn't like this recipe at all. No sour cream taste, rather bland over all. Also, the batter was very dense. Yes, I took the muffins out of the pan right away and I do know how to measure flour. Perhaps my creaming butter &sugar technique needs work but I won't try it with this recipe. Waste of ingredients.

We're sorry to hear that this well-loved recipe didn't do the trick for you, Ruthie. If we can help pick out a recipe that better fits your tastes, or help troubleshoot this one, please give our Baker's Hotline a call at 855-371-BAKE. Kindly, Annabelle@KAF
I made these today using domestic blueberries. I liked the firm batter because the blueberries I used were so big that when the muffins baked , the blueberries did not sink to the bottom of the batter. I sprinkled turbino sugar on top before baking which added a nice bit of crunch and sweetness to the top. My husband loved them! Definitely recommend this recipe is using large juicy berries or chunks of fruit.
Followed the recipe as written. Measured ingredients by scale. Muffins tasted good - only slightly sweet. I agree with the others who said the texture was less muffin and more like that of a biscuit or scone (British not US). They baked uniformly and looked like the photo. Despite the texture not being what I expected, I did not find them to be dense. I think I just prefer a more cake-like muffin.
These were so good! I did add a little less flour and a few tablespoons of milk because the batter seemed too thick. They rise up and make nice big muffins. Will be making these again!
These muffins are way too dense. I have been baking for 40+ years and know the importance of well-aerated flour. I always sift my flour when measuring but that did not make a difference with this recipe. Disappointing as I wasted delicious, farm fresh blue berries in this batch. I will be sure to read the user reviews the next time I select a recipe from this site.

We're surprised to hear your muffins turned out quite so dense, Rae, especially since it sounds like you know your way around the kitchen. This recipe is designed to produce muffins that are pleasantly light because the recipe includes both eggs and leavening (baking powder and soda). In addition, creaming the butter and sugar together should also help create a lofty, tender base for your muffins. It's possible that this mixture isn't being mixed for the right amount of time to achieve maximum lift and rise. If you'd like to see a visual example of what this should look like, click on the "Learn," tab above and then scroll down to Videos>>Baking Skills. You should see one called, "How to cream butter and sugar." Using this as a guide, you might be able to lighten up all your baked goods by changing your creaming technique just slightly. Kindly, Kye@KAF
batter was really thick, the texture is that of a scone, it's not terrible, but i was expecting a tender muffin.

Thanks for trying this recipe, Nayda. We're sorry that it didn't give you quite the results you were looking for. The way you described the batter as thick with a denser more scone-like texture makes it sounds like there was just a little too much flour added. For ideal measurement accuracy when not using a scale, we recommend fluffing the flour with a whisk or spoon, sprinkling it into the measuring cup, and scraping off the excess. Using this method will give you a more pourable batter and a lighter, tender muffin. We hope this helps! Annabelle@KAF
Kind of tasted more like a blueberry biscuit. Used regular flour not I bleached otherwise did exactly as recommended. Tasted yummier before I cooked it lol

It sounds like your blueberry muffins might have had too much flour added to the batter, causing them to be dry and biscuit-like. One of the most common reasons why baked goods turn out dense and heavy is because too much flour is used. To ensure you're using the right amount, we recommend checking out the "Measuring Standards," link next to the ingredients header above. You'll see that either measuring your flour by weight using a scale, or fluffing and sprinkling the flour into your measuring cup are the best ways to ensure your recipe turns out perfectly. Kye@KAF
I recommend adding a small amount of lemon zest and tossing it with the blueberries before mixing them into the batter.