A customized print-friendly version of this recipe is available by clicking the "Print Recipe" button on this page.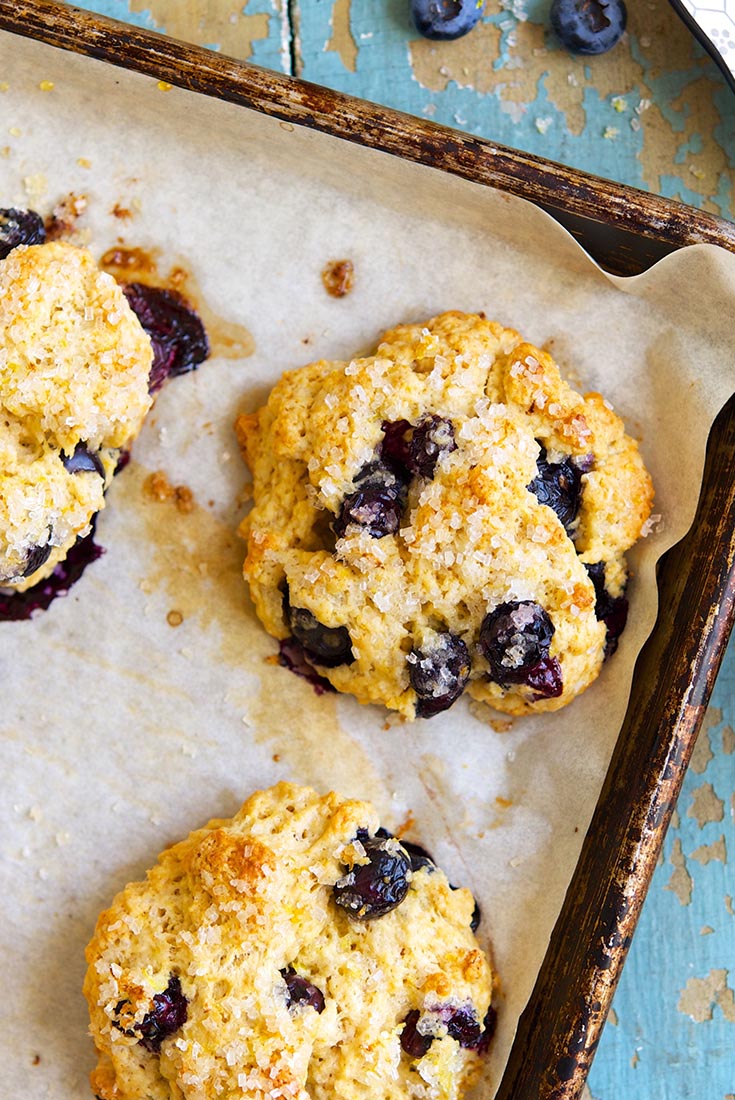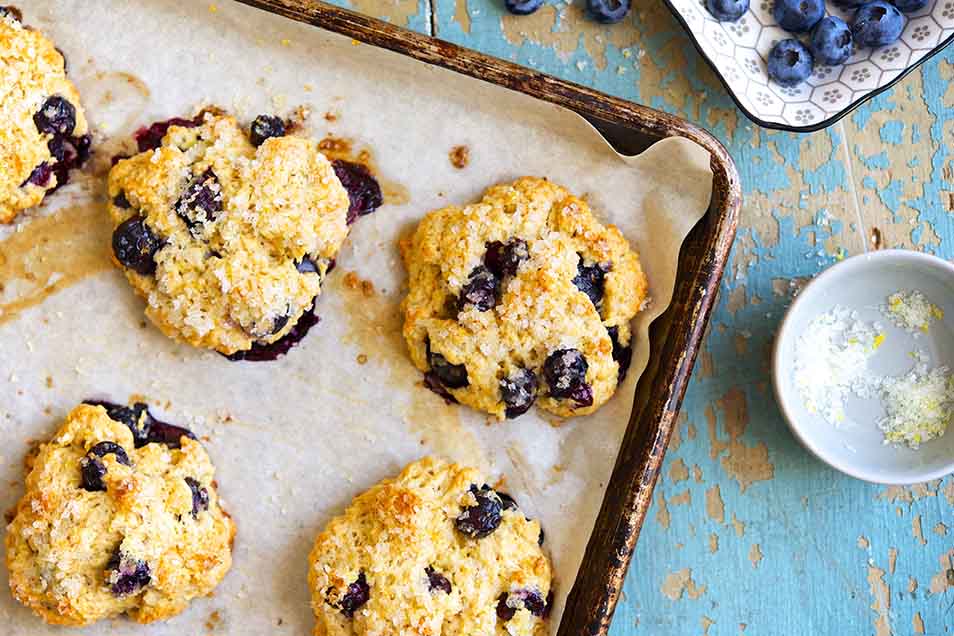 These tender scones feature fresh blueberries, which leak rivulets of purple-blue juice into the dough around them as they bake, making for an especially enticing presentation. Use wild (low-bush) blueberries if you can find them; they're much smaller than cultivated (high-bush) blueberries, and distribute themselves more readily throughout the scone dough.
Ingredients
2 cups King Arthur Unbleached All-Purpose Flour; or 1 cup King Arthur Unbleached All-Purpose Flour + 1 cup King Arthur White Whole Wheat Flour or Organic White Whole Wheat Flour
1/2 teaspoon salt
1/4 cup granulated sugar
1 tablespoon baking powder
6 tablespoons cold butter, cut into pieces
1 cup fresh blueberries; or Blueberry Jammy Bits
2 large eggs, beaten
1/4 cup yogurt, plain or flavored (vanilla is good)
1 teaspoon vanilla extract
1 tablespoon grated lemon rind (zest), or 1/4 teaspoon lemon oil
1/2 teaspoon almond extract
2 tablespoons sparkling white sugar, for sprinkling on top
Instructions
Preheat the oven to 375°F. Lightly grease a baking sheet, or line with parchment.

Whisk the dry ingredients in a bowl. Add the butter and work it into the dry ingredients until the mixture is unevenly crumbly; use your fingers, a pastry blender, or an electric mixer. Gently mix the blueberries with the dry ingredients.

Stir together the eggs, yogurt, vanilla extract, lemon zest or oil, and almond extract. Add to the dry ingredients and stir very gently, just until combined. The dough will be quite moist, like cookie dough.

Use a muffin scoop, jumbo cookie scoop, or 1/4-cup measure to scoop the dough onto the prepared sheet in scant 1/4-cupfuls, leaving about 2" between each.

Brush each ball of dough with a bit of milk or cream, and sprinkle with coarse sparkling sugar.

Bake the scones for 20 to 24 minutes, or until lightly browned and a cake tester or toothpick inserted into a scone comes out dry. Remove from the oven, and serve warm. To reheat, wrap loosely in aluminum foil, and bake in a preheated 350°F oven for about 8 to 10 minutes.

Store scones, well wrapped, at room temperature for several days. Freeze for longer storage.
Nutrition Information
Serving Size

62g

Servings Per Batch

12
Amount Per Serving:
Calories

170

Calories from Fat

60

Total Fat

7g

Saturated Fat

4g

Trans Fat

0g

Cholesterol

45mg
Sodium

220mg

Total Carbohydrate

25g

Dietary Fiber

1g

Sugars

9g

Protein

4g
* The nutrition information provided for this recipe is determined by the ESHA Genesis R&D software program. Substituting any ingredients may change the posted nutrition information.
Reviews
These were absolutely the best I have ever made. I made them so I could enjoy them while I watched The Royal Wedding. I didn't have yogurt on hand, so I substituted homemade buttermilk. When substituting buttermilk for yogurt it said to use 1/4 less milk than the amount of yogurt called for in the recipe. If that makes sense, I used a scant more than 1/4 C of buttermilk. The batter was somewhat moist, and I was afraid it would be a bit dry, but I went with it anyway and for baking, I measured out a bit more than 1/4 C of batter and put on parchment and it made exactly 12 scones. Baked for 20 mins @ 375 (of course preheated for awhile) and they came out beautifully browned and crispy. They were amazing. Didn't need anything added to them, although if I had had clotted cream they would've been over the top. I can't wait to make these again. Fab - U - Lous!!! Another tip: DO NOT OVERWORK THE DOUGH and they will be light, crispy and fluffy and of course, WEIGH EVERYTHING except except salt, sprikling sugar and extracts. It makes the absolute difference. The recipe didn't say, but I used Kosher salt and unsalted butter.

We hope you enjoyed your scones in royal style, Babsy! If you're ever looking for details about our recipes or ingredients, check out our Recipe Success Guide, which is linked on the left-hand side of this page, above. Here you'll find details about what kind of butter (Grade AA, unsalted) and salt (table salt) to use, and more. This will ensure regal results every time. Happy baking! Kye@KAF
Just made this recipe and found it way too dry. I subsequently read that others had issues as well. I added 1/4 cup almond milk. Have put them in the oven and am crossing my fingers. I love KAF recipes and this one surprised me that it didn't work out as expected, especially with the reference to cookie dough moist.

We're sorry to hear this scone recipe came out dryer than you'd hoped, Carolyn, and thank you for letting us know. Always feel free to add extra liquid or flour to your recipes to acheive the desired consistency. Extra flour is often packed into the measuring cup which results in a dry dough and dry finished product. For ideal measurement accuracy when not using a scale, we recommend fluffing the flour with a whisk or spoon, sprinkling it into the measuring cup, and scraping off the excess. But, as always, you can drizzle in extra liquid as needed until the dough is the consistency you're looking for. We hope this helps and look forward to hearing about the next batch. Annabelle@KAF
Nice scone recipe! These turned out great and are definitely not sweet (bonus points for that). I definitely recommend the sugar on top to give some additional sweetness. I took the advice of others and KAF and used 2/3 c. plain Greek yogurt + 1/2 c. buttermilk. That gave them a nice soft texture when baked. Yummy!
Used the recipes, but added our own touch! We used blueberry Greek yoghurt, which gave the scones more of a tart taste, and still added some heavy whipping cream to get our dough to be the right consistency.
I seemed to have a bit of trouble following directions today, but they came out fine. I intentionally substituted 1/4 cup of almond flour for a portion of the whole wheat flower, but I unintentionally added the yogurt to the dry ingredients without mixing it with the other wet ingredients. I also forgot the blueberries and folded them in at the end. I found these a touch too salty, and in future bakings I would decrease the salt as well as the amount of blueberries. No problems with dry dough.
Amazing!!!!! So easy too! Added a little cinnamon to dry ingredients and a lemon glaze as well... blueberry joy!
The scones just finished cooling. My first time using this recipe, and also my first time baking scones. The dough smelled great, but I find the baked scones pretty bland. However, I think with a few simple modifications they could be terrific, and I will definitely try this recipe again. I had a scant tablespoon of zest so I added a squeeze of fresh lemon juice, and that was the flavor that was most developed. I would definitely increase the vanilla and add a tiny bit of cinnamon. I used a heaping cup of blueberries but I would add more, and maybe finding smaller blueberries would help. I used 1/3 vanilla yogurt and can't imagine using less- will probably add a couple spoons more. I did use the KAF basic scones recipe as far as baking- divided the dough and cut into wedges, froze for 30 minutes and then baked at 425. The outside is nicely browned and crunchy with the coarse sugar, and the inside is kind of crumbly and dry, but that could very well have been me overbaking them. Even so, not a bad texture. Overall, I see this recipe as a good starting point with good potential.
I just made these...I never baked a scone before, but I will again. I already divided them up to share with the neighbors, otherwise I would of eaten them all. Yummy. Easy. Perfect. Like others I used greek yogurt and the dough would not come together, so I added a little more yogurt....all was good. Bake these.
These are very good, but two observations about the recipe: (1) There's another blueberry scone recipe apparently published by KAF on the same day that is identical except it calls for more yogurt (1/3 c. vs. 1/4 c.). I found the batter way too dry with just 1/4 c. so I added about a 1/4 c. buttermilk and that worked great. (2) I used greek yogurt, which is what I had, and it occurred to me the recipe may have been crafted for regular yogurt, which probably has a bit more liquid.

You're right, Tom! Whenever we call for "yogurt" we mean regular yogurt, unless we've specifically called for "Greek yogurt". If Greek is all you have on hand, we suggest a combo of 2/3 Greek yogurt, and 1/3 milk to get to the right consistency. We're glad you found your own way there this time and hope this helps for the next. Happy baking! Mollie@KAF
Great scones!!! I only used zest from 1/2 lemon and used the 1.5 TBSP of lemon juice, split in half for glaze (w/1/2 C powdered sugar) and the other half in the egg/yogurt mixture. I used white whole wheat and all purpose white flour and I do weigh the flour. I did pulse the butter into the dry ingredients in my blender which does result in a finer crumb but these still turned out light and tender.