A customized print-friendly version of this recipe is available by clicking the "Print Recipe" button on this page.
Blueberry Sourdough Muffins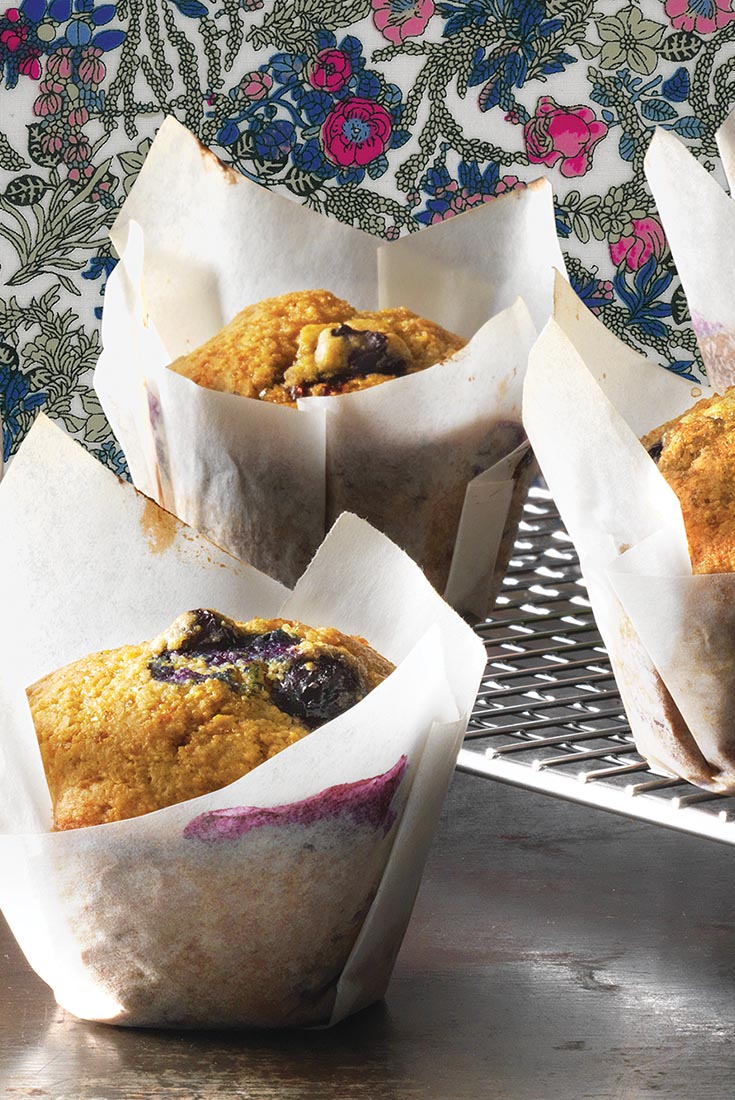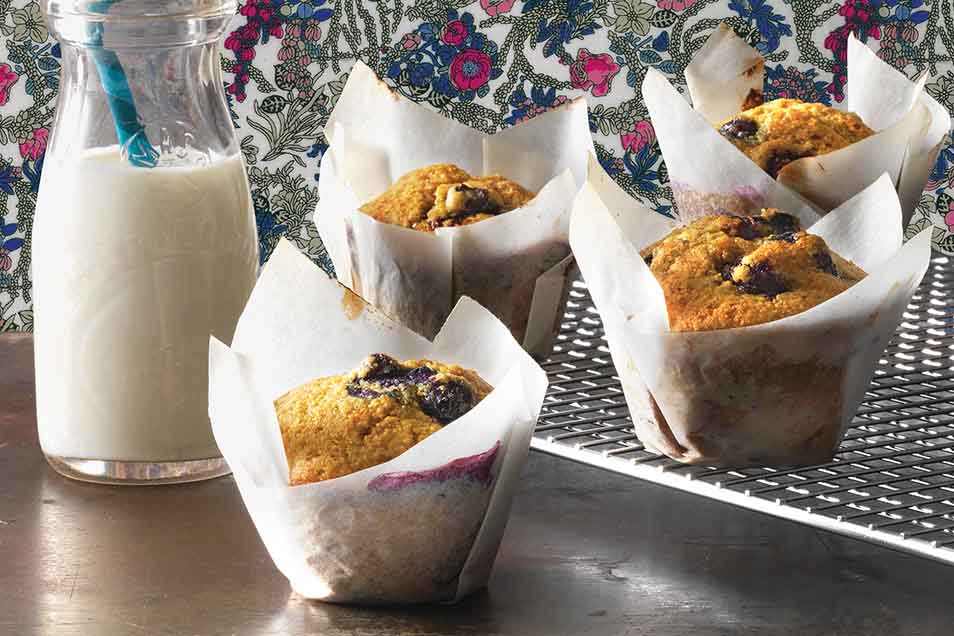 Most sourdough bakers are on the lookout for ways to give their starters some exercise. These fruit-filled muffins with a bit of cornmeal crunch are a great way to put excess starter to work.
Ingredients
1 cup yellow cornmeal, preferably whole grain
3/4 teaspoon salt
1 teaspoon baking soda
1 1/2 teaspoons cinnamon
1 cup sourdough starter, ripe (fed) or discard
1/4 cup milk
1 large egg
1/4 cup melted butter or vegetable oil
1/2 cup maple syrup, molasses, or honey
2 cups blueberries, fresh or frozen
Demerara or coarse sugar, for sprinkling tops
Instructions
Preheat the oven to 425°F. Grease the wells of a 12-cup muffin pan, or line with papers and grease the inside of the papers.

Combine the dry ingredients in a mixing bowl.

In a second bowl, beat together the starter, milk, egg, melted butter, and sweetener. Blend the wet ingredients with the dry, taking about 20 seconds. Gently stir in the blueberries just until blended.

Fill the cups of the prepared pan two-thirds full; sprinkle the tops of the muffins with sugar.

Bake the muffins for 25 minutes, until a toothpick inserted in the center comes out clean. Remove the pan from the oven and allow the muffins to cool for 5 minutes before removing them from the pan. Don't let them cool in the pan, or they'll steam and the outside will become tough.
Nutrition Information
Serving Size

1 muffin, 81g

Servings Per Batch

12
Amount Per Serving:
Calories

174

Calories from Fat

45

Total Fat

5g

Saturated Fat

3g

Trans Fat

0g

Cholesterol

26mg
Sodium

264mg

Total Carbohydrate

29g

Dietary Fiber

2g

Sugars

3g

Protein

4g
* The nutrition information provided for this recipe is determined by the ESHA Genesis R&D software program. Substituting any ingredients may change the posted nutrition information.
Tips from our bakers
If using frozen berries, don't thaw them before adding to the batter; you'll have fewer blue streaks if they're added frozen, just before scooping.
Reviews
I love recipes that use up my "discard" sourdough starter, and we tend not to like overly sweet baked goods, so this looked like it would be the perfect blueberry muffin recipe for us. Since I think it's only fair to make the recipe exactly as written the first time, especially if one plans to post a review, I always do that. I love KAF products, so I used KAF Organic All-Purpose Flour, as well as KAF's (absolutely outstanding!) Organic, Whole-Grain Cornmeal. I weighed everything in grams and used maple syrup as the sweetener. The recipe made exactly twelve muffins. They baked up perfectly at the temperature and in the time the recipe stated. We grow our own organic blueberries, so I used some that we froze last season. They have remained as delicious as fresh in other recipes, so I don't think the problem was with the blueberries. However, these blueberry muffins tasted more like cornmeal muffins than blueberry muffins to us. The blueberry flavor seemed overwhelmed by the cornmeal flavor. We did like the heartier texture that the cornmeal offered. Perhaps some lemon juice and/or lemon zest might have brought out the blueberry flavor. I may try that next time, and perhaps I'll reduce the amount of cornmeal and substitute some of KAF's Organic White Whole Wheat Flour instead. These muffins are still good. They just weren't quite what we were hoping for.

We're always happy to supply recipes to use up your discarded sourdough, Lousie! We understand your desire to have a stronger blueberry flavor, and that the cornmeal seemed to hide the fruity notes. Please feel free to replace 1/2 cup of the cornmeal with more all-purpose flour. That way, you'll still get the texture, but the flavor of the cornmeal won't be as strong. Another trick you can try to enhance the blueberry flavor (along with adding lemon, which is a great idea!) is to roast the blueberries in a 400°F oven for about 15 minutes. It will concentrate the sugars and flavor, giving them more of an impact in your final muffin. We hope this helps give your next batch a pleasing flavor to match the texture. Happy baking! Annabelle@KAF
Unfortunately, not a fan of this muffin recipe. I used honey to sweeten, along with stone ground corn meal and active sourdough discard. The crumb texture was too dense for me. I would consider trying this recipe again, reducing the amount or type of corn meal and slightly increasing the butter. They tasted good, and the Demerara sugar was a nice touch; but the muffins were darker due to the corn meal, as though I had used whole wheat flour. To be clear, there is nothing wrong with the recipe, they just weren't the taste and texture I enjoy in a muffin.
Let me just say these are everything a true muffin should be... moist, tender, wonderful texture, full of flavor, not too sweet. If you are looking for those puffy, cupcake-like creations that pass for muffins these day, this is NOT it. These remind me of muffins my mom made when I was a child. Delicious. What a great way to use the discard from my batch of sourdough starter.
Based on some of the reviews, I put a skosh more butter, used honey and the damera sugar on top. Baked them to carry to a family dinner. Gotta stop myself from going after the third.
I was really excited when I first started this recipe. For starters, the dough was a little discouraging and dry. Upon pulling them out of the oven, I noticed they didn't rise (I used my own fed whole wheat sour dough starter). They turned out horrible. They were flavorless and dry. The cornmeal made them gritty. The only way they turned out ok was if you slathered them in salty butter. I will not be making these again.

Thank you for reaching out to us, Thi, and for giving this recipe a go. We're sorry to hear that they didn't turn out the way you'd hoped. The good news is that the trouble you experienced is very common and can be easily fixed; it sounds like your flour may have been measured by scooping directly from the bag or canister, which compacts it into the cup. This results in a dry, heavy, batter and flavorless, dense product. For ideal measurement accuracy when not using a scale, we recommend fluffing the flour with a whisk or spoon, sprinkling it into the measuring cup, and scraping off the excess. By using this method, the batter will be thinner and the finished muffins will be more moist and flavorful. We hope this method helps you in all of your future baking using King Arthur Flour recipes. Annabelle@KAF
I've done this recipe twice and enjoyed it, though I might slightly increase the sweetener. (I almost always reduce sugars, but this time was craving more sweetness) The first time I used a mix of molasses and agave nectar, the second honey. Both times fresh blueberries. I felt like the batter was only mildly sweet and maybe I prefer a bit more sweetness. Otherwise it's a nice moist muffin, a little crunch from the cornmeal.

Marcia, you might also consider sprinkling some raw/turbinado or sparkling sugar on the tops of the muffins before baking if you're not already doing so. It adds a lovely crunch and sweetness. Happy baking! Kye@KAF
I usually have really good experience with King Arthur Recipes, but this one did not work for me. It was extremely dry. I weighed all of the ingredients, I used honey and I used the starter from the fridge (the half I was throwing away). The only change I was I used raisins instead of blueberries because my husband can't eat blueberries. Perhaps the raisins absorbed some of the moisture? Otherwise, I don't know what I did wrong.

The raisins may just be the culprit, Kelsey. It can help if you soak your raisins in water, juice, or rum over night so that they plump up and don't soak up the liquid from your batter. In addition, if you batter seems overly thick, you can always thin it out with a bit of extra milk. We hope this helps! Annabelle@KAF
Love this recipe although I did alter it. I used full fat coconut milk and coconut oil. Subbed about 1/2 C oat bran for 1/2 C cornmeal. I used medium grind cornmeal and enjoy the texture. I baked in a bread pan instead of muffins, and decreased oven temp to 350°. It took over an hour to bake because the frozen berries made the batter very cold. Used maple syrup because I thought the molasses taste might be overpowering. So good I could eat the whole loaf!
Not sure whether my rating is fair because I made significant changes (a big handful of raisins instead of the blueberries, coconut oil instead of butter, 70g dark brown Muscavado sugar instead of honey), but I'm very pleased with this recipe as a way to use up extra starter. I use a mini-muffin tin and bake them for about 9 minutes at 400.
Perfect. I followed the recipe to a T except that I added 1 banana to make up for what frozen blueberries I did not have (1 banana was about 1/3 cup in my case, so there were 1 2/3 cups of frozen blueberries). Incidentally, it may have assisted with the dryness some other reviewers had complained about. I found these truly moist and delicious. Not too sweet and soothing. Perfect with a cup of coffee. Another note: mine were ready about 5 minutes earlier than the recipe specifies.