A customized print-friendly version of this recipe is available by clicking the "Print Recipe" button on this page.
Blueberry Sourdough Muffins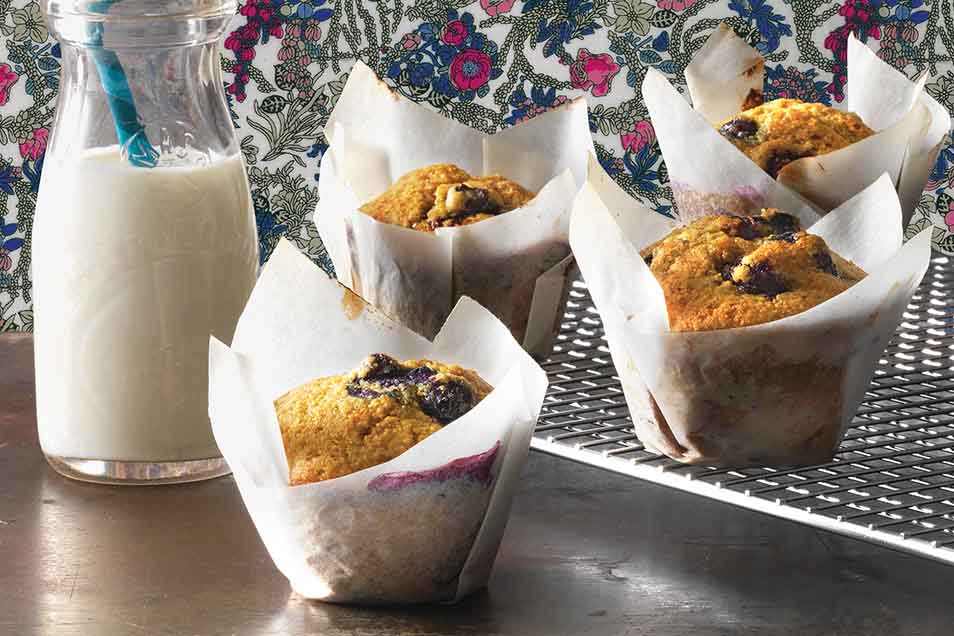 Most sourdough bakers are on the lookout for ways to give their starters some exercise. These fruit-filled muffins with a bit of cornmeal crunch are a great way to put excess starter to work.
Ingredients
1 cup yellow cornmeal, preferably whole grain
3/4 teaspoon salt
1 teaspoon baking soda
1 1/2 teaspoons cinnamon
1 cup sourdough starter, ripe (fed) or discard
1/4 cup milk
1 large egg
1/4 cup melted butter or vegetable oil
1/2 cup maple syrup, molasses, or honey
2 cups blueberries, fresh or frozen
Demerara or coarse sugar, for sprinkling tops
Instructions
Preheat the oven to 425°F. Grease the wells of a 12-cup muffin pan, or line with papers and grease the inside of the papers.

Combine the dry ingredients in a mixing bowl.

In a second bowl, beat together the starter, milk, egg, melted butter, and sweetener. Blend the wet ingredients with the dry, taking about 20 seconds. Gently stir in the blueberries just until blended.

Fill the cups of the prepared pan two-thirds full; sprinkle the tops of the muffins with sugar.

Bake the muffins for 25 minutes, until a toothpick inserted in the center comes out clean. Remove the pan from the oven and allow the muffins to cool for 5 minutes before removing them from the pan. Don't let them cool in the pan, or they'll steam and the outside will become tough.
Nutrition Information
Serving Size

1 muffin, 81g

Servings Per Batch

12
Amount Per Serving:
Calories

174

Calories from Fat

45

Total Fat

5g

Saturated Fat

3g

Trans Fat

0g

Cholesterol

26mg
Sodium

264mg

Total Carbohydrate

29g

Dietary Fiber

2g

Sugars

3g

Protein

4g
* The nutrition information provided for this recipe is determined by the ESHA Genesis R&D software program. Substituting any ingredients may change the posted nutrition information.
Tips from our bakers
If using frozen berries, don't thaw them before adding to the batter; you'll have fewer blue streaks if they're added frozen, just before scooping.
Reviews
My husband and I just made these - a double batch. Used maple syrup for the the sweetener. Yum! Not too sweet, nice crunch. We plan to make this recipe often! Only trouble, I forgot to spray the liners and they stuck a bit :(
Happy Saturday! I made a modified version of these muffins this morning. I used a combination of coconut oil and homemade coconut butter for the fat component plus 30g of flaked coconut, almond milk for the dairy milk, .25 tsp of ground ginger, 1 tsp of cinnamon, a splash of vanilla extract, a splash of orange oil, 150 g of chopped mango in lieu of blueberries, and blue corn meal instead of yellow. My sweetener of choice was honey. Considering I was in wing-it mode, I am happy with the result. I think they would benefit from a touch more oil or a tbs or two of plain yogurt. They are not dry but they need a bit more moisture. More mango or even some of the mango pureed would make the difference.
I love the crunchy muffin! I baked it twice and tweeked a little bit. At second time, I baked half batch of muffins with strawberry, almond flour/all purpose flour mixture, cornmeal, and avocado oil. Because strawberry is not sweet as blueberry, I added a tablespoon of sugar. It was great!
I made this pretty close to the recipe written. Used coconut oil in place of butter, used 1 1/2 C. AP flour and 1/2 C. cornmeal, and used 1/2 C. FL Palmetto honey for the sweetener. Palmetto honey is not real sweet honey. Really like the crunch that the cornmeal adds. This was not very sweet, just a nice fruity sweetness with all the berries (from frozen). Didn't taste the sourdough much, but it was a nice big muffin...2 cups of fruit is a lot. Will do this one again.
Just made these today and they are so Yummy!! Instead of just blueberries I used frozen mixed wild berries (wild blueberries, blackberries and raspberry), Cinnamon essential oil instead of cinnamon powder and ended up using 1 C of homemade coconut milk (I take 1 can of full fat coconut milk mix with 1/2 can of water) instead of the 1/4 c regular milk. They came out moist but you still get the crunch from the cornmeal. Used 1/3 C maple syrup which made it plenty sweet enough along with the berries though I did us a little more then 2 Cups :)
YUMMY. YUMMY. YUMMY. These muffins have a great crispy crown, a soft, moist and tender inside. To me, the best thing about these muffins is the very subtle sweetness. I like that I can taste all of the components, without any single ingredient being overpowering. Love the muffin man.
I made a double batch using an Einkorn culture and we think they are delicious! I will make them again.
Easy and nice way to use excess starter. I liked the texture from the cornmeal, gave it a nice crunch. I used just maple syrup for the sweetner and added a streusel topping before baking. Also enjoyed the fact these were not too sweet. Will try again with honey as the sweetner next time!
Both my oldest and me were meh. The flavor was lack luster. A bit of a waste. I roughly mixed half molasses and honey as I did not want either one of them to be overpowering. I wish I would have gone with my instincts, used white sugar and substituted more butter for the lack of liquid, maybe a dash of almond extract and crush some salt one top before they bake. Sour dough is a funny thing. I find it is good to work it every week even it you don't need to use it. I travel and if you want to make bread you really need to feed it Wednesday night to make it awesome by Friday night to bake on Sunday morning. Mostly I feed it over the weekend and then back to the fridge. I have extra so... Biscuits are awesome (Freeze and food process the butter for nice and crusty). Pancakes and waffles with peanut butter and jelly are to die for (I will toast waffles even if they just come out of the iron to make them crispy). Now, I am moving on to muffins. Try others. These are just lamb. For all the people who's muffins are rubbery you worked the dough too much. Barely mix that stuff. It is hard not to over work it. I get it. When I find a recipe that I like I will have to freeze the butter and see what happens.... and I will play with the soda. Oh.. and I need to learn to how to make the paper cups to make some big ones... Youtube is in my future.

Sounds like you've already got a plan in place for making these more to your liking! That's the glorious thing about home baking; everyone can customize their muffins to be exactly how they prefer them. Happy baking! Kat@KAF
Made these this morning as I had a quart jar full of sourdough discard in my fridge. They were a big hit with my teen boys and I will definitely make them again. We really enjoyed the crunch of the cornmeal! Thank you for this recipe.