A customized print-friendly version of this recipe is available by clicking the "Print Recipe" button on this page.
Blueberry Sourdough Muffins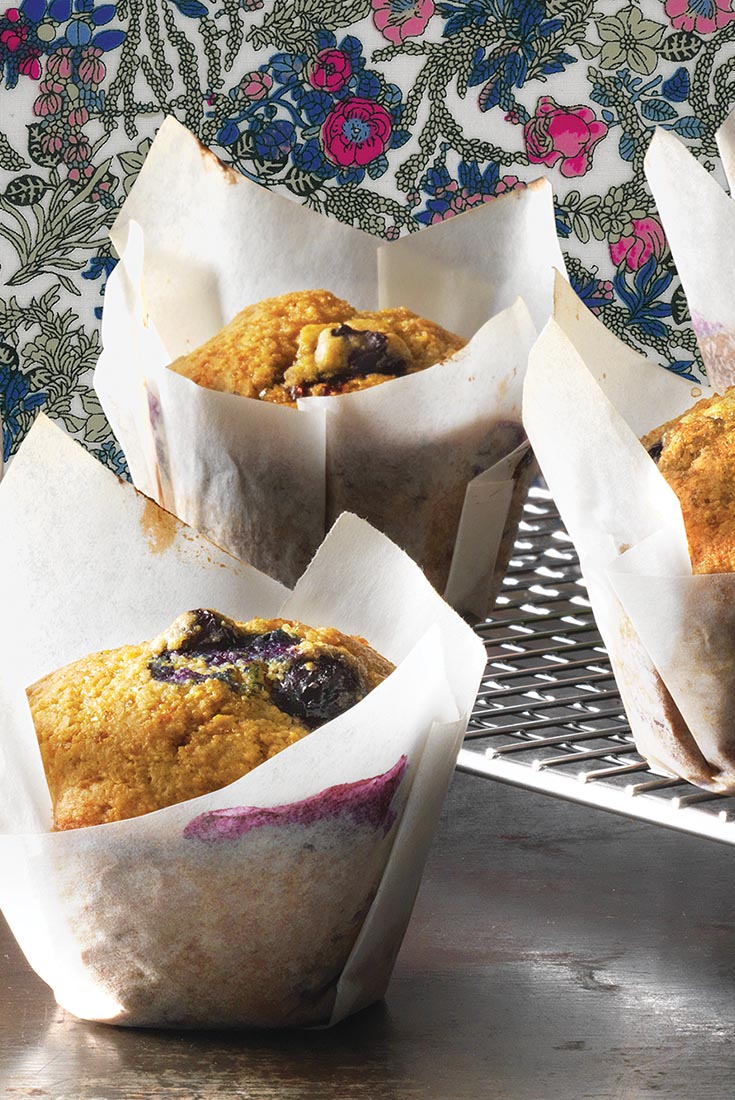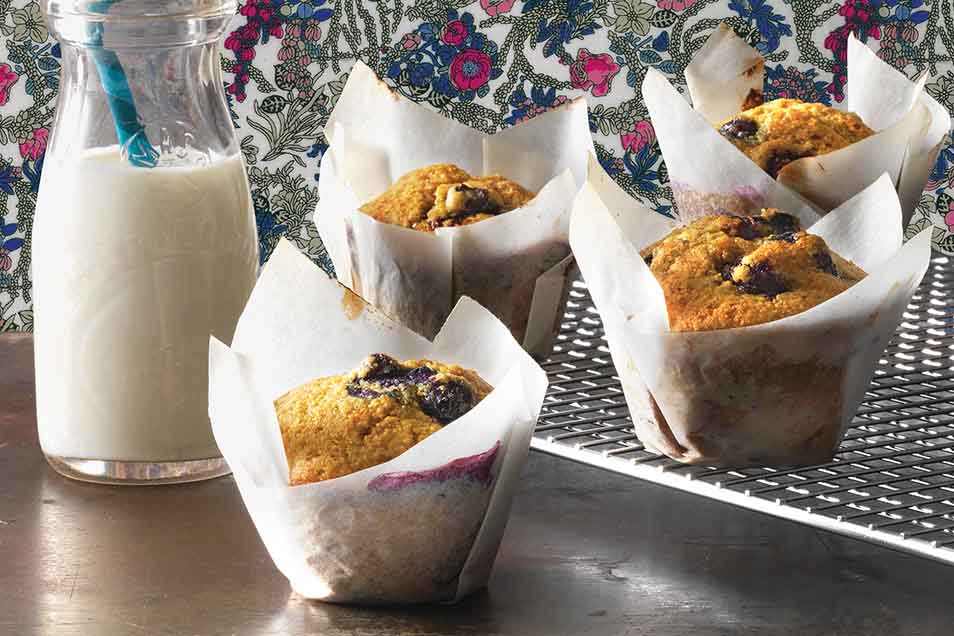 Most sourdough bakers are on the lookout for ways to give their starters some exercise. These fruit-filled muffins with a bit of cornmeal crunch are a great way to put excess starter to work.
Ingredients
1 cup yellow cornmeal, preferably whole grain
3/4 teaspoon salt
1 teaspoon baking soda
1 1/2 teaspoons cinnamon
1 cup sourdough starter, fed or unfed
1/4 cup milk
1 large egg
1/4 cup melted butter or vegetable oil
1/2 cup maple syrup, molasses, or honey
2 cups blueberries, fresh or frozen
Demerara or coarse sugar, for sprinkling tops
Instructions
Preheat the oven to 425°F. Grease the wells of a 12-cup muffin pan, or line with papers and grease the inside of the papers.

Combine the dry ingredients in a mixing bowl.

In a second bowl, beat together the starter, milk, egg, melted butter, and sweetener. Blend the wet ingredients with the dry, taking about 20 seconds. Gently stir in the blueberries just until blended.

Fill the cups of the prepared pan two-thirds full; sprinkle the tops of the muffins with sugar.

Bake the muffins for 25 minutes, until a toothpick inserted in the center comes out clean. Remove the pan from the oven and allow the muffins to cool for 5 minutes before removing them from the pan. Don't let them cool in the pan, or they'll steam and the outside will become tough.
Nutrition Information
Serving Size

1 muffin, 81g

Servings Per Batch

12
Amount Per Serving:
Calories

174

Calories from Fat

45

Total Fat

5g

Saturated Fat

3g

Trans Fat

0g

Cholesterol

26mg
Sodium

264mg

Total Carbohydrate

29g

Dietary Fiber

2g

Sugars

3g

Protein

4g
* The nutrition information provided for this recipe is determined by the ESHA Genesis R&D software program. Substituting any ingredients may change the posted nutrition information.
Tips from our bakers
If using frozen berries, don't thaw them before adding to the batter; you'll have fewer blue streaks if they're added frozen, just before scooping.
Reviews
I made this with some modifications based on some of the comments. Namely, I used white cornmeal instead of yellow, because that's what I had, plus I substituted 1/2cup of KA white whole wheat for half the cornmeal. I used a mix of molasses and honey...probably just a tablespoon of the molasses, the rest honey. I added about two tablespoons of Greek yogurt for added moisture, and I swapped the teaspoon of baking soda with baking powder for instead and added about 1/4 teaspoon of the baking soda, too. I'm guessing the extra soda is the reason there are many complaints about the saltiness, but this way they baked up nice and tall and weren't too salty at all. They were delicious, not cakey and not overly sweet. Definitely will use this frequently to use up sourdough starter in between loaves!
Thanks for the recipe. Tried it using my 1:1 white/ whole wheat flour and 1:1 honey/maple syrup and freshly ground cornmeal with orange zest. Added extra 1egg, 1/4 c. butter, 1/4 c. milk. Baked them for 25 minutes. Outside was a bit dry (even after adding extras as stated) and too crunchy for me (my fault because couldn't get really fine cornmeal from my coffee grinder) but inside was nice and moist. As stated in other reviews the sweetness level was perfect. I will try it again but will use 100% whole wheat, shorter cooking time and store-bought cornmeal. :-)
Based on the comments of others, I reduced the salt to 1/2 tsp, which was a mistake. I used oil, not butter, and perhaps that is why some thought these were too salty. If I used salted butter, I think 1/2 tsp salt would be good. But when using oil, I think you need the recipe-specified 3/4 tsp salt. These would also benefit from lemon or orange oil or zest to add a little more depth of flavor. The cornmeal adds a hearty texture which I enjoyed. I baked at 400 for 20 mins and they came out perfectly done. Will make again as this is a nice way to use up discards from my starter.
BE CAREFUL WITH FROZEN BERRIES I used frozen berries from Target. Their store brand berries are very large and sweet, and taste quite nice on their own. I didn't take into account that my extra large berries would affect baking time. (and hydration?) After 25 min at 425F, the muffins looked done but when I turned them out on the cooling rack, liquid batter oozed from the tops Oh no! I popped them back in the pan and baked for 10 min at 375F. Now they seem to be just done. I see what other bakers are saying about the saltiness or combo with the cinnamon, though the blueberries I used help with this. I also used white cornmeal (because that's what I had on hand), and subbed in 2 oz of white whole wheat flour for 1 oz ap flour and 1 oz cornmeal. The resulting texture is nice. This was my first time using my starter for something other than bread, and I am still a novice when it comes to scratch baking. Thanks for the interesting recipe!
We made these last night. As suggested by a couple of folks, I reduced the cinnamon to 1 tsp and added 1/4 tsp lemon oil. We used maple syrup and vegetable oil; frozen blueberries. I used my starter straight from the refrigerator. The starter was thick and so was the batter, more like dough. We added more milk until we got a better consistency; probably about a 1/4 cup. (turned the batter very purple!) They were done in 15 min. The turned out great and we will make them again. Should the starter have been room temperature? It hasn't mattered in the other recipes I've made. And completely off subject, but has anyone tried adding protein powder to their baked goods? I was hoping to find something in the blog area, but didn't. Thanks - Karen

We've found that across the board, recipes tend to turn out better when all of the ingredients are room temperature (unless otherwise specified by the recipe). The success of these muffins doesn't hinge on the temperature of the starter, so don't worry if you have to use your starter cold from the fridge. However, if you have time to let it warm up, it certainly won't hurt. As for your question about protein powder, we have a few pancake recipes that call for whey protein, but you're welcome to try adding protein powder into your baking, starting with smalls amounts (about 1/4 cup or 10-25% of the flour). There are typically baking instructions listed on the protein powder package, so you'll also want to check those out before getting started. Happy baking! Kye@KAF
Love these muffins because they're not too sweet. Perfect for breakfast or a snack anytime during the day. Since I live at an altitude of 8400 feet, I did make two small adjustments to the recipe. I added an additional Tablespoon of flour and decreased the baking soda two 3/4 of a teaspoon. They turned out perfect.
I found these to be dry & salty. But I did like the fact that they weren't too sweet. They definitely didn't need 25 minutes baking time. I took mine out at 18 and they were completely cooked. With so many other blueberry muffin options, I wouldn't make these again.

We're sorry this recipe for Blueberry Sourdough Muffins wasn't quite right for you, Janet, but we're glad the sweetness level was spot on for your taste buds. You might want to check out the article on our blog called, "How to reduce sugar in muffins," so you can apply the findings there to whatever blueberry muffin recipe you try next. Happy baking! Kye@KAF
I don't like the cornmeal in this - I think it made it too dry and it needed a bit more sweetener for my taste.

Rachel, we're sorry to hear the flavor and texture of the cornmeal wasn't quite for you. It sounds like a more traditional blueberry muffin recipe might be more pleasing for your taste buds, which we encourage you to check out in the recipe section of our website. We hope you find the right fit! Kye@KAF
Not your typical muffin recipe, but it's much heartier and I think more flavorful. I did spruce them up a bit by adding some orange zest to the batter and it took the flavors to the next level! I have a dairy allergy, so I did vegetable oil and replaced the milk with almond milk with no problems in the bake. I did have to pull mine from the oven ever-so-slightly early, but my oven does run hot. This was a huge hit with the kids and it freezes really well.
Great use for the discard sourdough starter! No sugar on top, used maple syrup and vegetable oil. Baking time was perfect at 25 min. I will make this again and again.