A customized print-friendly version of this recipe is available by clicking the "Print Recipe" button on this page.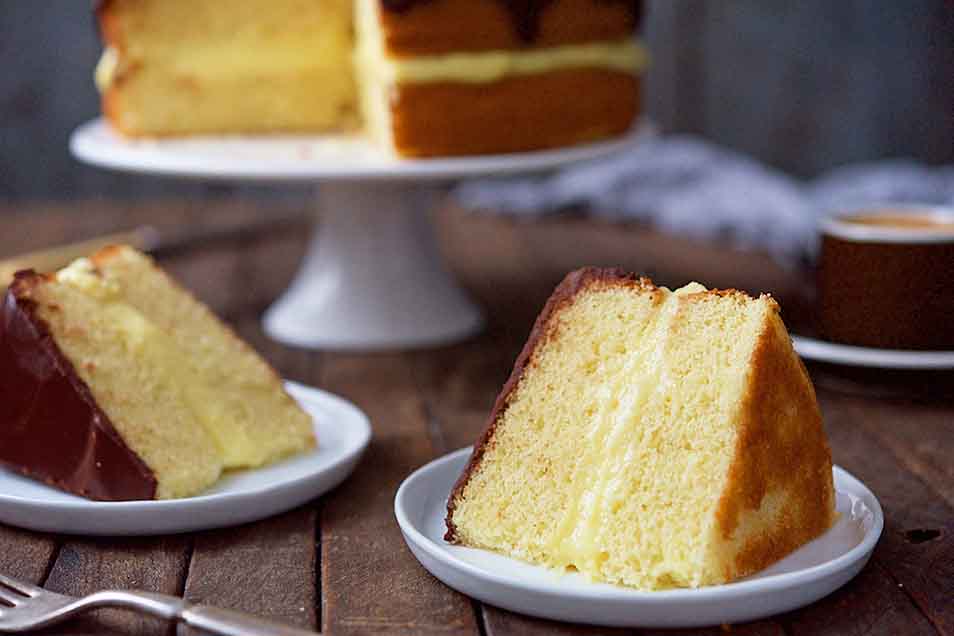 The original Boston Cream Pie, created at Boston's Parker House hotel in the 19th century, featured sponge cake layered with cream and iced with vanilla and chocolate fondant. Our updated recipe reflects most Americans' idea of this cake: based, in fact, on a boxed mix from the 1950s! But traditional or not, it's simply delicious. Moist, tender vanilla layers are sandwiched around a rich, thick pastry cream, the whole cake topped with a dark chocolate ganache glaze. We think even those loyal to the traditional Parker House version will love this cake.

Note: As of 10/17/17, this recipe has been completely reworked thanks to feedback from you, our readers. We hope you enjoy this updated version!
Ingredients
Cake
2 cups sugar
4 large eggs
1/3 cup vegetable oil
1 1/4 teaspoons salt
2 teaspoons baking powder
4 tablespoons (1/4 cup) unsalted butter, at cool room temperature, 65°F to 68°F
1 cup whole milk
2 teaspoons vanilla extract
Filling
2 1/2 cups whole milk
1/2 cup sugar
1/4 teaspoon salt
1/3 cup cornstarch
3 large egg yolks
1 large whole egg
2 teaspoons vanilla extract
Glaze
1/4 cup heavy or whipping cream
1/3 cup chopped dark chocolate or chocolate chips or wafers
1/2 teaspoon vanilla extract
Instructions
To make the cakes: Preheat the oven to 325°F. Lightly grease two 9" round pans.

Beat the sugar and eggs together until they're light and fluffy, about 2 minutes at medium-high speed using an electric or stand mixer. Slowly beat in the vegetable oil.

Weigh your flour; you'll find its weight by toggling to "ounces" at the top of the ingredient section above. Or measure it by gently spooning it into a cup, then sweeping off any excess.

Add the flour, salt, and baking powder to the egg mixture in the bowl, beating just enough to combine. Scrape the bottom and sides of the bowl, then beat again, to fully incorporate any sticky bits.

In a saucepan set over medium heat, bring the butter and milk just to a boil. Add the vanilla. Remove the pan from the heat, and stir the mixture until the butter is completely melted.

Slowly add the hot milk mixture to the cake batter, mixing until everything is well combined. Scrape the bowl and mix briefly, just until smooth. The batter will be very thin.

Divide the batter evenly among the prepared pans.

Bake the cakes for 30 to 35 minutes, until a toothpick inserted into the center comes out clean, and the top feels set. Remove the cakes from the oven, cool them in the pans for 10 minutes, then turn them out onto a rack to cool completely.

To make the filling: In a medium-sized saucepan, stir together 2 cups of the milk, the sugar, and the salt. Bring to a simmer over medium heat, stirring to dissolve the sugar.

Meanwhile, whisk the cornstarch, egg yolks, and whole egg with the remaining 1/2 cup milk.

Whisk some of the hot milk mixture into the egg yolks/cornstarch to temper the yolks. This keeps them from turning to scrambled eggs when you add them to the simmering milk.

Pour the egg/milk mixture back into the remaining simmering milk in the pan, pouring it through a strainer to capture any bits of egg.

Bring the mixture to a low boil over medium heat (this may happen very quickly), stirring constantly with a whisk, and cook for 2 minutes; the mixture will thicken significantly.

Remove the filling from the heat and stir in the vanilla.

Transfer the filling to a heatproof bowl, and top it with a piece of buttered plastic wrap (make sure it touches the top of the filling so it doesn't develop a skin). Refrigerate until cool.

When the cakes and pastry cream are completely cool, spread the filling in an even layer over one layer then stack the second layer on top. Set aside.

To make the glaze: Melt the chocolate and cream together until smooth and lump-free. Add the vanilla and stir well. Pour the glaze over the filled cake. Serve immediately, or cool to room temperature, and refrigerate until ready to serve.

Store any leftovers in the fridge, well wrapped in plastic.
Tips from our bakers
The original Boston Cream Pie, born at Boston's Parker House Hotel in the 1850s, featured two types of fondant icing (chocolate and vanilla), a rum-infused filling, and a garnish of sliced almonds. This recipe mimics not that cake, but a Betty Crocker mix launched in the 1950s, which made a much simpler dessert — and one that many American families enjoyed during its decades on the supermarket shelf.
Reviews
I live at a high altitude and adjusted the recipe from 325 degrees to 365 degrees, and it turned out perfect.
Followed the recipe exactly & the cake stuck like glue to the pans. It never even pulled away from the edges even though it was properly baked. You need to yest this one again.

We're sorry to hear that you had trouble with the cake portion of this recipe, Dale. We might suggest, in addition to greasing the cake pans, placing a round piece of parchment in the pan to ensure that the cake doesn't get stuck on the bottom. This way you can just run a small offset spatula or knife around the edge to loosen the cake. If we can help troubleshoot or pick out a recipe that better fits your tastes, please give our Baker's Hotline a call at 855-371-BAKE (2253). Kindly, Morgan@KAF
Best Boston Cream Pie recipe I've found, and I've tried several. I wanted a higher filling-to-cake ratio, and I wanted to feed 10 people, so I baked the cake recipe in a 12" round pan and split the layers. I doubled the filling recipe so I would have enough filling for the larger diameter, but in the end I probably didn't need to do that and would have had enough filling for a generous layer, even at 12". Was a huge hit. Tips on splitting a 12" layer cake. A turntable and a serrated knife help. Slice into the cake 1/2 way through and work your way around until the whole cake is split. I used a very thin, flat cookie sheet as a giant spatula to lift the top off, and then slide it into place later on top of the filling. Easy.
I have made numerous Hot Milk sponge cakes but always found them lacking in moisture until I found your recipe. I give high praises to the person who created this version. It is moist and delicious. I prefer making a pastry cream with 6 egg yolks. Once the custard has set, I then fold in 1 1/2 cups of beaten heavy whipping cream. I add two tablespoons sugar and 1 teaspoon of instant clear jel to the whipping cream and then beat until stiff. I cut my two cake layers in half and fill with custard cream filling. I also prefer to add some corn syrup to my chocolate glaze to make it glossy looking. Thanks again KAF for this wonderful improvement on the classic Hot Milk Sponge cake.
Followed directions exactly and it was excellent. Weighed the flour; eggs and butter at room temperature. Many similar recipes call for one 9 inch cake cut in half. Since this one uses two 9 inch cakes it makes a very big cake. If you don't need such a large cake you could always freeze one cake for another time. The creme was quite gelatinous and would be an odd texture on its own but it worked perfectly in the recipe because it stayed inside the cake and the taste was wonderful.
I made this cake for my father-in-law's birthday since his favorite dessert is Boston Cream Pie. I had to make the pastry cream twice, because my first one came out a little runny. But the second time around I made sure my eggs and remaining milk were at room temperature and the pastry cream turned out perfectly. This recipe is worth it for the cake portion alone; it's buttery and sweet, and the texture is to die for. I used Lindt dark chocolate for the glaze on top and the cake was just sweet enough to balance out the bitterness of the chocolate. We all enjoyed it very much, it was a big hit at the birthday party!
The flavors in this recipe were great, but I had two issues. First, the cake stuck to the pan terribly. I ended up freezing the cake layers in their pans so I could extract them more easily. They came out with some work but didn't look very pretty. I also found the pastry creme layer to be overly thick and gelatinous. I could barely spread it after cooling it in the fridge. We persevered and ate the cake anyway, and the flavors were delicious. I will have to try it again and see if I can get better texture results.

Hi there, Erin. We're sorry to hear that you had such trouble with this recipe. We might suggest, in addition to greasing the cake pans, placing a round piece of parchment in the pan to ensure that the cake doesn't get stuck on the bottom. Also, feel free to only use half of the pastry cream to fill your cake and use the remaining filling to make another tasty treat such as cream puffs! Happy baking! Morgan@KAF
Just an additional comment to my previous one, I would love to use this recipe for cupcakes! I think the cake-to-custard ratio would be better, and I think the filling would 'pipe' into the cupcake beautifully! Then spoon a little ganache on top!
Can this cake be made with egg substitutes and still turn out the same? If so, what substitutes doi you suggest for 4 eggs and a 5th in the filling? Son has egg allergy.

Hi Nesha, thanks for reaching out to us with your question. While we do have a number of different egg replacement approaches that work well, we recommend avoiding recipes that have a large number of eggs, like this one for Boston Cream Pie. Instead, you might consider making our recipe called, Plain & Simple Golden Cake, which only calls for 2 eggs in the cake but is still incredibly moist and tender. Consider using a whipped cream filling instead of pastry cream, which is luscious and rich and doesn't require the use of any eggs if you'd like to make a layer cake with a cream filling. We hope this helps, and happy baking! Kye@KAF
I made this last week after work and in only an hour, I had the cake finishing up in the oven and the pastry cream cooling in the fridge. The chocolate topping goes together in the blink of an eye as well. I felt the pastry cream tasted better with a 3rd tsp of vanilla (used Nielsen-Massey for anyone who may think it was due to poor quality vanilla) and also added 2 tablespoons of butter when the pastry cream was finished just because I'm used to adding a little butter to pastry cream at the end and thought it needed a little extra something. The chocolate was fairly thin covering the top of the cake so I quickly made up a 2nd batch of it so I could have some dripping down the side of the cake. The cake was completely gone before I could get an actual slice of it at work the next day. I was able to scrape pieces off the serving knife and cake pan and that's the only way I am able to say that it was delicious and worth the 5 star rating. When I make it again, I will add an extra tsp vanilla to the pastry cream as well as butter at the end and will double the chocolate on top.