A customized print-friendly version of this recipe is available by clicking the "Print Recipe" button on this page.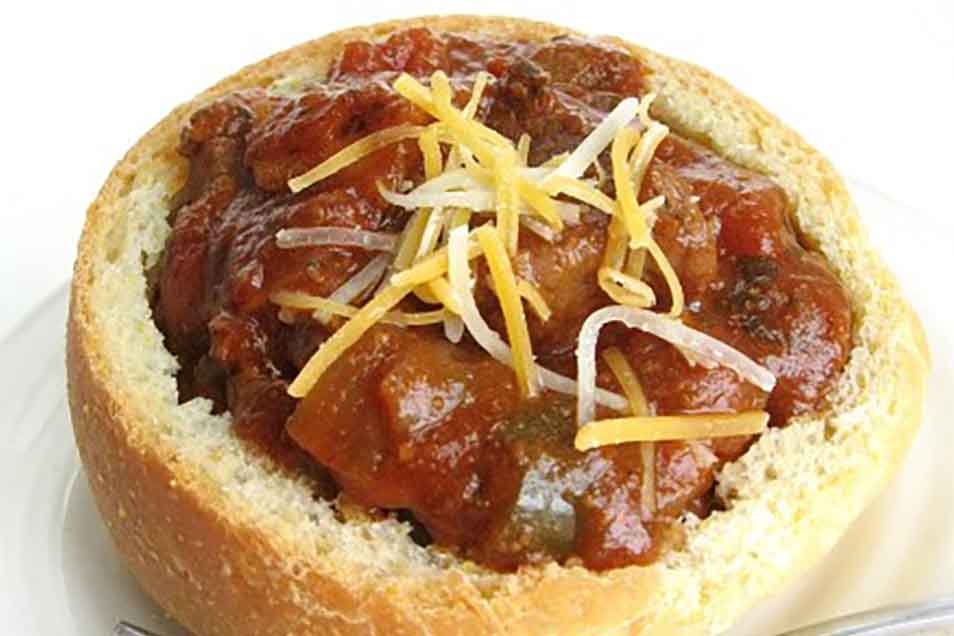 Ah, there's nothing like a hot bowl of chili on a crisp fall or winter day — especially when the bowl is just as delicious as the chili! Check out two of our favorite chili recipes in "tips," below.
Ingredients
1 1/4 cups lukewarm water
1/4 cup vegetable oil
1/2 cup yellow or white cornmeal
2 to 3 teaspoons ground cumin, to taste; optional
1 1/4 teaspoons salt
1 tablespoon sugar
3 tablespoons potato flour or 1/2 cup dry potato flakes
2 tablespoons Baker's Special Dry Milk or nonfat dry milk
2 1/2 teaspoons instant yeast
Instructions
Combine all of the ingredients, and mix and knead them, by hand, mixer, or bread machine, to make a smooth dough.

Place the dough in a bowl or rising container, cover it, and let it rise for about 60 to 90 minutes, until it's just about doubled in bulk.

Gently deflate the dough, and divide it into 8 pieces. Round each piece into a ball.

Stagger the balls on a lightly greased or parchment-lined baking sheet. Cover, and let rise for about 60 to 90 minutes, until noticeably puffy. Towards the end of the rising time, preheat the oven to 350°F.

Bake the buns until they're golden brown, about 25 minutes. Remove them from the oven, and let them cool right on the pan.

When you're ready to make bread bowls, cut the top 1/3 off each bun.

Gently and carefully scoop out the bread inside. Reserve it to make breadcrumbs, if desired.

Heat the chili, and ladle it into the bread bowls. Place the bowls in a preheated 350°F oven for about 10 minutes, if desired, to heat and crisp.

Serve with grated cheddar cheese and sour cream, if desired.

Yield: 8 individual bread bowls.
Tips from our bakers
We love these chili recipes, and they're perfect for bread bowls: Oven-Baked Chili, and White Chili, a tasty chicken-based chili. If you use White Chili with these bread bowls, omit its cornbread topping.
Reviews
Just had to bump this rating. I have made this several times, in its entirety, and question if others' poor results had more to do with user error than the recipe. I was apprehensive about the cumin, and it did make the dough smell funny, but it was great in the finished product. No, the bowls aren't the bloated size they serve in cafes. Then again, cafes are not exactly known for their realistic serving sizes. I made 10 bowls, and even my husband and son, big eaters, were each happy with one bowl. The dough was very easy to work with. A bread bowl needs to be pretty substantial in texture, in order to be hollowed out enough to have a good capacity without seepage, leakage, or collapse. These, when eaten with the chili, stood up to the liquid without the mushy mouthfeel of commercial break bowls. They hold considerably more if you slice off only the very top, about 1/4", and are careful to fully hollow out every part of the inside to a uniform thickness.
I followed the directions exactly and the bread bowls were small and dense in texture. I have been baking breads for 40 years...

We're sorry these didn't turn out for you, but we'd be glad to help figure out what went wrong! Give the Hotline a call at 1-855-371-2253 and we'll sort it out. Laurie@KAF
I've used this recipe twice with very poor results. I follow the recipe exactly and get very small, very hard balls of bread as the end result. I must be doing something incorrect because every other KAF recipe I've ever tried works fabulous. Wish I could have figured this out. The bread does smell terrific and the whole house smells great when I bake this recipe.
We'd love to help you with your bread. It sounds like you are having trouble getting your dough to rise, or perhaps it is rising too long and collapsing. Both issues can lead to dense, tough loaves. Please call us on our baker's hotline for more details. ~Amy
I prepared the dough using the dough cycle in my Zo. The dough came out fine and was able to be handled to be shaped. I followed the directions to the letter and found that the rolls, while delicious smelling, turned out about 1.5 inches high. Not what I was expecting for bread bowls. To improve- perhaps weight of ingredients could be listed? In talking to a baker (thanks Frank) I have decided my dough was too wet. That being said, after using three hours of my day I will be serving chili with really big rolls and will not be likely to use this recipe again.
I'm sorry for your trouble. The recipe offers weight measurements in both grams and ounces. I hope that you will reconsider and try this again. Please call our baker's hotline if we can be of any assistance. ~Amy
Super. Tested these with our friends last night. They loved 'em. The little bit of cumin (I was stingy with it in the bowls themselves) is a great addition to the dough. These bowls are smaller than bread/soup bowls in see in a café. Two portions a person for dinner - maybe one for a lighter lunch or party buffet. I reduced down the chili a bit more than normal, to allow me to mound the filling in the smaller space.