A customized print-friendly version of this recipe is available by clicking the "Print Recipe" button on this page.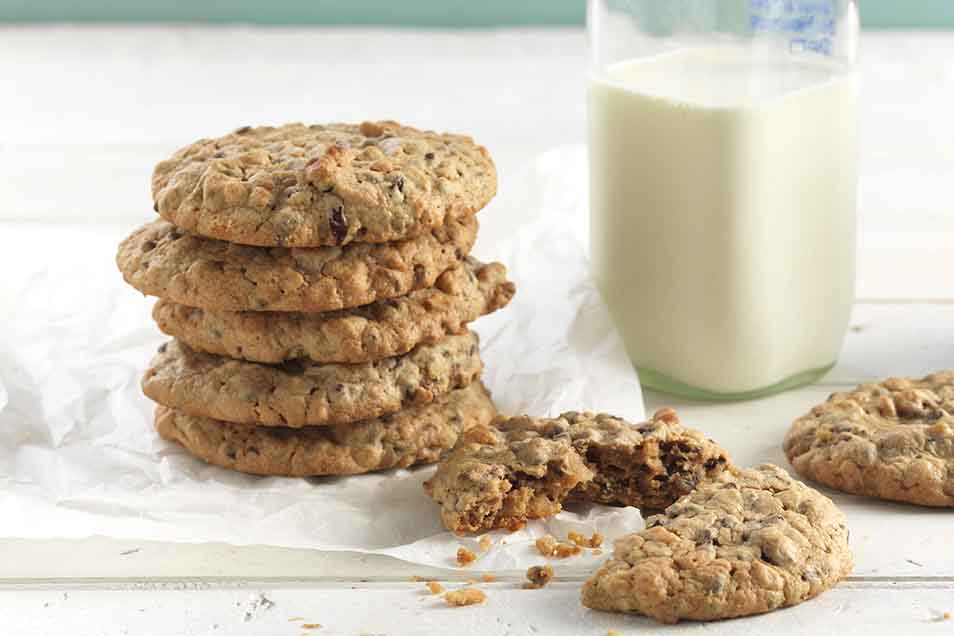 As children, most of us asked at some point to have cookies for breakfast only to be denied by loving but firm parents. As teens, most of us HAD cookies for breakfast when those parents weren't looking. Enter the Breakfast Cookie. These big, hunky chunky cookies combine hearty oats, raisins, barley, granola, even a happy handful of chocolate chips. The added fiber from Hi- Maize and the added protein from peanut butter provides a satisfying, tummy filling meal that you can round out with fresh fruit, low fat yogurt or juice for a great start to your day, no matter how old you are.
Ingredients
1/2 cup butter, softened
1 cup peanut butter
1 1/4 cups brown sugar
2 teaspoons vanilla extract
2 large eggs
1/3 cup milk
1 1/4 cup King Arthur Unbleached All-Purpose Flour OR King Arthur White Whole Wheat Flour
1/3 cup Hi-maize Fiber
1/3 cup Baker's Special Dry Milk; or dried milk, whole or non-fat
1 teaspoon cinnamon
1 teaspoon salt
4 1/2 cups total add ins of your choice: Jammy Bits, raisins, coconut, barley flakes, rolled oats, granola, chocolate chips, dried fruit, nuts etc.
Instructions
Preheat the oven to 350°F. Line two baking sheets with parchment paper.

In the bowl of your mixer combine the butter, peanut butter, brown sugar, and vanilla. Beat on medium high speed until lightened and fluffy.

Add in the eggs and liquid milk, mix until well combined. Be sure to scrape the bottom and sides of the bowl once or twice.

On low speed mix in the flour, Hi Maize fiber, dried milk, cinnamon, and salt. Mix until the dough is cohesive. Add 4 1/2 cups total of your favorite add ins and mix until all are incorporated.

Scoop generous 1/4 cup mounds of batter 2 inches apart on the parchment lined sheets. Slightly flatten each mound. This recipe contains no leaveners, so the cookies will only spread and rise slightly.

Bake the cookies for 18 to 22 minutes, until lightly browned. Do not over-bake or the cookies will be dry and crumbly. Cool on cookie sheets for 5-8 minutes. Move to a rack to cool completely. Yield: 18 to 20 cookies, depending on size.

The nutritional analysis below was made with the following add-ins: 1 cup each: rolled oats, granola, dried cranberries, and chocolate chips, and 1/2 cup of shredded sweetened coconut. Using whole wheat flour adds 1/2 gram of fiber per serving and doesn't change any of the other amounts per serving.
Nutrition Information
Serving Size

1 cookie, 88g

Servings Per Batch

19
Amount Per Serving:
Calories

359

Calories from Fat

67

Total Fat

18g

Saturated Fat

7g

Trans Fat

0g

Cholesterol

39 mg
Sodium

245 mg

Total Carbohydrate

48g

Dietary Fiber

5g

Sugars

29g

Protein

7g
* The nutrition information provided for this recipe is determined by the ESHA Genesis R&D software program. Substituting any ingredients may change the posted nutrition information.
Reviews
I'm sure this recipe is great, but when I baked it, the bottoms of my cookies totally burned! I followed the recipe completely except I subbed about 3.5 oz of the peanut butter for tahini, and I used mostly oats for the add-ins, and I didn't use the hi-maize or dry milk. Does anyone know what could've happened? Or maybe my oven is screwed up.

Oh no! Hi Ethan. It might be that the oven is running too hot, but you can also try doubling up on your sheet pans for some extra insulation. Annabelle@KAF
I am always trying to lure My husband into eating breakfast. He always will drink coffee but is somewhat fussy and will turn down Home made granola, Homemade toast with homemade jam but these are a big hit. It was also good recipe for me to use up some peanut butter that did not have the consistency I like as well as some sunflower seeds, as well bits and bobs that I had lying around that needed to get used up. I did not have the high Fiber flour so I left it out. I like the fact they were not overly sweet- and I added some black sesame seeds, golden flaxseed's, raisins, chocolate chips, unsweetened coconut flakes , jammy bits And some oatmeal.
Made this recipe so many times I cant count. This time I substituted coconut oil for butter. Everyone loved them.
Made a gluten free version of this cookie. I used the measure for measure flour mix, used honey instead of sugar. I baked them for 15 minutes, another bakers recommendation, they came out moist, chewy with excellent flavor. Another yummy cookie added to my list.
I wish I could Hug you Guys!!!! This is such an incredibly delicious Recipe n really what a beautiful start of the day, I had been looking for such recipe for long but finally my search is over. These morning cookies are gonna be with me for the rest of my life. They keep me full, huge energy provider n tastes too good as well. I'm glad you guys have given us enough room to add our favorite add ins, mine were rolled oats, quinoa, shredded coconut, chocolate chips, crushed almonds, chia seeds, flex seeds n oats bran. My MIL loved these cookies, however I'm gonna bake a separate batch for my husband with blueberries, since he really likes Belvita's bluberry morning biscuits n I Wanna replace those with my homemade blueberry version, I got dried blueberries n I hope they turn out as delicious as the original recipe. I have a question though, do I add blueberry essence/extract or the fruit itself would leave enough flavor to the cookies? Any other suggestion you wanna give me in this context? Thank You once again, would really appreciate your response.

Hi Isha, if you'd like to recreate a blueberry breakfast cookie, you might want to experiment with using dried blueberries, as they're smaller and will more evenly distribute their flavor throughout each bite than fresh. We think you'll all enjoy the flavor of dried blueberries more than using an extract or flavoring. Adjust the amount you use to taste, keeping the 4 1/2 cup total mix-in limit in mind. Mild flavored options like oats, barley flakes, and chopped nuts will let the flavor of the blueberries come through best. Kye@KAF
I've tried a lot of breakfast cookie recipes and this is the one I've been waiting to find. I should have come to KAF first. You never disappoint! Mix ins were flax meal, oats, hemp protein powder, flax, chia, pumpkin seeds, raisins, chocolate chips and granola. What a good, hearty cookie. Love the versatility!
I actually make these to have as dessert. I made them with a 2-tablespoon (I think...it is medium sized) cookie scoop and got 46 out of the batch. I'm 7 months pregnant and am often hungry a few hours after dinner, so one or two of these plus a glass of milk is a filling and at least somewhat nutritious snack. I add 1/2 tsp each of baking powder and soda, cut brown sugar to 200 grams, and flatten them before baking. This time my mix-ins were rolled oats, walnuts, bittersweet chocolate chunks, some sweetened shredded coconut, and flaxseed meal. This is a terrific, tasty recipe
A wonderful and adaptable recipe based on what is available in the pantry. I substituted psyllium husk flakes for the maize flour because I had them from another recipe. Like a previous reviewer, I cut the sugar to one cup but added a tablespoon of honey. For the add ins, I used rolled oats, unsweetened dessicated coconut, pumpkin and sunflower seeds, chopped walnuts, raisins and dried cherries. However, the cookies would also be delicious with other types of nuts and dried fruits. This makes a great lunch box addition or on the go snack.
I substituted wheat bran for the hi-maize fiber (going to add this to my next order) and used cinnamon chips instead of chocolate chips (my husband does not think chocolate belongs in breakfast items, but I will convert him one of these days!) and substituted buttermilk (we have a local dairy that does a dynamite full fat buttermilk) for the regular milk. I also added 1/2 tsp of baking powder & baking soda. For add ins I used barley & oatmeal flakes, unsweetened coconut, raisins, walnuts. I wound up with 21 quarter cup sized cookies. My dough had gotten a little shiny so after I formed the cookies, I refrigerated them for 30 minutes. I baked 15 minutes and at that point they looked done so I pulled them. They turned out really well, they were dense and moist. I'll definitely be making these again. I ran my ingredients through a recipe analyzer and it worked out to about 330 calories per cookie. Given the calorie count, I probably wouldn't eat these every day but for a treat every now and again, I think they would be fine.
these are truly delicious. I have made these on 3 different occasions now. I do add baking powder and baking soda so they are not so flat. My add ins have included dried apples, blueberry jammies, craisins, ground flax, oats, toasted coconut, and of course chocolate chips. I will take one with me for lunch. The cookie and a cup of coffee holds me for a long time.