A customized print-friendly version of this recipe is available by clicking the "Print Recipe" button on this page.
Breakfast Pies with Cheddar Cheese Crust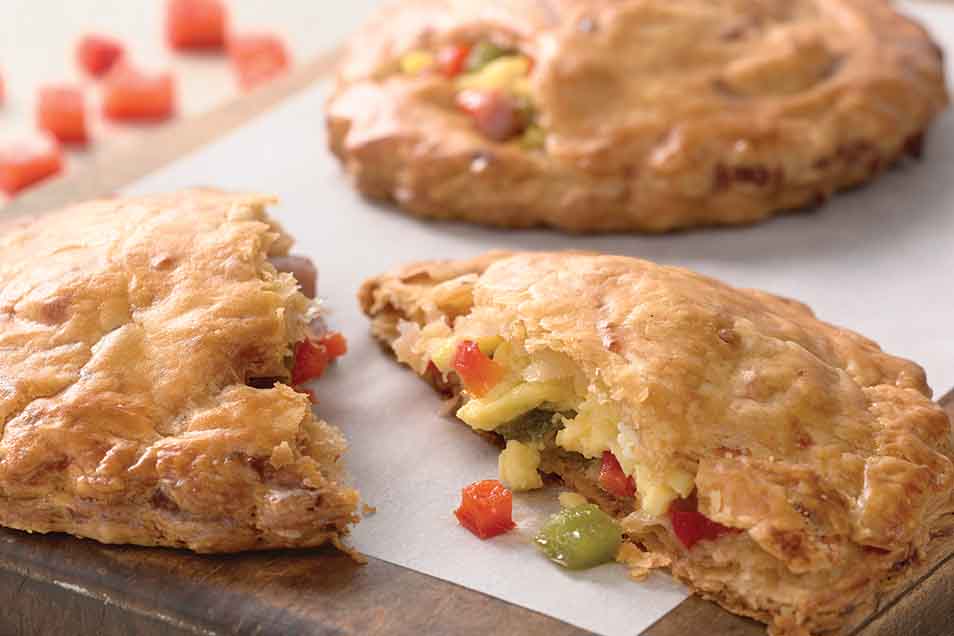 A savory tart ideal for an on-the-go breakfast, or to enjoy for a special breakfast or brunch.
Ingredients
3/4 cup Hi-maize Fiber (or substitute all-purpose flour)
1/2 cup Vermont cheese powder (or substitute finely ground Parmesan cheese)
3/4 teaspoon salt
¾ teaspoon paprika
1/4 teaspoon cayenne pepper or a dash of hot sauce, optional
1 1/2 cups (24 tablespoons) cold butter, cut into pats
1 cup shredded sharp cheddar cheese
3/4 cup ice water
Filling
3 large eggs
3 tablespoons milk or half & half
1/2 teaspoon salt
1/4 teaspoon black pepper
1 cup finely chopped green pepper (about 1 small pepper)
1/3 cup diced onion
1 tablespoon butter
1 cup diced ham
1/4 teaspoon dried thyme
1 cup shredded sharp cheddar cheese
Seal & glaze
1 large egg
1 tablespoon cold water
Instructions
To make the crust: Combine the dry ingredients. Work in the butter until the mixture is unevenly crumbly.

Add the cheddar cheese and water, mixing until the dough is cohesive; add extra water, if necessary, to make it come together.

Divide the dough into 5 pieces, and pat each into a disk. Wrap each disk and chill for 30 minutes or more.

To make the filling: Whisk together the eggs, milk, salt, and pepper; set aside.

Sauté the peppers and onion in the tablespoon of butter until the onions are translucent. Add the ham and thyme, and sauté briefly until warmed through.

Add the egg mixture and stir together over low until the eggs are softly set. Remove from the pan, and place in the refrigerator to cool.

Preheat the oven to 400°F.

Remove a disk of dough from the fridge. Roll it into a 10 1/2" X 6 1/2" rectangle, and use a mini pie mold to cut 4 rounds. The "tops" will be the rounds with an air vent cut through, the "bottoms" without.

Separate the tops and bottoms, stack between pieces of plastic wrap, and return to the refrigerator. Repeat for remaining pieces of dough.

Working with one bottom and one top crust at a time, use the mold to fill each pie with 1/4 cup filling and 1 1/2 tablespoons shredded cheddar cheese. Hints: dust the mold with flour before putting the bottom crust on. Stretch the bottom crust slightly over the edge of the mold. Brush beaten egg onto the rim of the top piece before sealing the pie.

Place on a parchment-lined baking sheet and refrigerate while making the other 9 pies.

Brush the tops with beaten egg or milk and bake the pies for 18 to 22 minutes, until golden. Remove from the oven, and serve warm.

Yield: 10 mini pies.