A customized print-friendly version of this recipe is available by clicking the "Print Recipe" button on this page.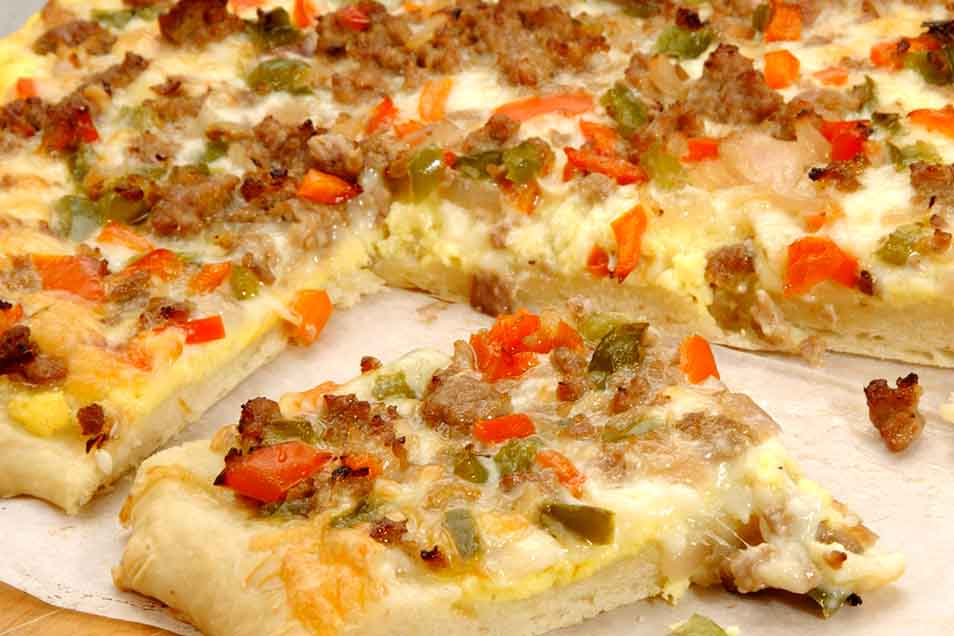 Pizza for breakfast? No cold, old slices here. This pizza features soft-scrambled eggs in a creamy sauce topped with sausage, peppers, onions... whatever your favorite omelet topping! Sharp cheddar cheese adds tang, and mozzarella gives that stretch and pull we love. Treat the family this weekend and make pizza... for breakfast!
Ingredients
One batch of pizza dough, Regular Pizza Crust OR Whole Wheat Crust
8 ounces bulk breakfast sausage
1/2 cup diced onion
1/2 cup diced peppers, red or green, your choice
3 tablespoons butter
3 tablespoons King Arthur Unbleached All-Purpose Flour
1 cup milk or half & half
4 to 6 large eggs, farm-fresh if you can get them
1 cup shredded sharp cheddar cheese
1 cup shredded mozzarella cheese
Instructions
Roll or pat out your pizza dough to a 14" circle or 12" x 16" rectangle. Set aside while you prepare the filling. Letting your pizza crust rise a bit before topping will give you fuller, more bready crust. If you prefer thin crust, skip the rise and roll your crust just before topping.

In a large sauté pan, cook the onions and peppers in a touch of butter or oil until they begin to soften. Add the sausage, breaking it up with a spatula as you go. Cook until the sausage is cooked though but not browned. Drain the mixture of excess fat and set aside to cool slightly.

In the same pan, cook the 3 tablespoons of butter and 3 tablespoons of flour for about 4 minutes; don't allow to brown. Remove the pan from the heat and whisk in 1 cup milk or half & half. Return to the heat and cook until the sauce begins to thicken.

Crack the eggs into the sauce and whisk in well. Continue to cook the eggs until soft set. Avoid overcooking; this will make the eggs rubbery.

Spread the egg mixture over the crust, and top with the sausage mixture, spreading evenly. If you have more eggs than pizza, save for another day rather than risk a soggy crust. Top with both cheeses.

Bake the pizza in a preheated 400°F oven for 15 to 18 minutes, until well-browned and bubbly.

Yield: one large pizza, about 8 servings.