A customized print-friendly version of this recipe is available by clicking the "Print Recipe" button on this page.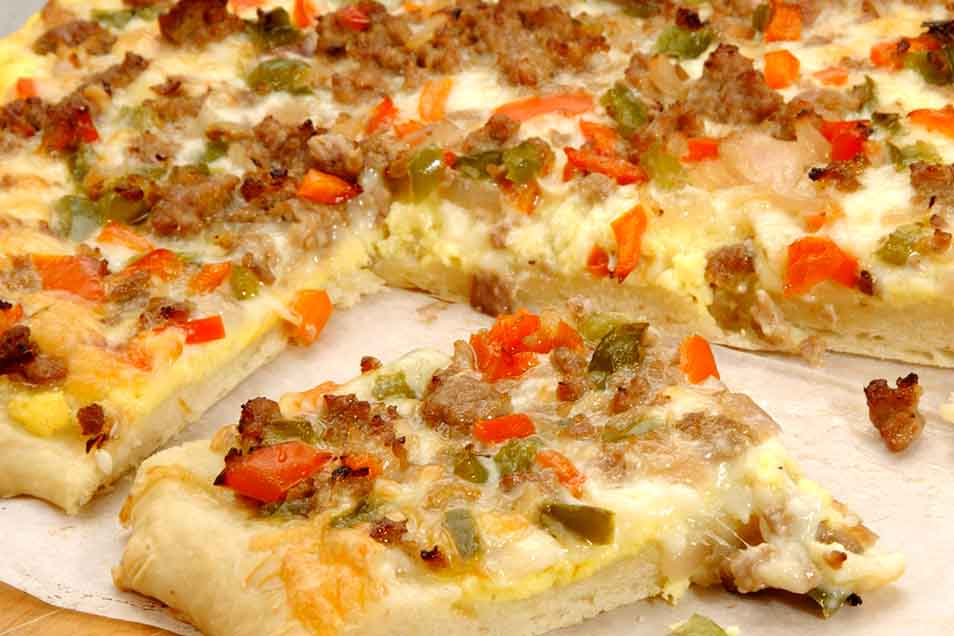 Pizza for breakfast? No cold, old slices here. This pizza features soft-scrambled eggs in a creamy sauce topped with sausage, peppers, onions... whatever your favorite omelet topping! Sharp cheddar cheese adds tang, and mozzarella gives that stretch and pull we love. Treat the family this weekend and make pizza... for breakfast!
Ingredients
One batch of pizza dough, Regular Pizza Crust OR Whole Wheat Crust
8 ounces bulk breakfast sausage
1/2 cup diced onion
1/2 cup diced peppers, red or green, your choice
3 tablespoons butter
3 tablespoons King Arthur Unbleached All-Purpose Flour
1 cup milk or half & half
4 to 6 large eggs, farm-fresh if you can get them
1 cup shredded sharp cheddar cheese
1 cup shredded mozzarella cheese
Instructions
Roll or pat out your pizza dough to a 14" circle or 12" x 16" rectangle. Set aside while you prepare the filling. Letting your pizza crust rise a bit before topping will give you fuller, more bready crust. If you prefer thin crust, skip the rise and roll your crust just before topping.

In a large sauté pan, cook the onions and peppers in a touch of butter or oil until they begin to soften. Add the sausage, breaking it up with a spatula as you go. Cook until the sausage is cooked though but not browned. Drain the mixture of excess fat and set aside to cool slightly.

In the same pan, cook the 3 tablespoons of butter and 3 tablespoons of flour for about 4 minutes; don't allow to brown. Remove the pan from the heat and whisk in 1 cup milk or half & half. Return to the heat and cook until the sauce begins to thicken.

Crack the eggs into the sauce and whisk in well. Continue to cook the eggs until soft set. Avoid overcooking; this will make the eggs rubbery.

Spread the egg mixture over the crust, and top with the sausage mixture, spreading evenly. If you have more eggs than pizza, save for another day rather than risk a soggy crust. Top with both cheeses.

Bake the pizza in a preheated 400°F oven for 15 to 18 minutes, until well-browned and bubbly.

Yield: one large pizza, about 8 servings.
Reviews
I came across this recipe and thought we'd give it a try. I'm really glad we did! It was an excellent meal for a family of 4.
The best pizza recipe I have ever made. Easy to follow directions.
Delectable and easy recipe.
This is my older daughter's favorite lunch. I cooked the sausage ahead of time. Next time I will top with thinly sliced onions instead of sautéed.
This is the best breakfast I've ever had - have made it twice, and it's great! The flavors are excellent, and the pizza stays moist and tasty (even though it takes me over a week to finish a batch!) Reheats in the toaster oven, just like fresh from the oven! 3 notes - I keep my ingredients seperate so I can make sure everything is evenly distributed. You should grease the pan, and slide it out a few minutes early, put it on a cooling rack, and put that directly into the oven - this allows the center crust to get crisp. That takes about 5 minutes - cooking it a few minutes longer isn't an issue - still wonderful!
It's been tasty trying breakfast pizza. I made this recipe BUT used the pizza dough recipe from the Breakfast Sandwich pizza recipe and also divided up the dough into 4 pizzas and partially prebaked them before adding the egg/white sauce topping, etc. Also, I used the lesser amount of eggs and maybe I did pour a little too much egg mixture on the last pizza dough, but with parchment underneath, the slight resulting spillover baked up and was still very tasty. I'm baking this recipe and also the breakfast pizza sandwich version ahead of time and will reheat in the oven for a quick big family "paperplate breakfast". Perfect breakfast for picky eaters when one wants them to have some protein and not a sugar-filled quick breakfast.
I made this on Sunday....The family loved it. I didn't add the onion and peppers due to a picky daughter. I wrapped up the left over slices and packed in my husbands lunchbox for brunch on Monday. He requested that I make it again and package for his breakfast often. He said it held up well in the lunchbox.
It looks like most of the volume-weight conversions have been fixed, except for the cheese. It has one cup of shredded cheese weighing about half a pound, and that's twice the actual weight (1 cup of shredded cheese should be about 4 ounces).
Wow, guess our proofreaders and I were nappin' eh? Thanks so much for the extra set of eyes. All fixed. ~ MJ
Volume-weight conversions are incorrect. For example, 3 tablespoons of butter is not the same as 3 ounces of butter, 3 tablespoons of butter = 1.5 ounces. Other measurements are similarly incorrect. Otherwise the concept of the recipe sounds good. I like to weigh ingredients so usually click on the weight in ounces option with KAF recipes and have never seen such an error in previous recipes.
Thanks for your sharp editing that will benefit us all. We've notified our web team and you should see correct amounts soon. Happy Baking! Irene @ KAF