A customized print-friendly version of this recipe is available by clicking the "Print Recipe" button on this page.
Breakfast Sandwich Muffins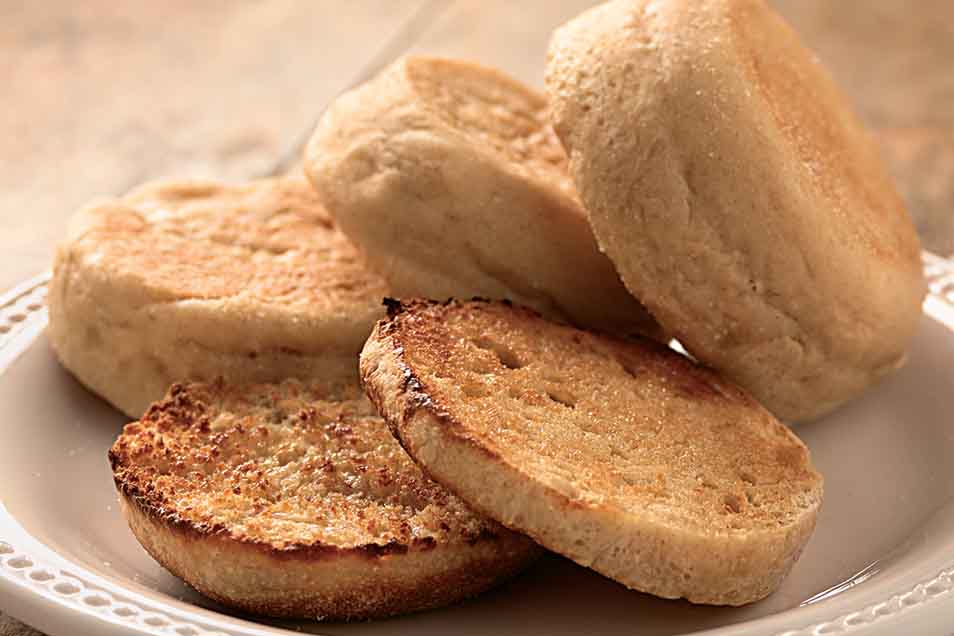 These big, thick, homemade English muffins are wonderful toasted and spread with butter and jam, of course; and they're also a nice size for breakfast sandwiches.
Ingredients
1 3/4 cups lukewarm milk or 1/3 cup Baker's Special Dry Milk + 1 3/4 cups lukewarm water
3 tablespoons melted butter
1 1/4 teaspoons salt
2 tablespoons granulated sugar
1 large egg
1 teaspoon Pizza Dough Flavor, optional
3 tablespoons potato flour or 1/3 cup instant mashed potato flakes
2 teaspoons instant yeast
semolina, for dry frying
Instructions
Combine all of the ingredients except the semolina in a mixing bowl, or the bowl of your stand mixer. Mix until everything is combined, then beat at high speed (using the flat beater paddle, if you're using a stand mixer) for 5 minutes. The dough will be soft, sticky, and glossy.

Scrape down the sides of the bowl, cover it, and allow the dough to rise for about 90 minutes, until it's just about doubled in bulk.

Heat an ungreased frying pan or griddle over very low heat; a griddle with a thermostat should be set at 300°F.

You may want to make one test muffin first, as follows: When the griddle or pan is up to heat, place one well greased 3 3/4" English muffin ring in the pan, and sprinkle a little semolina inside the ring. Scoop a scant 1/2 cup (2 3/4 ounces, 78g) of sticky dough out of the bowl; it's easiest if you rinse your measuring cup and wet your fingers before adding the dough to the cup. Use your wet fingers to shape the dough into a circle about the size of the ring (don't stress about being too exact), lay it into the ring, and sprinkle the top lightly with semolina.

After 7 minutes, check the bottom of the muffin; it should be a medium-golden brown. If it's not, turn up the heat; if it's too brown, turn down the heat. Cook for another 10 minutes, then use a pair of tongs to grab each side of the ring. It might lift right off; if it does, lift it off, set it aside, and use a spatula to gently turn the muffin over. If it doesn't, flip the muffin over, ring and all; then gently wiggle the ring around until it comes off.

Cook the second side for about 15 to 18 minutes, until it's a deep golden brown. If you have an instant-read thermometer, the interior temperature will be about 200°F. Remove the muffin from the griddle, and gently split it open. If it appears to be done inside, cook the remaining muffins the same way.

If it's still gummy or wet, turn the heat down a bit and cook the remaining muffins a bit longer on each side.

When the muffins are brown on both sides, transfer them to a rack to cool.

Store in a plastic bag for 5 days, or freeze for up to 3 months.
Tips from our bakers
To make breakfast sandwiches: Fry 2 slices of bacon or one sausage patty for each breakfast sandwich. For ham sandwiches, cut baked or boiled ham into rounds the size of your muffins; this is easily accomplished by using one of the muffin rings as a cutter. Cut sliced cheese into muffin-sized circles the same way, if you like. Split, toast, and butter breakfast sandwich muffins, and set aside. Fry or scramble an egg for each sandwich. To assemble sandwiches, place meat on bottom half of muffin. Top with egg, then cheese. Place under broiler for a minute or so to melt the cheese. Top with remaining muffin half.
To prepare sandwiches ahead: Assemble the sandwiches, but don't broil them. Wrap and refrigerate. To serve, remove from the refrigerator, and place on a parchment-lined baking sheet; the parchment will catch any dripping cheese. Lay another piece of parchment over the sandwiches, and another pan on top of that; this presses them down slightly, and helps the filling meld together nicely. Bake in a preheated 350°F oven until the cheese melts, about 15 to 20 minutes. Serve hot or warm.