A customized print-friendly version of this recipe is available by clicking the "Print Recipe" button on this page.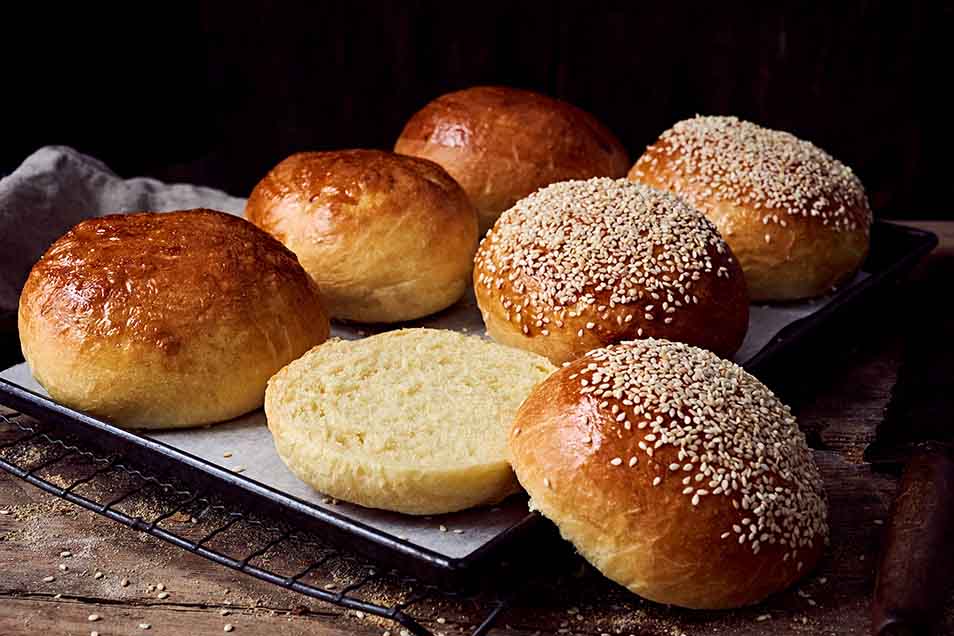 The inspiration for this recipe comes from our bakery, where brioche buns are among the wide variety of rolls and buns King Arthur Flour bakers produce daily. These particular buns are rich, tender, and pillow-like, similar to our bakery's, and are the perfect vessel for a big, juicy burger.
Ingredients
Egg Wash
1 large egg white (reserved from above) lightly beaten with 1 tablespoon cold water
seeds of your choice, optional
Instructions
Mix and knead the dough ingredients — in a mixer or bread machine — to make a smooth, shiny dough. It starts out sticky, and takes 15 to 20 minutes of kneading in a stand mixer to develop, so we don't recommend kneading this by hand.

Form the dough into a ball, place it in a greased bowl, cover, and let it rise for 1 hour.

Refrigerate the covered dough overnight, to slow its rise and make it easier to shape.

The next day, remove the dough from the refrigerator, and divide it into six pieces.

Shape each piece into a flattened ball, and place into the lightly greased cups of an individual pie and burger bun pan. Or place the buns on a lightly greased or parchment-lined baking sheet, leaving about 2" to 3" between them.

Cover the buns, and let them rise until they're quite puffy. This may take as little as 1 hour; or up to 2 to 3 hours, depending on how warm your rising environment, and how cold the dough. Towards the end of the rising time, preheat the oven to 375°F.

Brush the buns with egg wash, and bake on the middle rack of the oven for 14 to 18 minutes, tenting with foil after 10 minutes if they appear to be browning too quickly. The finished buns will register at least 190°F on a digital thermometer inserted into the center.

Remove the buns from the oven, and cool on a rack.

Yield: 6 buns.
Tips from our bakers
Use either SAF Red or SAF Gold instant yeast in this recipe; both will work well.
Reviews
This is an outstanding recipe!!! I've made this over a thousand times for my small bar and grill outs-ide of the biggest US Navy base in Japan. I started to use this as an added dimension to our already popular burger. Now that's it's really caught fire (the burger sales, not the bar) I make them at least 3 times a week. I love making them and never had any issues with yield or flavor. I'm not a baker but this recipe makes me think I am. lol Thanks so much KAF! I would like to know how to make this a loaf though. I mean just the portioning lets say for a meat loaf size pan. Can't seem to figure this out..

Hi there! For best results, we'd suggest using our Brioche recipe to make a loaf instead of changing this one. We're not sure what size you mean by a meat loaf size pan, but if you were to experiment with using this recipe as a loaf, you'd want to use an 8 1/2" x 4 1/2" loaf pan. Also if you're looking for recipes that are geared for larger scale production, we'd suggest checking out the formulas tab on our Professional Products page which can be found in the footer of our website. Kindly, Morgan@KAF
Just out of the oven - look impressive. Took a tip from another baker and made 1" tall rings from folded aluminum foil to shape them for rising but, with a knife to assist, I removed the rings carefully just before putting the pan in the oven. I used an aluminum straight-sided 1 cup measure for the diameter sizing. I also used a staple and a stiffer aluminum tape to reinforce. Worked perfectly but buying a pan might be in my near future. Used a hamburger pusher tool to smooth and flatten the discs. I made 8 buns - each dough ball weighing out at 3-1/4 oz. Instead of overnight, I made them early morning and about 8 hours of refrigeration later, I finished the job.
Easy and delicious. I have made them twice. The family loves them. We have elevated our homemade burger game considerably with these.
I would give them a lot more stars if I could! These are my new masterpiece! Light, airy, buttery, reminds me of what they must eat in heaven! The recipe was so easy to follow! It totally made sense to me! From start to finish, I didn't have any problems at all! I can hardly wait to make them again next week! Finally I no longer have to buy the ones from the grocery store! Thank you so much KAF! You have made my life so much better! And easier too! A million stars!
I made half the recipe and they turned out beautifully. Except, the buns split. I shaped them by going around folding the dough into the centre then rolling the dough ball under my cupped hands. The splits occurred around or near the bottom. One split about half way up. It is as if the overlapping dough didn't seal properly.

Dave, it sounds like your buns needed a little bit of a firmer pinch before rolling. Since this is such a moist dough we wouldn't worry about brushing on liquid to seal them up, but that's handy when working with a dryer bun. Don't be afraid to give those folded-under bits a tight squeeze to make a nice, tight ball before flattening with a bowl scraper or your hand. Happy baking! Kat@KAF
I wanted a bigger bun so my breakfast stuff didn't stick out from the sides, and something that tasted better than bland store-bought bread. Got springform pans; 4.5" dia. by 1 3/4 deep. I basically a bit more than doubled the ingredients. Used 7 1/2 cups of flour. Next time I'll use 6 3/4 cups. KAF said don't knead by hand, but I did. For 20 minutes. Baked 6 buns. Turned out great. That was yesterday. This morning I made a breakfast sandwich; instead of going to Dunkin Donuts. The bread tasted much better. From the bottom up: bacon, provolone, sopressata, 1 egg, sausage 4 pcs, slice of top round, provolone. I looved it! I have pictures but can't see how to add them.

We'd love to see them, John! You can share them on the King Arthur Flour Facebook page or email them to customercare (at) kingarthurflour (dot) com. Annabelle@KAF
Yes, I did make them. A little too much butter for me but they did come out beautifully. I used my large muffin pan (6 cup pan) which was just the right size. My mixer is a 5 Qt. and doesn't do well with small batches of dough, so doubled the recipe and made 6 buns and 1 loaf. Am going to use this recipe for Cinnamon Rolls and compare them with my Cinnamon Roll Recipe and see which my family likes best.
I made these per the Flourish blog's instructions. Using the flat beater instead of the dough hook was unexpected, but seemed to work. After about 20 mins of mixing on speed 4 the dough finally started to come together. I then slowed it down a bit, alternating between stir and 2, so I could scrape the side of the bowl with a spatula between beater passes. This helped get the dough off the sides of the bowl and into / under the mass collecting at the beater. Even at this point though it was rather sticky, like cinnamon rolls or pan dulce. Proofed in a greased bowl for about 75 mins, then transferred it into a ziploc, making sure to leave some air in the bag. That went into the refrigerator for a good 18+ hours. It rose a little in the fridge, not much though. Bought a metal dough cutter / scraper (finally), which was a huge help in dividing the dough into even portions. I made six portions, each weighing about 128g. Even though the dough was cold, it started to warm up and get sticky again once it had been out of the fridge for 10 mins, so work fast. I made ring molds out of aluminum foil, a little over 4 inches in diameter. Just added some sesame seeds. They finished baking at 17 mins, and didn't require tenting. Turned out perfectly browned. They rose upward substantially, which makes me think I should have made the molds a little wider, maybe 4.5-5 inches. Overall great recipe, will probably make again. Keep it up KAF.
I recommend buying the bun pan for these buns. The first two times I baked these on a cookie sheet but they just spread out sideways and didn't have the rise like in the photos. After purchasing the hamburger bun pan, I tried the recipe again and it made a big difference. The buns rose beautifully.
I adapted this recipe for small batch baking. My version makes exactly 2 standard buns, perfect for single people or couples. (And no, baking a full batch and freezing the extra is not practical because I have no room in my freezer.) 2/3 cups flour, 1 Tbsp dry milk, 1 1/2 tsp sugar, 1/3 tsp salt, 3/4 tsp instant yeast, 1 lg egg + 1 egg white for egg wash, 1 Tbsp warm water and 2 1/2 tbsp butter. Follow directions as for full batch. But I only needed to bake my buns for about 10 minutes.