A customized print-friendly version of this recipe is available by clicking the "Print Recipe" button on this page.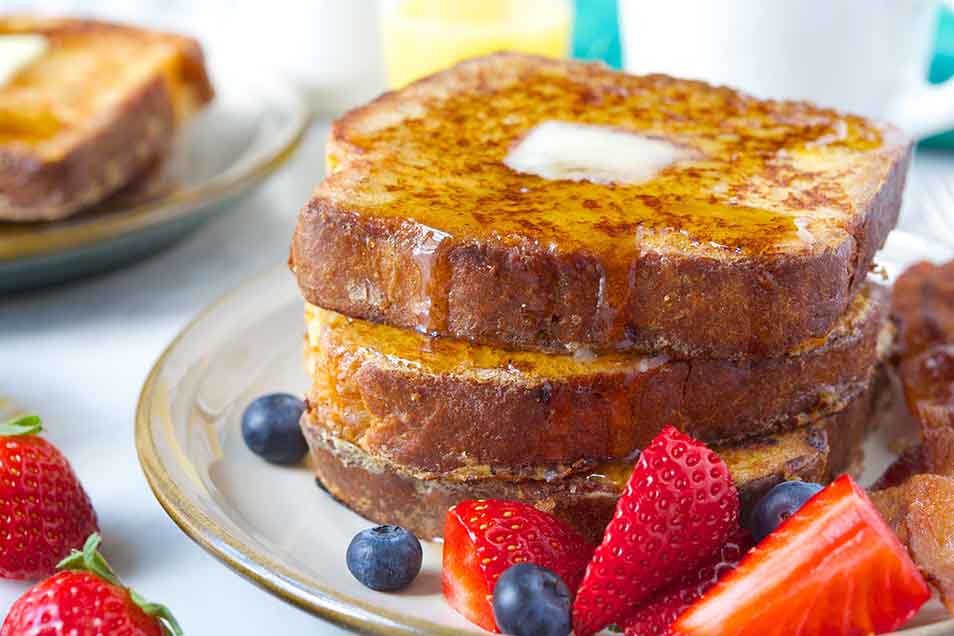 Since French toast is all about the bread, the kind of bread you use makes a difference. You want a firm bread, one that can stand up to a good soak in egg and milk; but it shouldn't be so firm that frying makes it tough. We think butter- and egg-rich brioche is an ideal choice. Here we bake it in a 9" pain de mie pan, to create perfectly square slices; then dip it in a simple cinnamon- and nutmeg-scented batter before frying. Delicious! And, want to take "delicious" a step further? Try the coffee French toast variation in "tips," below.
Instructions
In a stand mixer or bread machine (programmed for dough), mix together all of the ingredients to form a smooth, shiny dough. Don't worry; what starts out as a sticky mess becomes beautifully satiny as it kneads. This dough takes longer than most to develop, so be prepared to let the dough knead for up to 15 to 20 minutes in a stand mixer. Also, we don't recommend trying to knead it by hand. If you're using a bread machine, let it complete its kneading cycle, then continue as directed below.

Form the dough into a ball (it'll be very soft), place it in a greased bowl, cover the bowl, and it let rise for 1 hour. Then refrigerate the dough for several hours, or overnight. This will slow the fermentation and chill the butter, making the dough easier to shape.

Shape the dough into a 9" log, and place it in a lightly greased 9" pain de mie pan. Cover the pan, and let the chilled dough come to room temperature, then rise to within 1 1/2" or so of the rim of the pan; this may take up to 5 hours or so.

Towards the end of the rising time, preheat the oven to 350°F.

Close the lid on the pain de mie pan, and bake for 45 minutes. Remove the pan from the oven, and remove the lid; the bread should be golden brown, and register at least 205°F on an instant-read thermometer. Continue to bake for a few more minutes if the bread isn't done, then remove it from the oven, turn it out of the pan, and cool completely on a rack.

To make French toast: Let the loaf get a bit stale before using it for French toast. Or cut six 3/4" to 1"-thick slices of fresh brioche and let them sit, uncovered, for several hours.

Whisk together the sugar, cinnamon, nutmeg, and flour.

In a separate bowl or measuring cup, whisk together the eggs, cream or milk, and vanilla.

Whisk the wet ingredients into the dry ingredients.

Divide the batter among six saucers, and soak each piece of bread for about 2 minutes on each side, until it's absorbed most of the batter, but isn't soggy all the way through. While the bread is soaking, preheat your griddle.

Cook the French toast for 2 to 3 minutes on the first side, or until it's golden brown; adjust the heat so it's not cooking too slowly or too quickly. Turn the toast over, and cook the second side until golden brown, about 2 minutes.

To serve, spread hot slices with butter, and drizzle with maple syrup.

Yield: 6 servings.
Tips from our bakers
To make the batter for coffee French toast: Mix 1/2 cup cool, strong coffee (flavored, if desired); 1/2 cup cream, half & half, or milk; and 4 large eggs. Use the batter to coat 8 slices of Brioche or other firm sandwich bread, following the directions above for frying. For step-by-step directions, see our blog post on Coffee French Toast.
Reviews
This was simply wonderful! So fluffy and flavorful and I highly recommend it. I made it for my family while visiting and they were very impressed.
Omg so delicious!!! Definelty my favorite French toast recipe!
Changed the recipe a bit. After refrigerating the bread dough overnight, rolled out the dough to approximately 1/4" thick and added KAF Vietnamese cinnamon, rolled it and tucked in the corners placing the seam side down in the bread pan, creating a cinnamon swirl brioche bread. It rose perfectly, the finished texture is dense as it should be and amazingly delicious.
Restaurant Quality, although I did cheat and buy fresh Brioche, but the result was amazing as the flavor in the dipping mixture was amazing!
I never knew what Brioche bread was until one day having breakfast at a restaurant and it was called Brioche French toast and it was fantastic. Being a curious soul I looked it up here on my favorite recipe site and like a flash here I am at this recipe. Baked it and our French toast was even better than what we had sampled awhile back. What did cause me some trouble was when I got to the pan to use, looked it up and my heart stopped at the price + shipping so I immediately put my skillful mind to work thinking why not try one of my standard pans I already have and like with the Lobster Roll buns just cover my standard pan with a cookie sheet and weight it down with a cast iron skillet. It worked perfect. As much as I liked the taste of this bread I don't think I would have ever brought myself to spend $40 on a pan to prepare it in.
This is an excellent recipe. I used the brioche as a base for a caramel-apple bread pudding, and it was very well-received. I contacted KAF prior to making the brioche to find out if I could knead it in a food processor instead of a stand mixer. To my delight, not only was the answer yes, but it only takes about 45 seconds to knead this dough in a food processor. I highly recommend both this recipe and the food processor kneading method.
This is our new favorite French toast recipe! I made a loaf of Brioche bread yesterday and this morning I decided to try making this recipe. Even though I was in a hurry and made the mistake of not combining certain ingredients separately for the batter--as called for in the recipe--it turned out great. My husband repeatedly commented how much he loved the toast! I had to agree :-)
This is the best french toast I've ever had. The taste & flavor is phenomenal. Preparation is easy. I've reccomended it to everyone I know!
Easy to follow recipe and produces an excellent taste and textured bread. I can't wait to use the loaf for French toast! I would recommend definitely putting on the tin foil tent after the first ten minutes of baking. This bread really does darken quickly!
I want to try this recipe, but how would you adjust this recipe if you have the 13" pain de mie pan? Thank you.
To fill a 13" pain de mie pan, try increasing all the ingredients except the yeast and salt by 1/3. Happy baking! Irene@KAF