A customized print-friendly version of this recipe is available by clicking the "Print Recipe" button on this page.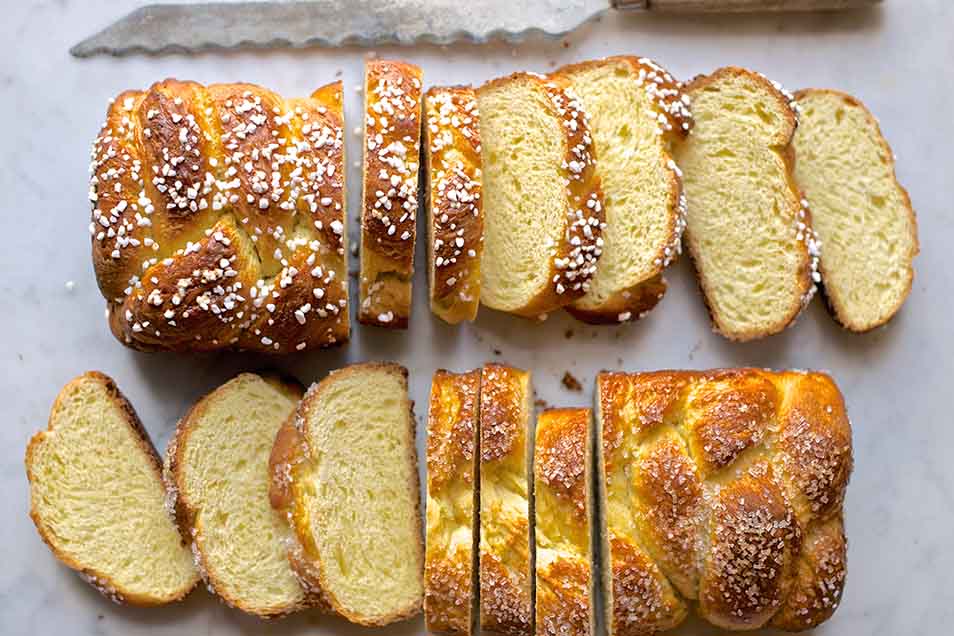 This egg- and butter-rich bread is delightfully tender. We love to use this dough for shaped and filled sweet breads.

While this is a classic brioche dough, the braid and plain round aren't the classic shape this loaf would take in France, where it's generally presented in its traditional topknot form: a small round nestled atop a larger one. Make it that way if you choose; chacun à son goût!


Ingredients
Dough
2 3/4 cups King Arthur Unbleached All-Purpose Flour
1/4 cup Baker's Special Dry Milk or 1/2 cup nonfat dry milk
3 tablespoons sugar
1 1/4 teaspoons salt
1 tablespoon instant yeast
3 large eggs*
1/4 cup lukewarm water
5/8 cup (10 tablespoons) butter, room temperature
*Use 3 large eggs + 1 egg yolk, if desired — this will allow you to brush the leftover egg white on the loaf if you're planning to garnish it with sugar; see tip below.
Instructions
In a stand mixer or bread machine (programmed for dough), mix together all of the ingredients to form a smooth, shiny dough. Don't worry; what starts out as a sticky mess becomes beautifully satiny as it kneads. This dough takes longer than most to develop, so be prepared to let the dough knead for up to 15 to 20 minutes in a stand mixer. Also, we don't recommend trying to knead it by hand. If you're using a bread machine, let it complete its kneading cycle, then continue as directed below.

Form the dough into a ball (it'll be very soft), place it in a greased bowl, cover the bowl, and it let rise for 1 hour. Then refrigerate the dough for several hours, or overnight. This will slow the fermentation and chill the butter, making the dough easier to shape.

Divide the chilled dough into 12 pieces to make mini-brioche (brioche buns); leave it whole for one large round brioche; or divide it in half for two 8 1/2" x 4 1/2" loaves.

Place the dough into the greased pan(s) of your choice, cover lightly, and let rise for 2 1/2 to 3 hours, until it's doubled and looks very puffy. If you're making two loaves, it's fun to make simple three-strand braids, and set them in the loaf pans.

To bake a large, round brioche: Place the pan into a preheated 400°F oven. After 10 minutes, reduce the oven heat to 350°F and bake for about 30 to 35 minutes more. Check the brioche after 15 minutes; tent with aluminum foil if it appears to be browning too quickly. Brioche should be a deep brown when done, should sound hollow when tapped, and will read 190°F at the center using an instant-read thermometer. (It's easy to underbake, since it browns so quickly!) Remove the brioche from the oven, and after 10 minutes remove it from the pan to cool completely on a rack.

To bake the mini brioches: Place the pan(s) onto a baking sheet for easy handling, as shown; then nestle that baking sheet into another baking sheet, to protect the buns' bottoms from over-browning. Bake the buns in a preheated 375°F oven for 25 to 30 minutes (tent after 10 minutes if they're browning too quickly). Remove them from the oven, let stand for 5 minutes, then turn them out onto a rack.

To bake the loaves: Allow the loaves to rise until they've nearly reached the rim of the pan, about 3 hours. Set the loaf pans on a baking sheet, for easy handling. Bake in a preheated 350°F oven for 30 to 35 minutes, tenting with foil after 15 to 20 minutes.
Nutrition Information
Serving Size

63g

Servings Per Batch

12
Amount Per Serving:
Calories

220

Calories from Fat

100

Total Fat

11g

Saturated Fat

6g

Trans Fat

0g

Cholesterol

70mg
Sodium

280mg

Total Carbohydrate

25g

Dietary Fiber

1g

Sugars

5g

Protein

6g
* The nutrition information provided for this recipe is determined by the ESHA Genesis R&D software program. Substituting any ingredients may change the posted nutrition information.
Tips from our bakers
For iced mini brioche, combine 1 cup confectioners' sugar with 1 teaspoon vanilla, a pinch of salt, and enough cream to make a "drizzlable" glaze.
If you're baking the brioche as a braided loaf, add an extra yolk to the dough, reserving the white. Just before baking the risen loaves, whisk the reserved white with 1 tablespoon milk, brush on loaves, and sprinkle with pearl sugar or sparkling white sugar.
A full-sized, fully baked brioche should register 190°F at its center using a digital thermometer. Loaves and small rounds should measure 190°F, for soft bread; or up to 205°F for crustier bread.
Reviews
Man this looks and tastes great. Overnight refrigeration made it easy to braid. Next time I'll be more patient and make more consistent strands. Once again, a King Arthur recipe is all they say it is.
Way easier than I ever thought brioche could be! I made one larger loaf in my 9x5 pan and it took about 40 minutes to bake through. All the buttery eggy goodness! It DID brown very quickly; I tented it with foil after only 15 minutes and it still came out quite dark, but I don't mind that
I have never made brioche, this recipe was easy and oh my gosh delicious. I turned minei to a 7 plait braid, also a first for me. It's simply stunning so I'm making them for ;eighbors for gifts for Christmas. I highly recommend this load, I did let mine prove over night, made it this morning.
Wow. Just wow. This was my first time making brioche, and it turned out great. I used my electric mixer, which I am glad i did. I usually make bread by hand, but this dough is very slack and sticky, so it was much easier in the mixer. I formed it into 2 braids with a cream cheese filling, and baked it at 350 for about 30 minutes. Came out just beautiful. The whole family is raving about it. The texture of the bread was really soft and tender and flaky, almost like a thicker croissant. Great recipe, will make again.
I had tried about 6 times of this recipe but came out nicely once. I live in Bangkok which the weather is very warm. So the dough came out liquid and I could knead it to maje it shinny smooth texture. Do you have sny suggestion? Do you think I should knead it more time? I used to do it up to 40 minutes. The last rise was fine but it looked too much gas in the dough So after I put it in the oven the dough didn't rise anymore and it came out dry, crumble like crackers.

We're sorry to hear that you're having trouble with this recipe. Because of the warmer and more humid environment, you may need to reduce the amount of water you use in this recipe. We would suggest reducing the liquid by 10%, this should help keep the dough the proper consistency. The warm environment will also affect the rise times of your dough; you will want to decrease the resting times because the dough will ferment much quicker. We hope these tips help! Morgan@KAF
A few weeks ago, I made my very first Brioche ever using this recipe. It was so good yet so easy to make and the best part is it tastes great. It was so good I made it again the very next day! After cooling, I put it in the freezer to enjoy later and to see how it tastes after being frozen. Last week we took it out of the freezer letting it thaw in the refrigerator, then wrapped it in foil and warmed it up in the oven. It was almost like it had just been baked!
I braided the dough and after it cooked it became the lightest, best brioche I have ever made or had. This is my new go-to!
Recipe turned out perfectly. Because I was worried about the noted difficulty of developing the Gluten with so much fat in the dough, I used King Arthur Bread Flour (not All-Purpose), and instead of a stand-mixer I kneaded the dough in a food processor (more power...). I used the extra yolk as recommended and baked a single braided loaf in a convection oven with temp and time as directed (10min @ 400F and 40min @ 350F). Overall very nice result especially for a first try... happy.
'A full-sized, fully baked brioche should register 190°F at its center using an instant-read thermometer. Loaves and small rounds should measure 205°F.' Really more of general why question that has come up repeatedly for me. I baked this recipe using the 205° guidance and found that for me it resulted in a great tasting but somewhat dry loaf (loaf pan). I suspect that it would have been great at 190°. I often find this is the case for me with other bread recipes - of the flour, yeast, water, salt variety - and adjust the baking times towards the lower end of recommended ranges. I know that the instant read thermometer is accurate (I've compared it against laboratory standard thermocouples that I know are correct.) If a full sized brioche is 'done' at 190° why would the other sized versions need to be at a higher internal temperature than that? Will definitely make this again - found the associated blog really useful. Thanks.
Recipe turned out dry and dense, despite adding more water and an extra egg.

We'd love the chance to talk through the recipe with you, Jane, so we encourage you to reach out to our free and friendly Baker's Hotline staff to help troubleshoot at 855-371-BAKE (2253). Kindly, Annabelle@KAF