A customized print-friendly version of this recipe is available by clicking the "Print Recipe" button on this page.
Brooklyn-Style Cheesecake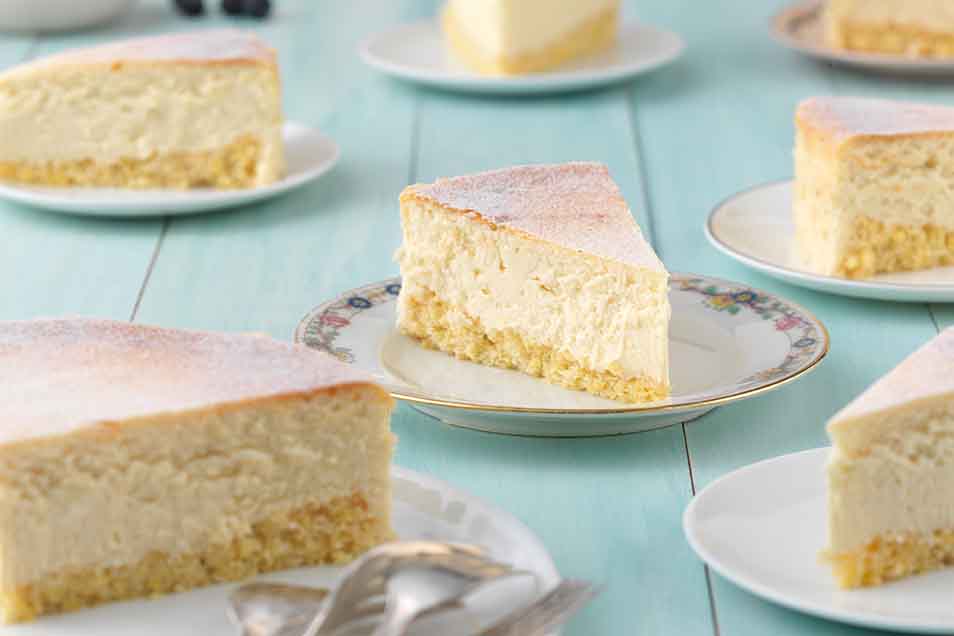 "This is the best cheesecake I've ever eaten" was the response of the first three taste-testers who sampled this cake; and it's gone on to garner similar responses everywhere it's served. A towering, rich cheesecake, it's made with a unique vanilla cake crust, the idea for which was pioneered by Junior's Restaurant in Brooklyn, NY, self-proclaimed creator of the "World's Most Fabulous cheesecake" — and they might just be right. Our thanks to Junior's for the cheesecake recipe that inspired this one.
Ingredients
Crust
6 tablespoons sugar, divided
3/4 teaspoon baking powder
1/4 teaspoon salt
3 tablespoons vegetable oil or melted butter
3 large eggs, separated
1 teaspoon vanilla extract
1/4 teaspoon cream of tartar
*If you don't have cake flour, use unbleached all-purpose flour, reducing the amount to 7 tablespoons (1/2 cup less 1 tablespoon).
Filling
2 pounds cream cheese (four 8-ounce packages), at room temperature
1 2/3 cups sugar
1/4 cup cornstarch
1 tablespoon vanilla extract
2 large eggs
3/4 cup heavy cream or whipping cream
Instructions
Preheat the oven to 350°F. Lightly grease a 9" round springform pan or deep 9" round removable-bottom pan. This cake is very tall, and requires an extra-deep pan. Measure your pan; if it's not at least 2 3/4" deep, don't attempt this recipe. Wrap the bottom and sides of the pan with aluminum foil, preferably a single sheet.

To make the crust: Place the flour, 2 tablespoons of the sugar, the baking powder, salt, vegetable oil or butter, 3 egg yolks, and vanilla into a large mixing bowl. Beat until well combined; the mixture will be stiff and somewhat crumbly.

In a separate bowl, beat the egg whites with the cream of tartar until they're frothy. Add the remaining 4 tablespoons of sugar gradually, beating all the while, until the mixture is stiff and glossy.

Working in thirds, mix the beaten egg whites into the batter. Take care to keep the batter light; mix gently, don't beat. You may find at the end there are still some tiny lumps in the batter; that's OK.

Spoon the batter into the prepared pan. Bake for about 15 minutes, until the cake has risen, is barely beginning to brown, and a cake tester inserted into the center comes out clean.

Remove the cake from the oven, and immediately loosen the edges with a table knife or thin spatula. Allow it to cool in the pan while you make the filling. It'll settle and shrink a bit as it cools; that's OK. Leave the oven on.

To make the filling: Place 8 ounces (1 package) of the room-temperature cream cheese, 1/3 cup of the sugar, and the cornstarch in a mixing bowl. Mix on low speed until smooth.

Add the remaining cream cheese, 8 ounces (1 package) at a time, beating on low speed until smooth.

Slowly beat in the remaining 1 1/3 cups sugar, and the vanilla.

Add the eggs one at a time, beating well after each addition.

Add the cream, beating just until blended.

Spoon the batter over the cake in the pan. The filling will expand and rise, so make sure you don't fill the pan right to the brim.

Place the pan into a larger pan, and fill the larger pan with enough hot water to come 1" up the sides of the springform pan. Place both pans on a lower-middle rack of your oven.

Bake the cheesecake for 75 to 90 minutes, until the cake is just barely beginning to turn golden around the edges, and the top appears set. The center will still look jiggly; that's OK. A thermometer inserted into the center should register about 160°F to 165°F.

Remove the cake from the oven, and gently lift it out of the water bath onto a rack. Allow it to cool at room temperature, undisturbed, for 2 to 3 hours, until it's no longer warm to the touch.

Refrigerate the cake, covered, until you're ready to serve it.

To serve, slice with a knife dipped in hot water and wiped dry. Repeat this step after every slice. This cake is traditionally served without topping; but feel free to add your own favorite, if desired.
Nutrition Information
Serving Size

117g

Servings Per Batch

16
Amount Per Serving:
Calories

400

Calories from Fat

240

Total Fat

27g

Saturated Fat

15g

Trans Fat

1g

Cholesterol

125mg
Sodium

260mg

Total Carbohydrate

33g

Dietary Fiber

0g

Sugars

28g

Protein

6g
* The nutrition information provided for this recipe is determined by the ESHA Genesis R&D software program. Substituting any ingredients may change the posted nutrition information.
Tips from our bakers
Want to make easy-to-serve cheesecake squares, rather than a traditional round cheesecake? Use your favorite graham cracker crust recipe; we like this one from our Chocolate Icebox Pie. Press the crust into the bottom of a lightly greased 9" x 13" pan, and bake it for about 10 minutes in a preheated 350°F oven, or until it's barely starting to brown. Prepare the filling, and pour it over the crust. Bake as directed above, reducing the time to about 40 to 50 minutes, or until the crust is set. If you have a digital thermometer, the filling should register at least 160°F at the center of the pan. Remove the pan from the oven, and cool, chill, and serve the squares. Yield: about 2 dozen squares.
Reviews
This is the most amazing cheesecake I've ever made. I did make one small substitution. In place of vanilla, I used an equal amount of fiori di sicilia ( a Trick I learned here from KAF). It was amazing. The citrusy flavor was perfect next to the tangyness of the cheesecake. I made whipped cream and put it on the side but it was left at the end because this cake does not need it. Wow. Just wow.
In case anyone is interested in modifying the recipe to add more sparkle to a basic recipe, I thought I'd add my experience. I substituted heavy cream and vanilla extract with coconut cream and homemade pandan extract. Added a thin layer of pandan/coconut milk gelatin glaze after the cake cooled to incorporate more flavor and color. The cake won high amount of praise at holiday party. There are so many ways to play with it and result in a solid cake.
I have made this more than once. Living in Arkansas, I don't get to Juniors very often. :) This is exactly like their cheesecake. It doesn't get any better than this!
The cheesecake was delicious but the sponge crust was flat and moist. It also took about 10 minutes longer to bake. I did not remove the foil until it cooled so maybe that was the problem? Also I used eggs that were pasteurized in the shell and it took a long time to whip them and they never got to the stiff peaks stage. Would appreciate your suggestions as I would like to make it again.

Hi Paula. It sounds like the eggs really did need more time to whip up to form a stiff peak to achieve a light fluffy sponge cake. Leaving the foil on would likely add moisture to the sponge but it wouldn't flatten it. One thing to get the egg whites to whip faster would be to add the sugar in three stages. 1/3 when the mixture is frothy, 1/3 when it's a very pale yellow, and 1/3 when it's soft peak. The stiff peak can take 5-10 minutes, but will be on the quicker side if the eggs are at room temperature. Hope this helps! Annabelle@KAF
Great recipe! I've never made cheesecake with this type of crust and this seemed to work great. I am having trouble with it getting more dewy then I'd like after being refrigerated over night, not sure if this is a fridge problem or something I could avoid? Would really appreciate some input on this!

Hi Rose, next time try using Pastry Flour instead of Cake Flour, which is even lower in protein and should create a more tender crust. Also be sure not to over-mix the ingredients initially. As soon as the eggs are added in with the flour mixture, gluten can develop the more it mixes. Just a minute or less of stirring should suffice. We hope this helps! Kye@KAF
I have made many cheesecake recipes in years gone by.... this is by far the least enjoyable one I've ever produced. Starting with the crust. It was a lot of work and just about flavorless. The filling part had a lovely texture, using corn-starch. However, perhaps the cornstarch caused the 'flat', flavorless effect. The cake baked up beautifully, and looked wonderful. It did not taste wonderful. I am throwing this recipe out! Using a water-bath for cheesecake was new to me, the results produced an evenly cooked product. So disappointed that it was so bland and flavorless!

We're sorry to hear the flavor of this cake was lacking for you, Ingrid. We're surprised that with a full tablespoon of vanilla extract, the cheesecake was still a bit bland. You may want to try using another brand of both vanilla and cream cheese, and make sure they're authentic and high-quality varieties. With so few ingredients, each one can make a notable difference in the finished product. We hope you're able to make the cheesecake you're looking for. Kye@KAF
I have made this recipe on three different occasions to take to various potlucks. What a hit! This is by far our favorite cheesecake recipe. My husband & I can't even imagine making any other cheesecake recipe. I am very much aware this cake needs nothing 'additional' to be a big hit, however; on each occasion I spooned a can of prepared pie filling in the middle of the cooled cake. Cherry or blueberry look beautiful on this white cake. I only put the pie filling in the center - spreading just a bit (did not spread over entire cake). Used remainder of pectin to drizzle here & there from berries to edge of cake letting it flow down a little wherever it wants to. BEAUTIFUL PRESENTATION! BEAUTIFUL PRESENTATION!!!
I have made many cheesecakes in the past, which we have really liked. However, since this recipe was quite different from other cheesecake recipes that I made in the past, I just had to try this one. It is wonderfully delicious! We loved the sponge cake base of the cheesecake and cheese filling is scrumptious. My 9 inch springform pan is just 2 and 3/8 inches high so I filled 4 small custard cups with the cheese filling first, then the remaining batter went into the springform pan. It was just the right amount. I also used my new Thermapen Mk4, just recently purchase from King Arthur, to check the temperature. I baked cake until center tested 160 degrees. I had just a small crack on top with some light golden brown on top. I did bake in a water bath using a special pan with a gasket instead of using the foil method. I did not follow the recipe, but followed the recipe blog only. I followed each step precisely. So precisely that I did not put the vanilla in the sponge cake. Perhaps the recipe blog can be updated to include the adding of the vanilla so this step is not missed by others, as well. Forgetting the vanilla in the cake did not hamper, in any way, our thorough enjoyment of this dessert. Thank you for this wonderful recipe. I will definitely be making this recipe again.
Goodness this is the most bestest cheesecake ever. incredible. Recipe was easy to follow the extra work for that crust is defintly worth the time and effort. I will make this many times in the future.
This is absolutely delicious. Thanks KAF!