A customized print-friendly version of this recipe is available by clicking the "Print Recipe" button on this page.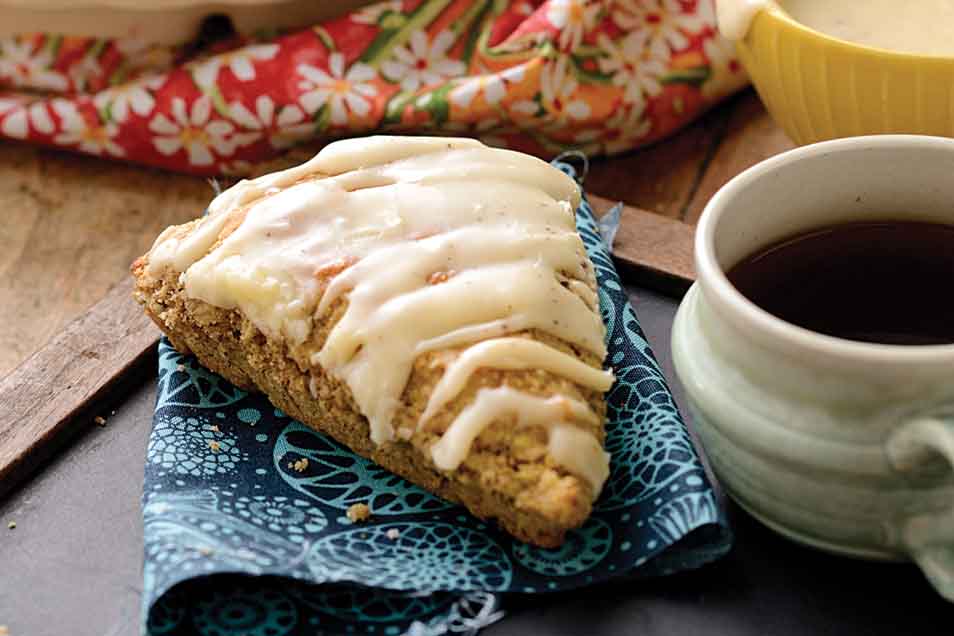 Although rye is often associated with bread, we think this classic grain has endless possibilities when introduced into other baking categories. In this scone, pumpernickel flour adds a subtle dimension to flavors from other grains. We enjoy the tasty wholesomeness of these scones served plain, but for over-the-top tastiness, we recommend adding the glaze.
Ingredients
Glaze
2 tablespoons unsalted butter, browned
3/4 cup confectioners' sugar
1/4 teaspoon vanilla-butternut flavor, or 1/2 teaspoon vanilla extract
1 to 2 tablespoons (1/2 to 1 ounce) milk
Instructions
To make the brown butter: Melt, then cook 5 tablespoons of the butter in a saucepan over medium heat, swirling occasionally, until golden brown. Pour into a heatproof container, cool slightly, then freeze until solid, about 2 hours.

Preheat the oven to 425°F. Line a baking sheet with parchment.

Combine the 6-grain flakes, flours, baking powder, sugar, and salt until well blended.

Work both the chilled brown butter and the additional 3 tablespoons butter into the flour mixture until unevenly crumbly.

Combine the eggs and milk, then mix into the flour-butter mixture.

Turn the dough out onto a floured surface and pat it into an 8" disk. Cut into 8 wedges and place on the baking sheet.

Bake the scones for 15 to 18 minutes, until golden. Cool slightly before glazing.

To make the glaze: Brown the butter as you did for the scones, then combine all the ingredients, adding enough milk to make a spreadable glaze. Glaze scones while still warm, and serve.

Store any leftover scones well-wrapped, at room temperature, for several days. Freeze for longer storage.

Yield: 8 scones.
Tips from our bakers
Substitute old-fashioned (traditional) rolled oats for the 6-grain flakes, if desired.
Reviews
These are awesome! I didn't have the 6-grain flakes so I substituted bran flakes but will be ordering some soon for when I make these again, which I will. The dough was very, very wet but rather than add more dry ingredients I scooped it into my mini scone pan which I'd preheated and sprayed first. They turned out beautifully! Rather delicate in texture for such a wholesome scone. The glaze topped these perfectly.
They are delicious, but I had to add dry ingredients, because the recipe as written, is totally wet. I used a scale, so there wasn't a measurement error. I checked again when I had this wet batter in front of me. I added more of the 6-Grain mix, more whole wheat flour and a bit more sugar. I had to heavily flour my counter to form them. They still only took 15 minutes to cook. And they are very good. If I were to make them again, I would add walnuts, as I think they could use a bit of crunch. I agree that they really need the glaze. I would give them 5 stars if the recipe worked as written.