A customized print-friendly version of this recipe is available by clicking the "Print Recipe" button on this page.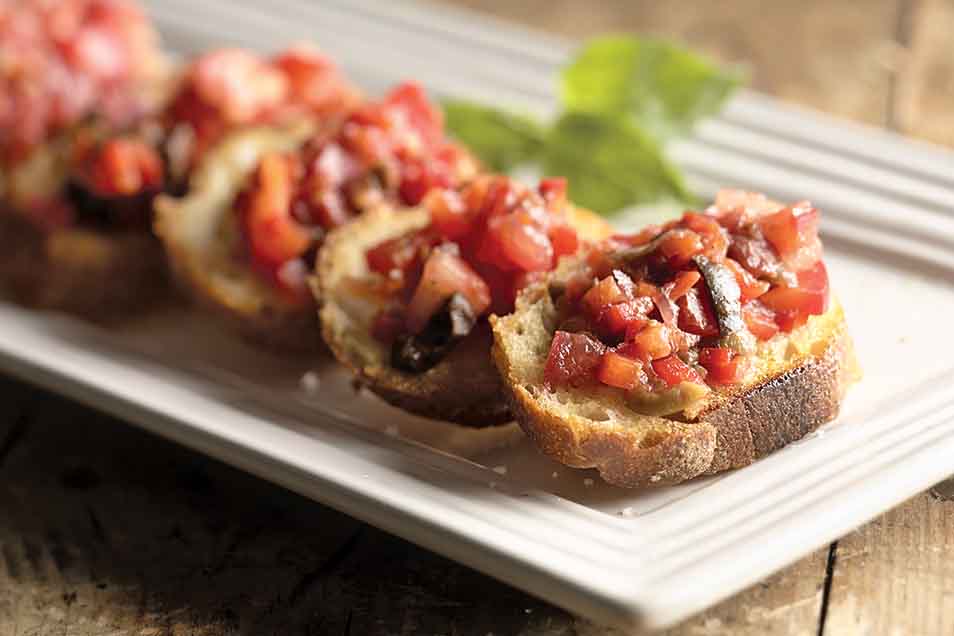 This simple, delicious, and easy-to-transport appetizer offers a quintessential taste of summer. Only ripe tomatoes should be used — and only fresh garlic and basil. Our Guaranteed Baguette recipe is perfect for bruschetta.
Ingredients
2 medium-sized ripe tomatoes, diced
2 cloves fresh garlic, minced
1 tablespoon minced fresh basil
3 tablespoons extra-virgin olive oil
1 tablespoon balsamic vinegar
1/8 teaspoon kosher salt
two 15" to 16" French-style baguettes
Instructions
Blend all of the ingredients (except the baguettes!) in a small glass or ceramic bowl, and let the mixture rest for at least 10 minutes at room temperature. Refrigerate until ready to use.

Right before you head out on your picnic (or just before you plan to serve), slice the baguettes about 3/4" thick, on the diagonal. Brush one side of each slice with olive oil.

Place slices oil-side-up on a baking sheet, and broil (carefully!) just until the slices are lightly browned. Remove them from the broiler and let them cool completely. Pack them in an airtight container.

When ready to serve, place a scant tablespoon of the tomato mixture on top of each slice of bread.

Yield: about 40 bruschetta.
Reviews
Outstanding! I toasted the baguette and made the bruschetta this afternoon - my husband thought it was his "lunch" and ate most of it - 'nuff said. Excellent recipe - I wouldn't change a thing. Next time however I'll need to double the recipe - it's THATS good. One thing I like about this recipe is that it's super easy to assemble and I usually have the ingredients on hand. I host a luncheon with my friends in the fall and this will be one of my appetizers. Yum!
Error in the amount of tomatoes! The ratio of tomatoes to garlic is off. This recipe calls for 2 medium sized ripe tomatoes and 2 cloves of garlic. It is supposed to make 40 bruschetta.
Thank you for trying this recipe. I think heavy on the garlic was intended. Elisabeth@KAF
My FAVORITE bruschetta recipe . . however . . the flavor is greatly improved with 1/4 to 1/3 of a cup of shaved or grated Asiago cheese added.
This is wonderful . We all love it.
This is a wonderful recipe and uses up my garden tomatoes and basil. I've made it often for guests and they all rave about it. Thanks, KAF!
I made this several times and we love it. It's a go to appetizer for me. I usually put olive oil and fresh rosemary and pulse it couple times in a blender and the brush the baguette slices with it before I toast them. Occasionally, almost at the end if the toasting time I sprinkle mozzarella on top of the slices and let it melt just a little. Very delicious!
easy to make and very good .
This was so good and so easy. I didn't have the baguette, so put the bruschetta on a different broiled bread and it was still fabulous.
This is the easiest and most delicious bruschetta ever! I followed the recipe and got rave reviews from my guests. I will be making this again.