A customized print-friendly version of this recipe is available by clicking the "Print Recipe" button on this page.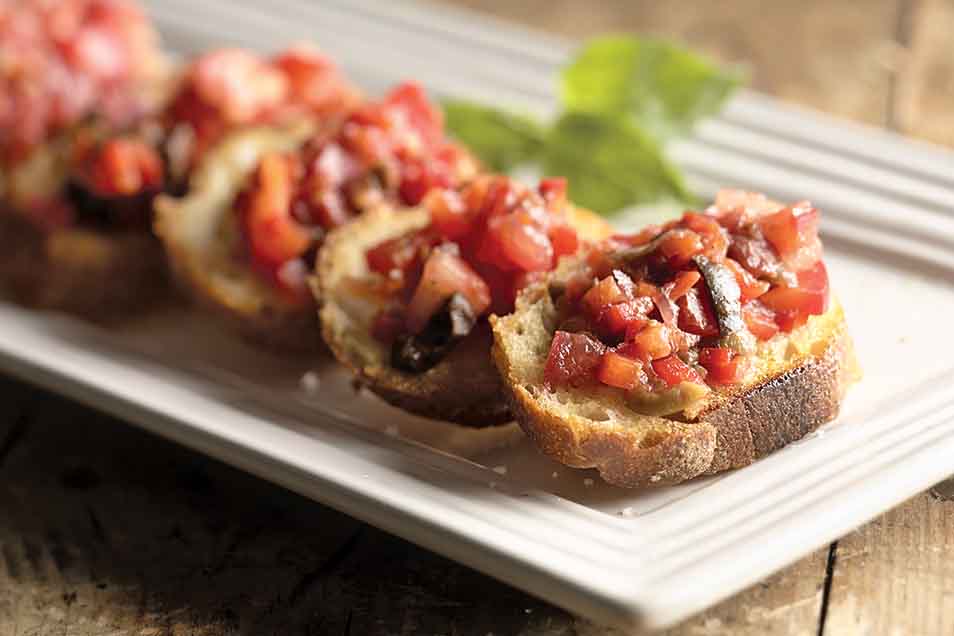 This simple, delicious, and easy-to-transport appetizer offers a quintessential taste of summer. Only ripe tomatoes should be used — and only fresh garlic and basil. Our Guaranteed Baguette recipe is perfect for bruschetta.
Ingredients
2 medium-sized ripe tomatoes, diced
2 cloves fresh garlic, minced
1 tablespoon minced fresh basil
3 tablespoons extra-virgin olive oil
1 tablespoon balsamic vinegar
1/8 teaspoon kosher salt
two 15" to 16" French-style baguettes
Instructions
Blend all of the ingredients (except the baguettes!) in a small glass or ceramic bowl, and let the mixture rest for at least 10 minutes at room temperature. Refrigerate until ready to use.

Right before you head out on your picnic (or just before you plan to serve), slice the baguettes about 3/4" thick, on the diagonal. Brush one side of each slice with olive oil.

Place slices oil-side-up on a baking sheet, and broil (carefully!) just until the slices are lightly browned. Remove them from the broiler and let them cool completely. Pack them in an airtight container.

When ready to serve, place a scant tablespoon of the tomato mixture on top of each slice of bread.

Yield: about 40 bruschetta.