A customized print-friendly version of this recipe is available by clicking the "Print Recipe" button on this page.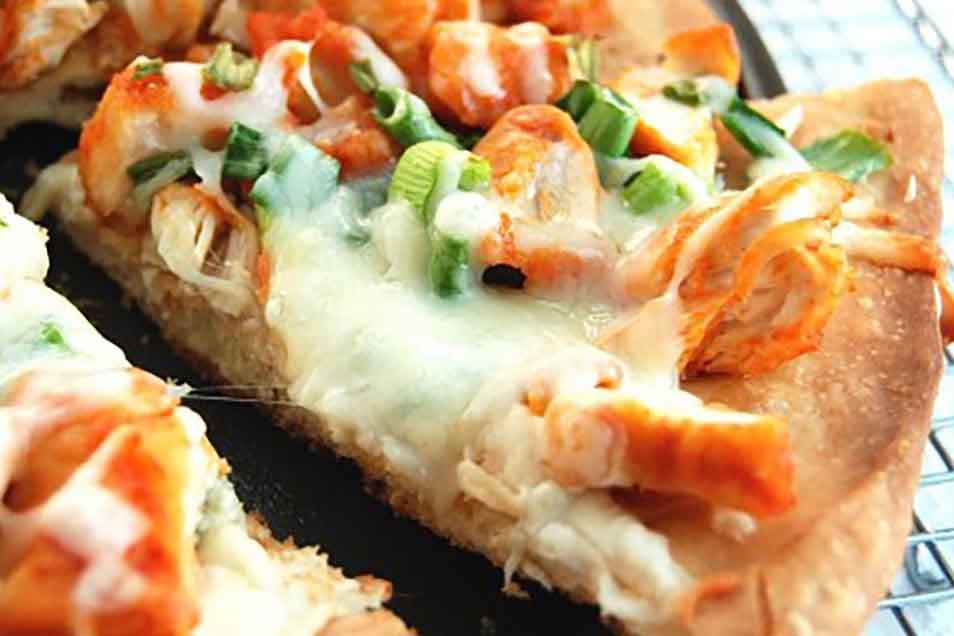 Crisp/chewy crust topped with Gorgonzola, chicken tenders doused in hot sauce, scallions, and a blizzard of mozzarella and provolone cheese — that's Buffalo chicken, Italian-style.
Ingredients
Crust
your favorite pizza crust recipe*
*See tips, below, for suggestions.
Buffalo chicken
3 pounds boneless chicken breast or boneless chicken tenders, cut into 1 1/2" to 2" pieces
1 tablespoon salt
about 6 1/2 cups cooking oil, peanut oil preferred; for frying
Frank's hot sauce, or your favorite hot sauce
Toppings
garlic oil
Gorgonzola cheese
scallions, trimmmed and chopped into 1/2" pieces (white and green parts)
mozzarella cheese and provolone cheese; or your favorite combination of pizza cheeses
Instructions
To make the chicken: Rinse the chicken in cold water, then combine the flour and salt in a large lidded plastic container, or plastic bag. Working in batches, add the chicken and shake to coat.

Heat the oil to 360°F to 375°F. Add enough chicken to fill the pan 1/3 to 1/2 full on its surface. Cook the chicken for 3 to 5 minutes, until it floats to the surface and turns a very light golden brown. Transfer the chicken to paper towels to drain. Continue until you've cooked all of the chicken.

After draining for a minute or so, transfer the chicken to a large, shallow bowl, and sprinkle generously with hot sauce or wing sauce, tossing to coat.

Repeat until you've fried and hot-sauced all of the chicken. Refrigerate until you're ready to make the pizza(s).

When you're ready to make pizza, shape the dough into thick or thin crusts, as many as you like; there's enough chicken to top four or five 12" pizzas. Let the crust rise (for thicker crust); or bake it right away (for thin crust).

When the crust is ready to bake, bake it in a preheated 450°F oven for about 15 minutes, until it's a light, golden brown.

While the crust is baking, cut the chicken into pieces about 1/2" thick. Place the chicken, garlic oil, crumbled Gorgonzola, diced scallions, and pizza cheese within easy reach.

Remove the crust from the oven. Brush it with garlic oil, sprinkle with Gorgonzola, distribute chicken evenly, and add scallions, then pizza cheese.

Return the pizza to the oven, and bake for an additional 5 to 8 minutes, until the cheese is melted and the toppings are warmed.

Remove from the oven; serve hot or warm.

Yield: as many pizzas as you'd like to make, up to about five 12" pizzas.
Tips from our bakers
The amount of chicken called for is sufficient to top four or five 12" pizzas. Cut back on the chicken if you like; we like to make the entire 3 pounds, and serve any leftovers as an appetizer, with blue cheese dressing and celery sticks.
We like the crust from our Quick Beer-Crust Pizza recipe, or our Now or Later Pizza. A good no-knead pizza crust is ideal here; just grab some dough out of the fridge, shape, and you're ready to go.
Reviews
Absolutely delicious! I made the recipe as written but used the crust recipe from the "thin spinach and feta pizza." My kids didn't like the gorgonzola - they said "pizza stores don't use gorgonzola" (don't even get me started.....) but my husband and I both thought this pizza was over the top. I'm making it again today - two pizzas this time - you guessed it - one with and one without - the gorgonzola.
Great! Used KA recipe for ultra thin pizza dough and followed the recipe exactly. I will make this again soon. Thanks KA!
Delicious! I used mozzarella instead since I didn't have any provolone and gorgonzola. I will definitely make this again.