A customized print-friendly version of this recipe is available by clicking the "Print Recipe" button on this page.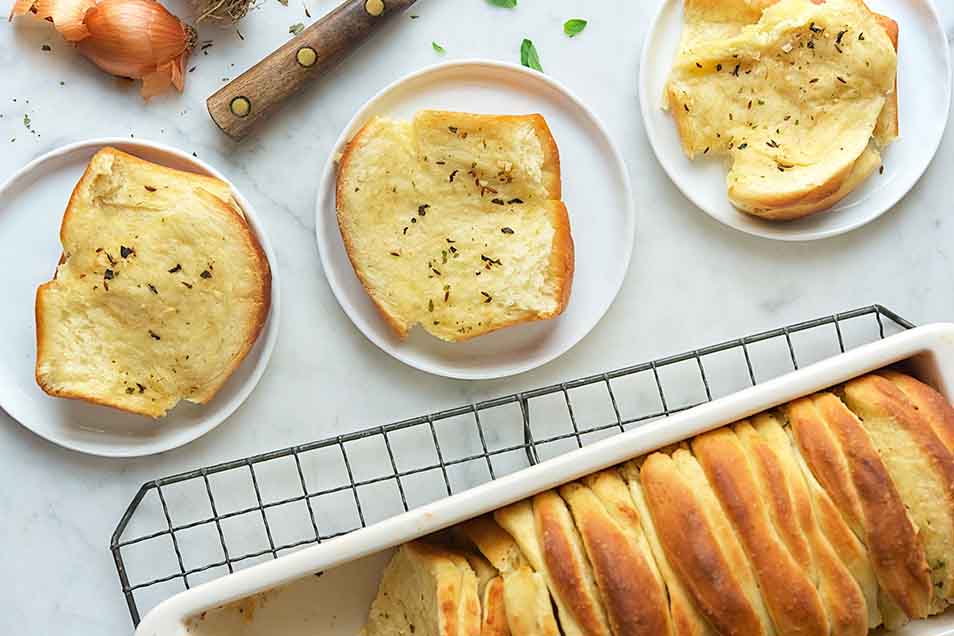 Based on a Bake-Off® winner from 1964, this loaf is wonderfully buttery and aromatic, perfect for a special-occasion bread basket.
Ingredients
Filling*
8 tablespoons (1/2 cup) unsalted butter, softened
1/2 teaspoon salt
1 teaspoon grated onion or chopped chives
1 clove garlic, minced
1/2 teaspoon caraway seeds or chopped fennel seed
1/2 teaspoon dried basil, crushed
1/4 teaspoon dried oregano, crushed
1/8 to 1/4 teaspoon cayenne pepper, to taste
*See "tips," below.
Instructions
Combine the milk, butter, sugar, and salt in a microwave-safe measuring cup or bowl; or in a saucepan. Heat, stirring, until the butter melts. Let the mixture cool to lukewarm.

Transfer the milk mixture to a mixing bowl, and add the eggs, yeast, 4 cups of the flour, and the potato flour and mix to form a shaggy dough. Knead the dough — using your hands, a stand mixer, or your bread machine set on the dough cycle — until it's smooth. The dough will remain somewhat sticky, but should definitely form a ball. During the summer, or in a warm/humid climate, you'll probably find you have to add the remaining 1/4 cup flour.

Place the dough in a greased container, cover, and let it rise for about 90 minutes, until it's puffy though not necessarily doubled in bulk.

While the dough is rising, place the filling ingredients in a bowl and mix to combine.

After the dough has risen, deflate it and divide it in half. Working with one piece at a time, place the dough on a lightly greased or lightly floured surface (your preference), and roll/pat it into a 12" circle about 1/4" thick. Cut 3 1/2" to 4" circles with a cutter, large canning jar lid, or English muffin ring; you should have about 10 circles.

Spread the butter-herb filling on half of each circle, fold in half, and place fold-side down in a lightly greased 8 1/2" x 4 1/2" loaf pan. Repeat with the remaining half of the dough, filling another 8 1/2" x 4 1/2" bread pan. Or place all of the circles in a 12" x 4" x 2 1/2" tea loaf pan. Shape any scraps into small rolls; or butter them, and pile them into the wells of a muffin tin. They won't look pretty, but they'll taste just fine.

Cover the pan(s) with greased plastic and let the dough rise for about 90 minutes, until it's puffy and starting to fill the pan. Towards the end of the rising time, preheat the oven to 350°F.

Uncover the loaves, and bake them for 25 to 30 minutes. Bread baked in a ceramic pan will take 5 to 7 minutes longer to bake than in a metal one. Tent the loaves with foil if they look like they're browning too quickly.

Remove the bread from the oven; brush it with additional melted butter, if desired. Turn the loaves out of the pan, and serve warm. Store any leftovers, well wrapped, at room temperature for several days; freeze for longer storage.
Nutrition Information
Serving Size

1 folded round, 37g

Servings Per Batch

20
Amount Per Serving:
Calories

118

Calories from Fat

40

Total Fat

5g

Saturated Fat

3g

Trans Fat

0g

Cholesterol

27mg
Sodium

203mg

Total Carbohydrate

15g

Dietary Fiber

0g

Sugars

2g

Protein

3g
* The nutrition information provided for this recipe is determined by the ESHA Genesis R&D software program. Substituting any ingredients may change the posted nutrition information.
Tips from our bakers
Want to increase the loaf's tenderness, plus keep it fresh longer? Try the tangzhong technique, an Asian method for increasing the softness and shelf life of yeast bread and rolls. Begin by measuring out the flour and milk you'll be using in the recipe, going with the greater amount of flour (4 1/4 cups; 18 ounces). Now take 3 tablespoons (3/4 ounce) of the measured flour and 1/2 cup (4 ounces) of the milk, and put them in a saucepan set over medium-high heat. Cook the mixture, whisking constantly, until it thickens and forms a thick slurry; this will take about 1 1/2 to 2 1/2 minutes. Transfer the cooked mixture to a bowl, let it cool to lukewarm, then combine it with the remaining flour, milk, and other dough ingredients. Proceed with the recipe as directed.
Both the dough and the shaped loaves can be slow risers, especially in the winter. Let the dough rise in the bowl until it's noticeably puffy, albeit not necessarily doubled in size. Once the loaves are in the pans, let them rise until they reach about 3/4 of the way up the pan. This could take as long as 2 hours or so if your house is on the cool side.
Alter the filling to taste by substituting your favorite dried or fresh herbs for the chives, garlic, seeds, and herbs in the recipe. Or use olive oil instead of butter in the dough, and pesto instead of butter as the filling. Or mix grated cheese into the butter mixture and sprinkle more cheese on top before baking.
For a sweet version of this bread, use 1/2 cup baker's cinnamon filling or a mixture of butter and maple sugar instead of the herb filling. Drizzle the top of the baked loaf with confectioners' sugar glaze if you like.
Reviews
I put in warmed turned off oven got 1st rise in 30 min ..2nd rise 45min Cut recipe in half worked fine!! Hubby loved it!! I love it!! A+++ Too tasty ..could eat the whole thing!
Made this for Christmas along with many other assorted fancy dishes. And then we took one bite and, I kid you not, I lost interest in our fresh egg pasta with mussels or the pumpkin pecan caramel cobbler or the homemade French vanilla ice cream. All I want is this bread. Nothing else. It is that good!!!
Dough came together quickly by hand, didn't have mashed potato on hand (don't use potato flakes) so used 500g apf. Used 75g butter & found it more than enough, flavoured w liberal amts chopped frozen chives & parsley from my summer garden, thyme fresh from the garden, rosemary from the windowsill. Baked the whole batch in 14*4*4 pullman. Very well rcvd at 89th birthday dinner. Intend to make again next week, incl Parmesan for 5 month old's celebration.
This is a 5 star recipe (I couldnt get the stars to work...user error) The dough is nice and airy. Instead of two loaves, I made 1 loaf in a bundt pan which has a great presentation and even leaves room for a little more spread in the center. Will make again.
This is a fantastic bread! I am having a problem thou and that is the bread is very heavy and gummy. I have made the bread several times and have the same result. I Follow the instructions implicitly. I am wondering if whole milk, eggs and butter in dough is making it heavy, to much fat, Plus buttered herbs. I am using the tea loaf pan to bake dough in and do bake longer as required. I know lots of variables! Hoping you have some thoughts. Oh yes Potato flour to!

Hi Annie, while this loaf is intended to be buttery and rich, the bread itself should be light rather than dense. If you're finding it to be quite heavy in texture, you might consider using slightly less flour next time. If you're not already doing so, try measuring your flour by weight with a scale or gently fluffing and sprinkling it into your measuring cup one spoonful at a time before leveling it off. Light cups of flour will help produce dough (and bread!) that's also light and tender. Good luck with your next batch; we hope it turns out perfectly! Kye@KAF
AMAZING RECIPE!!! Highly recommend reading all the info in the bake-along - I took the advice of one bake to fold and cut into pieces vs using a round cutter. Worked perfectly. Also received help from the bakers hotline on a sweet bread using maple sugar. Definitely going to try the herb version.
VEGAN BAKER HERE! I love this recipe. I have made it 4 times in the last 5 weeks I loved it so much. I had to make a few substitutions, but they all worked fine. I replaced the milk with almond milk, the butter with Earth Balance, and the eggs with flax eggs (1T flax:3T water for each egg). I filled it with homemade pesto because the basil this time of year is abundant. The only trouble I had the first time around was that I missed the small mention of putting the second half of the dough in a SECOND pan! That resulted in a very dense and underbaked delicious disaster. Once I solved that it was clear sailing.
Loved it! This was my first yeast bread and I had been looking forward to it for some time. I added extra chives and garlic and there was plenty of herb taste. Substituted 2 tbs potato for corn starch because I couldn't find any at the store.Top was crusty but the inside was quite soft! I think I added some extra flour (maybe 2 TBS) when kneading the first time because the dough was quite sticky. One surprise: bread was much smaller than I expected. Perhaps I didn't let it rise long enough the second time around? I don't know how warm my kitchen is but I let it rise 70 minutes. The instructions say to let them rise to 3/4 up the pan - is that from the bottom edge of the semicircles, where the dough touches the pan, or is that from the top? Each baked slice, from bottom edge to the highest part, was only about 2.5 inches. Any tips are appreciated!!

Hi Genevieve! We're very glad you enjoyed this recipe. Per the size, we tested it in a pain de mie pan which has straight sides and in a traditional loaf pan. The loaf appeared very very short in the loaf pan because it's wider, so we wouldn't worry about the height. So long as the dough rose and got nice and puffy it was ready to bake. Be sure you cut and roll the circles out enough to get them to be about 2" tall when folder in half and placed in the pan. It's not a very tall loaf either way so no worries! Annabelle@KAF
I'm a very beginning baker, this is only the 4th bread recipe I've ever tried and is by far the most complicated. I followed the recipe exactly and studied the linked blog post several times before I started. I still managed to mangle cutting and assembling the pieces so it looked rather a mess, but it tasted marvelous! My family absolutely raved and it elevated a very simple spaghetti supper to an event. I can't wait to try it again and make it as wonderful to look at as it was to eat.
When I made this the first time, it didn't rise as much as it should, but it was delicious. I also added King Arthur's herb & garlic seasoned flour instead of the 2 tbsp. of potato flour. I highly recommend that. So, the second time I added the yeast to the warmed milk/butter mixture (most recipes say to mix the yeas into lukewarm water) and it came out great. I made one loaf with the herb butter mixture and one with butter & sprinkled cinnamon & sugar between the rounds. Both were wonderful.