A customized print-friendly version of this recipe is available by clicking the "Print Recipe" button on this page.
Buttermilk Apple Pie with a Streusel Crust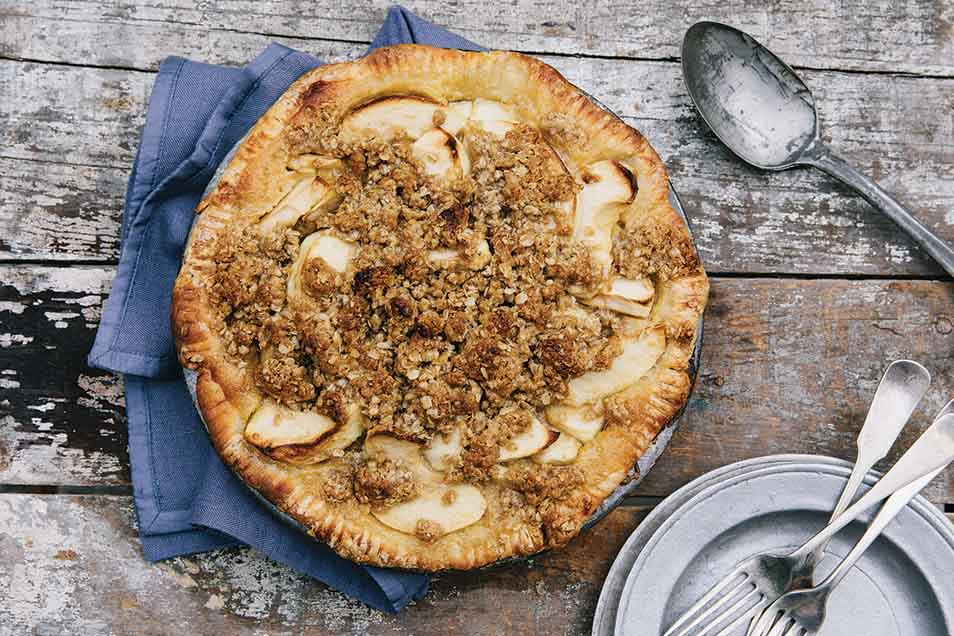 With a grandmother-in-law who developed recipes for Mott's applesauce, Diane St. Clair of Orwell, Vermont, takes apple pie very seriously. This recipe has evolved from the one in her book, The Animal Farm Cookbook, where she keeps the apple slices chunky, to retain their texture. Brown sugar lends a note of butterscotch to the filling. And buttermilk adds subtle creaminess, plus its own assertively tangy flavor.

Editor's note: Thanks to reader feedback, we've changed the filling to include pre-cooking the apples; and have adjusted the ingredient balance in the crust. We're confident you'll like the results.
Ingredients
Crust
1 tablespoon granulated sugar
1/2 teaspoon salt
8 tablespoons (1/2 cup) cold unsalted butter
1/2 cup cold buttermilk
2 to 3 tablespoons water
Topping
1 cup quick-cooking oats
1/2 cup light brown sugar
6 tablespoons unsalted butter, at room temperature
Instructions
To make the crust: Stir together the flour, sugar, and salt. Cut the butter into pats and use a fork, a pastry cutter, or two knives to work the butter into the flour until the mixture resembles coarse crumbs.

Stir in the buttermilk all at once. Add water, a tablespoon at a time, just enough to bring the dough together. Gather the pastry into a ball and wrap it in plastic wrap, pressing it down into a flat disk. Refrigerate for 1 hour, until firm.

Roll the dough on a floured surface into a 13" circle. Transfer the crust to a lightly greased 9" deep-dish pie pan. Trim the excess, and crimp the edges or press them with the tines of a fork. Refrigerate until ready to fill.

Preheat the oven to 425°F.

To make the streusel: Combine the oats, brown sugar, and flour in a medium bowl. Cut in the butter using a pastry blender or a fork until the mixture resembles coarse crumbs. Set aside.

To make the filling: Place the apples in a large skillet with the granulated sugar. Cover and cook over medium heat for 5 minutes. After 5 minutes, uncover the pan, stir the apples once, and cook for another 3 to 5 minutes to evaporate most of the liquid. Remove from the heat and cool to room temperature.

In a large bowl, combine the brown sugar and flour. Whisk in the egg, buttermilk, and vanilla. Toss the cooled apples in this mixture, and spoon everything into the crust. Mound the apple mixture and sprinkle evenly with the streusel.

Cover the pie loosely with aluminum foil and bake for 20 minutes. Lower the oven temperature to 375°F and remove the foil. Bake for an additional 30 to 35 minutes, until the streusel is golden brown and the apples are tender. Serve warm or at room temperature.
Nutrition Information
Serving Size

1 slice, 135g

Servings Per Batch

8 servings
Amount Per Serving:
Calories

470

Calories from Fat

225

Total Fat

25

Saturated Fat

13g

Trans Fat

0.5g

Cholesterol

115mg
Sodium

210mg

Total Carbohydrate

57g

Dietary Fiber

1g

Sugars

39g

Protein

6g
* The nutrition information provided for this recipe is determined by the ESHA Genesis R&D software program. Substituting any ingredients may change the posted nutrition information.
Tips from our bakers
There are many different thickening options available for fruit pies, from flour to cornstarch to Instant ClearJel and more. For an easy guide to thickener substitutions, see our Pie Filling Thickeners Guide.
Reviews
I clipped this recipe from the Fall '16 Sift magazine but just got around to baking it using the recently revised recipe/instructions on your website. Because I can't help myself, I did make a few minor changes: reducing the sugar to 1/3 cup each white and brown, adding 1/2 tsp cinnamon to both the streusel topping and to the apples as they cooked along with 1 Tb boiled cider (because it makes anything "apple" more so). The resulting pie was so good my husband wouldn't let me share any with the neighbors! Thank you KAF!
No stars ended up throwing it out. This recipe should not have been published in it's original form! Your editor needs to step up there game. I should have been alerted when diced and sliced were used for the same ingredient. King Arthur totally changed the recipe but still credits the original publisher. Did King Arthur bother with her permission for this?

We understand your frustration, and we're truly sorry this recipe caused you so much strife. After sharing the original recipe on our website, it became clear that bakers weren't having success with it as written in their home kitchens. We went back to the test kitchen to see if we could adjust the recipe to ensure better results. Once we came up the variation that we hope bakers will enjoy most, we made the necessary changes on our website. The headnotes now acknowledge that the recipe is derived from the original version published by Diane St. Clair. We hope that helps, and we hope your future baking experiences with us are more pleasant. Kye@KAF
The pie is out of this,world. . Delicious flavor and topping was wonderful.. I made prior to making dinner and cooled enough to be used as dessert. . I did place in fridge to help cool off somewhat. . Topped with coffee ice cream. . Would make again.
Followed recipe exactly. The filling tasted good but the crust was awful! It was very tough and laughingly difficult to cut. I would not waste my time on this pie, and don't recommend it to anyone.

We're sorry to hear that you had such difficulty with the crust. The toughness you describe could be the result of overworking the dough, and we'd be happy to help you troubleshoot if you give our free Baker's Hotline a call at 855-371-BAKE. Hope to hear from you! Mollie@KAF
I haven't baked this pie yet. I was looking for a recipe and this one sounded delicious but after seeing the star rating of 2 I questioned doing it at all. The reviews expressed the same concerns so I've decided to give it a try anyway (what's the worst could happen, sogginess? If that happens I have a plan to repurpose the pie to work as a court of "dump" cobbler because buttermilk sounds so delicious in the crust...I can almost taste the sweet n' sour flavors. I will let you know how the tweaked recipe works for me. thanks.

Elmira, we've reworked the recipe to take into account some of the concerns expressed here, so we hope you do bake this pie and then share your thoughts with us. This way, bakers will know the adjusted recipe produces delicious, flavorful results. Happy pie baking! Kye@KAF
I wanted to thank you guys for changing the recipe. It's too late for me, since I made it yesterday using the recipe in SIFT Magazine, but I see there are some changes that will reduce the water from the apple juices and expose the pie to longer cooking without the foil. Like others here, I experienced a pie that was soupy with liquid, which was a shock, as I have never made a KAF recipe that didn't come out perfect. But even given the too-liquid filling, I have to say that flavor-wise it was one of the best apple pies I've ever tasted. We'll just treat it like a cobbler and throw some ice cream at it. Maybe next time a recipe needs tweaking, you should send out a notice by email, so those of us using the magazine will have a heads up, too. Thanks.

Riggsveda, we're glad to hear you enjoyed the unique flavor of pie filling, and we're also pleased with your positive outlook! I've shared your suggestion about sending out an email with the edits with the appropriate team; we typically include a link to the errata for each issue on the product page if there have been any changes. We're sorry your initial experience using this recipe wasn't as fabulous as we wanted it to be, but we hope that with the adjustments listed here, you can make a delicious Buttermilk Apple Pie in the future. Happy baking! Kye@KAF
Unfortunately we did not have the updated version of this recipe. As stated in the other review it was absolutely watery and undercooked. Seems like this wasn't tested before it was published. We will try it again with the adjustments.

Jennifer, we're sorry to hear you weren't aware of the edits and that the resulting pie didn't meet your expectations. While this recipe was tested initially, we decided to adjust the recipe as other bakers seemed to be looking for more of a classic, soft apple pie texture. We're glad to hear you're going to try the recipe again with the adjustments; we think you'll like the result. Kye@KAF
I had printed out the original recipe, and did not know about the later revisions. Following the original directions, I ended up with raw apples in soupy buttermilk - which was not obvious when I pulled the pie out because it was covered with streusel. I just returned the pie to the oven - my husband, who tried it, said the apples need at least another half hour, but maybe more. A complete disaster. I usually have such good luck with your recipes - I can't believe you didn't test this before putting it on the website.

Siouxsie, we understand your disappointment and genuinely apologize for this experience. This recipe came to us as an opportunity to create something different than a traditional apple pie with its tangy filling and struesel topping. However, we went back to the test kitchen to adjust it as customers provided feedback about the length of baking time and overall result of the pie. This recipe has been trickier to perfect than we'd thought, but thanks to your comments and others, we're confident it will now produce a delightful pie. We hope you give it another shot. Kye@KAF
This recipe is an such utter train wreck, I hardly know where to begin! First of all the buttermilk crust has the wrong ratio of fat to liquid (i.e. too little fat to too much liquid). It came together more like biscuits than piecrust.I baked off the scraps before baking the pie and they were chewy and never browned. When I saw this,I was not surprised when the crust was chewy on the rim and raw underneath. Accounting for the flaws in the crust, I sliced my Northern Spy Apples 1/4" thick. I baked the pie as directed, but of course it wasn't done. So I baked it an additional 40 mins covered. Still not done. And another 40 uncovered. Still not done! By this time I realized that I was in a situation of diminishing returns If I had allowed it to bake longer, the apples would just continued to exude more juice, and this peculiar crust would get soggier and soggier, So I had no choice but to pull the pie from the oven. People I served the pie to complained that the crust was underdone in places and chewy or tough other places. The apples had too much tooth (al dente not soft like one would expect in an apple pie). Some people complained that they didn't like the vanilla and would have enjoyed cinnamon more. The consensus was that for an apple pie it was the opposite of a comfort food. When you read Diane's comments listed before the recipe, I think my pie came out right and that the texture and flavor profile was what the author was driving at. This pie is not for everyone. That said, I would award this very strange pie 0 stars!

We're truly sorry to hear about the frustration you experienced when baking this pie. It certainly is unique in flavor and texture, and due to customer feedback, we took the original recipe back to the test kitchen. We discovered the acid in the buttermilk was preventing the apples from cooking through thoroughly. To ensure a delightfully soft and comforting texture, we've adjusted it to now call for pre-cooking the apples. The ratio of ingredients in the crust has also been tweaked to produce a flaky, tangy crust. We apologize for your disappointment with this recipe, and thank you for your honest feedback. It's helped us change this recipe to produce a classically comforting apple pie. Kindly, Kye@KAF