A customized print-friendly version of this recipe is available by clicking the "Print Recipe" button on this page.
Buttermilk Lemon-Apricot Scones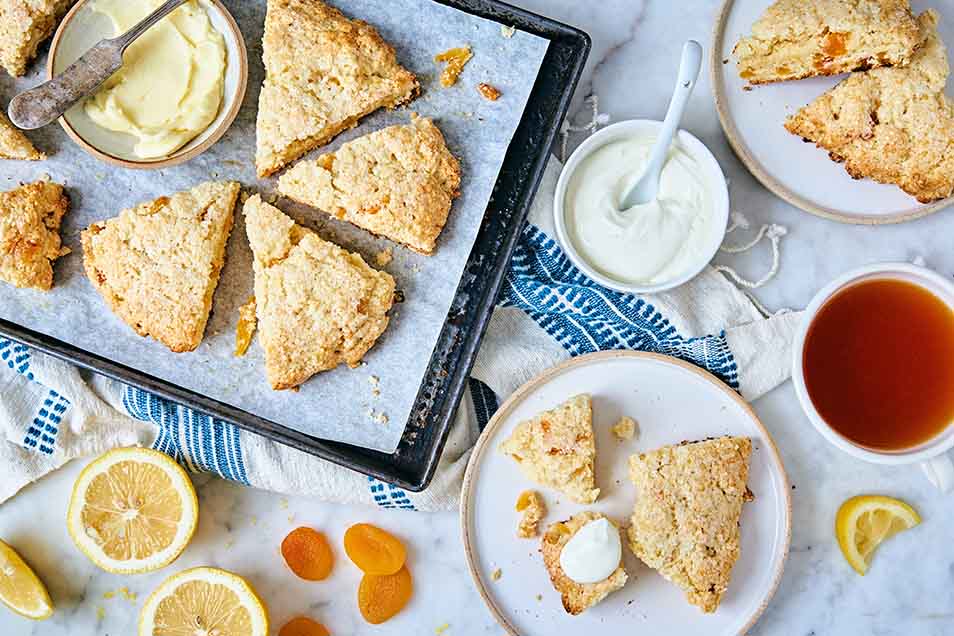 Ingredients
4 teaspoons baking powder
3/4 teaspoon salt
1/2 cup sugar
grated zest of one lemon
1 cup chopped or slivered dried apricots
1/2 cup (8 tablespoons) butter
1 large egg
1/2 teaspoon lemon oil, optional
3/4 cup buttermilk or 3/4 cup water + 3 tablespoons buttermilk powder
Instructions
Preheat your oven to 400°F.

In a medium-sized mixing bowl, whisk together the flour, baking powder, salt, sugar, lemon zest, and dried apricots.

Work the butter into the dry ingredients, using your fingers, a pastry fork, or a pastry blender; you can also do this with an electric mixer. Mix until the butter is fairly well-combined with the flour; a few lumps remaining are OK.

Whisk together the egg, lemon oil, and buttermilk or water. Add this to the dry ingredients, stirring gently until everything is well-moistened and just combined.

To make drop scones: Using a scone or muffin scoop, drop 1/4-cup measures of dough onto a lightly greased or parchment-lined baking sheet, spacing them about 1 1/2" apart.

To make wedge-shaped scones: Divide the dough into four pieces, and place on a well-floured work surface. Pat each piece into a 4 3/4" circle about 3/4" thick. Transfer to two parchment-lined or lightly greased baking sheets, two rounds to a sheet. Don't divide the circles into wedges yet; you'll do that after they're baked.

Bake the drop scones for 15 to 18 minutes, or until golden brown. For rounds, bake for 20 to 25 minutes. Cut each round into 6 pieces.

Store, well wrapped, on the counter for 3 days, or freeze for up to 3 months.
Reviews
Because I love baking with buttermilk I took the basic ingredients, eliminated the lemon zest and lemon oil and apricots and added instead 1 1/2 c fresh blueberries and 1 c white chocolate chips, placed them on the baking sheet and put them in the freezer for 15 minutes while the oven heated , sprinkled them with cinnamon sugar and baked them--Divine!!!
I think this is a good recipe, but I'm going to try some Lemon Oil next time to give it an extra boost! I did the rounds, which I topped with sugar crystals... excellent with blueberry jam! Will be trying out other fruits in these.
I bake scones frequently and love them. I have to say this is the most disappointing king arthur recipe i have ever made. KA muffins are great. Elizabeth Alston's scone recipes are amazing and I shouldn't have strayed from them. These are going in the trash. Bland. Boring. Awful!

We're sorry to hear that these scones weren't what you were looking for, Jenny. We'd love the chance to talk through the recipe with you, so we encourage you to reach out to our free and friendly Baker's Hotline staff to help troubleshoot or to find a recipe closer to the results you're looking for at 855-371-BAKE (2253). Kindly, Annabelle@KAF
Delicious and easy recipe! I opted to make the drop version and sprinkled a little sparkling white sugar on them. They were perfectly lovely.
In general, I like scones but don't love them. We made this recipe in an effort to use up some of the buttermilk we had leftover after the holidays. They were delicious. They work up so fast you can have hot delicious scones in no time. I will definitely be making these again.
Light and airy. A big hit every time I make them. One of my favotites. I use the lemon oil and unsulfared apricots. Bake, eat, love :)
Speedy breakfast treat that tastes delicious. Great overall lemon flavor, with the apricots adding little bursts of sunshine in every bite.
I made these yesterday because my wife wanted something lemony and I wanted to make something I had never made before, scones. These were amazing. I wasn't a fan of apricots, well I can't say that anymore. The lemon offsets the sweetness nicely. I didn't have any lemon oil so I bumped the lemon zest a pinch. Very wet dough but a little water on my fingers and it formed into discs nicely. As other people have mentioned, these are a little cakier than other scones I have had but I count that as a plus. As always KA does not disappoint.
These are very flavorful. I didn't have lemon oil, so I used a scant l/4 teaspoon of Fiori Di Sicilia. This recipe goes in my 'keeper' file.
I added in perhaps 3 Tablespoons plain applesauce to the recipe and topped each one with apricot jam. I also sprinkled them with a tiny bit of raw sugar. They were fabulously moist, so tasty, slightly crunchy with the raw sugar, and the jam took them over the top. They evaporated promptly at work amidst "Wow"s.