A customized print-friendly version of this recipe is available by clicking the "Print Recipe" button on this page.
Butternut Squash Spinach Lasagna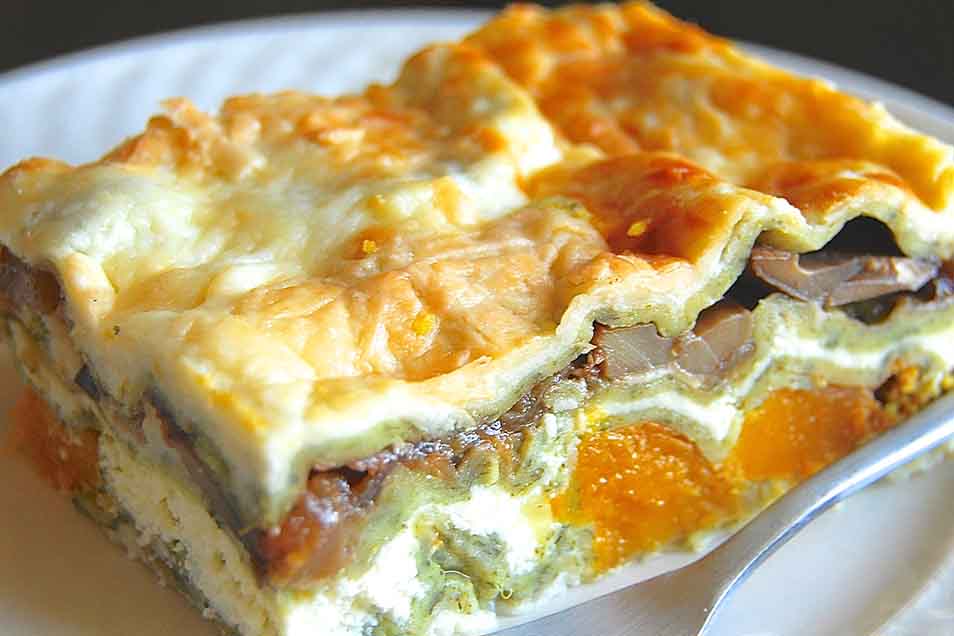 This lasagna is gold, green, and deep brown, the rich colors of the fall harvest. And with its layers of spinach noodles, roasted butternut squash, caramelized onions/sautéed mushrooms, and cheese, it's just as tasty as it is attractive. Note this isn't a typically sloppy, gooey, over-the-top meat-and-cheese lasagna. Rather, it's a delicate layering of paper-thin noodles and roasted vegetables, with the cheese acting as accent, rather than main ingredient. Enjoy!
Ingredients
Noodles
half of a 10-ounce package frozen chopped spinach, thawed and squeezed dry (1/2 cup packed)
2 large eggs
1/2 teaspoon salt
2 1/4 cups King Arthur Unbleached All-Purpose Flour
1 to 2 tablespoons cold water
Squash filling
2 tablespoons butter
2/3 cup water
1/4 teaspoon salt
6 cups peeled, cubed butternut squash
Mushroom & onion filling
5 3/4 cups white or portobello mushrooms, sliced or diced
2 tablespoons olive oil, divided
1/8 teaspoon salt
1 medium-large sweet onion, peeled and sliced
White sauce
1/4 cup (4 tablespoons) butter
1/2 teaspoon salt
3 cups whole milk
1 1/2 cups grated Parmesan cheese, divided
Cheese filling
2 cups ricotta cheese, whole milk or part skim
1 large egg
1/4 teaspoon salt
Instructions
To make the pasta: Combine the spinach and eggs in a blender or food processor; process until the spinach is finely chopped.

In a bowl or mixer (or continue in the processor), add the salt and then the flour. Add enough water to bring the dough together, with no dry bits of flour remaining. Knead the dough, by hand or in a mixer, until smooth. (In a processor, process for 60 seconds, using the dough blade.)

Wrap the pasta in a lightly oiled piece of plastic wrap or waxed paper, and set it aside for at least 1 hour, for the gluten to relax.

To prepare the squash: Place water, butter, and salt in a large frying pan. Add the squash; it should be in a single layer. Cover the pan, and simmer for 5 minutes, or until the squash is starting to soften. Remove the cover, increase the heat, and cook, tossing occasionally, until the water evaporates and the squash browns, about 15 minutes. Remove it from the pan, and set it aside.

To prepare the mushrooms and onions: Using the same pan, if desired, sauté the mushrooms in 1 tablespoon of the oil, with the salt, until they've released their liquid, and are browned. Remove them from the pan, and set them aside. Add the remaining 1 tablespoon oil to the pan, and sauté the onions until they're golden brown, 20 to 25 minutes.

Divide the dough into six pieces, and shape each piece into a short log. Working with one piece at a time, use a pasta machine to roll the logs into long, thin sheets, as thin as possible (setting 9 on most pasta machines). Cut the sheets in half; each half should be about 13" long. You'll end up with 12 noodles, with some leftover trimmings — feel free to cut these into fettucine and boil them up for a snack, with a bit of garlic oil. Cover the noodles with plastic wrap while you make the cheese filling.

To prepare the cheese filling: Melt the butter in a large saucepan. Stir in the flour and salt.

Whisk in the milk, stirring constantly, until all the milk is added and no lumps remain. Cook over medium heat, stirring frequently, until the sauce thickens.

Remove the sauce from the heat, and stir in 3/4 cup of the Parmesan cheese (see "tips," below).

To assemble the lasagna: Pour about 1 cup of the white sauce into the bottom of a lightly greased 9" x 13" pan, or similarly sized casserole dish. Place three noodles on top.

Arrange the squash on top. Top the squash with three more noodles.

Spread the ricotta cheese over the noodles. Add three more noodles, and another cup of the sauce.

Spread the mushroom/onion mixture evenly over the sauce. Add the last three noodles, and top with the remaining sauce. Sprinkle with the remaining grated Parmesan.

Cover the lasagna, and bake it in a preheated 375°F oven for 45 minutes. Remove the cover, and bake for an additional 40 to 45 minutes, or until the top of the lasagna is nicely browned.

Remove the lasagna from the oven, and let it rest for 15 minutes before serving.
Nutrition Information
Serving Size

298g

Servings Per Batch

12 servings
Amount Per Serving:
Calories

378

Calories from Fat

163

Total Fat

18g

Saturated Fat

10g

Trans Fat

0g

Cholesterol

92mg
Sodium

640mg

Total Carbohydrate

36g

Dietary Fiber

3g

Sugars

5g

Protein

19g
* The nutrition information provided for this recipe is determined by the ESHA Genesis R&D software program. Substituting any ingredients may change the posted nutrition information.
Tips from our bakers
Don't want to make your own noodles? Use the cooked lasagna noodles of your choice. You may not be able to fit as many layers into your pan, since store-bought noodles will be thicker than our homemade noodles. If that's the case, simply use three layers of noodles, instead of four.
For less of Parmesan cheese's assertive tang, omit it from the white sauce, and simply sprinkle 3/4 cup grated Parmesan on top of the lasagna before baking.
For more of lasagna's typical gooey/melting cheese texture, during assembly, sprinkle each layer of white sauce with a couple of handfuls of mozzarella cheese.
Reviews
I made this exactly as written. I found it to be a bit bland and lacking any flavor that would push it to 4 or 5 stars. There is so much white sauce and ricotta that it tastes very simple. If I make it again, I will add some nutmeg, garlic and perhaps a cheese mixed into the squash layer.
Loved this recipe (as written) and so did my guests. They commented that it was the best non-traditional lasagna they ever had. However, I have one question. Can you make this in advance and freeze it for a future use?

Since the vegetables in this dish are all pre-cooked to release their moisture, the final dish should hold up quite well to freezing. You can freeze it either baked or unbaked. Freezing the baked lasagna saves time for when you're hungry, but we think the overall results might be better if you freeze the dish unbaked. You can bake the lasagna straight from frozen (skip thawing). Add about 30 minutes to the bake time to account for it being frozen and bake with foil covering the top for the first hour and then check it. Remove the foil and continue baking until the cheese is melted and brown and the center is hot all the way through. Happy baking! Kye@KAF
I have made this recipe over and over and it's fabulous. I substitute wheat lasagna noodles as making my own is too time consuming for me. It freezes well.
This is delicious! I used store bought noodles instead of making my own. I added fresh spinach to the butternut squash layers and also added nutmeg and a little white pepper to the cheese sauce. Also added a little mozzarella to the final layer before adding the cheese sauce. After 45 min I uncovered and only cooked an additional 30 min. Will definitely be making this again!
tastes great. spinach noodles were good but took a lot of time. I will follow a different pasta recipe next time. Made a yummy Christmas dinner.
This lasagna was amazing. I did not make my own pasta, but am blessed with an Italian grocery that has spinach lasagna noodles. The only change I made was in the seasoning. I thought that with salt being the only seasoning it might be a little flat. I added French four spice-a blend of white pepper, ground ginger, allspice and cloves-to the white sauce and the ricotta. I think it worked well with the squash. The colors of the pasta and squash were very pretty. Definitely worth the effort.
We loved the finished lasagna.I will make again,but it is labor intensive. I will roast the squash the next time to save some time.I used boxed pasta and it worked out well.
This recipe caught my eye when I was looking to use 6 cups of cubed pumpkin, which I used in place of the butternut squash. The pumpkin worked well , and the recipe was a big hit with my family. It's very likely on its way to becoming a family favorite. I made several minor changes: Because I used store-bought regular lasagna but liked the idea of spinach, I throughly drained and squeezed dry a 10 oz. package of frozen chopped spinach and sprinkled it on top of the butternut squash (pumpkin) layer before topping with the noodle layer. To add a bit more depth of flavor, I also used a variety of sliced mushrooms (crimini, oyster and shitake) rather than one type. The only other change I would make would be to add a bit more salt. All in all, this recipe is definately a keeper.
Loved it! The only thing I did differently was substitute spicy Italian sausage for the mushrooms. I have a family of meat eaters. Such unique flavors and was out of this world. Don't be afraid to make the noodles. Super easy and fun. The thin, fresh noodles make a difference in the dish. I think I only got to setting 6 on my pasta maker before I didn't think I could go any thinner without it falling apart. I used every inch of counter space and used near every bowl in my kitchen but it was worth it. Hopefully leftovers are as good tonight.