A customized print-friendly version of this recipe is available by clicking the "Print Recipe" button on this page.
Butterscotch Apple Sweet Rolls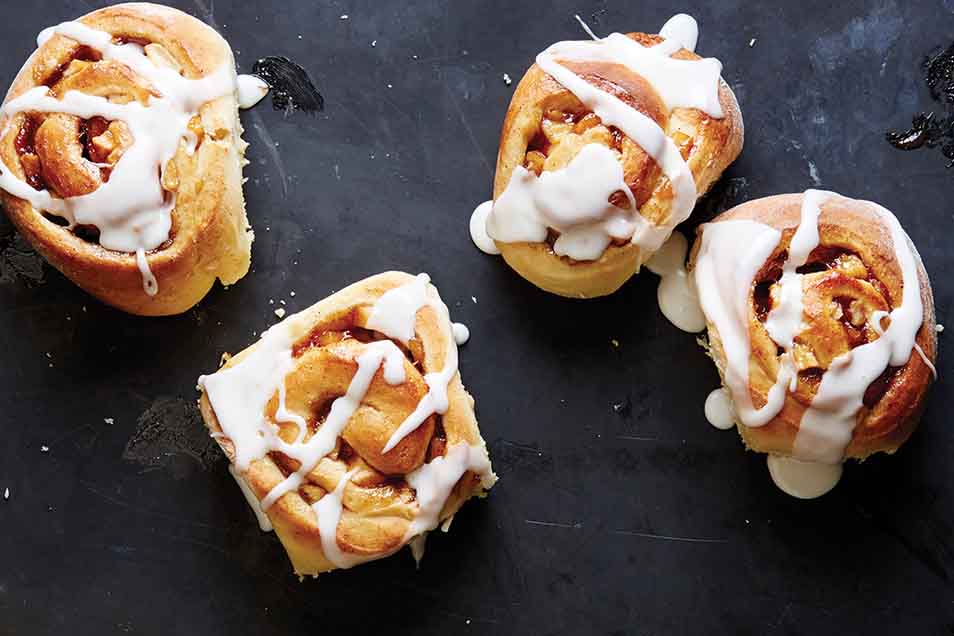 Tender sweet rolls filled with tangy sweet apples and butterscotch make a warm, bright moment for any breakfast or a snack.
Ingredients
Dough
1 cup sour cream
2 tablespoons unsalted butter
1/2 cup granulated sugar
1 teaspoon salt
2 teaspoons instant yeast or active dry yeast
1/4 cup lukewarm water
1 large egg
filling
1/4 cup unsalted butter
4 cups (about 1 1/2 pounds before peeling) tart cooking apples, peeled, cored, and diced or coarsely grated
1/4 teaspoon salt
3/4 cup brown sugar, light or dark
1 1/2 teaspoons cinnamon
2 tablespoons Instant ClearJel or King Arthur Unbleached All-Purpose Flour
Glaze
1 1/2 cups confectioners' sugar
3 to 4 tablespoons milk or cream
1/2 teaspoon vanilla extract
Instructions
To make the dough: Combine all of the dough ingredients in your mixer or the pan of your bread machine set on the dough cycle. Mix and knead until a soft, smooth dough is formed; cover and let rise for an hour if using a mixer, or let the machine finish its cycle.

To make the filling: While the dough is rising, melt the butter in a large skillet. Add the apples and salt, and cook over medium heat for 3 minutes, until the apples begin to soften. Combine the brown sugar, cinnamon, and ClearJel or flour and sprinkle over the apples. Stir until the apples are coated; cook for 1 more minute. Remove the pan from the heat and cool to room temperature.

To assemble: Grease a 9" x 13" or 15" square pan. After the dough's first rise, spray your work surface with non-stick spray and roll the dough out to an 11" x 16" rectangle.

Spread the cooled apple filling over the dough, leaving 1/2" bare along one long side. Roll the dough into a log the long way (starting at the side with filling); roll gently to lengthen the log to 18", if it hasn't already lengthened itself. Slice into 12 rolls, each 1 1/2" wide. Place the rolls, cut side up, in the prepared pan. Cover with greased plastic wrap and let rise for 30 minutes while you preheat the oven to 350°F.

To bake: Uncover the rolls and bake for 28 to 30 minutes, until they're puffy and golden brown. Remove them from the oven and cool on a rack until lukewarm.

To glaze: While the rolls are cooling, combine the confectioners' sugar, milk or cream, and vanilla. Drizzle over the lukewarm rolls, and serve. Store any leftover rolls, well-wrapped, at room temperature for several days; freeze for longer storage.

Yield: 12 rolls.
Nutrition Information
Serving Size

208g

Servings Per Batch

12
Amount Per Serving:
Calories

617

Calories from Fat

110

Total Fat

14g

Saturated Fat

8g

Trans Fat

0g

Cholesterol

49mg
Sodium

272mg

Total Carbohydrate

121g

Dietary Fiber

2g

Sugars

87g

Protein

6g
* The nutrition information provided for this recipe is determined by the ESHA Genesis R&D software program. Substituting any ingredients may change the posted nutrition information.
Reviews
Yikes, these are scrumptious! Made them on Saturday for Sunday morning breakfast. After shaping the rolls I let them rise for about an hour on Saturday then covered and popped them in the fridge. Baked them on Sunday. Light and fluffy on the inside...crispy on the outside. I halved the recipe and made a dozen mini-sweet rolls. I made the cream cheese icing from the KAF Cinna-Buns recipe, but substituted boiled cider for the vanilla. I just added boiled cider until I got the consistency I wanted. We finished these up on Tuesday and they were still moist!
I do lots of baking and proof my dough at around 85-90 degrees. After about an hour and a half, I could not tell that the dough had risen. I went ahead and assembled my rolls and proofed for their "second" rise and only noticed a very slight rise. When I baked the rolls, they did expand considerably but I would not say a lot. I was disappointed in the texture as well. The rolls seemed heavy to me and not as light and fluffy as my usual cinnamon roll recipe. I think if I try this again, I'll go back to my "tried and true" dough recipe. Not sure what made the significant difference other than my usual recipe has more butter, milk, an additional egg, and no sour cream.

We're sorry to hear you didn't get quite the rise or final texture you were looking for, Barbara. There are a few reasons why the dough may not have behaved as we'd expect it to, including using yeast that was no longer good, or using too much flour in the dough. We recommend testing your yeast for freshness to rule out that possibility. (Reach out to our Baker's Hotline at 855-371-BAKE if you need instructions.)

To ensure you're using the right amount of flour, we recommend checking out the "Measuring Standards," link next to the ingredients header above. You'll see that either measuring your flour by weight using a scale, or fluffing and sprinkling the flour into your measuring cup are the best ways to ensure your rolls turn out light and rise beautifully. Happy baking! Kye@KAF
Very good! I had to add several tablespoons extra flour to make a soft dough since it was a very humid day. I also reduced the sugar in the filling to 1/2 cup and probably could have reduced even further, given the glaze. Like others, I had difficulty cutting the rolls, but I was able to smoosh the apple filling back in place once I transferred them to the pan and the finished product looked great. I baked for 31 minutes, and took them out of the oven when a thermometer inserted into the bread read 193 degrees.
Excellent! I baked these sweet rolls last night and served them this morning after glazing. (I cannot get up early enough to bake sweet rolls before breakfast, but I bet they are wonderful warm.) I made a couple of changes: I substituted 1 cup of white whole wheat flour for a cup of the regular flour, added 2 Tbs. flax meal, and used the special gold yeast, since I have it, and the dough includes a higher amount of sugar. I mixed it on the dough cycle in my bread machine, but let it rise in a bowl. For the apple filling, I used Jonathan apples and grated them with the standard grating disc for my old Cuisinart food processor. It made small "matchstick" shaped apples for the filling, which held their shape and worked very well in that the filling was easy to spread, and it stayed put when cut. I used the instant Clearjel. In order to cool the filling to room temperature fast enough for it to be ready to spread on the dough, I spread it out on a plate and put it on a raised rack. It was easy to spread on with a spatula. I used heavy cream in the glaze. One note: you cannot cut a 16-inch roll into 1 1/2 inch slices. It would need to be 18 inches. It's best to divide the 16-inch roll into four sections, then each of those into thirds. I will bake these sweet rolls again, and again, and again.

Thanks for providing your feedback, Marliss. You're correct about the 16" log being sliced into 12 even slices; it's best to divide it in half, then quarters, then each quarter into thirds to get 12 even rolls. Happy baking! Kye@KAF
Wow! Fantastic! My family loved this recipe. Followed instructions as written, and used dental floss for cutting. No problems at all, sliced up beautifully! Also, I used a silpat for rolling out the dough. This was particularly helpful in rolling out the dough without spraying the work space, as well as using it as a pattern for the size of rolling out. We loved the filling. It is tart and sweet, without being too sweet. The dough is very pillowy soft. My daughter claims that these sweet rolls are "Fluffy, soft, tender pillows of cinnamon apple heaven! These is a real keeper! We will definitely being making this again, and again and again.
Very tasty, but with some problems. I followed the recipe exactly, as I usually do the first time around. I had to add extra flour (I didn't measure, it was probably 1/2 cup or more - it's been pretty damp where I live lately) to make the dough soft but not sticky, and it probably needed even more flour. The filling was fine; I used the Cleargel, but I think I would add some chopped pecans the next time. However, rolling up the dough with the filling and cutting the rolls was messy; and I had to bake almost 10 minutes longer than the maximum in the recipe; the finished product was still a bit mushy and undercooked with filling falling out. They tasted delicious but we had to eat them on plates with forks. I didn't make the icing because I'm not fond of that type of frosting. I'm thinking about enclosing this filling in this dough in a way that won't leak so badly, maybe like a turnover or something. The dough and filling definitely have potential, maybe just not put together like this.
I followed the recipe as written. The roll is just the way I like it to be, light and soft. I used the clear jel for the filling and had no issues. Dough is easy to handle and roll up. I "slice" the rolls with thread. Nice flavors and will definitely be making this again.
Wonderful recipe! The roll part is very light and fluffy...the apple filling good. I'd use the roll recipe for lots of things!
I picked this recipe out to try from the fall issue of Sift magazine. I love to bake, but it has been some time since trying to make cinnamon rolls from scratch. My old standby is usually a box of Hot Roll Dough Mix from Pillsbury. The dough was so easy to put together. :) The apple filling took a little longer, but was worth it. I used flour since this is what I had on hand. I cooked my filling a bit longer to thicken it up. I did have some trouble with the filling wanting to spill out, but assumed this was due to my not rolling the dough log tight enough. The apple rolls were fantastic! Nice and fluffy with the perfect amount of apple filling. :) My rolls from the Hot Roll Dough mix are usually dense. This recipe has given me the confidence to begin dabbling in more bread baking adventures. Thank you! :)
My family and I loved the rolls, although the filling was difficult to work with and kept coming out when I was rolling it up. This may have been because I didn't use clearjel, but used the flour instead. I found the filling was a bit soupy, even after cooling completely. Otherwise, it is a very tasty sweet roll. The dough isn't too sweet, and the filling and icing balance it nicely.