A customized print-friendly version of this recipe is available by clicking the "Print Recipe" button on this page.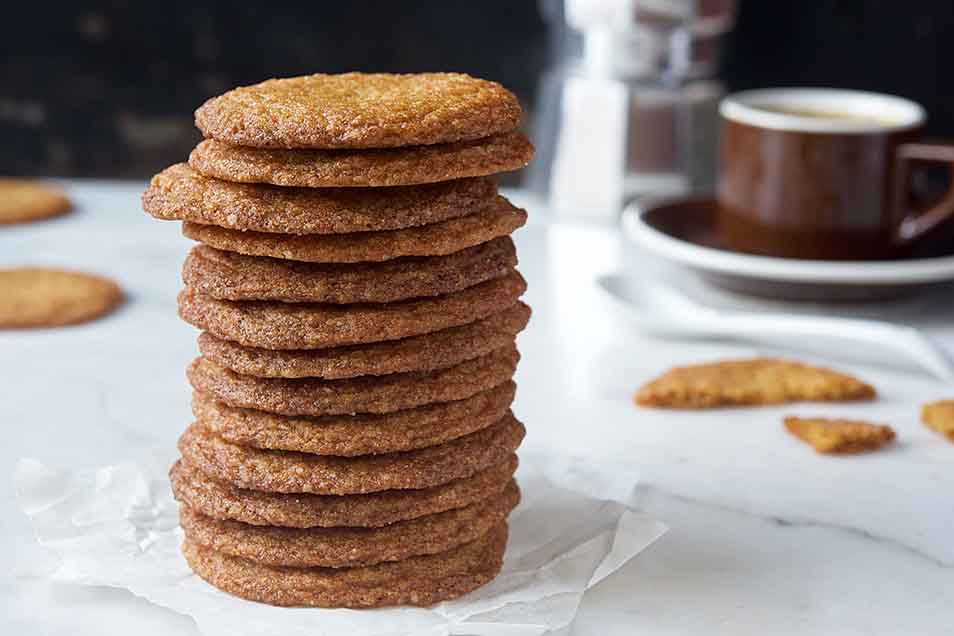 Ultra-thin, ultra-crisp — ultra-tasty! These mahogany-brown cookies feature the rich flavors of brown sugar and butter; letting the dough rest overnight in the refrigerator deepens the cookies' taste and color. Bonus: They're made with 100% whole wheat flour (though you can absolutely substitute all-purpose flour, if that's your preference).
As part of the process of developing this recipe, we asked our Facebook fans to suggest a name. Nearly 1,400 suggestions later, we narrowed the list to 10, then took a test-kitchen vote: Buttersnaps was the winner.
Congratulations to the following for their winning suggestion: Cori Thurlow, Ray & Cindy Fitz, Sheron Roberts, Suzanne Harrison Sherman, Tonia Deetz Rock, Victoria Kabakian, Gary Corbett, Julie Kennedy, Amy Broomhall, Corinne Cooper, Christine Carter, Claire Wittig Rosenberg, Nonni Hilchey Daly, Barbara Houston Garrett, Linda Davis, and Laura Magane Goyer. And, a tip of the hat to the many other readers who suggested a variation of "Buttersnaps" — including the 27 of you who came up with "Butter Snaps."
Ingredients
Coating
2 tablespoons sugar
1/4 to 1/2 teaspoon salt, to taste (see tips, below)
Instructions
Combine the sugar, butter, salt, vanilla extract or vanilla-butternut flavor, and baking soda. Beat until smooth, with no chunks of butter visible.

Add the egg, again beating until smooth. Scrape the bottom and sides of the bowl with a spatula to make sure everything is thoroughly combined.

Add the flour, mixing until smooth. Cover the bowl, and refrigerate overnight, or for up to 3 days.

Preheat your oven to 375°F and lightly grease two baking sheets. To make the coating: Thoroughly combine the sugar and salt in a small, shallow dish or plastic bag.

Scoop the chilled cookie dough into 1" balls; a teaspoon cookie scoop works well here. Roll or shake the dough balls in the coating until covered.

Place the cookies on the prepared baking sheets, leaving about 2" between them; they'll spread.

Bake the cookies for 12 to 15 minutes, until they're a deep golden brown; the longer you bake them (short of burning, of course), the more caramelized they'll taste, and the crisper they'll be. Remove them from the oven, and cool on the pan until they're sturdy enough to transfer to a rack to cool completely. Or, if you don't need the pan, let them cool completely on the pan, loosening them from the pan or parchment with a spatula as soon as they lose their fragility.

Yield: about 3 dozen 2 1/2" cookies.
Tips from our bakers
We love to add fiber to our treats and boost their nutrition profile a bit by using whole wheat flour whenever possible; this recipe is an easy way to do it. We guarantee your family will never guess these cookies are made with 100% whole wheat.
Using 1/4 teaspoon salt in the cookies' coating yields the merest hint of salt to their flavor; use 1/2 teaspoon for those who prefer a more assertive salty/sweet taste.