A customized print-friendly version of this recipe is available by clicking the "Print Recipe" button on this page.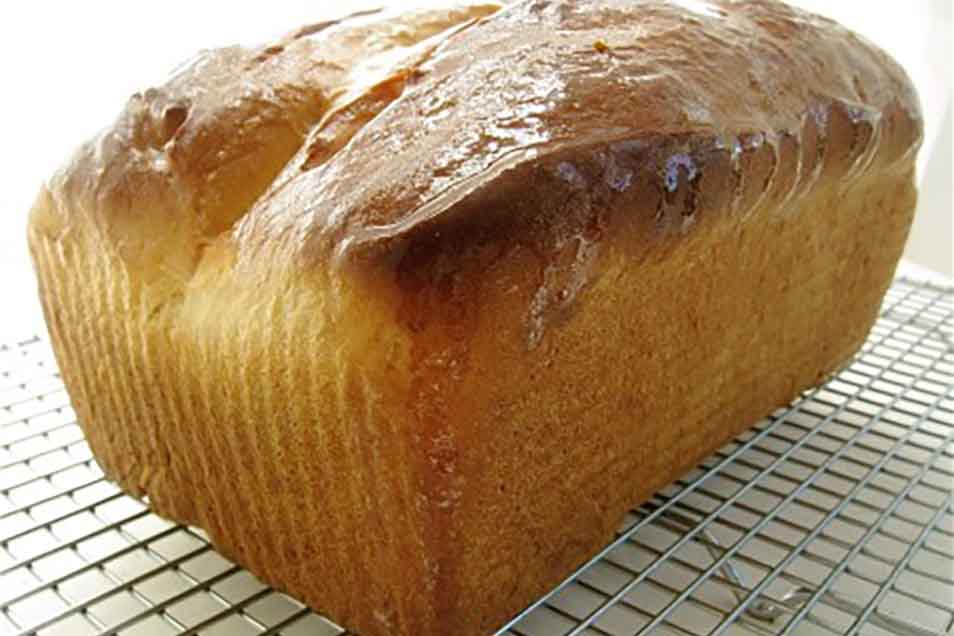 No need to buy those wide-body buttertop loaves you see at the supermarket — it's easy to make your own.
Ingredients
Bread
1 1/2 teaspoons salt
3 tablespoons potato flour or 1/3 cup dry potato flakes
1/4 cup sugar
2 1/2 teaspoons instant yeast, SAF Gold instant yeast preferred
1 large egg
2 tablespoons soft or melted butter
3/4 cup to 7/8 cup lukewarm milk*
*Use the greater amount in the summer, the lesser amount in the winter, and somewhere in between in the spring and fall. Your goal is a soft, elastic dough.
Topping
1 tablespoon butter, melted
Instructions
Mix and knead all of the dough ingredients together until you've made a smooth, though somewhat sticky dough. If you're uncertain about the amount of milk to use, start with the lesser amount; you can always add more as you go along.

Place the dough in a lightly greased bowl, or an 8-cup measure, which allows you to track the dough's progress as it rises. Cover, and allow the dough to rise for about 90 minutes; it should become quite puffy, though it may not double in bulk.
Gently deflate the dough, and shape it into a 9" log. Place it in a lightly greased 9" x 5" loaf pan.

Using a sharp knife, cut the loaf vertically down the middle from one end of the pan to the other, almost but not quite to the bottom of the pan.

Cover the loaf with lightly greased plastic wrap (or a shower cap), and allow it to rise until its top has crowned about 1" over the rim of the pan, about 45 to 60 minutes. Towards the end of the rising time, preheat the oven to 350°F.

Bake the bread for 35 to 40 minutes, until it's golden brown. Tent it lightly with aluminum foil after about 15 minutes of baking; because of its somewhat higher sugar content, this bread tends to over-brown if not covered.

Remove the bread from the oven, and brush it with melted butter. Cool completely before slicing.

Store bread, tightly wrapped, for several days at room temperature; freeze for longer storage.

Yield: 1 loaf, about 18 servings.
Tips from our bakers
When assessing whether your dough or bread has risen enough, go more by how much its volume has increased, rather than by how long it's been rising. Rising times in recipes aren't hard and fast; they're more a guideline, since there are so many variables that can affect how dough rises. If the recipe calls for your dough to "double in bulk," then that's the desired result; put away your stopwatch and let the dough rise on its own schedule.
If you don't use SAF Gold yeast, expect your rising times to be longer; SAF Gold is specially formulated to provide higher-sugar breads with a good, strong rise.
Reviews
I made this recipe and it came out OK. Used a scale for ingredients and kneaded in the kitchen aid mixer - It took a long time to proof and it also took a long time to raise
I labored over this recipe and followed it to the letter. I live in Florida so I used a full cup of lukewarm milk. The kneading was sheer torture as the dough was sooooo dry. I kept adding water to attain something close smooth and elastic. I gave the first rise a good 90 minutes but there was absolutely no puffiness to the dough. I then shaped it for the 9X5 pan and let it rise a full 60 minutes. The dough barely rose to the top of the pan and when finished cooking for 35 minutes at 350 degrees the result was an utter disaster. I eventually threw the whole mess out. I don't mind the time and labor spent with this recipe. What bothers me is how the results depressed me. Bake at your own risk.

We're sorry to hear that you had such trouble with this dough, Clement. There are a number of factors that can keep your dough from rising well, including yeast freshness, air temperature, and the most common pitfall of all, flour measurement. Too much flour can result in dense, dry dough that rises poorly. For best results, we recommend using a scale to measure flour whenever possible. If you don't have a scale, we suggest fluffing the flour up in its container, sprinkling it into the measuring cup, and leveling it off in order to get the relatively light cup of flour (4.25 oz or 120 grams) our recipes intend. This should help to make for a lighter, higher rising loaf and happier baking! Mollie@KAF
This time of year, I like to make Sleeping Plums or Prugne Addormentate , an Italian "cake" found in Regional Foods of Northern Italy by Marlena de Blasi. The original recipe calls for a potato bread but I have made it with many different breads. As I am at my daughter's child-filled house, I used the mixer. Because some bakers found the bread too sweet, I didn't add sugar. I also used regular yeast as I don't like instant. Hmmm. It is beginning to sound like I didn't follow the recipe! I liked the bread. The bread for sleeping plums only rises once before baking. I added the fruit and put the "cake" in the oven. After it baked, I looked in on the loaf which I felt needed five more minutes, as the recipe said it would take 45 - 50 mins. In five mins, the bread dough slumped over the side of the pan. However, it baked nicely.

Hi Susan, if you decide to bake this recipe again, be sure your loaf pan is a 9" by 5" and not an 8 1/2" by 4 1/2", which is another standard size. It seems like a small difference, but the 1/2" is enough to cause the dough to flow over the sides. We're glad the final result still tasted delicious! Kye@KAF
I tried this recipe today and it turned out perfectly. I live in the deep south, so I had to use a cup of lukewarm milk to get the right consistency. Was it ever worth it! There's nothing more wonderful than the smell of something baking in the oven. I will have to say that every recipe I have tried on this site over the last four or five years has really been a winner.
I had a hard time getting this bread to rise until a friend recommended making a sponge first. I used one cup of the flour, one Tbsp of the sugar, the yeast and whey (because I had it left over from making greek yogurt) for the liquid. Mixed it all together and let it sit in my oven with the light on for 15 to 30 minutes. The sponge was wonderfully bubbly by that time, and I added the rest of the flour, sugar and other ingredients, mixing and kneading them in my mixer. The first rise only took 60 minutes, the second was 60 minutes as well. Baked in my small pain de mie pan, and it was perfect! I think the sponge helped the flavor as well. Now it's my "go to" bread!
This bread has a wonderful texture and cuts nicely -- that's why I gave it three stars. However, it is too sweet and has no yeast flavor. Basically boring. Even toasted, it is boring. It would make great French toast or bread pudding. If you like King's Hawaiian Bread, this is the recipe for you.
Thanks for sharing your frank review. In baking, the journey can be quite tasty until you truly find the recipe that meets your flavor and texture profile. Once you find "the one" that recipe is made over and over and becomes a keeper in your baking repertoire. Happy baking! Irene@KAF
Absolutely fantastic!! Since I had SAF Red (not gold) yeast, I allowed for an additional 20 minutes of rising time and it came out perfectly. The flavour has just the right amount of sweetness for my taste. I made my first loaf yesterday to use for "breakfast dinner" last night, (French Toast), and it was fabulous. Another King Arthur winner! :)
This is the most awesome bread I have ever tasted. Very moist and slices perfect! FANTASTIC!!
My granddaughter wanted to make some bread today and she wanted white bread which I seldom make. I showed her all the white breads and she chose this one. I always have gold yeast on hand as well as red. So I said that this one would be fine. We had so much fun making it. My goal for this summer is for her to be able to read a recipe, make it, and also be able to half the ingredients and double the ingredients in her head for me. She is doing so well. When we are cooking or baking she measures out all of the ingredients. You should see how well she can fluff flour before she measures it. We let the kitchen aide do the initial kneading. She got the dough out of the dough bucket and kneaded it down. Really the only thing I did was the final shaping and slicing the loaf. The dough was a dream for her to work with. Why the 4 stars? Well Rowen gave it 5. But really when you are 7 years old and you tackle something like this it's hard to be objective. My 28 year son came by and his palette is a bit more refined. He thought it was way to sweet for P. J's. suggestion of egg or tuna salad, or a BLT. His comment was that it reminded him of a Mexican sweet bread. He also found it quite dry and this was after I had used gold yeast. He finally said Mom you have mad so many better white breads, don't waste the ingredients on this one. So the 7 yr old gives it a 5 and the 28 yr old gives it a 3 so I gave it a 4. P. J. thank you for a wonderful afternoon with my granddaughter, it was a win!