A customized print-friendly version of this recipe is available by clicking the "Print Recipe" button on this page.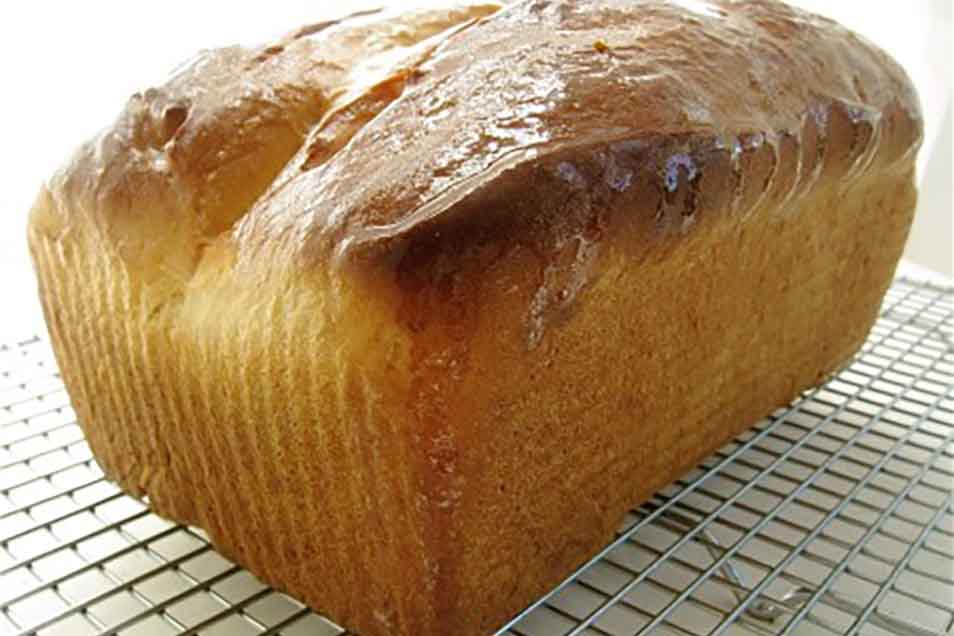 No need to buy those wide-body buttertop loaves you see at the supermarket — it's easy to make your own.
Ingredients
Bread
1 1/2 teaspoons salt
3 tablespoons potato flour or 1/3 cup dry potato flakes
1/4 cup sugar
2 1/2 teaspoons instant yeast, SAF Gold instant yeast preferred
1 large egg
2 tablespoons soft or melted butter
3/4 cup to 7/8 cup lukewarm milk*
*Use the greater amount in the summer, the lesser amount in the winter, and somewhere in between in the spring and fall. Your goal is a soft, elastic dough.
Topping
1 tablespoon butter, melted
Instructions
Mix and knead all of the dough ingredients together until you've made a smooth, though somewhat sticky dough. If you're uncertain about the amount of milk to use, start with the lesser amount; you can always add more as you go along.

Place the dough in a lightly greased bowl, or an 8-cup measure, which allows you to track the dough's progress as it rises. Cover, and allow the dough to rise for about 90 minutes; it should become quite puffy, though it may not double in bulk.
Gently deflate the dough, and shape it into a 9" log. Place it in a lightly greased 9" x 5" loaf pan.

Using a sharp knife, cut the loaf vertically down the middle from one end of the pan to the other, almost but not quite to the bottom of the pan.

Cover the loaf with lightly greased plastic wrap (or a shower cap), and allow it to rise until its top has crowned about 1" over the rim of the pan, about 45 to 60 minutes. Towards the end of the rising time, preheat the oven to 350°F.

Bake the bread for 35 to 40 minutes, until it's golden brown. Tent it lightly with aluminum foil after about 15 minutes of baking; because of its somewhat higher sugar content, this bread tends to over-brown if not covered.

Remove the bread from the oven, and brush it with melted butter. Cool completely before slicing.

Store bread, tightly wrapped, for several days at room temperature; freeze for longer storage.

Yield: 1 loaf, about 18 servings.
Tips from our bakers
When assessing whether your dough or bread has risen enough, go more by how much its volume has increased, rather than by how long it's been rising. Rising times in recipes aren't hard and fast; they're more a guideline, since there are so many variables that can affect how dough rises. If the recipe calls for your dough to "double in bulk," then that's the desired result; put away your stopwatch and let the dough rise on its own schedule.
If you don't use SAF Gold yeast, expect your rising times to be longer; SAF Gold is specially formulated to provide higher-sugar breads with a good, strong rise.