A customized print-friendly version of this recipe is available by clicking the "Print Recipe" button on this page.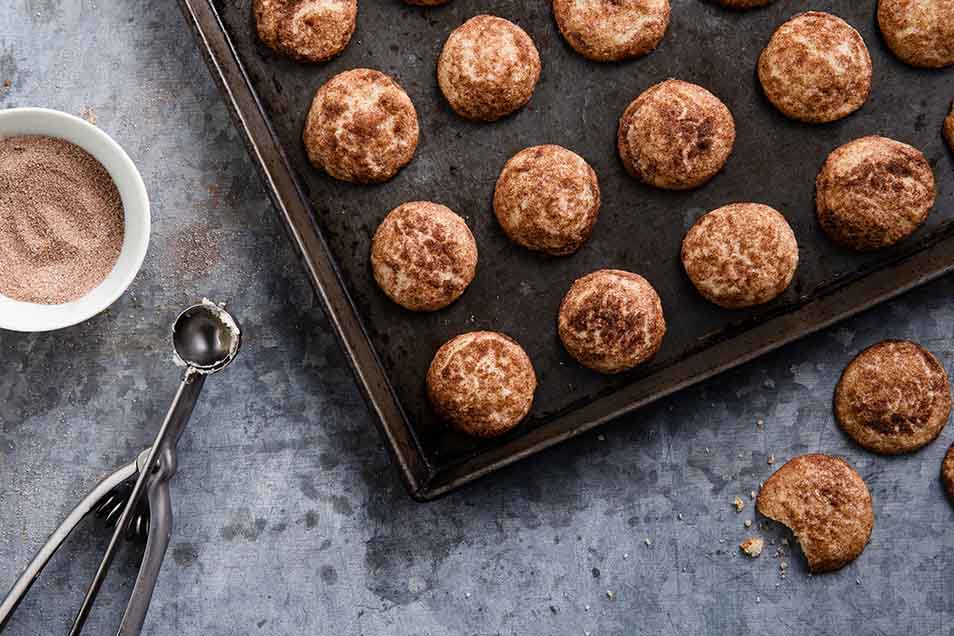 Most Snickerdoodle recipes rely on vegetable shortening for their crisp/crunchy texture. For those of you who like to avoid shortening, we offer this butter-based Snickerdoodle — which can be either soft and chewy, or crunchy, depending on how long you bake it. Interestingly, they're made with either all-purpose flour or bread flour — tasty evidence that bread flour's not JUST for bread.
Ingredients
Dough
8 tablespoons (1/2 cup) unsalted butter, at room temperature*
3/4 cup sugar
1 large egg
1 teaspoon vanilla extract
1 teaspoon baking powder
1/2 teaspoon salt*
1 1/3 cups King Arthur Unbleached Bread Flour or Unbleached All-Purpose Flour
*If you use salted butter, decrease the salt to 1/4 teaspoon.
Coating
2 tablespoons sugar
1 to 1 1/2 teaspoons ground cinnamon, to taste
Instructions
Preheat the oven to 375°F. Lightly grease (or line with parchment) two baking sheets.

Beat together the butter and sugar until smooth.

Add the egg, beating until smooth.

Beat in the vanilla, salt, and baking powder.

Add the flour, mixing until totally incorporated.

To make the coating: Shake together the sugar and cinnamon in a medium-sized zip-top plastic bag.

Drop small (1"-diameter) balls of dough into the bag; a teaspoon cookie scoop works well here. Roll/toss the cookies in the cinnamon-sugar until they're completely coated.

Space the cookies at least 1 1/2" apart on the prepared baking sheets. Use a flat-bottom glass to flatten them to about 3/8" thick; they'll be about 1 1/2" in diameter.

Bake the cookies for 8 minutes (for soft cookies) to 10 minutes (for crunchier cookies). Remove them from the oven, and cool them on the pan until they're firm enough to transfer to a rack to cool completely.
Nutrition Information
Serving Size

2 cookies

Servings Per Batch

21
Amount Per Serving:
Calories

100

Calories from Fat

40

Total Fat

4.5g

Saturated Fat

3g

Trans Fat

0g

Cholesterol

20mg
Sodium

85mg

Total Carbohydrate

14g

Dietary Fiber

0g

Sugars

8g

Protein

1g
* The nutrition information provided for this recipe is determined by the ESHA Genesis R&D software program. Substituting any ingredients may change the posted nutrition information.
Reviews
Really simple recipe that comes together super quickly. Plus the cinnamon makes the house smell divine. I love that it's only butter so I don't have to fuss with shortening like other recipes call for. Used half bread flour in half all-purpose flour, and the cookies baked at 8 minutes. They're so moist and chewy! I'm cooking at about 6,000 ft of altitude, so the only change I made to this recipe was adding an extra 15 g of flour.
I'm not sure what I did wrong. I don't blame the recipe but I'm not sure why it didn't turn out great. I used kerrygold unsalted butter at room temperature. I used my stand mixer with the beater attachment and also scraped the bowl after mixing. I used the bread flour since I had it on hand. I sifted the flour and after mixing all the ingredients it was very sandy, very hard to keep their shape as a ball, it would crack and I would have to reshape it, it was so hard to bind, I couldn't bind a teaspoon scoop. So I had to make the cookie dough balls bigger in order for it to bind and it still was pretty hard for it to keep its shape. So some cookies were bigger than others depending on how easily a scoop of dough was to bind it. I preheated the oven to 375 and baked it for 8 min. When they were done they were very hard and burnt/browned at the bottom. The taste was great but the texture was too hard. It was a very crunchy dry cookie not soft at all like an over toasted bread. Probably the worst snickerdoodle I ever made. Which is weird because they are pretty easy to make. I think I may have over beat the dough and it became too sandy? I probably needed to add more butter and reduce the temperature of the oven. Next time I might just try the cream of tartar version instead since I've had better experiences with that one. I'm really afraid to try the buttery version again because the butter is so expensive and I would be sad for it to go to waste if another batch doesn't turn out good.

We're sorry to hear that this well-loved recipe gave you some trouble. Most often when a cookie turns out dry and crumbly, it is because too much flour has snuck its way into the dough. To ensure you're using the right amount, we recommend checking out the "Recipe Success Guide," link next to the ingredients header above. You'll see that either measuring your flour by weight using a scale, or fluffing and sprinkling the flour into your measuring cup are the best ways to ensure your recipe turns out perfectly. If we can help troubleshoot or pick out a recipe that better fits your tastes, please give our Baker's Hotline a call at 855-371-BAKE (2253). We hope this helps and happy baking! Kindly, Morgan@KAF
I followed the recipe using KA bread flour with two (what I consider minor) deviations. I thought the dough was a bit soft, so I chilled it in the refrigerator for about 15 minutes prior to rolling the dough balls in the cinnamon and sugar mixture. I put the cinnamon sugar mixture in a small bowl and rolled the cookies around, rather than using a plastic bag. I agree with Michael from Chicago (recipe reviewed 7/22/2018) the texture was excellent and I suspect only the most discriminating cookie taste tester could distinguish these from classic snickerdoodles. Next time I make these I probably will include an 1/8 tsp of nutmeg (Michael's suggestion) or cardamom (my idea) in the coating mixture. As it is written, though his was an extremely easy and quick o prepare recipe with excellent results. The only other comment is that I agree with several others that mentioned the yield given is off. I only got 33 cookies. I even measured the diameter of the dough balls and they were pretty close to an inch, some a small bit smaller and few slightly greater, but there would be no way I would have gotten another nine cookies from this recipe.
These are great! Make sure that you use good cinnamon and vanilla! I always double this recipe it's way to good to only make a few. Also, you can make half the flour whole wheat and they are still great cookies!
So delicious and easy to make! I was looking for a cookie recipe that didn't involve brown sugar because I ran out and the roads are snowy/icy so I came across this one. It did not disappoint! Thank you!
My 6-year-old granddaughter who lives in California has only been to my house at Christmas time, so she identifies me with cookie-baking! So when we were at their house, she and I baked cookies. Naturally, I didn't have my recipes with me so of course I turned to King Arthur Flour. We made this recipe and it was better than other snickerdoodles I remembered. I have never been really satisfied with any sugar cookie recipe I have tried so I decided to make these for Christmas. I made one batch the usual way with cinnamon and another with no cinnamon but rolled in red and green decorating sugar. I was right! These (both ways) were my favorite cookies this year. They will be my sugar cookies from now on! Both with and without cinnamon!
I just made this recipe for the very first time and my whole family loved it. Like others, I added a teaspoon of cinnamon to the cookie dough. It will now become part of my regular baking repertoire. Thank you!
I miss the cream of tartar like Ashley from NC said. I really wish I had read it ahead of time...disappointed.

Hi there, Heather. We're sorry to hear that this recipe left you feeling dissapointed. We might suggest trying out our Snickerdoodles recipe. If we can help pck out a recipe that might be a better fit, please feel free to reach out to our friendly Baker's Hotline at 855-371-BAKE (2253). Kindly, Morgan@KAF
This snickerdoodle recipe is sooooo delicioussss! Thank you so much as always, KAF! And Merry Christmas to you guys & everybody reading the comments right now :) xxx
Great recipe! This is my second year making these at Christmas time. The only change I made was to add a 1/2 teaspoon of cinnamon and 1/4 tsp nutmeg to the cookie dough. Definitely a keeper!