A customized print-friendly version of this recipe is available by clicking the "Print Recipe" button on this page.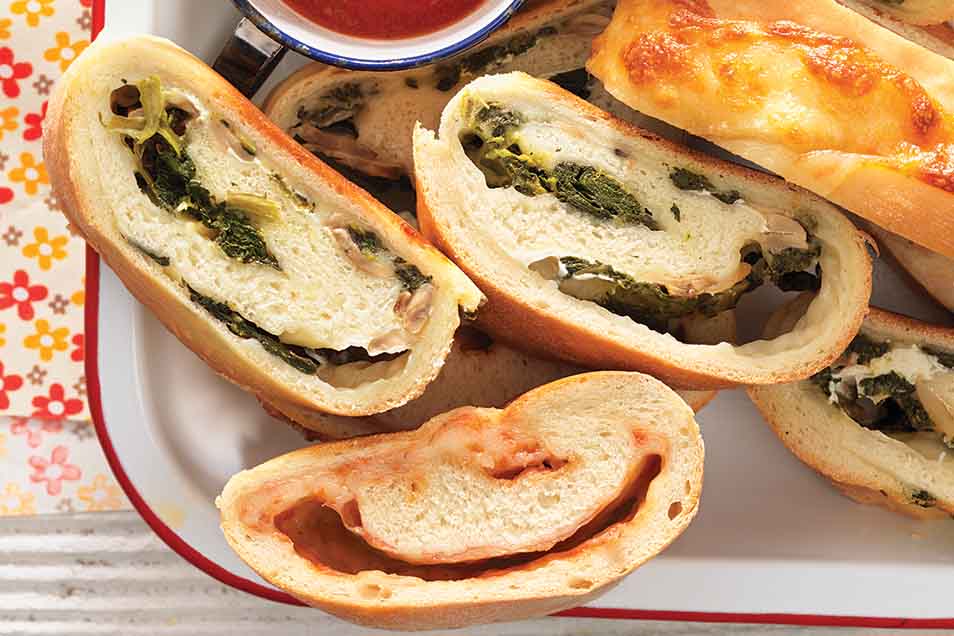 Calzone, a traditional Italian stuffed bread, can be shaped a couple of different ways. One simply rolls dough out like a pizza and folds it over like a turnover. The older and more traditional shape is like a jelly roll, or as the Italian translation of calzone suggests, a pant leg. We'll give you the "pant leg" version here — though feel free to go with the turnover shape if you prefer.

As for filling, the sky (or your imagination) is the limit! Simply choose your favorite combination of sauce, meats, cheeses, and vegetables; we give you suggestions below. This is a great time to use up those odd bits of leftover (but quite tasty) savory ingredients. Notice we're not including any specific amounts; that's up to you, and your preference for minimalist vs. overstuffed sandwiches, to decide.
Ingredients
Dough
2 cups lukewarm (110°F) water
1 tablespoon sugar
2 1/4 teaspoons instant yeast or active dry yeast, or one packet active dry yeast
1 tablespoon salt
Filling
sauce: marinara, pizza, pesto, etc.
meat: sliced ham, pepperoni, prosciutto, salami, smoked turkey, cooked and crumbled hamburger, sausage, etc.
cheese, sliced or grated: provolone, mozzarella, Parmesan, Gorgonzola, feta, etc.
vegetables, chopped or sautéed: onions, scallions, hot or sweet peppers, mushrooms, garlic, shallots, olives, capers, sun-dried tomatoes, artichoke hearts, spinach, etc.
Topping
1 large egg
1 tablespoon water
poppy or sesame seeds, optional
Instructions
To make the dough: Mix all of the ingredients together until the dough pulls away from the sides of the bowl. Turn the dough out onto a floured surface to knead.

Knead the dough until it's smooth and supple, adding more water or flour as needed.

Place the dough in a bowl. Cover the bowl and allow the dough to rise for 1 hour, or until it's puffy.

Gently press the dough down, and turn it out onto a lightly floured surface. Alternatively, you can leave dough in the bowl and let it rise again, for about half the time of the initial rising; this will produce a finer-grained product.

To make the calzones: Cut your dough into 2 pieces. Roll out each piece into a 10" x 14" rectangle. Spread a thin layer of sauce on first. Then layer it with your choice of ingredients.

Starting with the long edge, roll the dough around the filling jelly-roll style. Pinch the seam and ends together very tightly and place the roll on a parchment-lined baking sheet.

Cover the calzone with a damp towel or plastic wrap (grease the underside of it so it won't stick to the dough). Let it rise for 45 minutes to an hour.

Preheat your oven to 450°F. To make the crust crunchy, preheat a metal roasting pan on the oven bottom.

To make the topping: Whisk together the egg and water to make a thin glaze.

Slash the tops of the loaves,then brush with the egg wash and sprinkle with sesame or poppy seeds. Just before you put the calzone in the oven, pour 3 to 4 cups of water into the roasting pan.

Bake for 15 minutes at 450°F. Turn the heat down to 400°F and continue baking for a further 15 minutes, or until the crust is golden brown.

To serve, allow the calzone to cool and "set" for 10 or 15 minutes. Then cut it in slices.

For traveling, allow it to cool completely, slice, and wrap in an airtight bag. Store in the refrigerator for up to 3 days, and reheat briefly before serving.
Tips from our bakers
Filling tips: Don't make the filling too juicy. Don't shy away from strong-flavored ingredients; they'll be moderated by the calzone crust. When adding fillings, leave enough room around the outside edge of the dough so you can seal it tightly; don't overfill, or you won't be able to seal it at all.