A customized print-friendly version of this recipe is available by clicking the "Print Recipe" button on this page.
Canapé Pumpernickel Bread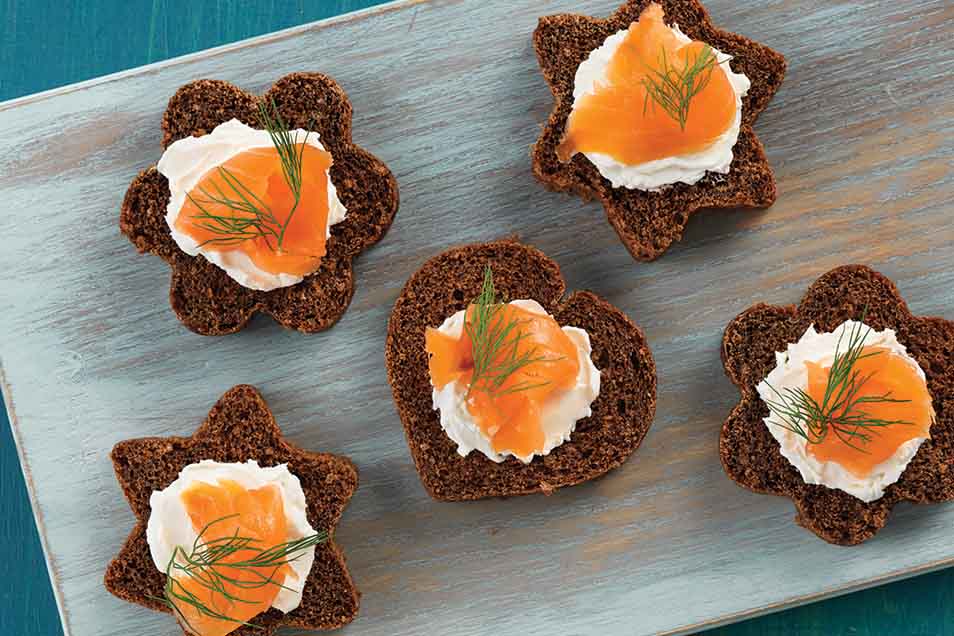 For pretty hors d'oeuvres, slice this shaped bread very thin, and top with your favorite spread.
Instructions
Combine all of the ingredients, and mix and knead — by hand, electric mixer, or bread machine — to make a stiff, sticky dough.

Cover the dough, and let it rise until it's almost doubled in bulk, about 1 hour.

Divide the dough into three pieces, and shape them into logs.

Place in greased canapé tubes, attach caps to ends, and allow the loaves to rise until they've filled the tubes 3/4 full, about 30 minutes. If you're not using canapé tubes, shape the dough into three long, thin loaves, and place on a lightly greased baking sheet.

While the loaves are rising, preheat the oven to 375°F.

Bake the bread for 35 to 40 minutes, until the crust is brown and the internal temperature registers at least 190°F. If you're baking loaves without the tubes, bake for 20 to 25 minutes.

Remove the bread from the oven, remove the end caps, and cool in the tubes for 10 minutes. Remove from the tubes, and cool completely on a rack.

Store, well-wrapped, for 3 days at room temperature, or freeze for up to a month.
Tips from our bakers
To keep the canapé tubes from rolling around the oven, put them in a 9" x 13" pan; the three will fit perfectly together.
For hors d'oeuvres, spread with savory toppings, or with small bits of cheese, meat, and vegetables. Here are some suggestions: smoked salmon, cream cheese, dill and/or sliced/chopped red onion, and/or capers; Brie, a sliced grape, and a dab of apricot jam or marmalade; Swiss cheese, a bit of sauerkraut, shredded pastrami or corned beef, and a dollop of Russian or Thousand Island dressing; cheese and sausage (or ham) and mustard.
Reviews
Made this for a German friend, as we can't get this bread here. It was what she was seeking and she loved it. First thing she did was smell it and she smiled, YAH, she said, this was the one. Kept a loaf back for ourselves. It was indeed really good. Only problem (hence the 4 stars) the rye chops were pretty chewy. It was pretty obvious they were there. Any way around this?

Try soaking your rye chops in 1 cup of cool water overnight before draining and adding to your dough. This will give them a softer texture, which we hope you find more pleasant. Be prepared to add an additional tablespoon or two of flour to compensate for the extra liquid absorbed during soaking. Happy baking! Kye@KAF
I used the tubes with this recipe and everything worked well. I did not use caramel coloring so my loaves were not that beautiful dark color but the flavor was good. I also didn't have pumpernickel flour and used more rye and ww flour to compensate. I've ordered pumpernickel flour and will be making them again soon so hopefully that will increase the flavor.
I so wanted this recipe to work... I love retro appetizers for a dinner party. Took me three tries to get it right, but when it worked, it was terrific! The magic, for me, was to add a Tbsp of Rye Bread Improver. With it, the bread rose to fill the canape tubes (which was my problem on the first two tries), and it was delicious! Used cracked wheat (although I'd like to try it with rye chops, if they were easier to find). Served with Camembert, and it was a hit!
Okay, I've made this bread twice: once with an oval banneton and once with the three canape forms. The first version turned out very dense, quite nice flavor, easy to slice thin. I made no particular adjustments, except I used freshly milled rye, hard red wheat, and AP. The second version I decided to try the forms, and also added some caramel color (made the night before with sugar, h20, very dark brown, but not quite burnt). Total weight after proofing was ~930g, so I placed 3 @ ~310 into the forms. Result was pretty underwhelming: color=no appreciable change. Forms=not really enough to fill the entire space, so shape=not so good. So, I would have to say...no, I think I either need another recipe, different color source, or longer rising time, but canapes--? these ain't.
We would love to talk to you about this recipe if you are up to trying again. We have a toll free Bakers' Hotline, 1-855-371-2253 and we are here every day ready to troubleshoot! Elisabeth
I have these pans but do not care for pumpernickle bread. I would like to use these with other bread dough recipes but am unsure as to how much dough each tube will accommodate. Could you give me an approximate weight for each tube. Many thanks KAF!
This recipe yields about 32 ounces of dough (or two pounds)-dividing it into 3 would be 10 - 11 ounces of dough per tube. Other tips suggest using a fine grained bread like pain de mie. Using other recipes will take experimentation to discover how much is enough. Happy Baking! Irene@KAF
I've baked dozens of rye/pumpernickel bread and this recipe is by far the best! But I make two minor changes as follows: one Tablespoon of caraway seeds but only one tablespoon of caramel color...THAT IS IT!! Also the KAF 2958 loaf pan is perfect for this recipe. D.....:)
I halved the quantities and shaped the dough into a 13-inch baguette. It's the first rye bread I have ever baked and like it a lot. Perfect with spreads and cheese.
Kudos to you for your success and creative rye bread variation! Happy Baking! Irene @ KAF