A customized print-friendly version of this recipe is available by clicking the "Print Recipe" button on this page.
Candied Cherry and Almond Biscotti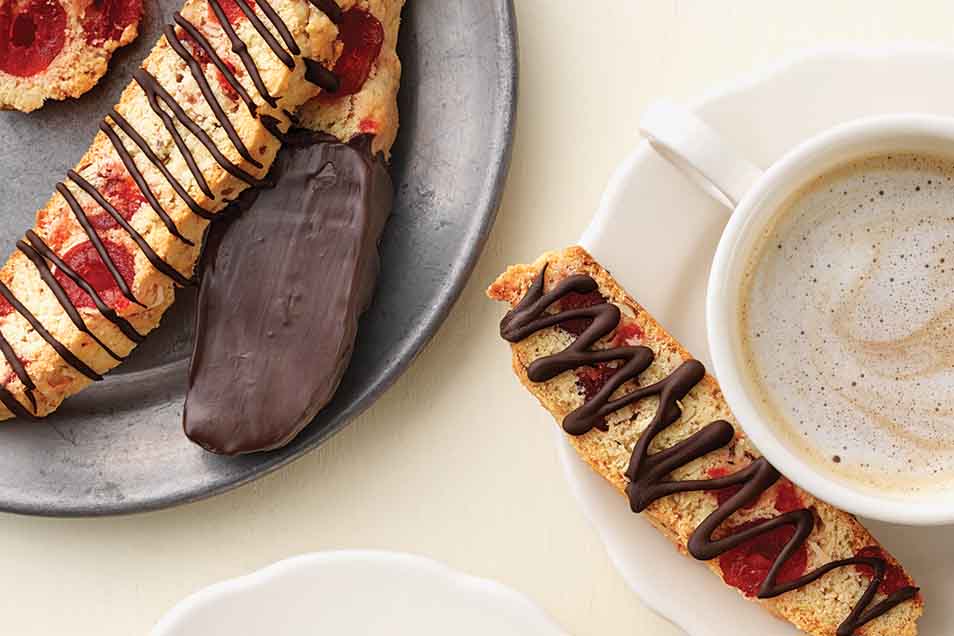 We feature the classic flavor combination of cherries and almonds in this crisp, elegant biscotti recipe. The candied cherries lend color and cheer, while the delicate toasted almond flavor might make you think of roasting nuts on an open fire.
Instructions
Preheat the oven to 350°F. Lightly grease a biscotti pan (see "tips," below, for a substitute pan suggestion).

Beat the butter, sugar, salt, extracts, and baking powder until smooth and creamy.

Beat in the eggs; the batter may look slightly curdled.

Stir in the flour; the dough will be smooth and sticky.

Stir in the almonds and cherries.

Place the dough into the prepared biscotti pan, leaving a ¾" margin free on each side of the pan to allow for expansion. Smooth the top of the dough with a wet spatula or bowl scraper.

Bake the dough for 35 minutes; remove it from the oven, and cool for 1 hour. Turn it out of the pan.

Slice the log diagonally into 1/2" to 3/4"-thick pieces. Place them on edge onto a greased or parchment-lined baking sheet.

Preheat the oven to 325°F. Bake for 20 to 25 minutes, until golden brown. Remove the biscotti from the oven, and allow them to cool right on the baking sheet.

Once the biscotti are completely cool, melt the chocolate, and dip the ends of the biscotti into the melted chocolate.

Yield: 12 to 18 large biscotti.
Tips from our bakers
If you don't have a biscotti pan, lightly grease a baking sheet (or line it with parchment). Turn the dough out onto the baking sheet, and form it into a flattened log about 13" x 3". Bake the biscotti for 30 to 35 minutes; let cool for 15 to 20 minutes. Continue with the recipe beginning at step #8.
Reviews
I had no idea how easy it is to make biscotti. I made these as gifts and they were a huge hit. Making my own candied cherries failed miserably, so I ended up using store bought but I think it was just as good.
A friend shared this recipe with me. My first try making biscotti years ago was a failure. This one was so easy, tasty and my family and friends that I have shared it with love it. I made it on the cookie sheet with parchment paper the first few times but have asked for a biscotti pan for Christmas. I have substituted pistachio and craisins as an alternative also.
Was looking for a recipe to use up some candied cherries, & this one sounded & looked delicious. They were easy to make & absolutely delicious! I drizzled them with melted semi-sweet chocolate. Perfect biscotti!
I finally have a simple easy delicious biscotti recipe that I can eat with my cappuccino. I love it. Thank you. I will be experimenting with it more by adding some other flavors like orange zest, choc chips, toasted sliced almond, raisins and I will definitely dip it next time in choc ganache as well. etc.
This recipe was excellent. I will have to make a double batch next time. They go fast , and rightfully so..
I love all of your biscotti recipes... so easy and delicious. These were a great treat, much enjoyed over the Christmas holiday.
I have made these several times and love the recipe and end product. I have substituted pistachios for the almonds and have used bothe red and green candied cherries for an even more Christmasy color scheme. The biscotti are very much appreciated gifts.
I made these for the first time on December 23rd of this year. I brought them to a family gathering on Christmas, and they were a big hit with my biscotti loving relatives. I did cut up the cherries, using red and green cherries. I didn't dip them in chocolate, but might try that next time. Definitely a keeper! I'm placingnit in my biscotti file folder. :-)
Delicious. Highly recommend. Easy to prepare. Gave to friends and everyone loved them. Will definitely make again.
We agree that the cherries need to be sliced for even distribution throughout the dough. We also recommend making them several days in advance because the flavor has improved over the four days since we baked them. We substituted spenda for the sugar and it worked just fine. We did not use the chocolate on this batch but the flavor is delicious without it. Yum!!! This recipe is a definite keeper!