A customized print-friendly version of this recipe is available by clicking the "Print Recipe" button on this page.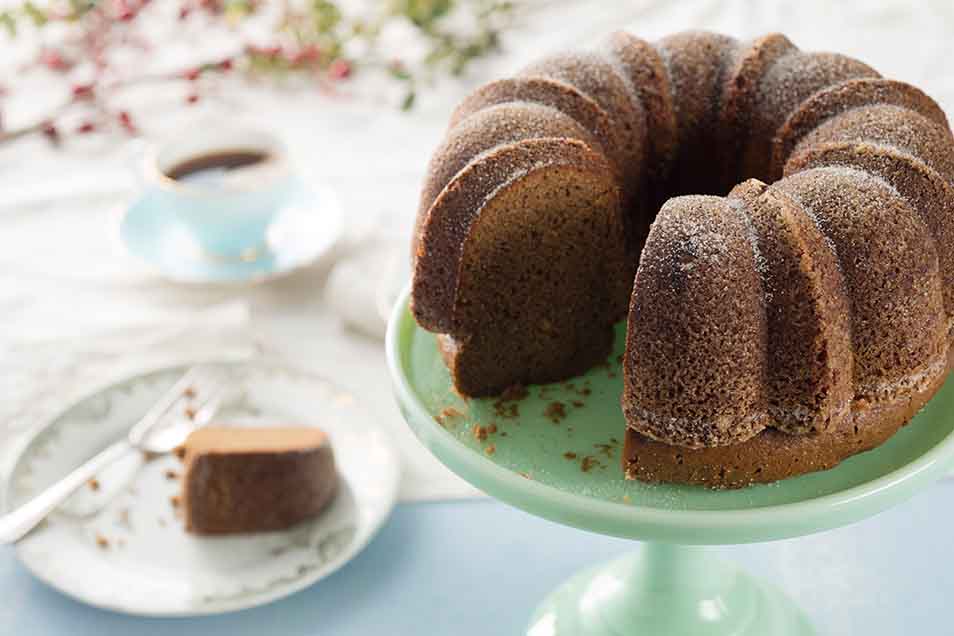 "Why isn't coffeecake made with coffee?" Have no fear; this cake, perfect for coffee time, IS made with coffee: espresso powder, to be exact. Add a good helping of coffee liqueur (or strong brewed coffee), and your "java tooth" will be totally satisfied.
Ingredients
Cake
1 1/2 cups sugar
2 teaspoons baking powder
1/2 teaspoon baking soda
1 teaspoon salt
1/4 cup espresso powder
4 large eggs
1 cup vegetable oil
1 cup whole milk
1/2 cup Kahlua or coffee liqueur; or brewed coffee (cold, not hot)
Instructions
Preheat the oven to 325°F. Use solid shortening to grease a 10- to 12-cup bundt pan. Stir together the sugar and espresso powder topping, and use it to coat the pan well, tapping out the excess.

In the bowl of your mixer combine the flour, sugar, baking powder, baking soda, salt, and espresso powder. Mix on low speed to combine.

Add the eggs, vegetable oil and milk. Beat on medium-high speed for 2 minutes. Stop the mixer and scrape the bowl.

Add the Kahlua/coffee liqueur or brewed coffee, and beat for 2 minutes.

Pour the batter into the prepared pan, spreading it level.

Bake the cake for 60 to 65 minutes, or until a long cake tester come out clean. Remove the cake from the oven, cool it in the pan for 10 minutes, then turn it out onto a rack to cool completely before serving.

Yield: 16 to 18 servings.
Reviews
I reduced the flour to 2 cups, the cake was delicious and moist. Love the instructions to coat the pan with sugar & espresso powder, it made for nice crisp edges from my bundt pan.
I love the taste. I used Nescafe too, but for the part when you supposed to used coffee or khalua I used dominican coffee(is almost like colombian or cuban coffee) with Khalua and the combination was great.
Was easy to make and coffee anything sounds great but the flavor was not very good. I don't like sweet cake but this was missing something.

You may consider switching up the liquid you used as this can significantly impact the flavor of the final cake. Try a strong, bold coffee and also adding 2 teaspoons of vanilla extract to the batter. This may kick the flavor up a notch to give you just what you are looking for. Happy baking! Kye@KAF
When I tried the dough before I baked it, it was amazing! After I baked it it was a disappointment. I will try now to find some kind of topping to put on top to change the taste. So sorry that this recipe did not meet your expectations.I invite you to chat with a Baker Specialist to discuss what might have happened. You can reach the hotline at 1-855-371-2253. JoAnn@KAF
Made this today as a gift for our veterinary clinic...got RAVE reviews! Everyone loved that this was not an overly sweet cake but with a coffee kick. Recipe was super easy to make, loved coating the pan with the espresso/sugar mixture...have to remember this for other recipes. Definitely want to try again...maybe adding cocoa nibs or mini chocolate chips next time???

Chocolate chips sounds fabulous to us! Like a mocha cake! Yum. Kye@KAF
I'm with Colleen on this one. The recipe was easy to follow and the cake looked beautiful. The texture was very good. The flavor was completely disappointing. I love coffee and all things coffee-flavored and didn't even finish one small slice. My family was not impressed, either. This was only one of a very tiny handful of KF recipes that weren't worth the effort. I've made hundreds of KF recipes.
Love for this cake... it was AMAZING, combining my two favorite things in the world, cake and CAWFEEE. I did substitute almond milk for the whole milk, it worked out fine. Will make again!!!
I made 1/2 batch of this recipe and used my small bunt pan which I purchased from KAF. they both came out beautifully. I used the special dark kahlua which I believe gives a more intense coffee flavor. texture is dense and moist and definitely has a rich coffee flavor. I didn't give it a 5 star as it does need just a bit more say a chocolate glaze or mini chocolate chips in the batter. I will make this again and glaze this cake.
I was really excited about this recipe because 1) It's from King Arthur Flour 2) I LOVE coffee and coffee flavored anything. The preparation was not difficult and I really liked the idea of dusting the pan with sugar and espresso powder. However, overall, I was unimpressed with the flavor. My boyfriend described it as tasting "like banana bread without the bananas." I will continue using at least one King Arthur recipe a week, but I probably won't make this particular cake again.