A customized print-friendly version of this recipe is available by clicking the "Print Recipe" button on this page.
Caramel Apple Bread Pudding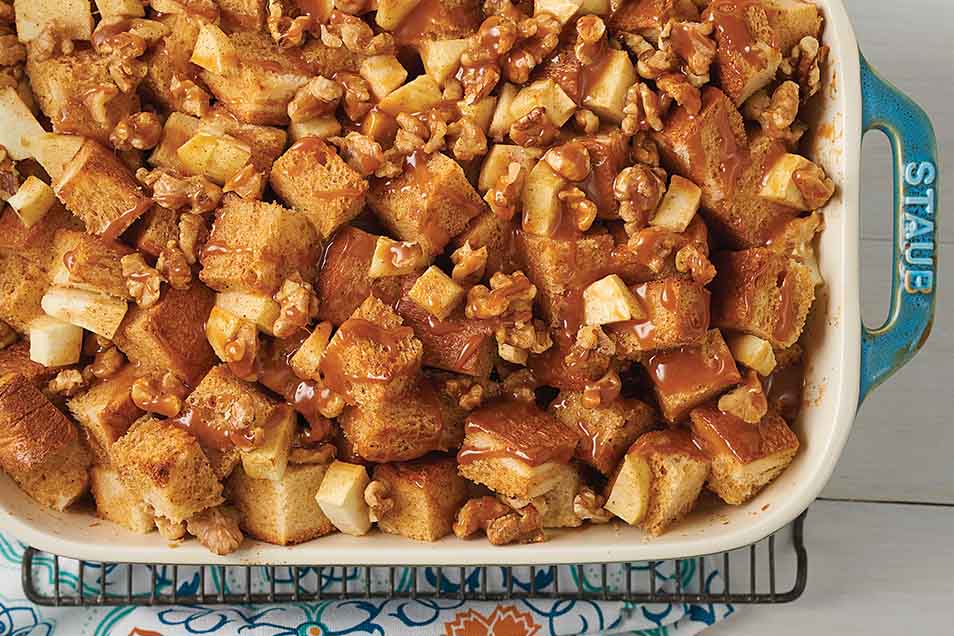 Warm, sticky, and custard-y, this recipe transforms our favorite fair treat into a spoon-able dessert. It's heavy on the apples, studded with caramel and nuts, and comes out soft and pudding-like on the bottom, and crispy/toasty on the top. Finished off with a heavy drizzle of caramel, this dessert is one not to skip this fall.
Ingredients
Pudding
3 large eggs
1 large egg yolk
1/4 teaspoon salt
1 1/4 cups milk
3/4 cup heavy cream
1/4 cup sugar
1/4 cup boiled cider or apple juice concentrate
1 teaspoon vanilla extract
1 1/2 cups diced (1/2") unpeeled apples (about 2 small or 1 medium to large apple)
1 tablespoon apple pie spice
1/2 cup chopped walnuts, lightly toasted
6 ounces caramel from a block, cut into 1/2" pieces (a heaping 1/2 cup, packed; or about 18 individual candies)
6 cups cubed leftover bread; pain de mie or soft white sandwich bread are good options
Topping
2 ounces caramel (a scant 1/4 cup, packed, or about 6 individual candies)
1 tablespoon boiled cider
Instructions
Preheat the oven to 325°F. Butter a 1 1/2- to 2-quart baking dish.

To make the pudding: Whisk the eggs and egg yolks in a large bowl. Add the salt, milk, cream, sugar, boiled cider, and vanilla, continuing to whisk.

Toss the apples with the apple pie spice then with the walnuts, caramel pieces, and the bread cubes. Spread the mixture into the prepared pan.

Pour the egg mixture into the pan, cover, and refrigerate for at least 1 hour or up to overnight.

Bake the pudding for 45 to 55 minutes, until it is puffed, lightly browned, and a knife inserted in the center comes out clean.

Allow the pudding to cool for 15 minutes.

In the meantime, prepare the topping: Combine the caramel and boiled cider in a small saucepan set over medium heat or in a microwave-safe bowl or measuring cup.

Heat the topping, stirring occasionally until the caramel melts and the mixture is smooth.

Drizzle the caramel over the warm pudding and serve.

Wrap any uneaten bread pudding tightly with plastic and refrigerate. Reheat individual servings in the microwave, or the whole pan, covered, in a 300°F oven.
Reviews
This was really easy to make the night before and bake in the morning. Delicious, light, fluffy. Tons of apple, caramel, and cinnamon flavor. I used Sara Lee Artisano bread, and Kraft caramels because I was in a rush. The bread was perfect. I think I need to use better caramels or make my own next time though and it will be even better. And.... the leftovers will serve double duty as dessert with some bourbon sauce!!
My husband doesn't usually like bread puddings because he thinks they are just kind of meh . He actually said he was surprised that this one was nice and flavorful.