A customized print-friendly version of this recipe is available by clicking the "Print Recipe" button on this page.
Caramel-Apple Cinnamon Buns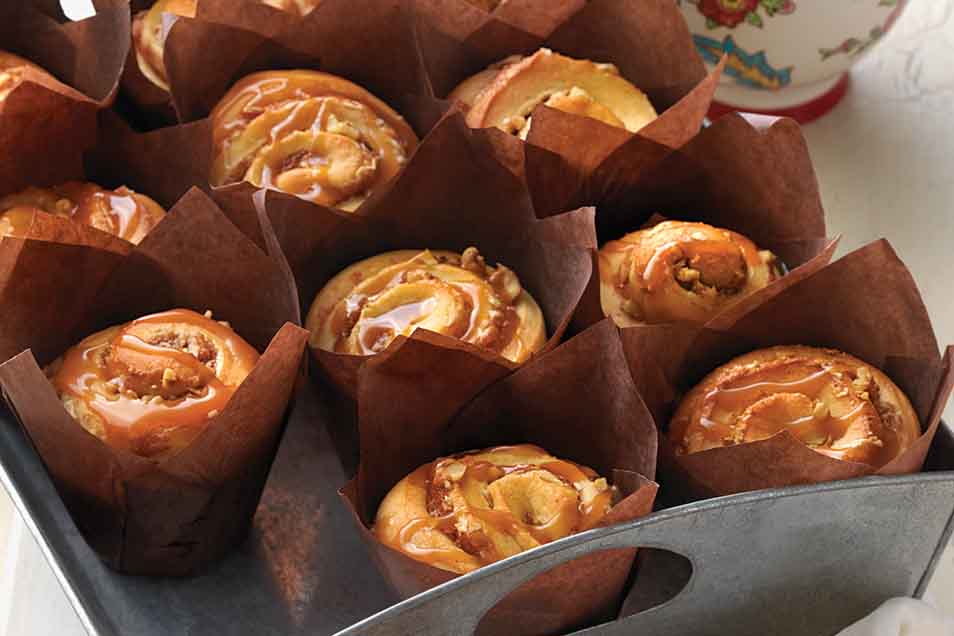 This recipe is a great new twist on cinnamon buns. The apple and caramel mirror the flavors found in one of our favorite autumn treats, caramel apples. These buns are best served warm; so if you have to wait awhile before sharing, gently reheat in the oven for 5 to 10 minutes before serving.
Ingredients
Filling
1/2 cup sugar
3 tablespoons Instant ClearJel or King Arthur Unbleached All-Purpose Flour
1 teaspoon ground cinnamon
1 cup peeled, grated apple (1 to 2 large apples)
1 tablespoon lemon juice
1 cup chopped walnuts, optional
Topping
1/2 cup caramel sauce (see tip, below)
Instructions
To make the dough: Mix and knead all the ingredients — by hand, mixer, or bread machine — to make a smooth, slightly sticky dough.

Cover the dough, and let it rest for 1 1/2 to 2 hours, until doubled in bulk.

To make the filling: Combine the sugar, ClearJel, and cinnamon.

Toss the apples with the lemon juice; combine them with the sugar mixture.

Transfer the dough to a lightly greased work surface. Roll it into a 12" x 24" rectangle.

Spread with the filling, and top with walnuts.

Starting with a long side, roll the dough into a log and seal the edge.

Cut 12 equal slices; place them cut-side up in standard muffin cups lined with lightly greased baking papers.

Cover the buns and let them rise until puffy, 60 to 90 minutes. Towards the end of the rising time, preheat the oven to 350°F.

Bake the buns for 20 to 25 minutes, until lightly browned.

Remove the buns from the oven. Cool for 10 minutes, then drizzle with caramel sauce.

Yield: 12 buns.
Reviews
I made these for Christmas morning breakfast. I made and shaped the dough into rolls the day before, and put them in the fridge. I removed them from the fridge about 1.5 hours before I baked them. I topped them with the caramel sauce and then a bit of cream cheese icing. They looked beautiful and tasted delicious. Definitely will make them again.
I made these for the New Mexico State Fair 2013. I placed 1st. in cinnamon rolls,then best of rolls at the fair, and then they won best of show of all the bread entries. I made exactly it like the recipe and they were wonderful, I have received many compliments on them. I highly recommend this recipe. Thanks for a great recipe.
These were doughy duds. Grating the apples brought out a lot of juice that I drained but there was just too much. I had to bake them for an additional 15 minutes to try to get the bottoms cooked. I didn't have the clear gel but used tapioca flour instead. I don't believe it was the key to making this recipe work. The apple flavor was minimal. Maybe it would have better to cook the apples then use as a filling along with a traditional cinnamon sugar combination and possibly boiled apple cider to boost the apple flavor.
Please call our Baker's Hotline, we should be able to help troubleshoot this recipe with you.-Jon 855 371 2253
These are so tender and flavorful. I used all the ingredients in the recipe except for the Buttery Sweet Dough Flavor, substituting it with Tahitian vanilla extract. I used a salted caramel sauce from Trader Joe's but I think I will try a regular caramel sauce or make my own next time just to taste the difference. The apple filling was just right, especially if you use KAF's cinnamon. It was a hit with the family.
I have made this recipe twice in the last week. The second time I made it I made the filling and then halved it (so instead of 1 c. apples I used 1 1/2 c., 3/4 c. granulated sugar, 1 1/2 t. cinnamon etc.). It was better this way. I made them for a farmer's market that I bake rolls for and it was a hit. I will definitely make these again. Thanks for the recipe.