A customized print-friendly version of this recipe is available by clicking the "Print Recipe" button on this page.
Caramel Bread Pudding with Coconut and Banana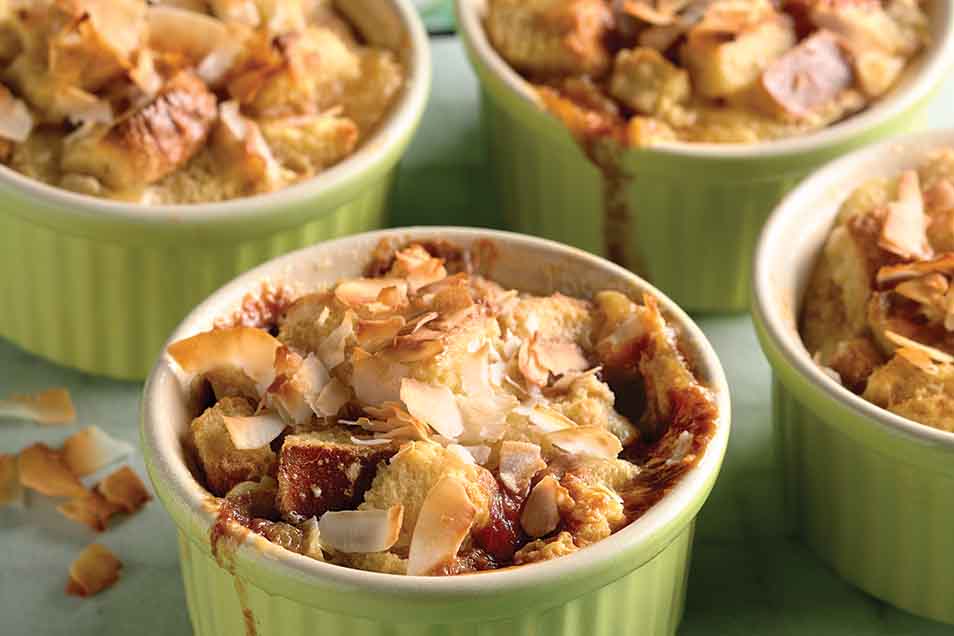 As far as comfort foods go, bread pudding ranks way up there. We've enhanced this one with gooey caramel, fresh bananas, and coconut.
Ingredients
10 to 11 ounces white sandwich bread (about half a loaf, 10 to 12 slices), cubed
1/2 cup caramel from a block, cut into 1/2" pieces
2 medium bananas, peeled and sliced
8 large egg yolks
1 cup sugar
1 1/4 cups milk
1 1/4 cups heavy cream
1/2 cup coconut milk powder
1/2 cup coconut flakes
Instructions
Preheat the oven to 350°F.

Place the bread cubes on a baking sheet, and toast until slightly crusty on the outside but still soft on the inside, about 10 minutes.

Transfer the bread a large bowl, add the caramel pieces, and toss to combine.

Grease eight 5-ounce or 6-ounce ramekins, and place them on a baking sheet. Line the bottoms of the ramekins with the banana slices.

Beat the egg yolks and sugar together until pale and creamy.

Heat the milk and cream to simmering, then add the coconut milk powder, stirring until dissolved.

Add the milk mixture to the egg yolks/sugar, stirring until combined.

Pour the milk/egg mixture (custard) into the bowl with the bread cubes. Allow the bread to absorb the custard for 15 minutes.

Transfer the bread/custard to the prepared ramekins; it'll be the consistency of lumpy batter. Sprinkle coconut flakes on top of each of the puddings.

Bake the puddings for 30 minutes, until the coconut is golden. Let the puddings rest for 10 minutes, then serve warm.

Yield: 8 individual puddings.
Tips from our bakers
This pudding can also be made in a 9" square cake pan. Bake for 40 to 45 minutes, until the center looks set (no longer liquid).