A customized print-friendly version of this recipe is available by clicking the "Print Recipe" button on this page.
Caramel-Nut Cinnamon Buns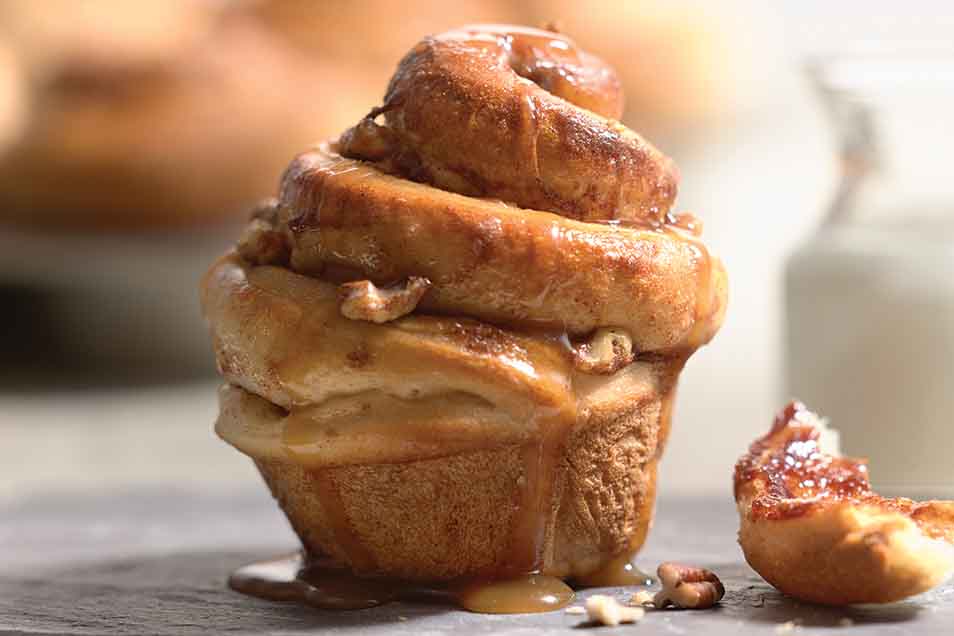 Drizzle these delicious buns with caramel sauce just before serving.
Ingredients
Filling
1 cup Baker's Cinnamon Filling* mixed with 1/4 cup water
1 cup chopped walnuts, optional
1/2 cup caramel bits, optional
*Or substitute 6 tablespoons butter, 1 cup brown sugar, and 3 tablespoons ground cinnamon for the Baker's Cinnamon Filling mix and water (don't add water if you make this substitution).
Glaze
1/2 cup caramel bits, block caramel, or unwrapped vanilla caramel candies
3 tablespoons heavy cream or half & half
Instructions
Combine all of the dough ingredients, and mix and knead them together — by hand, mixer, or bread machine — until you've made a soft, smooth dough.

Cover the dough, and let it rise for 1 hour, or until puffy.

While the dough is rising, lightly grease 12 muffin cups, or a baking sheet.

Gently deflate the dough, and roll it into an 18" x 18" square.

Spread with the prepared cinnamon filling, then sprinkle with the chopped nuts and caramel bits, leaving an uncovered strip about 1" wide along one side.

Roll into a log starting with a filling-covered end opposite the unfilled end. If you want the buns to pop like a corkscrew, as shown in the picture, roll the dough tightly, stretching the dough as you roll it up.

Slice the log into 12 pieces; if your knife sticks, dip it in hot water between cuts. Or use dental floss to cut the dough.

Place the buns in the prepared muffin pan, or space them on a baking sheet.

Cover, and let the buns rise until puffy, about 60 minutes. Towards the end of the rising time, preheat the oven to 350°F.

Bake the buns for 20 to 24 minutes, until they're a light golden brown.

Remove them from the oven, and place on a rack to cool slightly, while you make the glaze.

Melt the glaze ingredients together over low heat or in a microwave, stirring until smooth.

Spoon over the buns.

Serve warm, or at room temperature.

Yield: 12 buns.
Reviews
These take a little time (due to the double rise) but are not hard to make and well worth the effort. The dough was a nice consistency and very easy to roll out, fill, and re-roll. No problems cutting whatsoever. I followed the recipe for the homemade cinnamon filling (next time, I might add a touch more butter to make it a little more spreadable), used non-fat dry milk powder, skipped the grapeseed flour, and used KAF's block caramel for the filling and the glaze. In the words of my husband, 'these are pretty, well... awesome...'. I've also learned that using bottle water really helps with yeast dough performance, consistency and handling as our local water has a very high mineral content and gave me headaches with yeast doughs in the past. Caramel lovers and those with a sweet tooth will absolutely love these. Thank you for the great recipe!
I realize that no one eats cinnamon buns for their health, but these are just gratuitously calorific and sickly sweet. If I make these again, I'll either make half the filling and half the topping, or more likely forego the topping altogether.
Amazing recipe and what a soft dough to work with! When reading the instructions, I noticed the part about stretching the dough when rolling it tight in order to get the corkscrew effect. Earlier this week, I've made your other recipe, the Soft Cinnamon Rolls, and due to a "famous" British Baking show that showed how to roll the dough, I stretched it and got huge corkscrew shaped Cinnamon Rolls, so I've learned something about "when to stretch it and when not to"! Thank you for providing outstanding details throughout. I make my own Butterscotch Sauce, so I used that and sprinkled just a few flakes of Fleur de Sel instead of nuts as I'm highly allergic to them. The buns were heavenly!
I needed to use up some store bought pizza dough that was starting to deflate & used this filling recipe with a few pecans. It was incredible - the best cinnamon rolls I've ever had or made.
I'm giving this 5 stars for the dough - such a beautiful dough to work with. I cut the recipe in half and added a little lecithin to make a small batch of cinnamon roses.
Made these for work pretty much as written, except toffee bits for caramel bits. They didn't "pouf" quite like the photo, but most were at least half way. I was concerned about the sweetness of the caramel topping, but in the end I thought the quantity was a little skimpy. Not the very best I've baked, but got very good reviews from my co-workers.
Absolutely delicious! If you like sweet rolls, this is the recipe for you! Easy to assemble and stunning presentation.
Gorgeous, delicious, and worth every minute of preparation. I included the caramel bits and highly recommended that you do the same. Mine popped, mostly lopsided up and over, but they were still an impressive presentation and the taste was outstanding. I made these, and then I tried the Cinna-Buns recipe, which were good, just not as special.
These rolls were very simple to make. During the busy holiday baking season I used my bread maker to prepare the dough late one evening and baked them the next morning. Turned out beautifully. I used a jumbo cupcake tin that usually makes 6 oversized cupcakes. The resulting rolls reminded me of huge bakery style buns. This recipe made for very good easy to roll dough. Kind of messy placing in pan. The bread was not flaky , but was very soft in texture, not as gooey as I would have expected with the caramel bits. I used the recipe for the filling substitution. Tastes great. Made 2 additional batches since, same great result.
I love this recipe. They taste fantastic and are a hit with my family and friends. I was wondering has anyone tried making them in a large muffin pan rather than a standard size? Any thoughts on whether or not it would work in the large pan?
The only reason this would be necessary is if you were going to actually enlarge the size of the rolls. Otherwise, the standard sized pan is best. ~Amy