A customized print-friendly version of this recipe is available by clicking the "Print Recipe" button on this page.
Caramelized Onion and Brie Pizza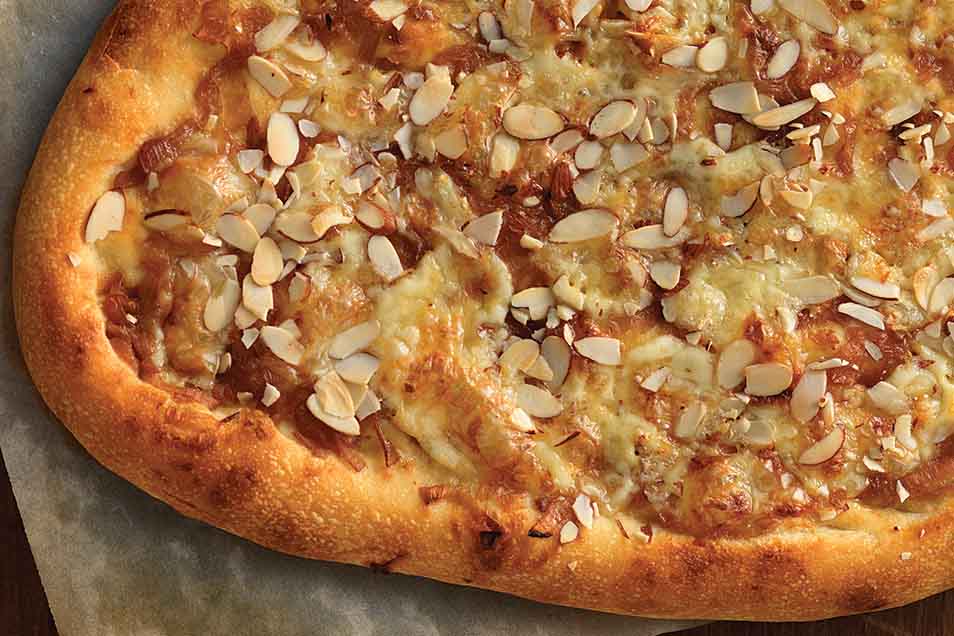 This pizza's rich topping features the subtle sweetness of caramelized onion.
Ingredients
Topping
2 teaspoons vegetable oil or butter
4 large yellow onions (2 pounds), thinly sliced (about 7 to 8 cups)
1 tablespoon red wine vinegar*
1 tablespoon sugar
1/4 teaspoon salt
14 to 16 ounces Brie cheese, rind removed, cut into cubes
freshly ground black pepper
1/2 cup sliced almonds, optional
*Use 2 to 3 tablespoons of any sweet dessert wine in place of the wine vinegar and sugar, if desired.
Instructions
Mix and knead the dough ingredients to make a smooth, shiny, and just slightly sticky dough.

Allow the dough to rise, covered, while you make the topping.

In a large skillet, heat the oil or butter, then add the onions and cook, stirring often, until they're translucent and browning on the edges.

Add the vinegar, sugar, and salt, and cook until evenly browned, and all the liquid is evaporated.

Remove from the heat and set aside to cool.

Preheat the oven to 425°F.

Pat and roll the dough into two 12" or 14" round pizzas; or one thick-crust 18" x 13" pizza.

Cover the dough with a layer of onions, then scatter with the Brie. Grind a sprinkling of fresh pepper over the top. Sprinkle with sliced almonds, if desired.

Bake the pizza(s) immediately; or let them rise for awhile, for thicker crust.

Bake pizzas for 15 to 18 minutes, until the crust is brown. Serve hot, or at room temperature.

Yield: about 16 servings.
Tips from our bakers
To make heart-shaped pizzas, begin with a 6" disk of dough. Press it outwards from the 11, 1, and 6 o'clock positions to make a heart.
Reviews
I recommend this as a base recipe as the flavor is a bit one-dimensional. We added bacon, rosemary and balsamic to the toppings and subbed almonds out for pecans.
So good and so easy, was a hit at our brunch party
Took this to a luncheon today and received many great reviews and requests for the recipe. Note to future bakers my 13.5 oz of brie ended up being just 10 oz after trimming the rind so make sure you get a big enough piece of brie. I grated some Jarlsberg to make up the difference and it came out fine. Great crust flavor. Thanks for another delicious recipe.
After reading this recipe, I thought it sounded like something wonderful...and it was. Since I didn't have semolina flour or the pizza flavor, I substituted white whole wheat flour and made it in my bread machine. Using half the dough (freezing the other half) I rolled it out and shaped it on a jelly roll pan. The caramelized onions and brie went on top, finished with a sprinkling of crumbled bacon (yes, bacon) and the sliced almonds. I baked it in the pan in a 425 degree oven for the time stated in the recipe. YUM! The flavors melded together so well and my Valentine loved it. Thanks for this delicious recipe.
This topping is heavenly! I made four 8" pizzas, let them rise about 20 minutes with the topping before baking. I used parchment underneath while shaping, rising and baking. The pizza dough cooked up more bread-like than crust-like, but all who tasted it agreed that the softer base suited the Brie and onions. Don't leave off the sliced almonds! The crunch and flavor they add is terrific.
Five stars just for the topping! Drizzled with just a bit of very good balsamic? OMG.
Oh yes, aged balsamic is the best! Elisabeth
A winner. Love that crust! Willl use just that again. Who knew- yeast PLUS baking powder was NOT a missprint. Only change for next time- MORE onions. Thanku!
Wow! This was my first attempt at making pizza, having been completely seduced by the idea of caramelized onions and brie. The dough was easy to make in my bread machine, and I used a combination of yellow and white onions in the topping. The crust came out a bit thicker than I wanted (I think I just didn't roll it thin enough in shaping the crust) but the pizza tasted wonderful. This would make great individual appetizer pizzas, too. Thanks to the Baker's hotline for letting me know I could freeze pizza dough and giving me tips for the newbie on making pizza. Next time I might bake this directly on my pizza stone instead of in a pan.