A customized print-friendly version of this recipe is available by clicking the "Print Recipe" button on this page.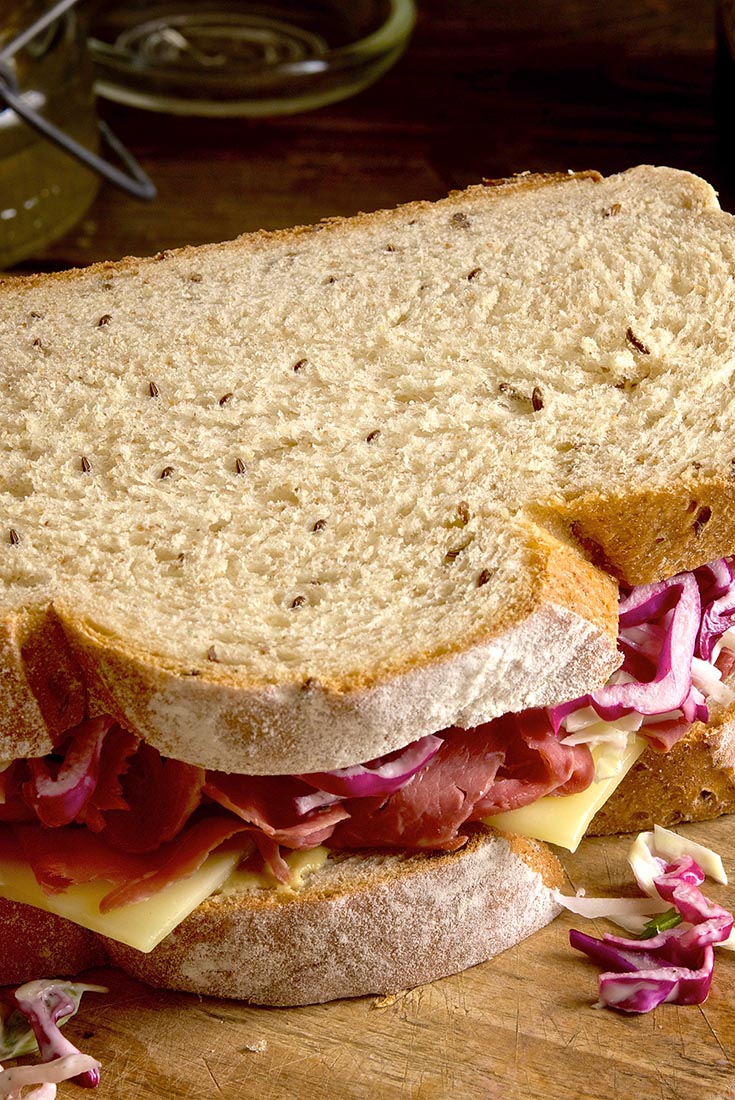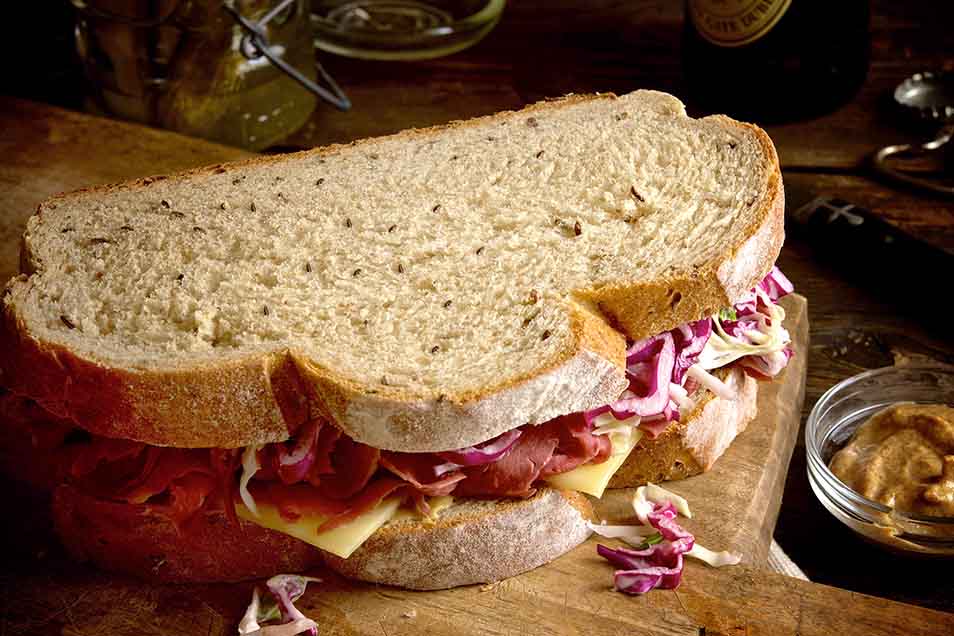 This seeded light-colored, soft rye bread is delicious for deli sandwiches — corned beef on rye, anyone?
Instructions
Note: Thanks to reader feedback, as of February 22, 2013, changes have been made to this recipe to create a less sticky dough, one easier to work with and shape; and to ensure the bread doesn't sink in the center after baking. The amount of water has been reduced from 1 1/4 cups to 1 cup; and the amount of rye flour has been decreased from 1 1/4 cups to 1 cup, with the amount of all-purpose flour increasing from 2 cups to 2 1/3 cups. In addition, the sugar has been decreased by 2 teaspoons. Thanks, as always, for your good feedback.

In a medium-sized mixing bowl or the bowl of your stand mixer, combine the water, sugar, rye flour and yeast, mixing to form a soft batter. Let the mixture rest for 20 minutes; this allows the rye flour to absorb some of the liquid, making the dough easier to knead.

Add the remaining ingredients, and mix and knead the dough together — by hand, mixer or bread machine — until it's fairly smooth. The nature of rye dough is to be sticky, so don't be tempted to add too much flour.

Place the dough in an oiled bowl or large (8-cup) measure, cover, and let it rise until noticeably puffy, 60 to 90 minutes.

Gently deflate the dough, knead it briefly, and shape it into two smooth oval or round loaves; or one long oval loaf. Place them on a lightly greased or parchment-lined baking sheet.

Cover the loaves, and let them rise until they're noticeably puffy, about 90 minutes. Towards the end of the rise, preheat the oven to 350°F.

Just before they go into the oven, spritz the loaves with water, and slash them about 1/2" deep. The oval loaves look good with one long, vertical slash; the rounds, with two or three shorter slashes across the top.

Bake the loaves for 35 to 40 minutes, or until an instant-read thermometer inserted into the center reads 205°F to 210°F. The single, larger loaf will bake for 45 to 50 minutes. If the bread appears to be browning too quickly, tent it lightly with foil after 25 minutes of baking.

Remove the loaves from the oven, and transfer them to a rack. While still warm, brush them with melted butter, if desired; this will keep their crust soft.
Nutrition Information
Serving Size

44g

Servings Per Batch

18
Amount Per Serving:
Calories

100

Calories from Fat

12

Total Fat

1.5g

Saturated Fat

.5g

Trans Fat

0g

Cholesterol

5mg
Sodium

200mg

Total Carbohydrate

18g

Dietary Fiber

1g

Sugars

1g

Protein

4g
* The nutrition information provided for this recipe is determined by the ESHA Genesis R&D software program. Substituting any ingredients may change the posted nutrition information.
Tips from our bakers
Don't throw away that dill or sour pickle juice! It's a great substitute for the water in this recipe. Depending on the saltiness of the juice, you'll want to cut back the salt in the recipe to 3/4 teaspoon to 1 teaspoon.
Reviews
I have made this Rye Bread twice both times came out beautiful looking and delicious. I baked it in a glass loaf pan the first time The second time I followed the instruction in the recipe and made 2 oval loaves. The next time I will try to bake it on my pizza stone (I have used it for bread before.) The outside is crispy and the inside is tender. I would call myself a novice bread baker and this is a fairly easy recipe to follow. It is kind of wet and sticky dough, but the recipe tells you so you don't have to worry. My dough did take the full 90 minutes to rise both times. It is a cold winter day and my kitchen is a little chilly. I don't have the vital wheat gluten and it worked out fine. This is better than any store bought bread! I recommend this recipe.
I've made this recipe a dozen times, and I just love it. I've made it both with vital wheat gluten plus KA Deli Rye Flavor; I've also made it with KA Rye Bread Improver alone. Both were just fine. But I do want to comment on the tip about using dill pickle brine instead of water as a flavor boost. Maybe it's some ingredient in the brine of the Mount Olive brand pickles that I buy, but the yeast just doesn't seem to like it when I use the pickle brine variation. I do reduce the added salt (and the resulting loaves don't taste any more salty). But the loaves just don't want to rise. I see that from the moment I look at the dough mixture after the initial 20-minute soak (the mixture is usually quite puffy after 20 minutes, but with brine it barely has a few small bubbles). Then each rise takes two hours instead of the usual 45-60 minutes in my kitchen. The resulting loaves are half the height of my normal result ... and to top it off, I don't notice a flavor difference! So, based on my experience, you can give the pickle brine variation a try if you wish, but I've not had good luck with it. But that said, when made with water, this is a great deli-style rye!
I love this recipe! I used Icelandic Skyr instead of sour cream. Skyr is kind of dense, so I watered it down by 4 tsp but kept the weight the same at 113 grams. It made a very impressive round loaf, scored in a hashtag pattern. My wife says it is very professional looking.
So I used the updated recipe (and included the rye bread improver) but the loaf still collapsed in the middle. What should I do?

Eric, we'd be happy to troubleshoot with you further if you give our Baker's Hotline a call (855-371-2253). We'll need to hear more about your ingredients and method to find out why the loaf collapsed even when using the updated instructions. We look forward to assisting you further. Kye@KAF
I have made this recipe twice, including the rye bread improver, yielding very good results. I formed two "football" shaped loaves and used the KAF recommendations to "tighten" them, thereby promoting a more upward vs outward rise. I also used the "steam" method and a baking stone. (I heated the oven to 450, then reduced immediately to 350 upon adding water to steam pan.) One trick shared by a professional baker some time ago also helps achieve that lasting great crunchy crust of artisan breads: after the finished loaf has cooled for a while on your rack and started to soften up, put it back into a hot oven for just 5 minutes. Then remove, let cool completely and enjoy. (If you used a loaf pan, make sure you have removed bread from the pan before doing the 5 minute blast.)
I like this recipe but I have a few issues with it. First off, why use all purpose flour and also vital wheat gluten? I feel it would be much better to use a high strength, malted bread flour with a medium ash content. That way you can achieve proper and consistent gluten and rise throughout, as well as in the oven, without requiring added materials. Also, if the bread has a hard time developing gluten and people are having issues with it coming out flat, an autolyse should be recommended. Even up to an hour and the yeast added after this period. Overall a nice recipe though!

KC, we like using the combination of all-purpose flour and vital wheat gluten to make this dough because it gives the bread more structure during rising and baking, but doesn't alter the texture so much. A higher gluten flour will make the bread chewier and possibly crustier. If you're ok with these textural changes, then feel free to use bread flour or even high-gluten flour and adjust the liquid accordingly. We hope this helps explain. Kye@KAF
I believe this recipe is flawed. Shouldnt the yeast be frothed first and be allowed to rise? All I got is a flat bread which I used with tomato soup.

Hi Melody, due to modern yeast-drying methods, it's not necessary to proof your yeast in warm liquid in order for it to become active. It should make your dough rise even when it's mixed right in with the other ingredients. Regardless, it sounds like something went awry when you tried to make this recipe, and we'd love to help. Consider giving our Baker's Hotline a call at 855-371-BAKE(2253) so we can hear more about your ingredients and method. Kye@KAF
The flavor on this bread was great, unfortunately my loaf came out of the oven extremely flat. I've over-proofed in the past so I set the kitchen timer for both risings, which leads me to think the dough was too wet. I'm going to try to bake this bread again this weekend and go for a less ragged dough.

There are a few things you can try next time to encourage a higher rise. If you're not already using it, the Vital Wheat Gluten is something that you'll want to include. Also, you can consider baking the loaves in pans two 8 1/2" by 4 1/2" loaf pans. The sides of the pan can give the dough support as it rises upwards, which often times benefits the structure. Lastly, as you mentioned watch the dough closely to ensure it doesn't over-proof, otherwise it can fall in the oven. Good luck! Kye@KAF
After your comments that everyone has a bad bread day I decided to try your rye bread recipe. It turned out great. The most interesting comment on it is that Portland, OR was in the middle of very hot weather....my bread was not rising good enough after an hour, ( The temp inside was 72.....outside in the shade between 80 and 90...in the sun over 90.) So, I just sat it outside and "Wha La" the bread dough rose.
Have a question about making this in a bread machine. When the dough cycle ends on my machine, the bread has risen. Does that count as the first rise (aka step 4)? Or do I let it rise twice after it comes out of the machine?

Good question, Marlene. That first rise in the machine will take the place of the rise called for in step 4. Once it comes out, it will need just one more rise at room temperature--the second time, in the pan. Happy baking! Kye@KAF