A customized print-friendly version of this recipe is available by clicking the "Print Recipe" button on this page.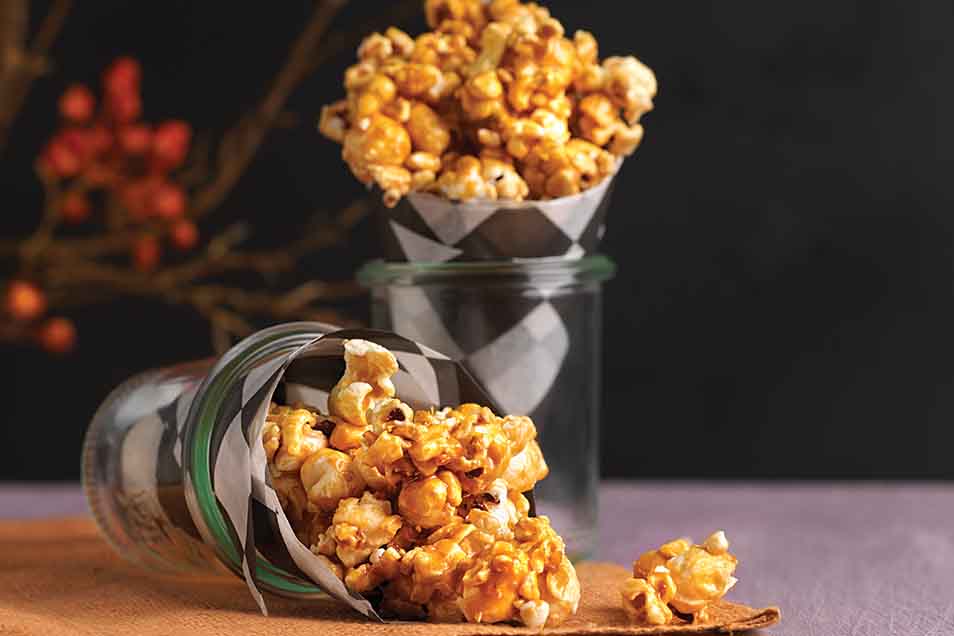 This caramel corn is wonderfully light and crisp, with just the slightest hint of stickiness. Salted butter enhances the corn's flavor, accenting the caramel notes of the molasses and brown sugar.
Ingredients
15 cups popped corn (1/2 cup kernels, unpopped)
2 tablespoons molasses
1 cup brown sugar, packed
1/2 cup salted butter
1/4 cup light corn syrup
1/2 teaspoon baking soda
Instructions
Preheat your oven to 200°F and line a large rimmed baking sheet (18" x 13") with parchment paper. Pour the popped corn into a large bowl (at least 6 quarts); remove any unpopped kernels. Set aside.

In a large saucepan over medium-high heat cook the molasses, brown sugar, butter, and corn syrup, stirring occasionally, until the sugar dissolves. Stirring occasionally, boil the syrup for 5 minutes. The syrup will darken slightly.

Remove the pan from the heat and add the baking soda. Stir well as the mixture turns foamy.

Immediately (and carefully) pour the hot syrup over the popped corn and stir until the corn is well coated.

Spread the hot caramel corn into the parchment-lined pan. Bake at 200°F for one hour. Stir the corn every 15 minutes during this time.

Remove from the oven. This caramel corn is a warm, sticky, sweet and crunchy treat straight from the oven. It can also be cooled and stored airtight for several days. This recipe doubles and triples very well.
Nutrition Information
Serving Size

1 cup (39g)

Servings Per Batch

15 cups
Amount Per Serving:
Calories

170

Calories from Fat

60

Total Fat

7g

Saturated Fat

4g

Trans Fat

0g

Cholesterol

15mg
Sodium

105mg

Total Carbohydrate

27g

Dietary Fiber

1g

Sugars

21g

Protein

1g
* The nutrition information provided for this recipe is determined by the ESHA Genesis R&D software program. Substituting any ingredients may change the posted nutrition information.
Tips from our bakers
Want to add a bit of saltiness to your sweet caramel corn? Add 1 cup of roasted, salted peanuts to the bowl of popped corn before pouring on the syrup. Homemade Cracker Jack®!
To make popcorn balls on a stick, omit the baking soda from the recipe. As soon as you can handle the corn without burning yourself, form it into 1-cup balls, inserting a lollipop stick or skewer at one end of each.
Be sure to assiduously remove any unpopped kernels; you'll get most of them by shaking the bowl of popped corn, and scooping out the hard kernels that sift to the bottom. If you don't remove them, the syrup will allow them to adhere to popped kernels, and the next thing you know — ouch! A dental bill.
Reviews
Delicious. Reminds me of a caramel corn recipe I had years ago but lost and it tasted a lot like Cracker Jacks. My pots were not large enough to stir and mix the popcorn and caramel in so I used a large roasting pan which I pre-heated in the oven, to mix and bake in. Otherwise, I followed the directions exactly. Came out crunchy the way it's supposed to however I wasn't able to get all the popcorn coated. There wasn't quite enough caramel sauce to coat the entire 15 cups of popcorn so I think next time I'll cut the popcorn down 2 or 3 cups. I also added 1 cup of pecans because I didn't have enough honey roasted peanuts on hand and it turned out great. This recipe is definitely a keeper.
I make "goody bags" every Christmas...you know, fudge, cookies etc. This year I thought I would make some of this caramel corn to add to the bags. Something different, right? This stuff is great! And so simple to make. Thanks for the recipe.
Any great substitute for the corn syrup the recipe asks for?

Hi Rhonda. You're welcome to experiment using honey in place of the corn syrup, knowing it may affect the final flavor. Annabelle@KAF
My first attempt at making my own caramel corn. This recipe was easy to follow and the end result is fantastic. I know it will become a new addition to my repertoire of treats, along with all the other terrific recipes featured on this site. Thanks for another keeper!
I have some Monster Mushroom Kernels that I used to make this tonight and because of the round kernels, it looked just like Cracker Jack. I was out of brown sugar, so I used White and Dark Corn Syrup. I couldn't tell the difference. Excellent recipe.
I made this for a Super Bowl party this weekend. I have a small microwave and a glass surface stove. Neither one of them lend themselves to making a lot of popcorn. I purchased bagged pre-popped with sea salt at the grocery store. It turned out to be the best Carol's I've ever made. The popcorn was the "right shape", and the sea salt added so much to the taste. I'm not sure I'll ever go back to popping my own for this recipe again.
This is the best recipe ever, just made my third batch for gifts.. I add 1-1/2 cups honey roasted nuts, taste just like cracker jacks..
This is the best recipe ever, just made my third batch for gifts.. I add 1-1/2 cups honey roasted nuts, taste just like cracker jacks..
I have made this treat for years and have always gotten rave reviews! This time I used my 20 quart stock pot to make a double batch of caramel. I then used a suggestion from another review and added the popcorn to the caramel in the pot. It covered easily and evenly. I was able to make 4 batches in the time it would have taken to make two. For those of you who are hesitant to try this recipe, it is easy and it never fails.
Easy. End result looks like much more work than it actually was. Used the paper grocery bag hint, which was easy. I think stirring the popcorn in a large bowl would be more difficult.