A customized print-friendly version of this recipe is available by clicking the "Print Recipe" button on this page.
Carpenter Street Poppy Seed Cake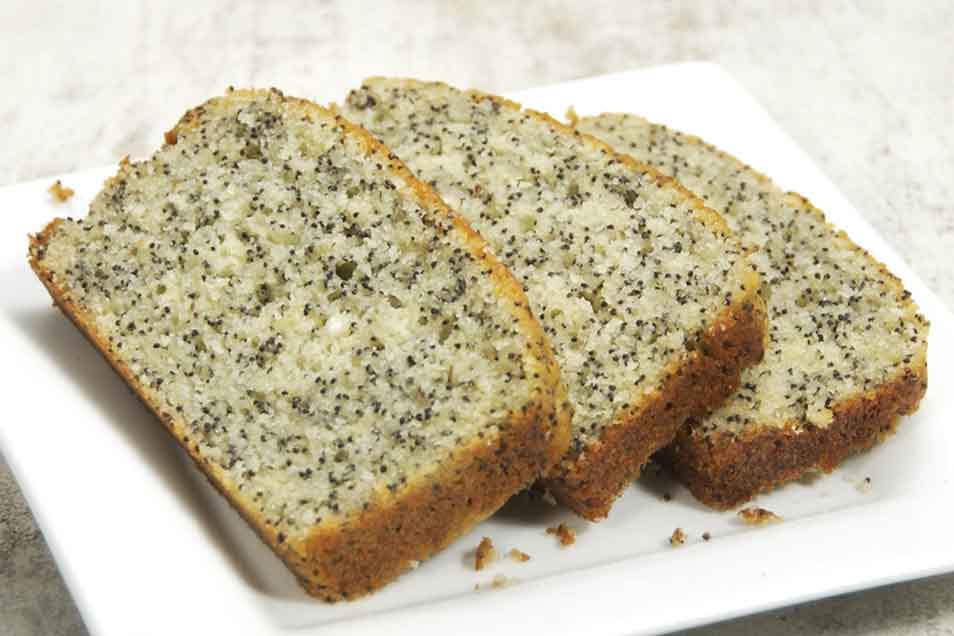 Our first office/headquarters in Norwich, Vermont was located upstairs at the back of the 1820 House at 1 Carpenter Street, just off Main Street. The Carpenter Street Restaurant, a favorite place for business lunches as well as elegant dinners, was located downstairs in the front of the building. We've moved and the restaurant has changed hands, but this delicately flavored and textured cake appears here in remembrance of our original Norwich headquarters and the original restaurant.
Ingredients
2 1/2 teaspoons baking powder
1 teaspoon salt
1/4 to 1/2 cup poppy seeds
2/3 cup vegetable oil
3/4 cup sugar
2 large eggs, at room temperature
3/4 cup milk or evaporated milk
1/4 cup orange juice
2 teaspoons vanilla extract
1/4 teaspoon lemon oil (optional)
Instructions
Preheat your oven to 350°F and grease a 9" x 5" loaf pan.

In a mixing bowl, blend the flour, baking powder, and salt. Mix in the poppy seeds.

In a separate bowl, with an electric mixer, whip the oil and sugar together for about a minute.

Add the eggs and beat at high speed for three minutes until the mixture is very light.

On low speed, mix in the dry ingredients, then the milk, juice, vanilla, and lemon oil, if using it.

Pour the batter into the loaf pan and bake for 45 minutes or until the cake begins to pull away from the sides of the pan, and a toothpick comes out clean from the center.

Let cool for 5 to 10 minutes in the pan on a rack before inverting onto the rack to cool completely.

Store, well-wrapped, for a week at room temperature. Freeze for up to 3 months.
Reviews
Absolutely no flavor! I love poppyseeds and old fashioned recipes and was really looking forward to tasting this cake. It is such a disappointment. I didn't have lemon oil to add so maybe that's the key. I couldn't taste the vanilla or orange juice. Lots of good ingredients for a bland cake. It had a nice texture and looked so pretty however, it is a bit greasy. 1/4 cup poppyseeds was plenty. I've tossed the recipe.

We're sorry to hear that this recipe didn't do the trick for you. One of the most common reasons why baked goods might can be lacking in flavor is because too much flour is used. To ensure you're using the right amount, we recommend checking out the "Recipe Success Guide," link next to the ingredients header above. If we can help troubleshoot or pick out a recipe that better fits your tastes, please give our Baker's Hotline a call at 855-371-BAKE (2253). Kindly, Morgan@KAF
I made this with lemon juice instead of orange and added the finely grated zest of two lemons. It was absolutely delicious!
I made this with apple juice because was out of orange juice and soy milk so it would be dairy free with no lemon essence and it came out very nicely, moist and satisfying. I think next time i will try adding lemon rind (basically gives the oil) and juice because apparently lemon and poppy seeds are a great combination. thank you for this recipe!
I chose this recipe because I didn't have any lemon juice but had some oranges. Made it just as written, but I was nervous at how liquid the batter was. I was sure that it would never solidify, but it did in 50 minutes. I didn't have lemon oil, but I had lemon extract. I chose to use Fiori instead as I had never used it before and wanted to try it. The cake had a nice light texture, was moist enough, and was not greasy like another reviewer mentioned. Taste was pretty good, but I missed the lemon flavor. Even though I used a non-stick pan and also sprayed baking spray, the bottom of the cake stuck to the pan. I never had this happen before with other loaf cakes, so I think it might have been due to the very liquid batter. I advise lining the pan with parchment paper for this cake. I would not make it again, though, as poppyseed cake seems to need real lemon juice and butter for best flavor.
This is my family favorite recipe! Easiest and yummiest. On the go type. Thanks for sharing and teaching us wonderful recipes.
I found this to be quite dry and tasteless.

Jennie, we're sorry to hear this memorialized recipe didn't leave you feeling impressed or delighted. The most common reasons why cakes turn out dry is because too much flour is used or they're over-baked. To ensure you're using the right amount of flour, we recommend either measuring your flour by weight using a scale, or fluffing and sprinkling the flour gently into your measuring cup one spoonful at a time before leveling off with a knife. This will help you measure light cups of flour that weigh about 4 1/4 ounces per cup. You could also consider using a Cake Flour to achieve an even lighter texture. For more lemon flavor, consider using 1/4 cup of lemon juice instead of orange juice. We hope that helps! Kye@KAF
I recommend this recipe with reservations. I followed it to the "T". After everything was mixed, I noticed that the batter was to loose. I called the hotline and she said it was because of the oil. I wanted to add more flour, but I didn't and the cake baked beautifully. After it cooled, I served it. There was a lot of grease on the plate and on our hands. The taste was Ok but could have been more. I added lemon oil and grind. I was disappointed because I had high hopes for this cake. What can be done to make it less oily and for more lemon flavor?

Gina, you can try using softened butter instead of oil to see how you like the texture of the cake; it should be less greasy but still pleasantly moist and tender. For a more robust lemon flavor, be sure to include the otherwise optional lemon oil, and you can also consider replacing some of the 1/4 cup of orange juice with lemon juice (adjust to taste). We hope that helps! Kye@KAF
I followed the recipe carefully and it had great texture. I used a different brand of lemon extract, which may have been less intense than the kind KAF sells, but I could barely detect the lemon flavor, and found it a bit bland. Apart from the lack of lemony-ness, I thought it was delicious, though, so next time I will add some lemon zest and it should be perfect. Also, instead of a gently rounded top like in the picture, the middle bulged up dramatically and cracked, giving it a rather bulbous look. What causes this?

Hi there MacFadden, if you'd like to bump up the lemon flavor of this cake, try adding the finely grated zest of one lemon along with the 1/4 teaspoon of lemon oil. As for the cake doming in the oven, this can happen for a number of reasons including the oven temperature being too hot, the batter being too stiff (try measuring your flour by weight to prevent this), or the batter being over-mixed. You're also welcome to try using Cake Flour instead of all-purpose to give this loaf a more tender texture and also help with the doming. We hope this helps, and happy baking! Kye@KAF
I made this for the first time, and even with my modifications, it came out great. I used soft whole wheat flour, buttermilk, a full cup to make up for the orange juice, and adjusted the leavening to 2t of baking powder and .5t of soda just in case to account for the buttermilk. It's not too sweet and very flavorful.
So delicious! I was out of orange juice, but no matter, the whole family loves almonds. So, I omitted the OJ and lemon oil, increased the milk to 1 cup (to make up for the missing 1/4 cup of OJ), and added 1 tsp. pure almond extract and 1 tsp. vanilla. The cake baked up beautifully and took about 55 minutes in my 10x5 loaf pan. After it cooled we whipped up a little almond glaze (confectioner's sugar, milk, and almond extract), poured it over the cake and sprinkled on some slivered almonds. So pretty and totally yummy :) Thanks for another winner KAF! We will definitely be more prepared next time and are excited to try this with the citrus flavors.