A customized print-friendly version of this recipe is available by clicking the "Print Recipe" button on this page.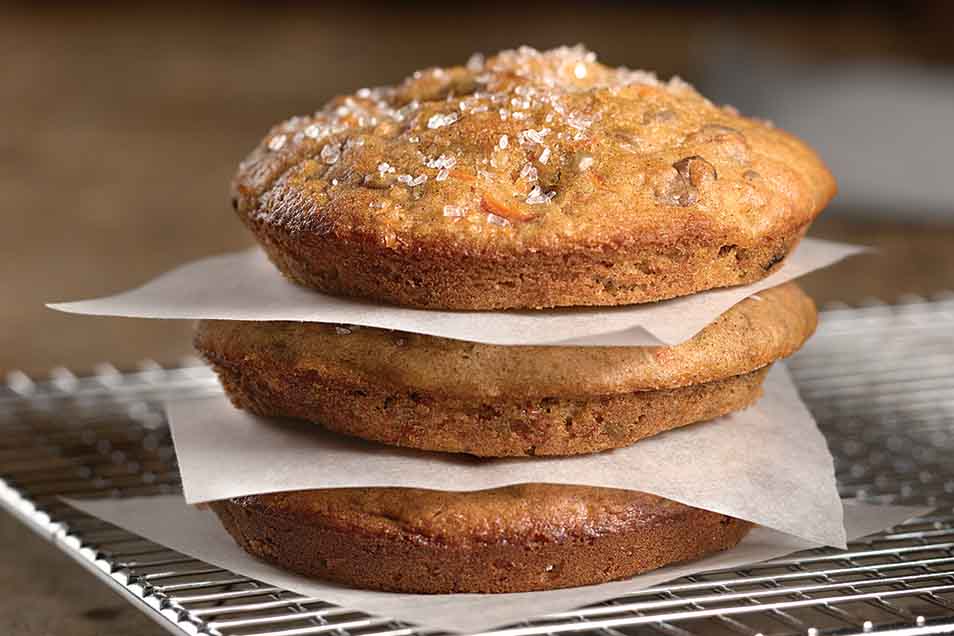 Tasty, high-fiber, low-fat muffins, loaded with healthy raisins, nuts, and carrots, make a great grab-and-go breakfast when baked in a muffin-top pan.
Instructions
Preheat the oven to 375°F. Lightly grease a standard 12-well muffin pan or two muffin-top pans. Or line the pan with paper muffin cups, and grease the cups.

Whisk together the sugar, eggs, oil, and applesauce until well blended. Stir in the grated carrots and pineapple.

Whisk together the dry ingredients, including raisins and walnuts, in a large bowl.

Add the wet ingredients, stirring just to combine.

Divide the batter among the muffin cups, filling them quite full.

Bake the muffins until a toothpick inserted in the center of one comes out clean, about 22 minutes.

Remove the muffins from the oven, and cool in the pan for 5 minutes before transferring to a rack to cool completely.
Reviews
Four stars for a nice healthy treat BUT the recipe needs a tweak. Note that a lot of people are complaining that the center will not bake up. This is probably due to lack of actual wheat flour, that sort of acts like glue, in favor of high- fiber maize and oat bran, which don't "glue" the other ingredients together. I replaced the high fiber and oat bran and the unbleached white with white whole wheat flour, my baking favorite, and got a nice cohesive batter that rose well and baked through the center. The applesauce, carrots, pineapple, nuts and raisins all need a binder.
I made these just this morning and they turned out great! I used all ingredients according to the recipe except I substituted white whole wheat flour for the all-purpose flour, and I didn't have buttermilk powder so I just used 1/4 cup more flour in it's place. I made them in my new muffin top pan - so much fun, and they can fit into the toaster :)
I followed the directions exactly. My centers were raw also, even after cooking several extra minutes. While it is nice they are moist, these just plain had an unappealing texture.
I'm sorry these muffins didn't perform correctly for you. Is it possible that your oven temperature might run low? If you have the opportunity, give us a call at 800-827-6836 to speak with a baker. - kelsey
Sorry, I wasn't clear. I did make the recipe a second time, this time WITH the applesauce, and still not the results I'd expected. After 45 minutes of baking, the middle still appeared to be underdone. The taste was good, but the interior texture was not what a muffin should be. My oven is accurate, I have an oven thermometer, I used a muffin scoop for the muffins. It was a silicone pan I usually use for muffins. No clue as to what happened, or why.
I read this recipe and was really delighted. So many things in it that are good for you, so little fat, fantastic. So I made it. Big mistake, I left out the applesauce, which might have explained that the inside of the muffins were like raw dough. So I did it a second time. Same problem. I had some leftover batter from the 12 muffins and since the muffins took 45 minutes to cook, and still had undone middles, I just spooned the dough on a nonstick cookie sheet and cooked for the 22 minutes. Perfect. This recipe is made for muffin tops and not for muffins, in my opinion. I'm going to make this in muffin tops, or just cookies. They taste great then.
This recipe calls for a whole cup of applesauce, so if that ingredient is missing the results will be different. If you'd like to try the recipe again, we'd love to hear about the results. Irene @ KAF
Fantastic flavor and is nice and moist! Delicious and so satisfying! Made 24 muffins, not 12! I used a little more sugar--- 1 cup packed brown sugar (half light and half dark). Doubled the amount of raisins to 1 cup. Omitted the walnuts.
this carrot cake muffin recipe sounds great, however what is hi maise natural fiber? what is butter milk powder and what is oat bran? thanks You'll find all of these ingredients along with descriptions on our site. Please take a look there. Frank @ KAF.