A customized print-friendly version of this recipe is available by clicking the "Print Recipe" button on this page.
Chai-Glazed Almond Cookies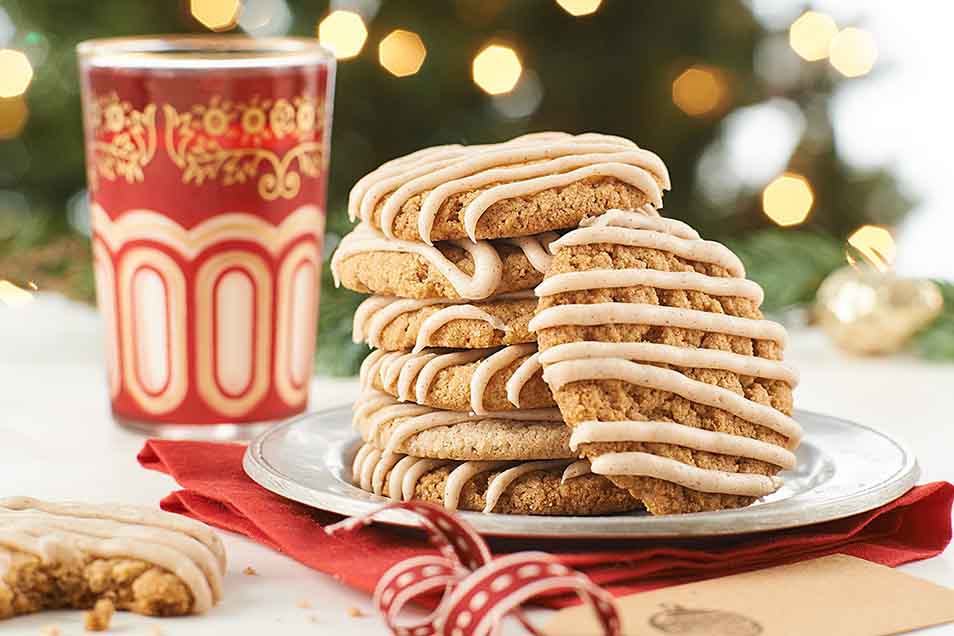 Though perhaps not your typical holiday cookie, these chai-infused cookies are a spinoff of the classic almond snowball/Russian teacake. Extra-tender, delicately sweetened cookies are the ideal base for the rich, sweet, spicy glaze that gives them their festive look.
Ingredients
Cookies
16 tablespoons (1 cup) unsalted butter, at cool room temperature, 65°F to 68°F
3/4 cup granulated sugar
2 teaspoons vanilla extract
1/2 teaspoon baking powder
1/2 teaspoon baking soda
1/4 teaspoon salt
1 tablespoon chai spice; or 1 teaspoon ginger, 1 teaspoon cinnamon, 1/2 teaspoon cardamom, 1/4 teaspoon allspice, 1/8 teaspoon anise (optional), 1/8 teaspoon black pepper
1 cup almond flour
1 1/2 cups King Arthur Unbleached All-Purpose Flour
Glaze
1 cup confectioners' sugar
pinch of salt
1/2 teaspoon chai spice; or 3/8 teaspoon ginger, 3/8 teaspoon cinnamon, 1/8 teaspoon cardamom, 1/8 teaspoon allspice
1 tablespoon unsalted butter, melted
1 teaspoon vanilla extract
1 to 2 tablespoons milk
Instructions
To make the cookies: Preheat the oven to 350°F. Lightly grease (or line with parchment paper) two baking sheets.

In a large bowl, beat together the butter, sugar, vanilla, baking powder, baking soda, salt, and chai spice.

Weigh the flours, or measure them by gently spooning them into a measuring cup and sweeping off the excess. Beat the almond flour followed by the all-purpose flour into the butter-sugar mixture.

Scoop heaping tablespoonfuls of dough — a tablespoon cookie scoop works well here — onto the prepared baking sheets, leaving 2" between them.

Bake the cookies for 13 to 16 minutes, until they're a light golden brown.

Remove the cookies from the oven and place the baking sheet on a cooling rack. Allow the cookies to cool completely right on the pan.

To make the glaze: Combine all the ingredients, stirring until smooth and adding enough milk to make the glaze drizzle-able, but not too runny; molasses consistency is good.

Drizzle or pipe the glaze over the cooled cookies.

Store the cookies, well wrapped, at room temperature for several days; or freeze (unglazed) for longer storage.
Tips from our bakers
For extra almond flavor and texture, add 1/2 cup finely chopped, toasted almonds.
Reviews
i agree with other reviewers, this was not a foolproof recipe. the recipe calls for one baking tray, but you clearly need two. my cookies just spread out and covered the whole tray. maybe refrigerating the dough first might have helped. i just used my own pumpkin pie spice and it was delicious. the kids liked the gobbled up the cookies though they bore no resemblance to your photograph.
Update to earlier review. After setting a few days in a metal cookie tin, the chai flavor became more noticeable, although still mild. Much nicer and excellent with black tea or milk. A friend really liked them because they weren't too sweet, even with the icing. I made some with and some without the icing. I will make these again.
Everything done according to recipe, measuring ingredients. Made 39 cookies using level, packed tablespoon cookie (ice cream type) scoop. Some turned out exactly like the picture; others spread flat. Next time, I'll try weighing the dry ingredients and also wait a bit after incorporating everything so maybe the flours will absorb more of the butter (real butter used). Sweet, not as much chai flavor as expected but very good with a glass of milk. Very quick and easy to make = 10 minutes max and then baking. Slide right off ungreased cookie sheet. Might try doubling the Chai spice blend to up the flavor. I need some none-sweet uses for the spice blend or it will sit in the cupboard for years before used up. Will have to experiment with breads or even chicken.
Yum! These cookies were great, with a nice subtle spice. I would agree with other reviewers that they were definitely sweet, and I could see how it might be too much for some palettes. I might add a bit more spice to the recipe, especially in the cookies themselves, next time. I didn't have cardamom, so I substituted the same volume of spice that was a mix of half cinnamon and half ground cloves in both the cookies and the icing. The icing really made these cookies, I thought, and leaving it relatively thick allowed it to dry in such a way that transporting the cookies was easy and didn't mess up their look. I also flattened them a bit with the bottom of a glass prior to baking in order to make sure they baked in a nice round shape (flattened to about the size of two quarters). These cookies were a big hit, and I would make them again if I was craving some sweet with a warm hit of spice.
This recipe is a keeper. I always tend to go overboard with Christmas cookie baking, (have 12 different varieties in the freezer for the holiday currently) and I like to search for at least one new cookie recipe each year. I decided to try this one, and they are great. So great, in fact, that I promptly mixed a second batch. I strongly recommend doubling the recipe the first time in the interest of saving time. Depending on how well the extended family and friends receive these, they should become a Christmas cookie regular each year. I didn't have almond flour on hand, so I used all AP flour and substituted almond extract for half of the vanilla. The result was a hint of almond flavor, and I may increase the almond extract the next time I bake these. Try these cookies, as they are fantastic!
I personalized the recipe. No glaze since that's a mess to keep looking nice when I give them to folks in a plastic bag. I am baking today for Christmas. I upped the sweet to compensate for the naked cookie plan by rolling the dough with my hands into 1 tb size balls and pressing the tops a little flat with a glass dipped in sugar that has a bit of cinnamon and clove added. I made my own chai spice combo to add to the dough. I have never used almond flour and it made a huge contribution to the recipe adding flavor and tenderness. The dough was very easy to work with. The result was exactly what I wanted. Tender and yummy. They are a bit fragile so I froze them in a plastic container to avoid breaking them when I rummage about in my freezer looking for something.
The concept of this cookie sounded delicious, it smelled wonderful baking, the icing is full of flavor but the cookies I made were lacking in spice flavor and the consistency was off - a little dry. They tasted as if they were missing something. I followed the recipe exactly. Using a cookie scoop my cookies did not get flat as in the picture. I will try these cookies again with some changes to see if the second batch tastes better than the first. I will definitely weigh the flour, add a tad more spice to the cookie, eliminate the finely chopped almonds.
Recommend with reservations. Made cookies per recipe, and using KAF Chai spice blend, for a cookie exchange. They had no flavor except sweet. I had found this to be the case with the Chai pound cake, too, so am guessing it was the Chai blend. I just hadn't remembered. Also, some cookies spread while others came out fine. i had used a 1 TBSP cookie scoop. Lessons learned: 1) mix softened butter with sugar until well blended before adding remaining ingredients; 2) test strength of chai before using and, if necessary, make and use my own mix (or use the blend from the local international market). I will make more (need 6 dozen cookies for exchange) with these amendments.
We loved these cookies. I actually made 2 batches and one was gluten free and just as good. I did the glaze a little thinner with the second batch.