A customized print-friendly version of this recipe is available by clicking the "Print Recipe" button on this page.
Cheddar-Ham Buttermilk Biscuit Sandwiches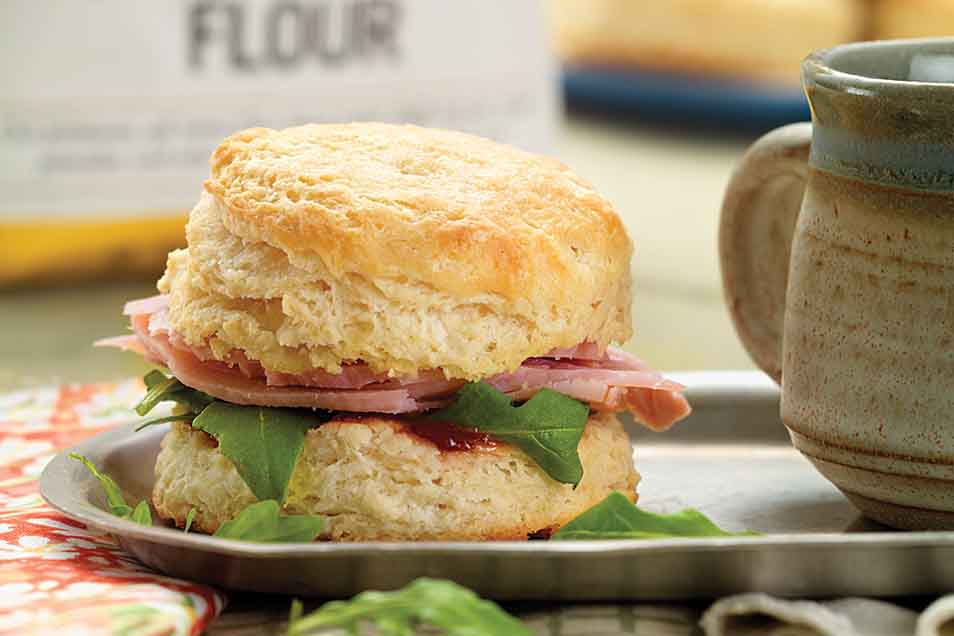 Biscuits are wonderful at any time of day, and for any occasion. In this recipe, we've turned them into convenient slider-sized sandwiches, perfect for feeding a crowd. The arugula and red pepper jelly dress the sandwiches up for a more sophisticated crowd; but the more traditional Southern-style version with just ham is equally delicious, thanks to the double slather of melted butter that goes onto the biscuits before and after baking.
Instructions
Preheat the oven to 425°F.

To make the biscuits: Combine the flour and cheese powder in a large bowl.

Work in the cold butter until it's unevenly crumbly, with the largest crumbs about the size of large peas.

Stir in the buttermilk; the mixture will begin to hold together on its own, and leave the sides of the bowl. Add more buttermilk a tablespoon at a time, if necessary.

Transfer the dough to a well-floured work surface, and fold it over onto itself 3 to 5 times.

Roll the dough into a rectangle 1/2" to 3/4" thick.

Cut out 2 1/2"-round biscuits, patting the scraps together and re-rolling them to make as many biscuits as possible.

Arrange the biscuits 1" apart on an ungreased or parchment-lined baking sheet (the parchment makes for easy cleanup), and brush with the melted butter.

Bake the biscuits for 12 to 15 minutes, until they're golden brown.

Remove the biscuits from the oven, brush with any remaining melted butter, and cool for 10 minutes.

Split the biscuits in half, and spread a thin layer of red pepper jelly on each half, if desired. Layer the arugula and ham on the bottom half of each biscuit and cover with the top half.

Serve warm with extra red pepper jelly.

Yield: about a dozen 2 1/2" biscuits.
Reviews
What a disappointment. I was looking forward to this for weeks specifically for using the cheese powder. I was surprised there was no additional leavening in the recipe, but I always go with the recipe AS is the first time I make something. I followed the tips for High Altitude as I live in CO. The biscuits didn't raise at all, were very doughy in the middle and hard as a rock on the outside. I did add about 3T more buttermilk as the dough didn't come together.

We're so sorry to hear this recipe gave you some trouble, James! We'd love the chance to talk through the recipe with you, so we encourage you to reach out to our free and friendly Baker's Hotline staff to help troubleshoot at 855-371-BAKE (2253). Kindly, Annabelle@KAF
Perfection! Made these to use up some leftover buttermilk in the fridge. Didn't have self rising flour but a KAF Rep gave me instructions on how to turn AP flour into self-rising flour. Also didn't have cheese powder but substituted a 1/2 c of shredded cheese. Served as side for stew....perfect for mopping up all the juice.
These came out great despite all the substitutions I made to the recipe. I didn't have self-rising flour, so I made some by adding baking powder and salt to regular flour. I didn't have buttermilk, so I substituted KA's buttermilk powder. I clean forgot to brush on the melted butter altogether. I didn't have any greens in the house. No red pepper jelly either, though I did have some raspberry chipotle pepper jelly. Didn't matter, they were delish. I will definitely make these again.
These were amazingly light and delicious. I used shredded cheddar as I didn't have powdered. The remaining butter I added chopped fresh parsley and garlic powder and brushed the biscuits after they were out of the oven. I'm adding this recipe to my favourites.
If I'm making this without the cheese powder, should I increase the flour by the same amount? Thanks.
If you want the signature cheesy flavor, consider grating some sharp cheddar cheese OR finely grate some frozen (cheddar or parmesan) and use the same amount (1/2 cup)! If you'd rather skip the cheese, use "self rising biscuits" as your recipe search and you'll find one to match your ingredients and taste preferences. Happy Baking - Irene@KAF