A customized print-friendly version of this recipe is available by clicking the "Print Recipe" button on this page.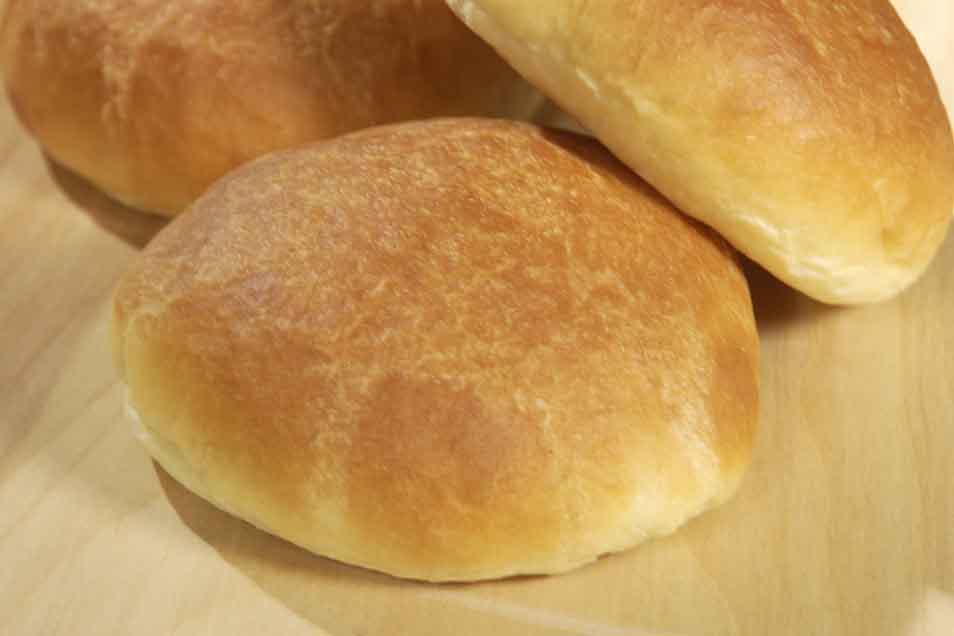 Soft, golden buns, with the merest hint cheese, are perfect for burgers (of course), or any kind of sandwich, from tuna salad to Italian cold cuts to grilled Portobellos.

Read our blog about these cheese buns, with additional photos, at Flourish.
Ingredients
3/4 cup lukewarm water
4 tablespoons butter
1 large egg
3 1/2 cups King Arthur Unbleached All-Purpose Flour
2 tablespoons sugar
1/3 cup Vermont cheese powder OR 3/4 cup grated Parmesan cheese or the finely grated cheese of your choice
3/4 to 1 1/4 teaspoons salt*
1 teaspoon onion powder, optional but good
2 1/2 teaspoons instant yeast
butter for brushing on top
*Use 3/4 teaspoon salt if you use cheese powder, 1 1/4 teaspoons salt if you use grated fresh cheese
Instructions
To make the dough: Combine all of the dough ingredients, and mix and knead them — by hand, mixer, or bread machine — to make a soft, somewhat tacky dough.

Place the dough in a lightly greased bowl or other container large enough to allow it to at least double in bulk, cover, and let it rise for about 60 to 70 minutes, till it's just about doubled.

Transfer the dough to a lightly greased work surface, and divide it into 8 pieces.

Round each piece into a smooth ball, and place on a lightly greased or parchment-lined baking sheet. Gently flatten the balls to about 3" diameter.

Cover the buns and let them rise till they've expanded nicely, about 1 hour. Towards the end of the rising time, preheat the oven to 350°F.

Brush each bun with melted butter.

Bake the buns till they're a light, golden brown, about 18 minutes.

Remove the buns from the oven, and brush them with butter again. Place them on a rack to cool.

Yield: 8 big buns.
Tips from our bakers
Using cheese powder in these buns will give them a lovely, smooth, golden crust. Using freshly grated cheese will make the crust appear speckled, due to the fat in the cheese and how it browns. For the prettiest crust, use cheese powder. Cabot makes cheese powder; look for it in your supermarket, if you don't want to purchase cheese powder at kingarthurflour.com.
When making yeast rolls or bread, let the dough rise to the point the recipe says it should, e.g., "Let the dough rise till it's doubled in bulk." Rising times are only a guide; there are so many variables in yeast baking that it's impossible to say that bread dough will ALWAYS double in bulk in a specific amount of time.
Reviews
Having a hard time submitting reviews, but "if you don't succeed the first time ..." This recipe is terrific. I have made it several times, most recently last week. However I make only 1/2 a recipe, though I use a full egg, albeit the smallest I can find. This amount yields 7 or 8 small knotted buns, which look lovely and taste delicious with my homemade burgers. Thanks again, KAF
Imade the dough and made right away the bunns , not overnight in refrigerator, placed the pan in the oven with a pot of boiling warter under it , let rise for 3 hours and backed 25 min at 350F , just great
I have made this easy recipe many time following the recipe exactly with excellent results! Today, on a whim, I added 4 small drops of hot sauce - WOW!!! This did not make a spicy nor hot flavor in the buns but it did totally enhance the flavor of the cheese. Don't know how that happened but I will certainly do this again.
The buns are real good, but I had somewhat a problem with them. The buns seen to spread out quite far and they worn't very high. What did I do wrong???

Hi Jann, it sounds like your dough needs a little bit more strength in order to upwards rather than outwards. Try kneading the dough for longer and then when you get to shaping, be sure you follow the process shown in our video called, "How to shape dinner rolls." (It can be found in the "Learn" section of our website.) There are some pre-shaping and folding steps that help organize the gluten and tighten up the dough. Give this a try and see if it helps. Happy baking! Kye@KAF
I used Parmesan cheese because that was what I had on hand, and they were so good! I need to make them again.
O M G!! Hubby wanted to grill burgers for dinner tonight and I didn't have any buns, so found this recipe and made them. They went together very easy and turned out awesome! The flavor of the buns melded so well with the flavor of the burgers. I didn't have onion powder, so used dried onion instead. I don't think I will be buying hamburger buns anymore. This recipe will be printed out and go in my "family favorites" cookbook binder.
I haven't even baked this recipe yet and I already know from the dough that I am disappointed. I tried a recipe for Cheese Burger Buns in a recent catalog and LOVED it. They were light, squishy, buttery, and amazing. I was going to try to make them again today but lost the catalog. So I went online, searched, and found this recipe. I made it and the dough is stiff and difficult to work with. I was a bit confused so I did another search and found another recipe for No-Knead Cheese Burger Buns. This recipe is mostly the same but with less flour. I'm pretty sure that is the recipe I recently tired and loved. So if you have found this one..... Skip it and search No-Knead Cheese Burger Buns. Maybe you won't waste 3 1/2 cups of flour plus yeast and other ingredients like I did. Let me finish by saying that I love King Arthur, their website, catalog, and recipes. So regardless of the mishap, I do thank them.

Hi Robin- I'm sorry you had so much difficulty with this recipe, but I'm wondering if you may have just ended up with a little too much flour in your dough depending on how you usually measure your flour (we recommend fluffing and sprinkling the flour into the cup for our recipes). Please feel free to call our Baker's Hotline (855-371-2253) if you'd like to talk through this recipe in the future, but I'm glad you enjoyed the other recipe so much! Happy Baking! Jocelyn@KAF
This is the 6th time I am making Cheese Berger Buns. I can't tell you how many raves I have received. I let the bread machine take it through the first rise, then make the buns and let it rise. How easy is that! But the flavor of this bread is just stellar.
Not your grandmother's hamburger bun---but in a good way!!! Very similar to "beautiful burger bun" recipe which is outstanding. Great taste, but just a little bit heavier than I expected. I think that I would REALLY like this if made into smaller dinner rolls and brushed with olive oil and garlic and maybe a little fresh parsley snips. Yep! that sounds good. Pass the breath mints, please!